eCommerce has changed the way consumers shop, the way sellers sell and the way goods move across geographies and carriers. What used to be an hours-long task earlier has now turned into a highly convenient and affordable process with millions of brands to shop from and same-day deliveries. While the customers have unlocked a very distinct kind of ease, businesses are now facing very distinct kinds of challenges, especially in geographies like Singapore. 
The country has an exceptionally strong density of population in high-rise apartment clusters, and delivering orders efficiently is a tough task. Riders have to take a halt, go to the right floor, wait for the customer to show-up, and then deliver the order. While the recent trend of delivery lockers is gaining popularity, for some industries, like on-demand and quick-service restaurants, this stays a hurdle.
Delivering across diverse delivery demands and customer requirements, ensuring proactive reporting of key milestone events, working with multiple service providers and managing them, and orchestrating the highly costly last mile. Apart from hogging-up resources like fuel, vehicles, riders, and man hours, last mile continues to be a puzzle in the wake of market fluctuations and inefficient resource utilization.
This is driving the need for highly efficient and advanced technology-powered last mile delivery software in Singapore and businesses are increasingly embracing the digitization of processes.
However, how to identify the perfect fit for the business model, and how to get the best results out of it? How to decide whether the software is actually working for the business and helping reduce costs, and how to get access to actionable insights from organizational data?
Here, we share seven awesome tips to choose the best and the right last mile delivery software in Singapore.
Before we dive deeper, let us have a quick discussion on last mile delivery excellence.
Why Is Last Mile Delivery Software Important?
Last mile delivery software helps reduce operational costs by optimizing the asset (driver and vehicle) use, thereby increasing the number of deliveries that can be completed in a specific amount of time. Businesses can offer real-time customer communication, collect electronic proofs of delivery (ePoD), keep a track of individual performance via a smart KPI dashboard, and more. Automating last mile allows businesses to reduce empty miles, tackle vehicle/rider idling, and unlock higher productivity. They can also manage the delivery re-attempts, returns, and RTOs in an optimized manner and validate incidents such as accidents, parcel loss, damage, and cash reconciliation.
Hence, investing in smart last mile delivery software can not only help reduce operational costs, but can also identify optimization pockets and overcome hidden inefficiencies.
Expert Tips to Choose the Best Last Mile Delivery Software in Singapore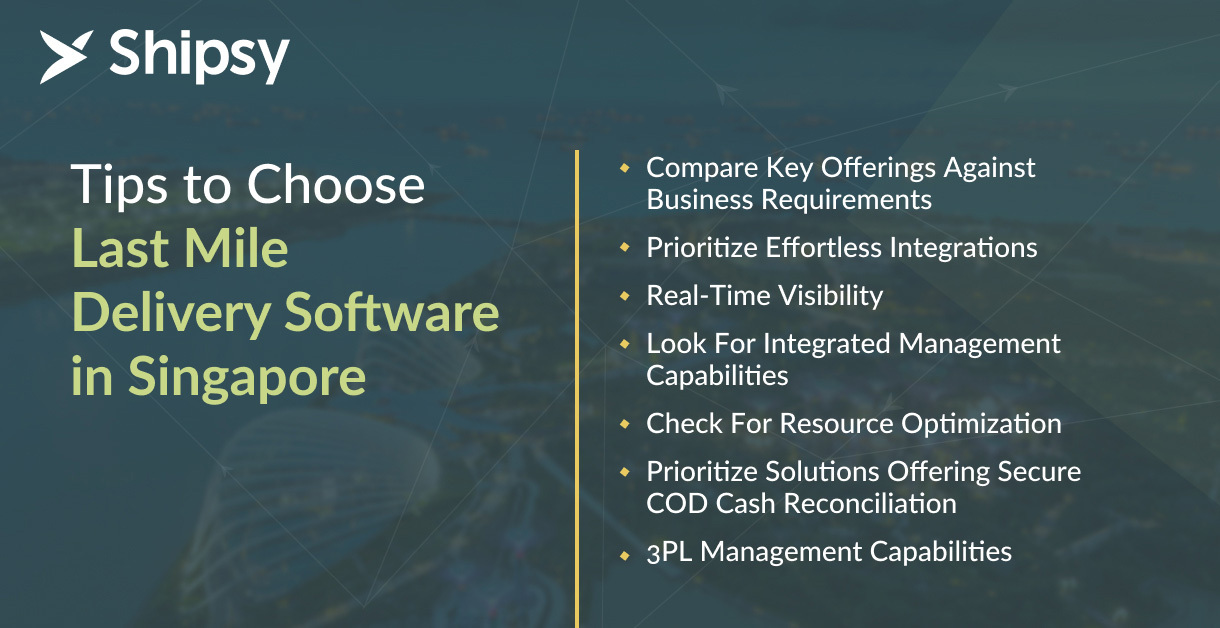 #1 – Compare Key Offerings Against Business Requirements
Every business has a different set of logistics requirements. While courier and express logistics businesses look for extremely smart package and parcel management options, for on-demand industry, the best last mile delivery software helps them reduce delivery times and increase SLA adherence.
Hence, it is important to compare the business requirements against the key offerings of any software and finalize two or three options that match well. Digging deeper into the feature set or getting demos is the next step in identifying the right match.
#2 – Prioritize Effortless Integrations
As the business grows or evolves, people need different integrations to offer diverse services or to unlock multiple functionalities. For example, offering multiple payment processors, sending nudges for online payments for COD orders, and getting unified insights across multiple tech infrastructure components, such as OMS/WMS/ERP.
Hence, it is important to prioritize effortless integrations and ensure that the software scales up and down as the business evolves. It is important to ensure that your tech stack stays updated as well so as to stay industry-relevant. This is why it is always better and smarter to opt for solutions and platforms instead of standard off-the-shelf software that offers limited flexibility.
#3 – Real-Time Visibility
Another key consideration to focus on while choosing a last mile delivery software in Singapore, is real-time visibility. Manual communication with individual carriers for individual tracking and status monitoring is neither smart nor scalable, especially for businesses with hundreds of orders, let alone thousands.
Further, customers seek proactive communication about real-time status of orders and prioritize brands that offer automated alerts. Hence, it is important to opt for software for last mile delivery that offers real-time order tracking, configurable alerts, and automated communication for multiple stakeholders in one place.
#4 – Look for Integrated Management Capabilities
Working with multiple parties means switching among multiple software, such as routing software, ERP systems, 3PL management software, and tracking systems. However, the disparate nature of these systems makes it hard to get a unified view of every process and analyze the data to draw actionable insights.
On the other hand, businesses using AI-powered last mile delivery software in Singapore get comprehensive data insights from advanced data analytics modules and are able to manage all the processes and business components from a centralized dashboard. Thus, they get granular visibility into every process and can strategize in a better manner.
#5 – Check for Resource Optimization
Last mile delivery requires a number of assets, such as drivers and vehicles, and service providers, such as 3PLs, logistics software providers, order management software, etc. The inability to optimize the utilization of these resources and assets will induce cost leakages in the form of empty miles, delivery frauds, cash management issues, hiring more or a lesser number of riders than required, and others.
Hence, it is important to opt for last mile delivery software that offers intelligent resource allocation and optimization to tackle inefficiencies and ensure optimal resource utilization. Some common use cases include vehicle capacity optimization, smart order allocation, en route order clubbing, geofencing the riders/vehicles with exact locations, and more.
#6 – Prioritize Solutions Offering Secure COD Cash Reconciliation
Managing and ensuring the safety of cash collected by riders for COD orders is a challenge in last mile. The probability of riders running away with the collected cash, cash frauds, and empty miles incurred due to rider trips to the warehouse for cash deposits are some common problems.
Hence, it is important to look for a solution that offers effortless and secure COD cash settlement and reconciliation without affecting operational efficiency. Smart last mile delivery software, such as Shipsy can help businesses overcome these challenges via
Offering rider payout and incentive settlements against the cash collected
Offering alternative/digital payment options to the customers for COD orders
Integrations with third-party financial operators and payment processors
Automating incentivization and settlements for efficient, transparent, and trustworthy transactions
#7 – 3PL Management Capabilities
Last mile is a dynamic delivery landscape where numerous situations can arise, such as order drips, fleet crunch, rider shortage, order peaks, seasonal rush, etc. To manage these situations, businesses often partner with multiple 3PLs, which makes it hard to ensure high levels of efficiency in terms of people, vehicles, order deliveries, and costs.
Hence, businesses should also look for 3PL management capabilities, such as automated 3PL allocation, 3PL prioritization, configurable 3PL selection modules, and more. Such capabilities ensure businesses invest wisely in expensive resources and have a clear understanding of their outsourcing requirements.
Shipsy – Intelligent Last Mile Delivery Software in Singapore With Advanced Capabilities
Shipsy is an AI/ML-powered logistics automation and supply chain management software platform and is an excellent choice for businesses of all sizes and scales. We offer different kinds of software solutions for multiple industries and help businesses gain actionable insights into all the processes, operations, and stakeholders via the proprietary data analytics platform Shipsy BI.
Shipsy's last mile delivery platform comes with all the advanced capabilities discussed above and offers AI-based algorithms to reduce operational costs, unlock higher efficiency, and get rid of manual redundancies, as shown by the stats shared below.
Reduce Costs
Increase delivery success rate by 8%
Reduce cash handling cost by 11%
Call center resources needed to ascertain location reduced by 85%
Increase delivery success rate by 12% to reduce ND and RTO costs
Improve Driver Productivity
Reduce miles traveled by 7% with improved routing based on accurate customer-provided locations.
Reduce time spent at the receiver address by 35%
Improve deliveries-per-day-per-driver by 22%
Increased Brand Loyalty
Reduce fake delivery attempts by 23%
Increase NPS score by 1 to 1.5 points
For more information or to get started with Shipsy's smart last mile delivery software in Singapore, please get in touch with our experts and schedule a customized demo today!