Want to upgrade your last-mile delivery operations? You are in the right place. Get Shipsy's last-mile delivery solution and streamline your delivery-related processes while ensuring a significant savings on the overall cost. Our SaaS-based final mile delivery solution is fully customizable. By integrating the last mile delivery solution, you can automate various delivery tasks and minimize the need for human resources.
What do you get with Shipsy's last-mile delivery solution?
To automate order allocation and dispatch processes considering the allocation rules, such as type and size of the product, delivery location, delivery time, and more.
Vehicle capacity utilization
To fully utilize every vehicle's capacity to deliver more orders per vehicle and reduce the demand for market vehicles.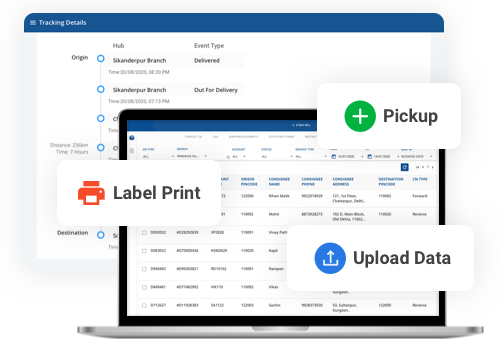 Real-time consignment tracking
To track every order in real-time to know the updated status of the delivery or look into reasons for the delayed or missed deliveries.
Improve your last-mile delivery processes and monitor the performance of your riders by generating delivery-related reports.
Automated Route Optimization
Digitized route optimization with geocoding
To display the most efficient routes from source to the destination and then back to the source. The geocoding engine finds the exact latitude-longitude of the address to ensure on-time deliveries and make the vehicle ready for the secondary trips.
Multi-stop route planning
Shipsy's last-mile delivery solution displays routes considering delivery time window, delivery locations, and various other factors to ensure timely delivery of multiple orders using one vehicle.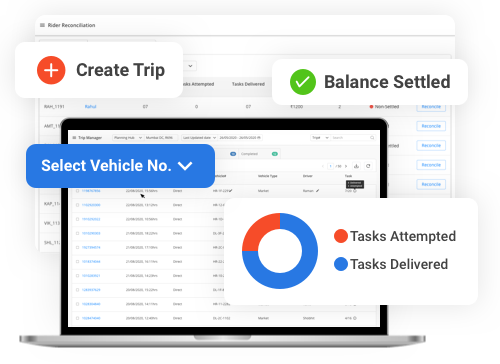 To display new routes immediately when a customer cancels the order or modifies the delivery time or address while the order is out for delivery.
To manage new pick up requests and check other trip-related information in English, Hindi, and Arabic language.
To collect and upload digitized proof of delivery for facilitating contactless deliveries.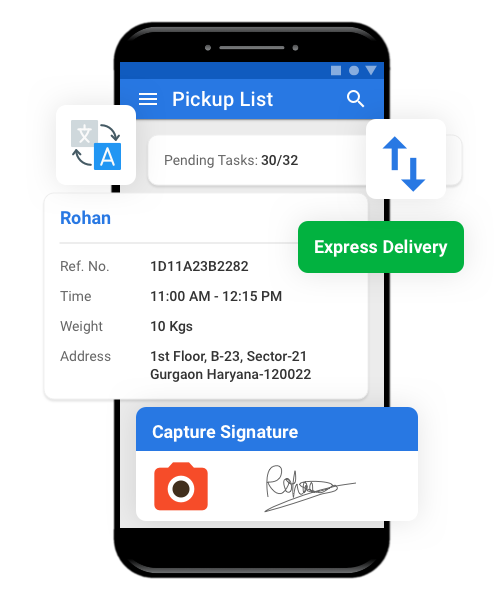 To keep a record for the cash on delivery payments.
To allow riders to locate the accurate delivery address.
To know the estimated time arrival for the order.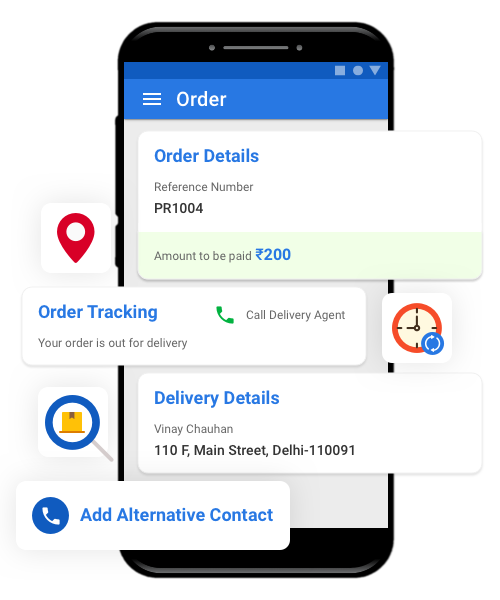 To track the orders in real-time through the tracking link received.
To share the delivery experience and raise a complaint in case of late or missed deliveries.
Benefits of Shipsy's last-mile delivery solution
35% Increase in First Attempt Delivery

65% Decrease in Customer Support Calls

35% Reduction in Delivery Cost
50% Improvement in Average Delivery Rating
45% Increase in Successful Delivery
Why Choose Shipsy's Logistics Management Software?
We leverage the latest technology to develop a logistics management software that fulfills your customized business requirements and fits in your budget.
Interactive and Friendly User Interface
Just like our courier management software, the logistics management software designed and developed by Shipsy has a highly interactive and friendly interface that can be used by the consignors, drivers, end-customers, and logistics companies.
We aim to develop the best logistics management software that helps you deliver an unmatched delivery experience and achieve 100% customer satisfaction. Our software is embedded with all the latest features required to reduce logistics costs and improve on-time delivery of the consignments.
When it comes to developing highly advanced warehouse management software or logistics management software, we are counted among the top providers. We have developed logistics management systems and other software for DTDC, Zenith Birla (India) Limited, Bajaj Steel Industries, and many other top companies.
Our team of professionals offers 24*7 support services to help our global clients to respond to the queries of our existing and potential clients. Besides this, we also offer smart interactive assistants to enable voice-based interactions.
Subscribe to our newsletter
Receive updates, news and deals