The spread of the novel coronavirus causing COVID-19 is affecting the shipping industry in unprecedented ways. As all countries are taking measures to restrict the outbreak, the shipping industry has been majorly impacted. Large number of containers have been stuck in transshipment and the rise of 'Blank Sailings' by shipping lines has lead to a shortage of 'Empty Containers'.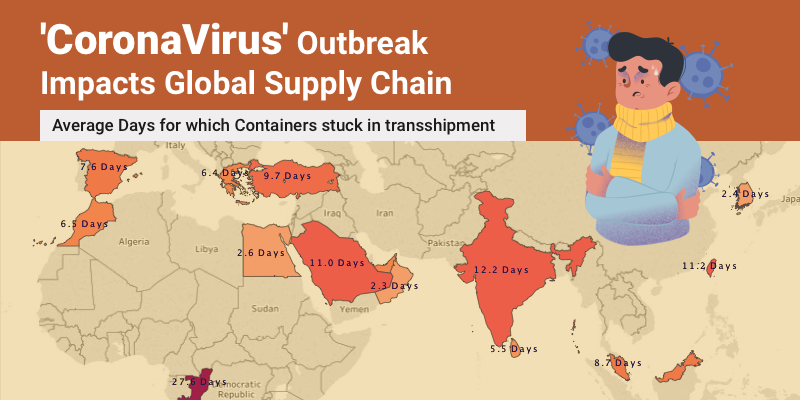 Containers Stuck in Transshipment Across Major Ports in the World
Trade restrictions across major ports of the world, to prevent the Corona Virus outbreak have lead to containers being stuck in Transshipment. This is affecting the profitability of shippers on a large scale, as it has lead to delay in delivery of necessary goods across the globe.
'Blank Sailing' leading to unavailability of Empty Containers and rising costs for Shippers
With container exports from China reduced drastically, Shipping lines are losing millions of dollars sailing as per committed schedule but with ships partially filled. To sail with good volume and ensure profitability, shipping lines are reducing the total sailings between a pair of ports.
Neutralizing the benefits of falling Crude Oil Prices
Despite crude oil prices having crashed, the benefits have been wiped off and as an example, spot rates from JNPT and Mundra to the US East Coast (New York) have increased by around 20%. Prices to other ports have also increased between 15% to 100%.
Liners are also charging anywhere from $100 – $400 as emergency "Equipment Handling Charges"
Amit Walia
Experienced professional in logistics technology space and handles sales at Shipsy for Southeast Asia. Helped companies across different sectors reduce inefficiencies in supply chains. His other interests includes economics and psephology.
Discover More Data Driven Logistics Insights