IBIS World predicts the market size of the coastal and ocean transportation industry in the USA to reach USD 45.7 bn in 2023. The industry is also expected to demonstrate a growth of 10.2%, and the country operates 2.6% of the world's merchant fleet, as per Statista. The USA has an excellent ocean freight market with massive international trade volume, and the sector contributes USD 15.8 bn to the nation's GDP.
With such strong statistical evidence, it comes as a surprise that supply chain stakeholders keep struggling with port congestions, container truck capacity, detention, demurrage, and poor status reporting. The freight forwarders and retailers find it hard to manage cross-border freight with granular visibility, and customers are left wondering about the delivery ETAs in case of delays.
All this affects the overall freight management efficiency and degrades customer experience, which ultimately puts the onus on retailers, manufacturers, vendors, etc.
This is where container tracking software comes into the picture. A container tracking solution with integrated management capabilities can help businesses gain 360-degree visibility across multiple stages of freight movement. They can plan and orchestrate better container transportation and get automated insights about cargo movements.
Here, we discuss how container tracking software in USA can make freight management easier, and what benefits businesses can draw from the same. We also share some key considerations for choosing the right container tracking solution in USA and how to unlock freight management excellence via end-to-end automation.
What Is Container Tracking Software and Why Is It Important?
A container tracking software offers a unified and real-time view of all your shipments across international and domestic borders via a single integrated dashboard. Businesses can get automated alerts for key milestone events and predictive insights for incidental costs – detention and demurrage.
Businesses using advanced container tracking software in US can reduce their overall cargo logistics costs and orchestrate highly efficient freight movements based on real-time shipment statuses. They can automate status reporting with configurable messaging and share them with multiple stakeholders, including the end customers, for better collaboration and communication.
Major Challenges in Container Freight Management in USA
#1 – Container Trucking Capacity
Driver availability is scarce nationwide, particularly at ports. Los Angeles and Long Beach ports' standard availability is 3-4 weeks, while other West Coast ports have a wait time of at least a week. East Coast ports have a minimum wait time of a week, and as volumes shift from WC to EC ports, the situation is expected to worsen. Driver availability at Mid-West rail ramps is slightly better, but it is more critical due to railroads' limited free time of only two days.
This means any delay in cargo unloading can snowball into delivery delays spanning over 3 to 4 days easily. The inability to get real-time updates during this time, can further deteriorate the CX and incur additional transportation costs for the stakeholders.
#2 – Detention, Demurrage, and Rail Storage Costs
Demurrage and storage charges are not waived by marine terminal operators, railroads, and ocean carriers unless there's proof that they were unable to provide containers while truckers were on-site. It's important to acknowledge that the driver, chassis, warehouse, and space shortage affects these operators, too, causing containers to exceed the last free day and slowing down their operations.
Exporters and importers need to bear these risks when moving cargo internationally and address the associated cost implications.
#3 – Constantly Changing ETAs Due to Vessel Delays
Another common challenge is vessel delay, forcing container trucks to wait for days before starting discharge/loading operations. These delays cause chaos for export cargo by frequently changing the ETAs for multiple stakeholders, making it difficult for truckers to deliver exports and then pick up imports from the same terminal using the same chassis.
Terminal appointments for unused truckers are also affected. These delays at US ports lead to volume buildup at export terminals overseas, resulting in blank sailings and congestion issues. All in all, this accounts for double loss for businesses as they lose business and incur additional cargo transportation costs from ports for last mile movements.
#4 – Dependence on Carriers/Service Providers for Shipment Status
The majority of businesses rely on shipping companies, freight forwarders, or logistics partners for getting shipment updates. Every shipment reporting requires individual contact with multiple parties, which makes the whole process tedious and resource intensive.
Manual reporting is both slow and prone to errors, which leads to higher call volumes and customer queries for shipment tracking.
Container Tracking Software in USA – Business Benefits It Offers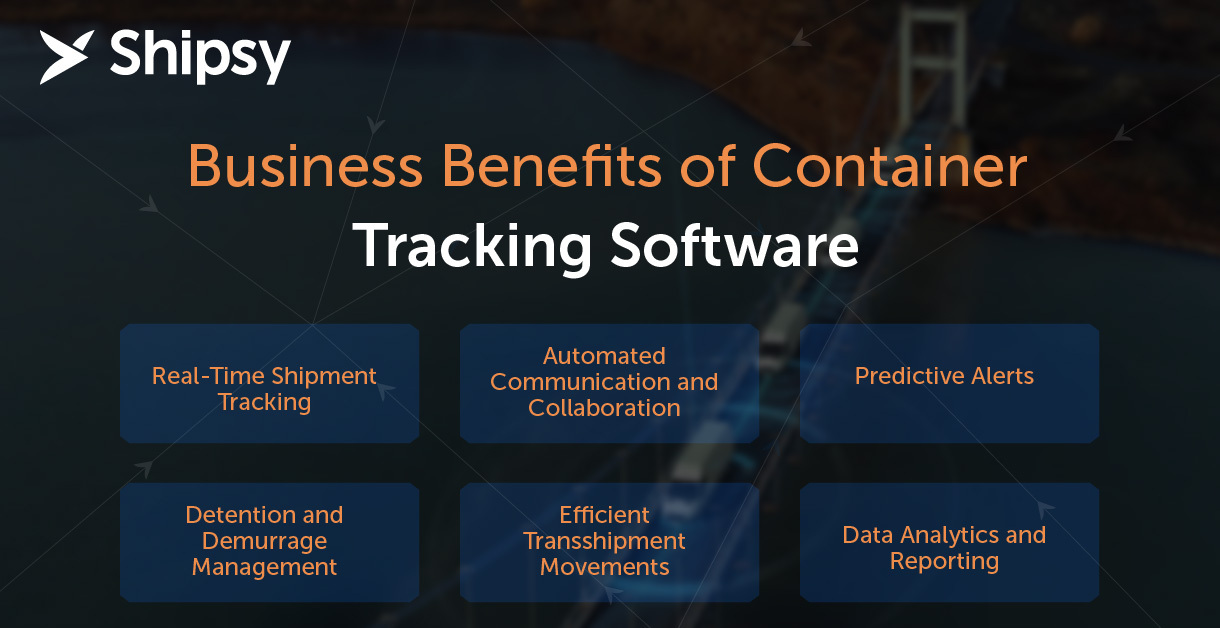 #1 – Real-Time Shipment Tracking
One of the biggest benefits businesses can unlock by using smart container tracking software in the USA is real-time shipment tracking. They can get actual shipment statuses with time stamps across multiple carriers, shipping lines, and 3PLs in one place. Container tracking solutions present all this information on an intuitive dashboard with integrated management capabilities, which reduces the reliance on manual tracking and freight management costs.
#2 – Automated Communication and Collaboration
Software for container tracking in USA can automate and standardize the communication among multiple stakeholders via configurable alerts/messages/mails/notifications for multiple events and triggers. So, end customers get automated and proactive communication regarding shipment movements, which reduces customer query calls and improves customer trust.
#3 – Predictive Alerts
AI/ML-powered data analytics capabilities shoot predictive alerts for shipment delays as well as incidental costs. Thus, businesses can plan optimized shipment transportation by re-scheduling the 3PL activities, or planning the container trucking bookings as per the predicted ETAs.
Another critical advantage businesses can avail from container tracking software in USA is automated notifications for end customers with dynamic ETAs based on predictive alerts.
#4 – Detention and Demurrage Management
Intelligent container tracking solutions come with vendor ranking to ensure effective freight management. Businesses can check which shipping lines/carriers have the best track record for timely deliveries, and can make better cargo transportation decisions.
Further, automated shipment statuses help them curb detention and demurrage costs and file for rail storage fee waivers with properly documented proof of early arrival. This helps reduce overall transportation costs.
#5 – Efficient Transshipment Movements
Businesses can also overcome the volume and capacity-related challenges with container tracking software in USA. The software comes with in-built functionalities for transshipment ageing, carrier, and volume analysis, etc., which improves transportation planning. Businesses can generate daily reports to improve client engagement and share delays/notifications with multiple stakeholders, such as consignees, in one-click.
They can access consolidated information about container movements from a single unified dashboard and share live updates seamlessly as and when required.
#6 – Data Analytics and Reporting
Timely data insights can do wonders for efficient and strategic freight planning. Best container tracking software in USA, such as Shipsy, offer in-built data analytics and intuitive reporting features that improve logistics planning by using data related to transshipment ageing, carrier and volume, etc.
Businesses can generate customized business reports, share them as well as export them in multiple formats with multiple people. They can generate rich data visualizations in a no-code format to make their data work for them.
Choosing the Best Container Tracking Software in USA – Features to Focus On
Here are some features that you must keep in mind while choosing a container tracking software platform for your business:
Automated real-time status updates
Centralized management of multiple carrier connections
Multi-channel communication
Real-time and automated trigger alerts/updates/notifications
Integrated management and tracking dashboard
Digitized documentation
Smart data analytics and reporting features
Get Started With Shipsy – Stay One Step Ahead of Your Competitors
In order to get the best value out of your investment in container tracking software solutions in USA, opt for the smart international logistics management platform from Shipsy. Shipsy's advanced freight management solution helps you manage your shipments and orchestrate highly efficient freight movements across multiple locations, carriers, shipping lines, 3PLs, and warehouses to last mile or customer doorstep.
Advanced capabilities like vendor management, shipping line ranking, automated RFQ and spot inquiry management, and more help reduce the overall logistics costs and unlock:
37% decrease in ETA SLA breaches
26% increase in delivery NPS
64% increase in customer satisfaction
12% Reduction in freight procurement costs
12% Lesser order to ship time
Up to 10 hrs lesser time spent on executing a single shipment
For more information or to get a close view of the excellent automation features of Shipsy's offerings, please get in touch with our experts and schedule a customized demo today.