The first-ever eCommerce experience goes back to 1994. Dan Kohn, the founder of the online marketplace NetMarket, used the website to sell an audio CD of 'Ten Summoner's Tales' by rock musician Sting to his friend in Philadelphia. The buyer apparently paid USD 12.48, exclusive of shipping back then.
Later, Amazon came to life, followed by other popular online shopping platforms. The eCommerce giant rolled out Super Saver Shipping Program in the early 2000s offering free shipping for orders above a certain amount and gradually reducing the bar. The result? It saw a massive jump in sales and was quick to realize the consumer psychology for things labeled as 'free.' Be it about fast and free delivery or inventory of smallest and most unpredictable items, the other platforms had to follow suit to stay competitive. In a way, the 'Amazon Effect' changed shipping and logistics forever.
The present-day eCommerce is quite a futuristic version and a booming market. The sector brims with opportunities. Interestingly, rising customer expectations are both a cause and effect to the fast-evolving industry here.
The Rising Importance Of Free Shipping
The delivery windows are narrowing with customers wanting their orders, not in days but a few hours. Orders are filtered based on delivery time and charges. In fact, free shipping closely influences buying behavior, becoming more and more critical to competitive advantage. Here are some quick facts:
90% of customers would shop online often if they get free shipping
24% would buy more to qualify for free delivery
Companies offering free shipping experience 20% more conversion rates than those who don't
78% of Amazon Prime members say they have subscribed to the service to avail free shipping
Clearly, offering free shipping improves conversion rates and average order volumes. It is also increasingly becoming critical to customer experience. But it can also kill the profit margin.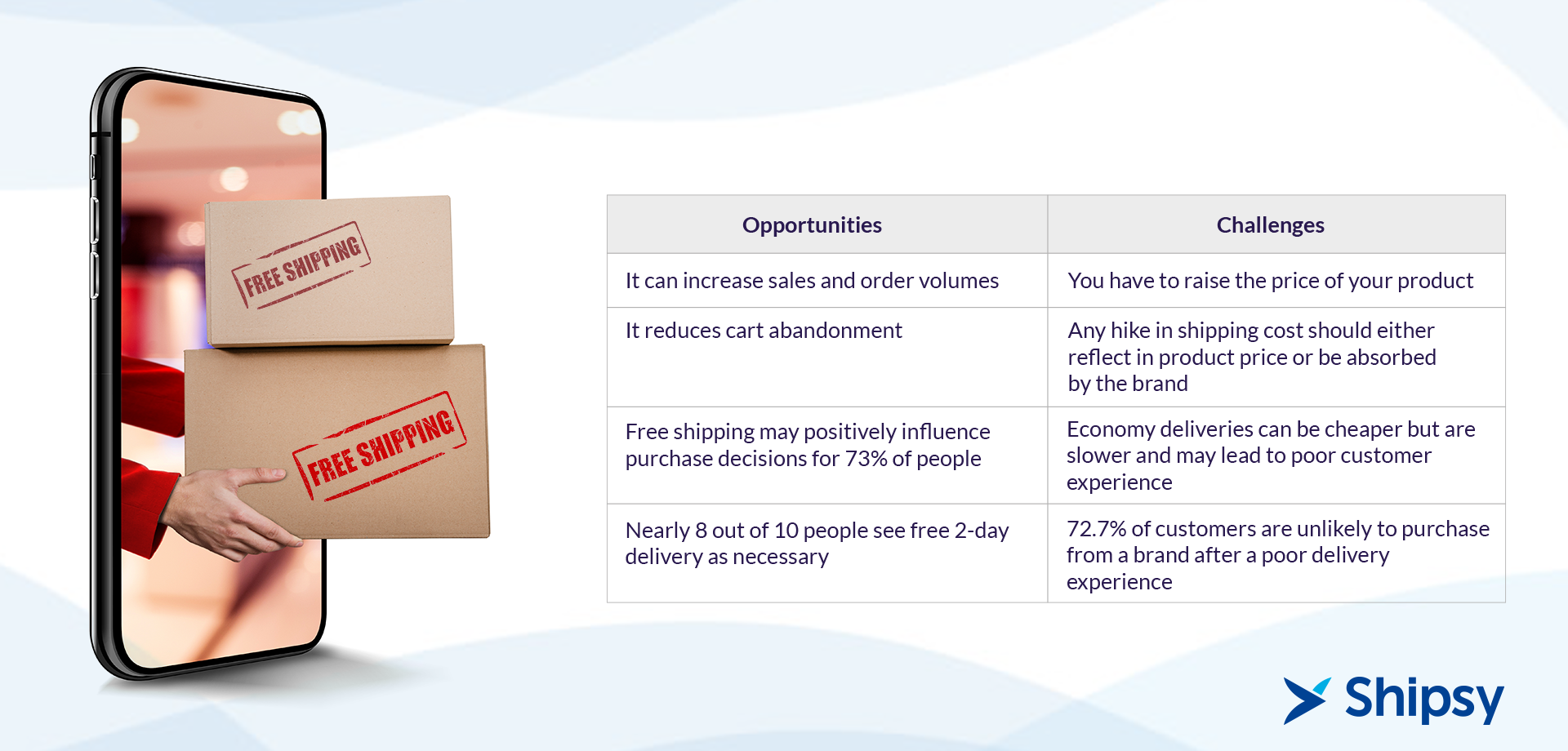 Why Can Free Shipping Be Costly?
The shipping charges often also cover the cost of returns and the delivery speed. Letting it go completely can affect a company's bottom line. Moreover, the delivery speed and returns share a complicated relationship, where a lag in the former directly influences the latter. There can be too many loose ends for businesses to deal with. They have to either lose out on opportunities or risk their profits. Even, the world's largest online retailer suffered, reporting a loss of USD 363 million in Q3 2012, partly due to absorbing delivery costs for free shipping orders. It was later strategically handled by taking fulfillment centers closer to the customers. The truth is that free delivery comes with a price that none wants to pay.
So who blinks first?
The dramatic rise in online shopping amid the pandemic-led movement restrictions has ushered it into a trillion-dollar industry. It is too lucrative a market for businesses to ignore. So, while businesses can A/B test their market strategies to offer free shipping with intelligent pricing, smart logistics management tools can optimize processes to make it a low-cost, efficient affair. Let's see how we can make this partnership work.
Optimizing Delivery Costs: Logistics Management Technology To The Rescue
Delivery scalability and operational inefficiencies challenge retailers, eCommerce, and QSRs in facilitating timely and low-cost shipping. Lack of the right technology, a crunch of data-driven insights, and manual processes lead to inefficiencies. A data-driven, highly customizable, plug-and-play SaaS technology can automate and optimize processes to drive attractive offerings and achieve operational excellence at the same time.
Partner with the right 3PL for cost-effective delivery scalability
Partnering with a logistics provider that offers low rates can be one of the ways to reduce shipping costs. It is also a handy option for brands that want to scale their deliveries to newer markets/audiences that they have not tapped before. 3PL providers often have the resources, infrastructure, and network to deliver at locations efficiently.
Advanced ML algorithms-driven smart auto allocation rules enable easy 3PL management. The system considers various parameters such as cost, delivery type, distance, historical data, etc., to automatically assign the task to self (own fleet) or 3PL provider. It allows businesses to partner with multiple logistics solution providers simultaneously to make efficient deliveries, saving 23% of the last mile delivery costs. Moreover, it can increase your delivery NPS by 18%.
Decrease delivery cost and improve operational efficiency
Wrong and missed deliveries, returns, unnecessary diversions, stoppages, empty miles, etc., make a huge difference in delivery profitability. It adds up to the fuel consumption and the delivery turnaround time and risks customer loyalty.
AI-powered Dynamic route planners analyze historical data to plan the most fuel, cost, and time-efficient route to the destination. It constantly fetches data to reroute and avoid traffic congestion, roadblocks, etc., to reduce miles traveled, eliminate empty miles, and optimizes vehicle capacity utilization to deliver maximum orders in one go without affecting vehicle performance. It shoots a tracking link to the end customer via SMS, email, Whatsapp to extend real-time delivery visibility, significantly impacting delivery success. Intelligent en route order clubbing smartly combines forward and reverse logistics enabling drivers to pick up/deliver more orders on the fly with minimum deviations, increasing per driver deliveries by 14%. Geocoding converts delivery addresses into precise coordinates to help make accurate deliveries in the first attempt.
To know more about delivery optimization, click here.
All these capabilities come together to bring operational efficiency enabling brands to seize every opportunity. The key to success lies in meeting the customer's expectations and abiding by what's promised. New-age technologies empower businesses to grab customer attention by making attractive offers and still maintaining healthy profits, which will otherwise be just an expensive freebie to customers. An innovative logistics management platform can make this promising union thrive and pull brands out of the delivery dilemma.