India attained 'Purna Swaraj', which is translated as 'complete, sovereign independence' 75 years ago. Looking ahead, all eyes are set on making the next 25 years remarkable thus resulting in a glorious centenary of the modern independent India.
The Indian Government, taking cognizance of this, has commenced working on a blueprint for India@2047 to make India a developed nation. From a trade and logistics perspective, this aim will be fulfilled when India becomes a consistent net exporter. To achieve the vision, Ministry of Commerce & Industry aims to increase its share of exports to 25% of its GDP by 2047. India's share of exports in global trade stands at 2.1% today, and is projected to touch 3% by 2027.
An official says that the roadmap for 2047 includes positioning India as a high-value and high-growth products supplier, enhancing the participation of MSMEs in trade, and attaining a 10% share in niche products called "creative economy".
This journey could be anything but easy, as many challenges loom large on Indian businesses engaged in global trade. According to a recent survey of over 700 respondents comprising exporters, importers, CHAs, freight forwarders, and trade associations across India, it was found that the most common problems across ports are port congestion, customs clearance (scanning and approvals), shipping line issues & charges, documentation & paperwork, and regulatory clearance.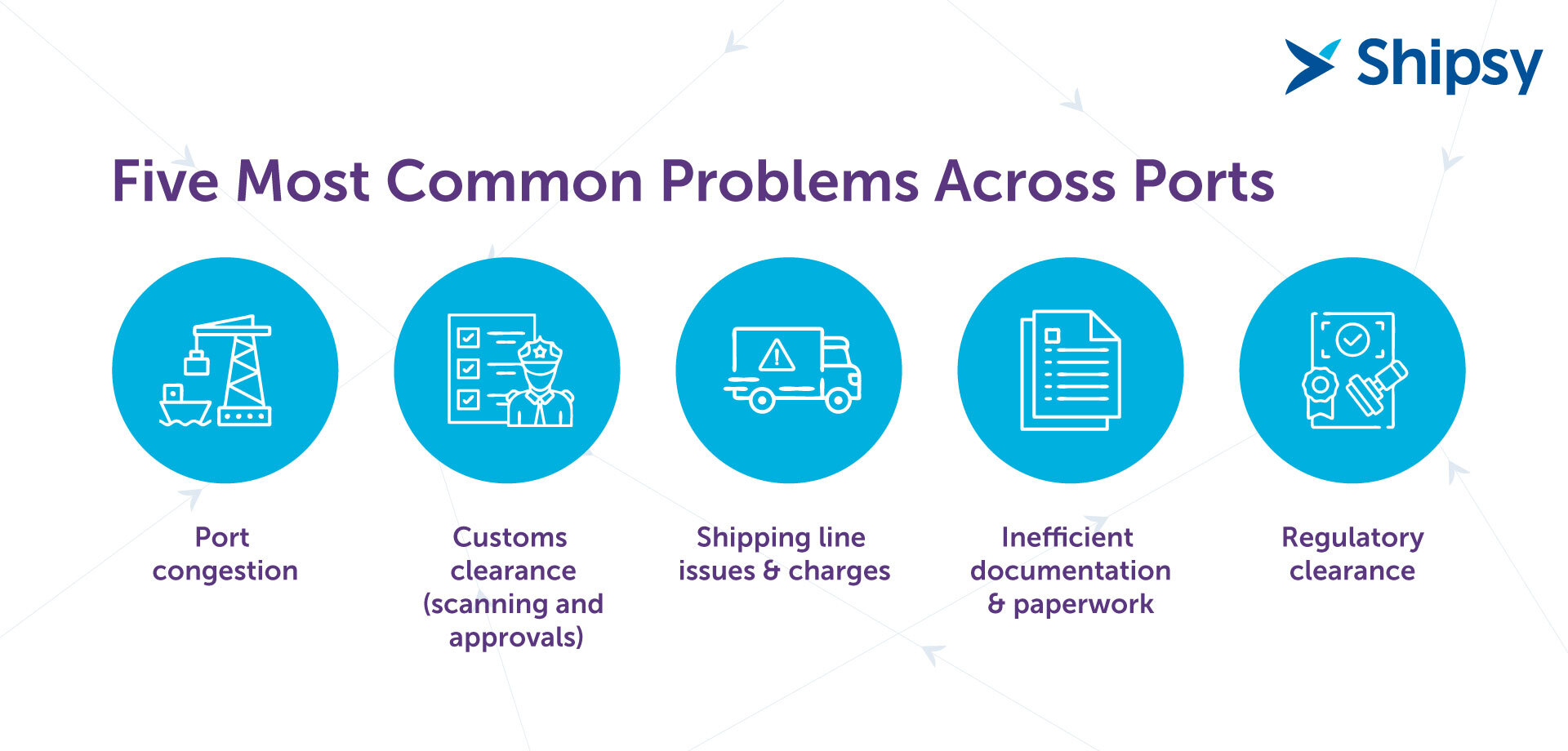 That's not all. There are many other everyday issues that need to be resolved. On top of almost every Indian exporter's mind, especially those in the Small & Medium Enterprise segment, would be
Difficulty in finding reliable and cost-effective freight partners: SMBs have challenges finding reliable and cost-effective freight partners due to their limited resources, economies of scale, negotiating power, and lack of industry connections. This leads to difficulties in arranging transportation and logistics for their exports, which can impact their ability to meet customer demand and deliver goods on time.
Lack of access to information such as trending freight rates: Indian SMBs more often than not struggle to obtain accurate and up-to-date information on current freight rates, which change every couple of weeks or so. This makes it difficult for them to identify potential cost savings opportunities or assess the competitiveness of their products.
Inefficient Tracking and limited visibility into the status of shipments: It can be tough for small businesses to keep track of their shipments and containers and ensure they're delivered on time, because they don't have the same resources as larger companies to track them and stay informed.
Limited access to finance: Due to the fact that most SMBs in India are still part of the unorganized sector, they often face challenges in obtaining financing to support their international trade activities.
Complex and constantly-evolving regulatory environment: The process of importing and exporting goods in India is still somewhat complex and time-consuming, with various regulations and paperwork requirements to navigate.
In its bid to improve the efficiency and competitiveness of India's logistics sector, the Indian Government's National Logistics Policy (NLP) can help address some of these challenges. Improved connectivity and infrastructure can significantly help Indian exporters to reduce logistics costs thus enhancing India's competitiveness in the global trade market and boosting economic growth. Another key aspect of NLP is to leverage advanced technology and innovation in logistics.
Technology can solve many of the aforementioned challenges – from improving tracking and visibility to streamlining processes and enhancing customer service. This unlocks opportunities for growth and success for small businesses in the export industry. Industry players such as manufacturing units, e-commerce companies, global distribution agencies, freight forwarders, and logistics service providers are starting to increasingly leverage online freight management software platforms to realize cost savings and improved productivity.
To substantiate what I mean, let's consider a real case example. A prominent Indian retailer's exports division was battling rising freight costs, suboptimal collaboration with freight forwarders, poor system interoperability & data accuracy, and manual shipment operations, which led to higher delivery TATs. The retailer deployed a cloud-based international logistics management platform. Before deploying the software, they managed their freight rate contracts using spreadsheets and negotiating with each shipping line & freight forwarder via multiple phone calls and back-and-forth emails.
Within a few months, the division benefited from the automation of processes and workflows and realized 65% person-hours savings gaining back previously-wasted personnel productivity. Today, these resources also perform other crucial tasks delivering greater value to the business. At the same time, automated freight procurement delivered immediate cost savings in the form of competitive, lower freight rates. All of this resulted in a 5 day faster plan-to-ship time and a 10% reduction in overall logistics costs.
Such a platform usually features the following capabilities.
Freight procurement cost optimization: A good freight booking, tracking, and management software system includes features that can help exporters optimize their shipping costs. For example, the software might allow exporters to compare rates from multiple carriers and freight forwarders and choose the most cost-effective option. It might also provide tools for optimizing routes and scheduling to minimize costs by planning ahead.
Efficient pre- and post-shipment documentation: Technology can streamline the documentation process, such as customs documents, insurance certificates, and invoices more efficiently thereby reducing the risk of errors and delays.
Real-time tracking: By providing real-time shipment tracking information, technology can help exporters stay informed about the location and status of their shipments at all times. This can help them identify potential delays or issues more quickly and take proactive measures to address them.
Demurrage & detention mitigation: By providing real-time visibility into the movement of goods, the platform can help exporters to identify and mitigate potential delays or disruptions, allowing them to return containers in a timely manner and avoid incurring additional charges. In a recently conducted pan-India survey, it was found that 85% of the respondents were charged demurrage & detention up to 20% of the time they traded in a year. Demurrage & Detention together account for around 21% of the total logistics costs across India's major ports.
Performance analytics: By analyzing data on the performance of different carriers and routes, exporters can identify opportunities to improve timeliness and efficiency. For instance, they might identify carriers or routes that consistently outperform their competitors, or they might identify trends that could help them make more informed decisions about their logistics.
In conclusion, as Indian SMB exporters face difficulty in finding reliable and cost-effective freight partners and struggle with inefficient tracking and limited visibility into the status of their shipments, adopting the latest technological solutions can help them overcome these challenges and unlock opportunities for growth and success. From improving efficiency and cost savings to enhancing customer satisfaction and reducing risks, it is important for SMBs to consider the benefits that technology can bring to their export operations in order to stay ahead of the curve and meet the evolving needs of their global customers.
Sources:
"https://www.businessworld.in/article/India-Aims-For-3-Share-In-Global-Exports-By-2027/25-10-2022-451643/"
"https://youtu.be/Dqxez1jhZss"