Statista forecasts the addressable market size of quick commerce in India to be 77 BN USD by 2025, with 26 million households. Also, the Indian online grocery market is expected to be 26.63 BN USD strong by 2027, demonstrating a CAGR of 33%.
With fresh produce quick commerce gaining traction, food retail in India is all set to undergo a huge revolution.
The following infographic shows the current market values and future projections for the top four segments of food retail in India: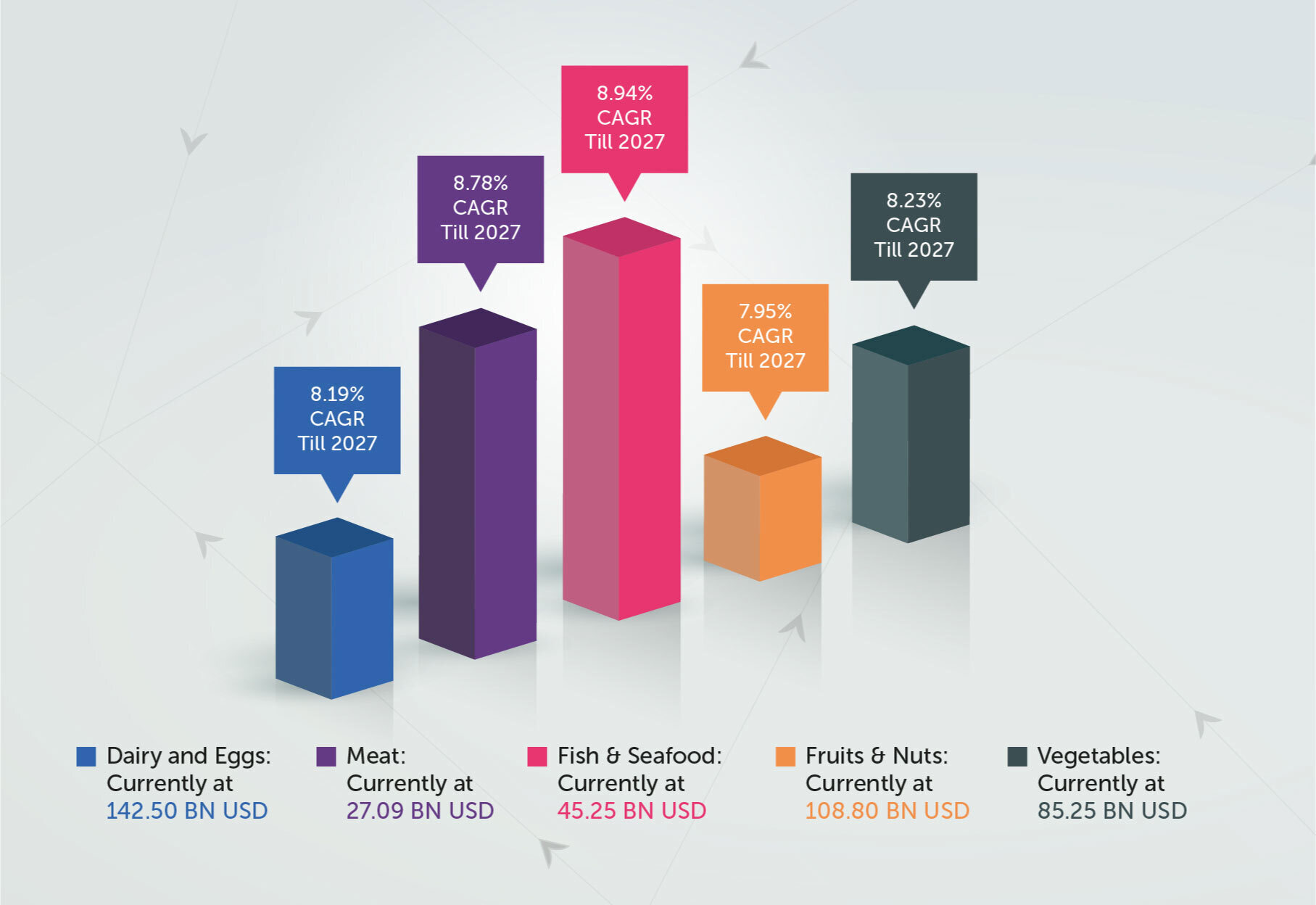 Such massive scope has fuelled the growth of less than 45-minute delivery businesses, some even fulfilling grocery deliveries within 10 minutes.
Still, consumers tend to steer clear of online shopping for fresh produce, especially in Tier-2 cities. Reliability on tangible verification of freshness and quality, uncertainty about the fresh produce sourcing, and the centuries of value-system around grocery shopping are some reasons.
Here, we examine how the quality of fresh produce is one crucial brand differentiator that, if played well, can be the trigger for mass adoption of fresh produce online shopping.
Fresh Produce Quality – The Bottlenecks
India is broadly a tropical country with a temperate climate in its Northern regions. There are six major climatic zones with a wide range of microclimates, ranging from the second coldest desert in the world to the wettest place in the world and everything around and in-between.
While this favors the growth and thriving of an endless variety of crops, these stark differences in temperature throughout the year play a huge role in the shelf life of fresh produce and grains.
Fresh produce, such as fruits, vegetables, dairy, and meats, have an extremely short shelf life, especially in the absence of proper cold storage.
Hence, running a successful quick grocery delivery business while ensuring quality fresh produce is the Mt. Everest for every online retailer.
While dark stores and direct "farm to plate" models have definitely helped, when it comes to deliveries, stale, smelly, and crushed or damaged-during-transit are some common experiences.
The variety and volume dilemma makes the entire inventory management even more critical. Food items that can stay fresh for longer in colder countries, have an extremely small shelf life in India, leading to stocking and on-demand fulfillment problems.
Finally, the business owners wish to use the stock of consumables in a FIFO manner (first in, first out) to avoid loss. However, the chances of these consumables getting rancid or unfit for consumption during the delivery are also high (because of ambient temperature and humidity) unless gel-based or insulated packaging is used. This further adds to the inventory costs.
Overcoming the Quality vs. Quick Commerce Fulfillment Dilemma With Technology
Fresh produce quick commerce is a game-changer in food retail with the potential to revolutionize the way people buy perishables and basic eatables. However, it needs optimization and smart business decision-making right from supply chain to business operations, such as marketing and finance.
Ensuring less than 45-minute delivery fulfillment is a complex operational puzzle that can be solved by facilitating and enabling technology.
Customers look for consistent quality and streamlined shopping experiences with a notch higher touch of personalization and delight. Another propelling fact is that some of them are even willing to pay more for consistent quality.
While businesses aim to have a share of this hot pie, smart supply chain management for responding to a high-touch and high-frequency use case is also important.
Below, we share some compelling use cases of automation and technology in fresh produce q-commerce to overcome quality challenges.
Inventory Management
Inventory costs are not limited to the fresh produce stock and storage. They also comprise capital, damage, taxes, theft, and obsolescence (decay). These costs are also called carrying or holding costs and can range from 15% to 40%.
From a business point of view, inventory adds no value for the customer, and the longer retailers carry the inventory, such as dark stores, the more costly it becomes for them.
Using technology and automation, such as AI, ML, Big Data Analytics, etc. for in-depth data processing and market forecast empowers retailers with actionable insights, such as:
Stock management
Demand forecasting
Root Cause Analysis of inventory damages
Value stream mapping to connect the current and future states of a process with value-added and non-value-added operations
Thus, it becomes easier to manage the excess or insufficient inventory issues with proper tools, such as Collaborative Planning, Forecasting, and Replenishment (CPFR).
This allows retailers to manage inventory via joint visibility and product replenishment throughout the supply chain that enables sourcing fresh produce while keeping the customer demands in mind.
Smart inventory management solutions and custom-made SaaS solutions for quick commerce management can improve forecasts and customer service levels and increase inventory turns.
As the retailers can use vendor managed-inventory forecasting and management tools, they can leverage their supply chains as a powerful weapon to combat cost leakages resulting from poor storage and improper sourcing.
Thus, ensuring quality in fresh produce quick deliveries becomes easier and feasible.
Technology-Strong Infrastructure
Having dark stores is not enough. For ensuring quality, retailers need a robust and reliable storage infrastructure that derives its strength from infallible technology.
Some use cases include:
Smart grocery shelving based on the "customers who bought this are also likely to buy" analysis
QR code for checking the source of fresh produce, and its entire journey, especially in the meat, fish, seafood, and gourmet consumables, such as cheese and yogurt
Planning storage keeping the expiry and aging in mind
Using order codes for relevant and precise bagging to avoid end-point delivery failures
Insulated bagging for sensitive products, such as meats and fruits that get rancid or damaged at a rapid rate, once taken out of cold storage
Storing different fresh produce essentials at specific temperatures instead of the deep freeze for better quality and longer life
Ensuring Quality During Sourcing
Research says that 21% of the fresh produce gets lost on its way to shopping carts, and 81% of food businesses don't meet the customers' quality expectations.
The root causes comprise subjective, slow, non-scalable, and poorly auditable quality systems that cannot categorize or standardize food quality measurement and monitoring.
Using highly innovative technologies, such as computer vision and deep learning, quality ensuring can be automated for accurate and standardized quality checks at all stages, such as packhouses, fulfillment centers, dark stores, distribution centers, and retail stores.
Such automation can reduce the value risk and food wastage while improving the revenue and customer satisfaction levels. Combining such automation with big data analytics and AI facilitates the following:
Live reporting with actionable insights into the quality of fresh produce
Image proofs at every stage
Analysis of demand, market, forecast, farm produce, and inventory data
All these insights help optimize the processes and operations right from sourcing to deliveries, bringing transparency and standardization in fresh produce quick commerce.
Some excellent examples of such technological innovations include smart sorting and segregation of fresh produce, such as onions, potatoes, tomatoes, etc. on the basis of their size, color, smut infestation, shape, or ripeness.
Minimizing the Steps in Sourcing
One smart way to ensure the freshness and quality of fresh produce from sourcing to delivery is to minimize the number of steps involved therein.
AgriTech and Agribusiness startups are already leveraging technology to work with farmers and local horticulturists to procure vegetables, spices, and fruits directly from the farms. Organic foods are one major portion of this segment, and with predictive insights, these startups are able to sell the fresh produce within a few hours of sourcing them from the farms.
In these models, farmers are informed about the demand from their farms, keeping the yield in mind. Also, the prices are already fixed, roughly 10 to 12 days before harvesting, to avoid price risk for all the stakeholders.
This highly controlled operational model has fewer steps from harvesting to delivery, which lessens the chances of wastage due to decay.
Read what the industry leaders have to say about the SLAs in fresh produce quick commerce – Click Here.
At Shipsy, we are making fresh produce quick commerce deliveries quicker, smarter and sustainable with cutting-edge technology solutions that reduce time and resources spent on fulfillment. We also incorporate image proofs in our deliveries to ensure that customers' quality expectations are always met with transparent and efficient operations.