We will delve deeper into the key features of route planning software soon, but before that, let's understand why route planning is so critical now. Shrinking delivery TAT, the need to optimize fuel consumption, ensure more pickups and deliveries on a single trip, the need to gain greater real-time visibility of delivery operations, and reduce middle and last-mile costs are fueling the need for businesses to embrace advanced route planning software.
The growth in the route planning software segment mirrors its importance in modern day logistics. According to Globe NewsWire, the route planning software market is estimated to reach USD 12.41 billion by 2030, growing at a CAGR of 11.56%. Let's learn more about route planning, route planning software, and its key features:
What is Route Planning?
Route planning is finding the most efficient delivery routes that can cover the maximum number of stops and save time, costs, and fuel. It can be either done manually or using route planning software. The former is feasible when designing delivery routes for a limited number of orders. However, planning routes for hundreds of deliveries a day is feasible only through automation.
An advanced route planning software can automate the delivery route planning process to save time and manual intervention. It can help businesses save logistics costs and boost customer experience. Implementing an advanced and automated route planning software can easily empower businesses overcome challenges like:
Lack of real-time delivery visibility
Manual route planning
Inaccurate delivery ETAs
Inefficient resource utilization
Delayed deliveries
Poor customer experience
High transportation costs
Inefficient capacity utilization
Now that we have established the significance of route planning software, let's check out the features you should look for while investing in one for your business.
12 Key Features of Route Planning Software
1. Auto-Allocating Engine
Smart route planning software automates the order allocation process based on a business's particular requirements like payment type, SKU type, invoice value, weight, order volume, vehicle type, 3PL preference and more.
2. Intelligent Order Clubbing
Smart route planning software intelligently clubs new orders with already planned ones. If the delivery location of the new order is within a certain radius of the planned ones, then the system automatically assigns it to the same driver.
3. Automated Route Planning
An advanced route planning solution takes into account real-time traffic and weather conditions, historical data of routes, delivery time windows, and various other factors while designing delivery routes.
4. Vehicle Capacity Utilization
An AI-based route planning solution intelligently assigns consignments to optimize resource usage. By utilizing each delivery vehicle's capacity completely, the software maximizes the number of deliveries per vehicle, reduces transportation costs, and minimizes fuel consumption and carbon emissions.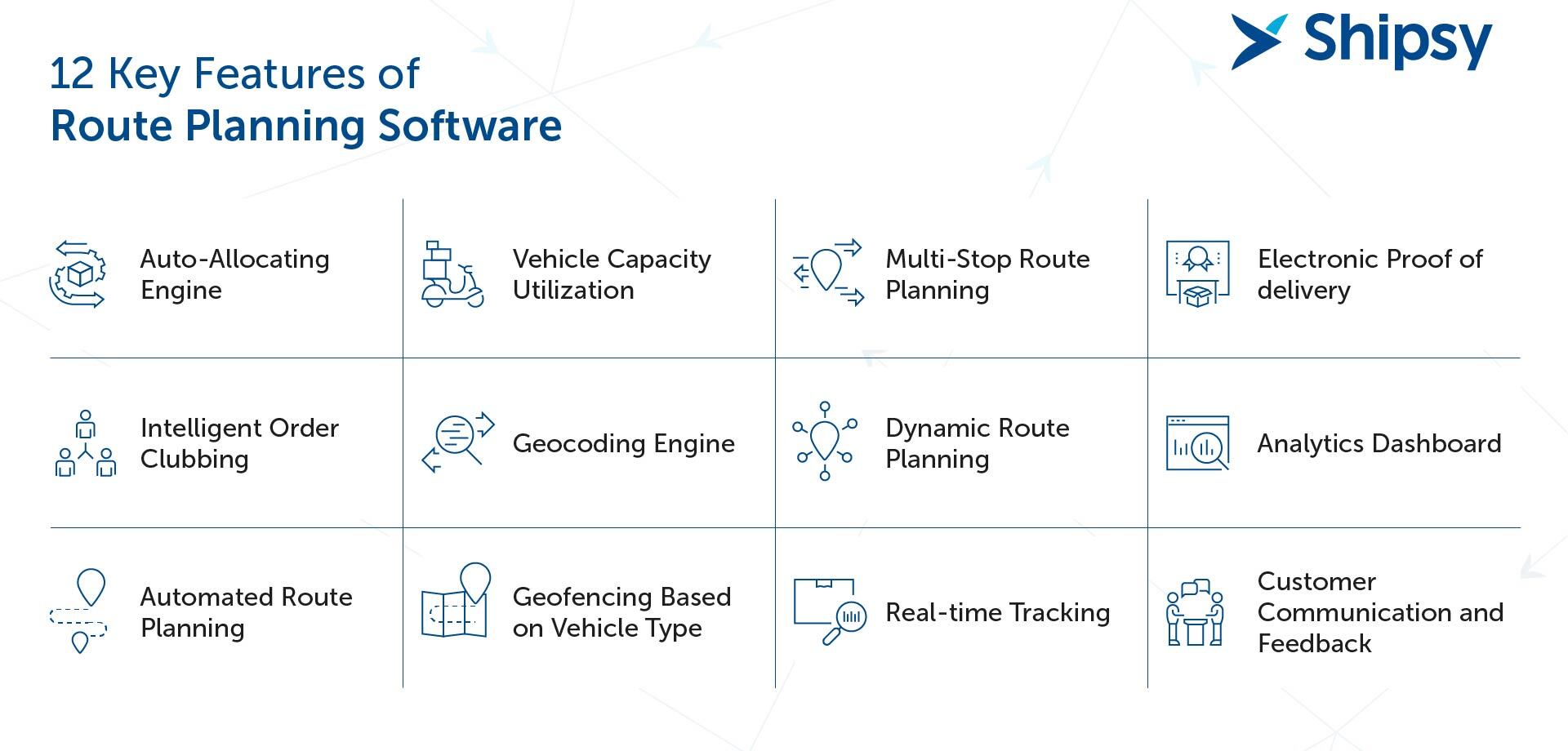 5. Geocoding Engine
Route planning software is powered by a built-in geocoding engine to convert text-based addresses into latitude and longitude based highly accurate customer locations. Leveraging the power of machine learning, the engine also facilitates address cleaning, i.e., correcting incorrect or incomplete addresses. This makes it easy for the drivers to locate addresses and ensure successful deliveries.
6. Geofencing Based on Vehicle Type
Route planning and optimization software allow businesses to define allocation for vehicles depending on the minimum or maximum distance that needs to be covered. Businesses can simply define the primary vehicle category and also add the next category in the order.
It means if the primary category vehicle is not available, the system will choose a vehicle from the next category. For instance, a business can define that for short distance deliveries, say within five kilometers, the system should choose a bicycle or bike, whereas for a longer distance, the primary category should be a minivan.
7. Multi-Stop Route Planning
Multi-stop route planning means planning the most efficient and optimal routes considering the maximum number of stops that can be covered from one point to another. It enhances delivery productivity and reduces overall delivery costs.
8. Dynamic Route Planning
Dynamic routing is also an essential feature of route planning software. It is done to intelligently club the new order with the ones that are already planned for delivery, accommodate return requests, re-route in case of sudden road closures or bad weather conditions, and when a customer cancels or reschedules the order at the last minute.
9. Real-time Tracking
The route planning software also offers a real-time tracking option to allow all stakeholders to check the status of the consignment. Along with the tracking, customers and businesses can check live delivery ETAs. Such software empowers businesses to track all their consignments on a single dashboard.
10. Electronic Proof of delivery
The feature allows drivers to collect and upload digitized or electronic proof of delivery (ePoD). This helps a business authenticate delivery fulfillment, improve management of customer complaints and minimize fake delivery attempts.
11. Analytics Dashboard
An analytics dashboard in the route planning and optimization software allows tracking data around orders, riders, and SLAs. Businesses can have a clear picture of the total number of orders delivered, total distance traveled, average delivery time, number of delayed deliveries, number of canceled orders, and more.
12. Customer Communication and Feedback
Route planning software allows customers to communicate with riders as and when required. Both driver and customer's numbers are masked to ensure high levels of privacy. Besides, the software also sends them a tracking link via SMS/Email/WhatsApp to check the real-time status of their order. It also facilitates customer feedback collection so that customers can share delivery feedback and experience.
Benefits of Implementing Route Optimization Software
Well-Optimized Delivery Routes
Poor optimization of delivery routes can lead to increased delivery time, idling of engines, reduced delivery productivity, and delayed deliveries. All these problems can increase the overall delivery costs, impact customer experience, and build a negative brand image. Route planning and optimization software use machine learning and artificial intelligence to analyze historical data of routes and suggest the most efficient delivery routes.
Reduced Transportation Costs
Route optimization software ensures complete vehicle capacity utilization that maximizes the number of deliveries per vehicle that reduces fuel consumption and fuel costs. It also reduces the number of trips and the overall transportation costs.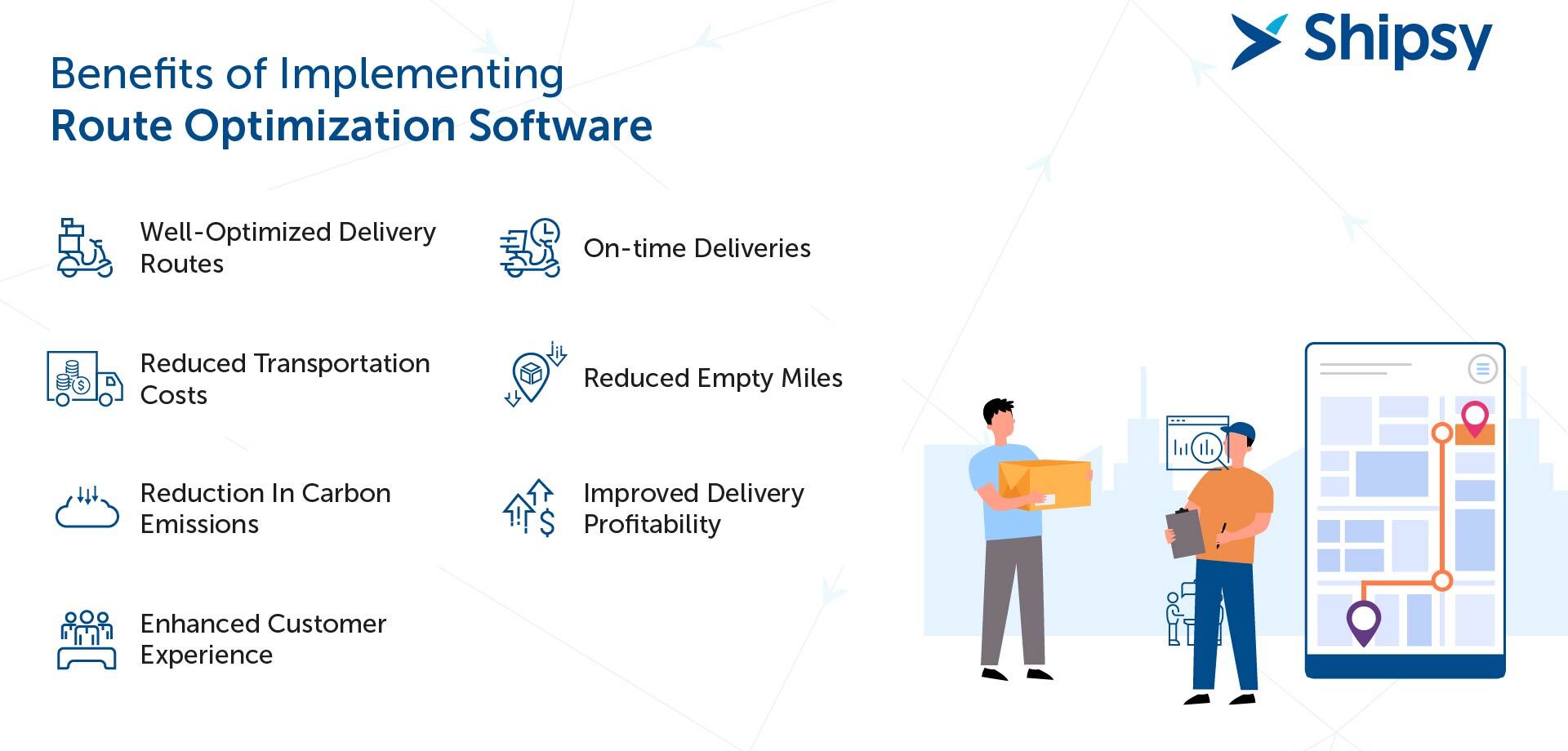 Reduction In Carbon Emissions
Well-optimized delivery routes reduce the time taken and distance covered for the delivery, which leads to lower fuel consumption and fewer empty miles. Moreover, Route planning software also automates the selection of the right delivery vehicle (prioritizing environmentally-sustainable delivery modes), which contributes to reducing CO2 emissions.
Enhanced Customer Experience
Smart route planning software facilitates real-time tracking for all stakeholders so that they can keep a tab on the status of their consignments. It helps businesses to avoid delivery delays and provide customers with a sense of having control over their order deliveries. Increased transparency means improved customer experience.
On-time Deliveries
Route planning software facilitates intelligent order allocation and offers complete visibility of the entire delivery process. In case of any unpredictable situation such as sudden road closure, road accident, or traffic congestion, and inclement weather, the software re-routes the vehicle immediately to ensure on-time deliveries.
Reduced Empty Miles
Empty miles is when a vehicle that delivers one or multiple orders drives an empty container/delivery vehicle while coming back to the source. Route planning software designs delivery routes in a way to ensure the last delivery is close to the source, i.e., the distribution hub or warehouse.
Improved Delivery Profitability
Advanced route planning and optimization software automatically plans a delivery route with multiple drop points, which saves fuel, minimizes delivery time, and boosts delivery productivity.
What type of businesses need route planning software?
From food delivery, eCommerce, manufacturing, healthcare, and retail, route planning software is required in every business where the movement of goods is involved. The software not only plans routes during the last mile delivery (where the goods are picked from the final distribution hub and delivered to customers' place) but also during the first and middle mile of logistics. It finds out the most optimal route from point A to F, covering points B, C, D, E, and more.
How Can Shipsy Help
Shipsy's AI-powered route planning and optimization software facilitate smart route planning to reduce transportation costs, minimize carbon emissions, increase business profitability, improve driver productivity, and enhance customer experience. The customized SaaS-based software empowers businesses to gain the following advantages:
23% decrease in last mile delivery costs
28% increase in on-time dispatch
31% Increase in vehicle capacity utilization
24% increase in deliveries per vehicle
18% savings in route planning and optimization time
26% Increase in delivery NPS
Request for a custom demo today.