As per an online report, the global third-party logistics (3PL) market was valued at around USD 1trillion in 2020. It is expected to reach more than USD 1.75 trillion by 2026, registering a growth rate of 8% during the period (2021-2026). These enticing figures clearly depict the role of 3PL companies and 3PL management in helping enterprises to manage their logistics operations.
Rapidly evolving customer expectations, growing demand for fast shipping and deliveries, and increasing competition rate are a few reasons that are driving businesses to outsource their logistics operations to 3PLs (third-party logistics providers) or carriers. But what exactly is a 3PL and how does it impact end-to end logistics operations? Here's everything you need to know about third-party logistics-
What is a 3PL?
In simple terms, 3PL can be defined as third-party logistics. For any business, logistics plays a pivotal role in supply chain management and an efficient logistics management can contribute to achieving customer satisfaction without compromising the delivery cost and time. To meet this goal, businesses are outsourcing their logistics operations and choose a 3PL provider for logistics management.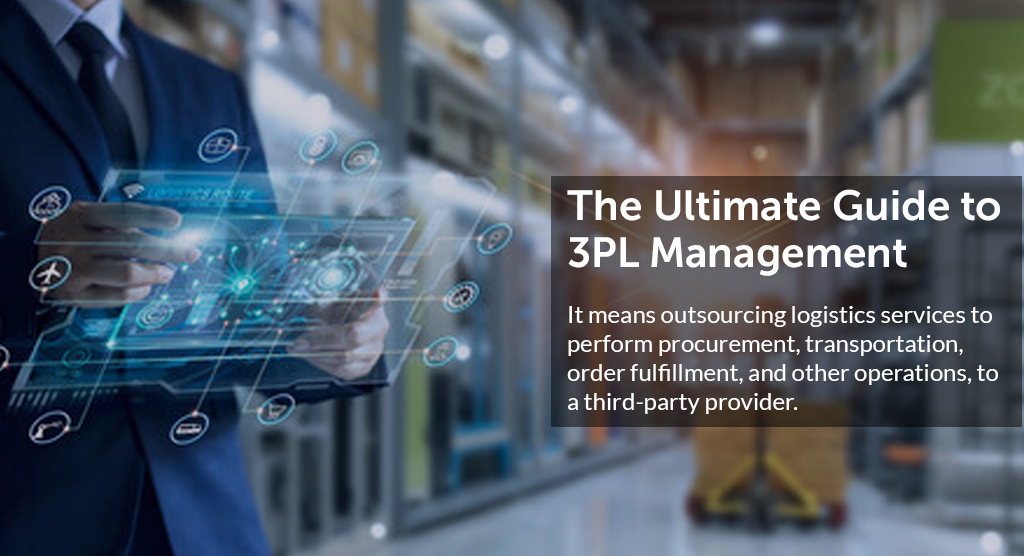 What is 3PL management?
Managing multiple third-party logistics partners, associated with a business, is known as 3PL management. It is needed to verify that your orders are being delivered on time and at the right place.
What are services offered by a third-party logistics service provider?
Third-party logistics services vary from one provider to another provider. Some only take care of order deliveries, while others also offer warehouse and inventory management. Generally, 3PL services include-
It means procuring products or goods from the vendor or the manufacturing unit. It may also include inventory management and warehouse management on behalf of the customer. If your 3PL offers these two services, you can relieve yourself from the hassle of identifying stocks and raising orders from manufacturers or suppliers. Also, you don't need to worry about facilitating the transportation of goods from the supplier or manufacturer to the 3PL warehouse and storing them in the warehouse until they are shipped.
3PL order fulfillment covers order management, fulfillment, and distribution. Depending on the services offered by your 3PL, it may also incorporate receiving orders, updating inventory, picking and packaging products, distributing and delivering them to the customers' location.
Ensuring safe storage of the goods also falls under the 3PL service umbrella. If your 3PL offers this service, it would have resources to store temperature-controlled goods, expensive products, perishable items, and other types of products.
Transporting goods from one place to another comes under this service. A 3PL provider may choose from different types of distribution methods such as cross-docking, FCL (full container load), LCL (less than container load), TL (truckload), and intermodal transport. The service also covers up fleet optimization for the complete utilization of every vehicle's capacity. Tracking of goods in real-time also comes under 3PL transportation and distribution service.
It means delivering the product to the final destination, i.e., the customer's place. Most of the 3PL providers offer complete visibility to their customers on the delivery progress and status.
Some of the third-party logistics providers also offer returns management. It includes picking products from the customer's place and delivering it back to the warehouse or manufacturer.
How does a 3PL work?
Every third-party logistics service provider follows a systematic approach for order fulfillment and customer satisfaction. Here are the processes they follow-
Receiving orders
Warehousing
Picking and packing
Shipping
Delivery
Returns
What are the advantages of using a 3PL provider?
Some of the benefits of using a third-party logistics provider include-
The primary purpose of an online store is not just to provide its customers with the best quality products. But it also incorporates delivering those products in a timely and cost-effective way. With the right expertise, experience, and resources to execute deliveries, a 3PL can meet this goal efficiently.
A business can also hire an in-house logistics team to fulfill this job; however, it would need significant investment to build the proper infrastructure and hire & train professionals to take care of all the logistics processes. Hiring a third-party logistics partner also requires some investment; but the amount of benefits are way too many.
Smooth business expansion
Whether you have added more products to your offerings or want to expand your geographical reach, a 3PL logistics partner can help. With a 3PL provider, you don't need to worry about investing anything to set up infrastructure (warehouses, distribution centers, and more) to store and move your products.
Fluctuations in demand are common among businesses. Using a third-party logistics provider can help you manage peaks and troughs without any additional effort. You can scale up or down as and when needed.
Streamlines movement of goods
Third-party logistics companies have relevant expertise and experience in storing, moving, and delivering products. It helps them to ensure that every process accomplishes at the right time and with complete transparency. Besides, they have the right technology, which avoids all inaccuracies, inefficiencies, and other critical mistakes that can lead to loss of money as well as customer's trust.
3PL or in-house logistics services- what to choose?
Having an in-house logistics team is generally a great option if you are offering your products within a particular territory or area or controlling all the deliveries and movement of products. If you have a vast customer base from multiple cities or geographies, you can outsource your logistics services. Choosing a 3PL logistics provider is also a wise decision when you don't want to invest in the infrastructure and resources required for logistics management.
What is the 3PL pricing model?
The cost of hiring 3PL may vary from provider to provider. Usually, it includes onboarding cost, inventory receiving & storage cost, ordering picking and packing cost, packaging cost, kitting cost, and shipping cost. It also depends on a businesses' logistics requirements.
Which is the best 3rd party logistics provider?
Choosing the best third-party logistics service provider is not a cakewalk. You have to consider multiple factors to ensure your logistics operations are in safe hands. To find the best one among many, verify the following-
What industries are they serving?
Do they have sufficient resources or not?
What type of 3PL services do they offer?
Which technological platforms or software do they use for logistics management?
Which software do they use for communicating with their customers?
Apart from these questions, you can also ask other questions that are there in your mind. The only thing we advise you is to ask everything beforehand to avoid any miscommunication later. The best 3PL provider is the one that can customize its services as per your particular business needs.
You may also like- 5 Factors to Consider Before Choosing a Courier Company
How to manage multiple third-party logistics services providers?
Managing the performance of one third-party logistics provider is not a hard thing to do. You can hire a professional for that. However, if you are working with multiple third-party logistics companies, you can rely on a 3PL aggregator platform for this task. All you have to do is to invest in a 3PL aggregator once to enjoy the lifelong benefits of it.
An intelligent 3PL/carrier management platform can help you:
Manage and monitoring the performance of your third-party logistics partners on a single dashboard
Check the status of all your orders in real-time
Keep a tab on the failed and successful deliveries
Automate AWB generations and label printing
Get delivery feedback from end customers
Automate the process of order allocation
What is the difference between 3PL and 4PL?
Also known as lead logistics providers, 4PL has a broader role in the supply chain operations of a company. It differs from third-party logistics in terms of accountability and roles. The 4PL umbrella covers transportation, warehouse, and typically everything that is moving. Compared to 3PL that often owns warehouse and transportation assets, it is non-asset-based and focuses on optimizing the complete supply chain. 4PL offers a single point of contact, whereas a 3PL provides one or two points of contact in supply chain management.
A 3PL logistics provider is the one that takes care of your business logistics operations. These days, more and more businesses are hiring 3PL providers to ensure cost-controlled movement and delivery of their goods. Choosing the right third-party logistics partner is as important as 3PL management. The blog covers up everything you would want to know about third-party logistics or third-party logistics management.