The following coverage appeared on pages 44-45 and 46 of the February 2023 edition of the magazine Global Supply Chain ME.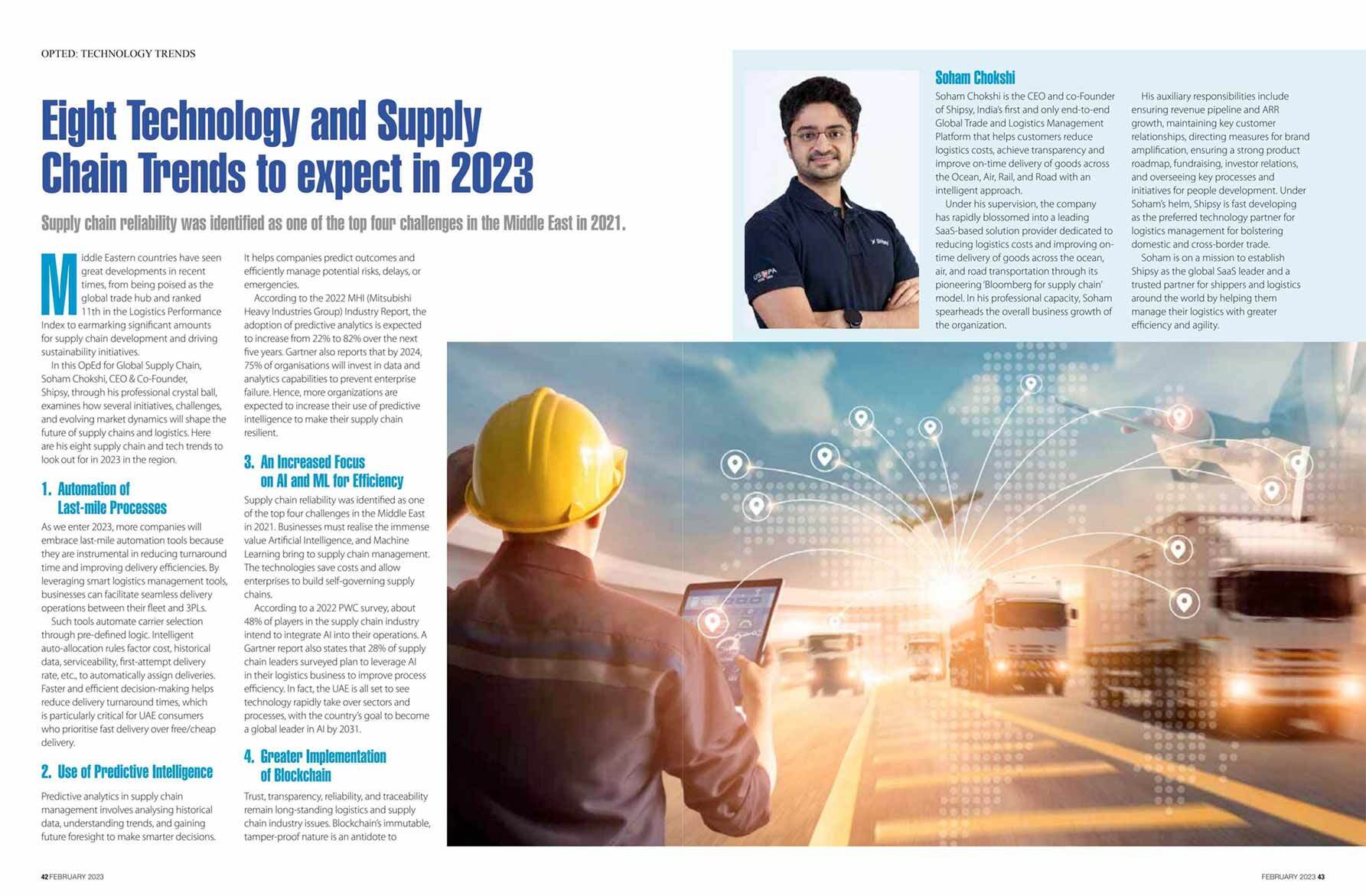 Middle Eastern countries have seen great developments in recent times, from being poised as the global trade hub and ranked 11th in the Logistics Performance Index to earmarking significant amounts for supply chain development and driving sustainability initiatives. Let's see how several initiatives, challenges, and evolving market dynamics will shape the future of supply chains and logistics. Here are eight supply chain and tech trends to look out for in 2023 in the region.
1. Automation of Last-mile Processes
As we enter 2023, more companies will embrace last-mile automation tools because they are instrumental in reducing turnaround time and improving delivery efficiencies. By leveraging smart logistics management tools, businesses can facilitate seamless delivery operations between their fleet and 3PLs. Such tools automate carrier selection through pre-defined logic. Intelligent auto-allocation rules factor cost, historical data, serviceability, first-attempt delivery rate, etc., to automatically assign deliveries. Faster and efficient decision-making helps reduce delivery turnaround times, which is particularly critical for UAE consumers who prioritize fast delivery over free/cheap delivery.
2. Use of Predictive Intelligence
Predictive analytics in supply chain management involves analyzing historical data, understanding trends, and gaining future foresight to make smarter decisions. It helps companies predict outcomes and efficiently manage potential risks, delays, or emergencies. According to the 2022 MHI Industry report, the adoption of predictive analytics is expected to increase from 22% to 82% over the next five years. Gartner also reports that by 2024, 75% of organizations will invest in data and analytics capabilities to prevent enterprise failure. Hence, more organizations are expected to increase their use of predictive intelligence to make their supply chain resilient.
3. An Increased Focus on AI and ML for Efficiency
Supply chain reliability was identified as one of the top four challenges in the Middle East in 2021. Businesses must realize the immense value Artificial Intelligence and Machine Learning bring to supply chain management. The technologies save costs and allow enterprises to build self-governing supply chains. According to a 2022 PWC survey, about 48% of players in the supply chain industry intend to integrate AI into their operations. A Gartner report also states that 28% of supply chain leaders surveyed plan to leverage AI in their logistics business to improve process efficiency. In fact, the UAE is all set to see technology rapidly take over sectors and processes, with the country's goal to become a global leader in AI by 2031.
4. Greater Implementation of Blockchain
Trust, transparency, reliability, and traceability remain long-standing logistics and supply chain industry issues. Blockchain's immutable, tamper-proof nature is an antidote to the above challenges. The technology infuses efficiencies and enables smart contract-based payment processes critical to international logistics management. Blockchain will witness more traction to instill greater trust and ensure high levels of financial transparency in logistics.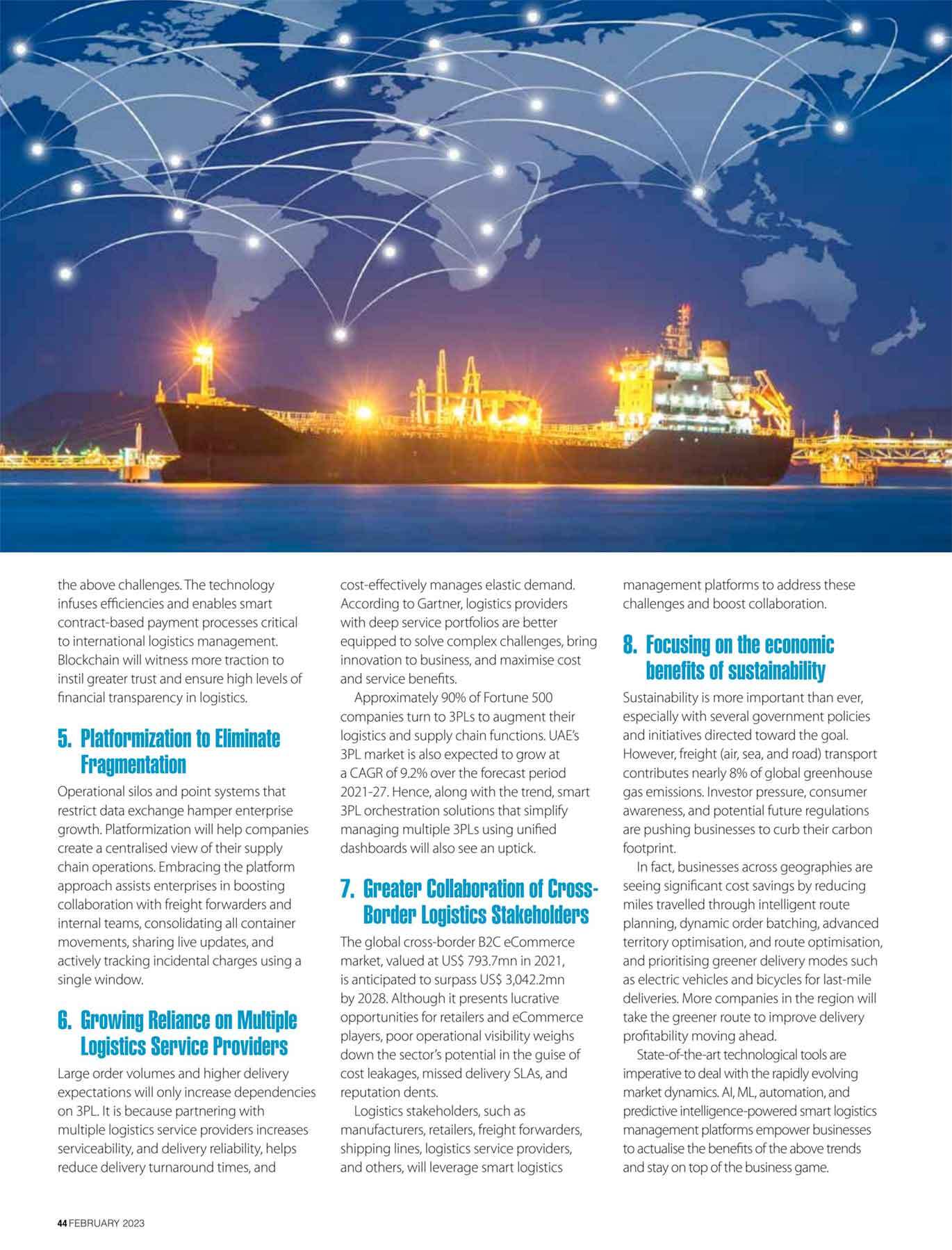 5. Platformization to Eliminate Fragmentation
Operational silos and point systems that restrict data exchange hamper enterprise growth. Platformization will help companies create a centralized view of their supply chain operations. Embracing the platform approach assists enterprises in boosting collaboration with freight forwarders and internal teams, consolidating all container movements, sharing live updates, and actively tracking incidental charges using a single window.
6. Growing Reliance on Multiple Logistics Service Providers
Large order volumes and higher delivery expectations will only increase dependencies on 3PL. It is because partnering with multiple logistics service providers increases serviceability, and delivery reliability, helps reduce delivery turnaround times, and cost-effectively manages elastic demand. According to Gartner, logistics providers with deep service portfolios are better equipped to solve complex challenges, bring innovation to business, and maximize cost and service benefits. Approximately 90% of Fortune 500 companies turn to 3PLs to augment their logistics and supply chain functions. UAE's 3PL market is also expected to grow at a CAGR of 9.2% over the forecast period 2021-27. Hence, along with the trend, smart 3PL orchestration solutions that simplify managing multiple 3PLs using unified dashboards will also see an uptick.
7. Greater Collaboration of Cross-Border Logistics Stakeholders
The global cross-border B2C eCommerce market, valued at USD 793.7 Million in 2021, is anticipated to surpass USD 3,042.2 Million by 2028. Although it presents lucrative opportunities for retailers and eCommerce players, poor operational visibility weighs down the sector's potential in the guise of cost leakages, missed delivery SLAs, and reputation dents. Logistics stakeholders, such as manufacturers, retailers, freight forwarders, shipping lines, logistics service providers, and others, will leverage smart logistics management platforms to address these challenges and boost collaboration.
8. Focusing On The Economic Benefits of Sustainability
Sustainability is more important than ever, especially with several government policies and initiatives directed toward the goal. However, freight (air, sea, and road) transport contributes nearly 8% of global greenhouse gas emissions. Investor pressure, consumer awareness, and potential future regulations are pushing businesses to curb their carbon footprint. In fact, businesses across geographies are seeing significant cost savings by reducing miles traveled through intelligent route planning, dynamic order batching, advanced territory optimization, and route optimization, and prioritizing greener delivery modes such as electric vehicles and bicycles for last-mile deliveries. More companies in the region will take the greener route to improve delivery profitability moving ahead.
State-of-the-art technological tools are imperative to deal with the rapidly evolving market dynamics. AI, ML, automation, and predictive intelligence-powered smart logistics management platforms empower businesses to actualize the benefits of the above trends and stay on top of the business game.
SHIPSY MEDIA CONTACT