The following coverage appeared on pages 18-19 of the January 2023 edition of Logistics News ME and the online version of CBNME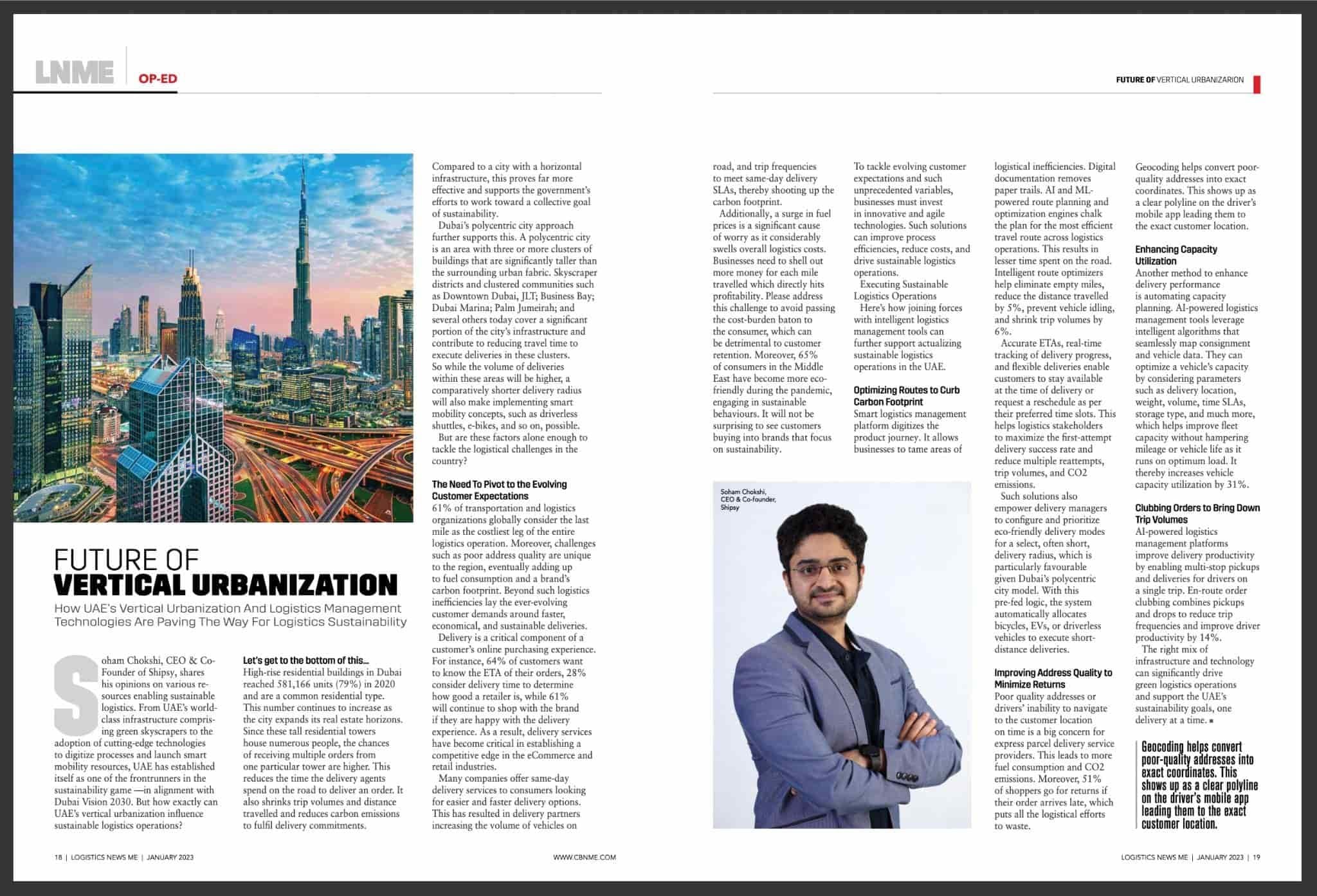 From its world-class infrastructure comprising green skyscrapers to the adoption of cutting-edge technologies to digitize processes and launch smart mobility resources, UAE has established itself as one of the frontrunners in the sustainability game —in alignment with Dubai Vision 2030. But how exactly can UAE's vertical urbanization influence sustainable logistics operations?
Let's get to the bottom of this.
High-rise residential buildings in Dubai reached 581,166 units (79%) in 2020 and are a common residential type. This number continues to increase as the city expands its real estate horizons. Since these tall residential towers house numerous people, the chances of receiving multiple orders from one particular tower are higher. This reduces the time spent by the delivery agents on the road to deliver an order. It also shrinks trip volumes, distance traveled, and cuts down the carbon emissions to fulfill delivery commitments. Compared to a city with a horizontal infrastructure, this proves to be far more effective and supports the government's efforts of working toward a collective goal of sustainability. 
This is further supported by Dubai's polycentric city approach. A polycentric city is an area with three or more clusters of buildings that are significantly taller than the surrounding urban fabric. Skyscraper districts and clustered communities such as Downtown Dubai, JLT; Business Bay; Dubai Marina; Palm Jumeirah; and several others today cover a significant portion of the city's infrastructure and contribute to reducing travel time to execute deliveries in these clusters. So while the volume of deliveries within these areas will be more, a comparatively shorter delivery radius will also make the implementation of smart mobility concepts such as driverless shuttles, e-bikes, and so on, possible.
But are these factors alone enough to tackle the logistical challenges in the country? 
The Need To Pivot to the Evolving Customer Expectations
61% of transportation and logistics organizations globally, consider the last mile as the costliest leg of the entire logistics operation. Moreover, certain challenges such as poor address quality are unique to the region that eventually adds up to fuel consumption and a brand's carbon footprint. Beyond such logistics inefficiencies, lay the ever evolving customer demands that revolve around faster, economical, and sustainable deliveries.
Delivery is a critical component of a customer's online purchasing experience. For instance, 64% of customers want to know the ETA of their orders, 28% consider delivery time to determine how good a retailer is, while 61% will continue to shop with the brand if they are happy with the delivery experience. As a result, delivery services have become a critical component in establishing a competitive edge in the eCommerce and retail industries.
Many companies offer same-day delivery services to consumers looking for easier and faster delivery options. This has resulted in delivery partners increasing the volume of vehicles on road, and trip frequencies to meet same-day delivery SLAs, thereby shooting up the carbon footprint.
Additionally, a surge in fuel prices is a significant cause of worry as it considerably swells overall logistics costs. Businesses need to shell out more money for each mile traveled which directly hits profitability. Failure to address this challenge may also lead to passing the cost-burden baton to the consumer, which can be detrimental to customer retention.  Moreover, 65% of consumers in the Middle East have become more eco-friendly during the pandemic, engaging in sustainable behaviors. It will not be surprising to see customers buying into brands that focus on sustainability. 
To tackle evolving customer expectations and such unprecedented variables, businesses must invest in innovative and agile technologies. Such solutions can improve process efficiencies, reduce cost, and simultaneously drive sustainable logistics operations.
Executing Sustainable Logistics Operations
Here's how joining forces with smart logistics management tools can further support in actualizing sustainable logistics operations in the UAE.
Optimizing Routes to Curb Carbon Footprint
Smart logistics management platform digitizes the product journey. It allows businesses to tame areas of logistical inefficiencies. Digital documentation removes paper trails. AI and ML-powered route planning and optimization engines chalk the plan for the most efficient travel route across logistics operations. This results in lesser time spent on the road. Intelligent route optimizers help eliminate empty miles and reduce the distance traveled by 5%, prevent vehicle idling, and shrink trip volumes by 6%.
Accurate ETAs, real-time tracking of delivery progress, and flexible deliveries enable customers to stay available at the time of delivery or request a reschedule as per their preferred time slots. This helps logistics stakeholders to maximize the first attempt delivery success rate and reduce multiple reattempts, trip volumes, and CO2 emissions.
Such solutions also empower delivery managers to configure and prioritize eco-friendly modes of delivery for a select, often short, delivery radius, which is particularly favorable given Dubai's polycentric city model. With this pre-fed logic, the system automatically allocates bicycles, EVs, or driverless vehicles to execute short-distance deliveries.
Improving Address Quality to Minimize Returns
Poor quality address or driver's inability to navigate to the customer location on time is a big concern for express parcel delivery service providers. This leads to more fuel consumption and CO2 emissions. Moreover, 51% of shoppers go for returns if their order doesn't arrive on time, which puts all the logistical efforts to waste.
Geocoding helps convert poor-quality addresses into exact coordinates. This shows up as a clear polyline on the driver's mobile app leading them to the exact customer location.
Enhancing Capacity Utilization
Another method to enhance delivery performance is automating capacity planning. AI-powered logistics management tools leverage intelligent algorithms that seamlessly map consignment and vehicle data. They can optimize a vehicle's capacity by considering parameters such as delivery location, weight, volume, time SLAs, storage type, etc., which helps improve fleet capacity without hampering mileage or vehicle life as it runs on optimum load. It thereby increases vehicle capacity utilization by 31%.
Clubbing Orders to Bring Down Trip Volumes
AI-powered logistics management platforms improve delivery productivity by enabling multi-stop pickups and deliveries for drivers on a single trip. En-route order clubbing smartly combines pickups and drops to reduce trip frequencies and improve driver productivity by 14%.
The right mix of infrastructure and technology can make a significant difference in driving green logistics operations and supporting the UAE's sustainability goals, one delivery at a time.
SHIPSY MEDIA CONTACT