The following coverage appeared on page 7 of the print edition of Financial Express on September 07, 2022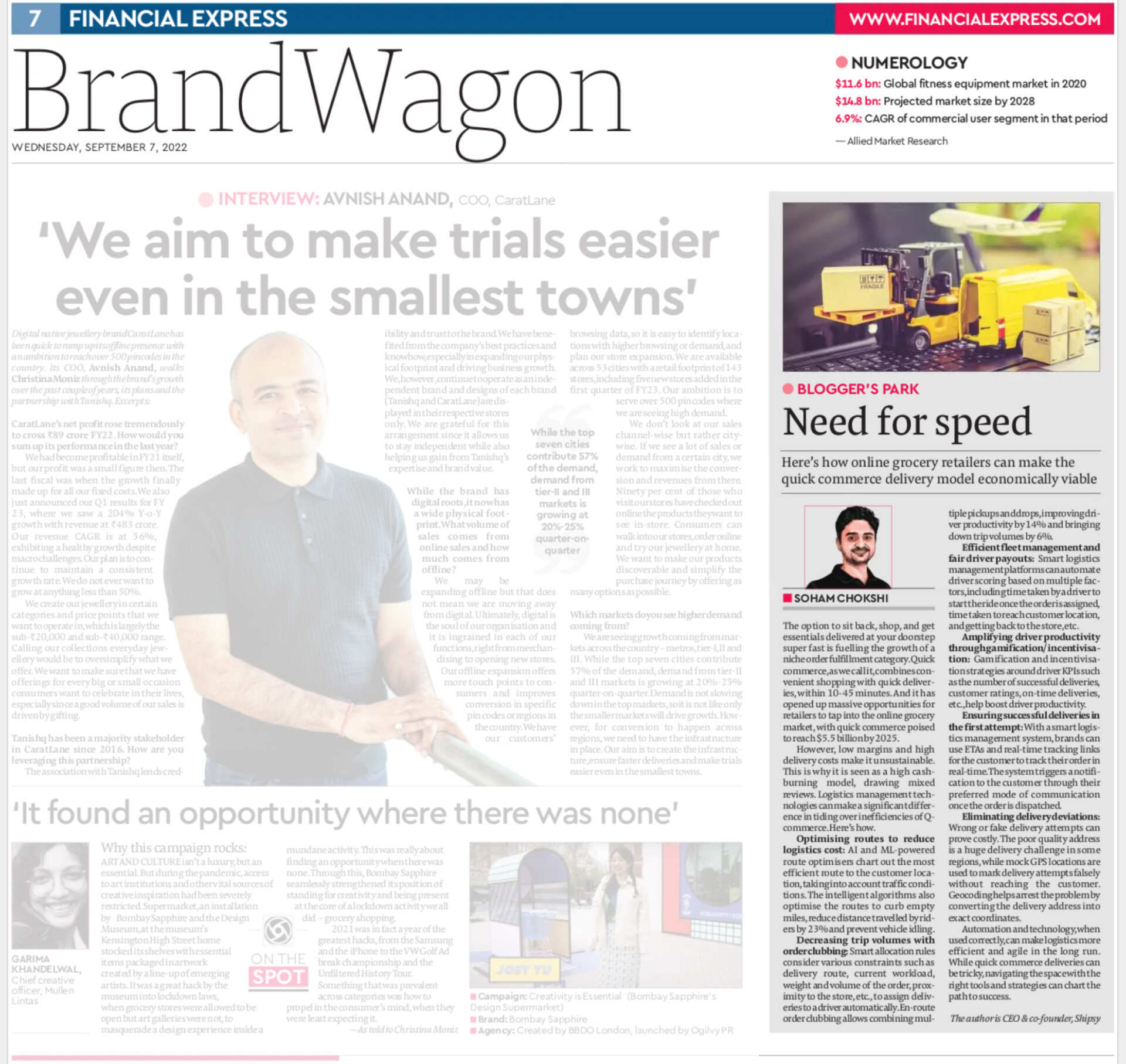 The option to sit back, shop, and get essentials delivered to your doorstep super fast is fuelling the growth of a niche order fulfillment category. Quick Commerce, as we call it, combines convenient shopping with quick deliveries, ranging anywhere between 10 to 45 minutes. And it has opened up massive opportunities for retailers to tap into the online grocery market, with quick commerce poised to reach USD 5.5 billion by 2025. 
However, low margins and high delivery costs make it unsustainable. This is why it is seen as a high cash-burning model, drawing mixed reviews. Logistics management technologies can make a significant difference in tiding over inefficiencies of Q-commerce. Here's how.
Optimizing Routes To Reduce Logistics Cost
AI and ML-powered route optimizers chart out the most efficient route to the customer location. It considers current traffic conditions and reads through the historical data to avert traffic congestion, roadblock, and diversions to facilitate speedy delivery. Not only this, but the intelligent algorithms also optimize the routes to curb empty miles, reduce the distance traveled by riders by 23%, and prevent vehicle idling.
Decreasing Trip Volumes with Order Clubbing
Smart allocation rules consider various constraints such as delivery route, current workload, weight and volume of the order, proximity to the store, etc., to assign deliveries to a driver automatically. En-route order clubbing allows combining multiple pickups and drops on the go, improving driver productivity by 14% and bringing down trip volumes by 6%. 
Efficient Fleet Management and Fair Driver Payouts
Smart logistics management platforms can automate driver scoring based on multiple factors, including the time taken by the driver to commence the ride once the order is assigned, time taken to reach the customer location, and getting back to the store, etc.
Amplifying Driver Productivity Through Gamification and Incentivization
Gamification and incentivization strategies around key driver KPIs such as the number of successful deliveries, customer ratings, on-time deliveries, etc., work best to boost driver productivity.
Ensuring Successful Deliveries in the First Attempt
With a smart logistics management system, brands can use ETAs and real-time tracking links for the customer to track their order in real time. The system triggers a notification to the customer through their preferred mode of communication once the order is dispatched. 
Eliminating Delivery Deviations 
Wrong or fake delivery attempts can prove costly. The poor quality address is a huge delivery challenge in some regions, while mock GPS locations are used to mark delivery attempts falsely without reaching the customer. Geocoding helps arrest the problem by converting the delivery address into exact coordinates. 
Automation and technology, when used correctly, can make logistics more efficient and agile in the long run. Integrating technologies like AI, ML, Data Analytics, and IoT for on-demand quick commerce brings us closer to achieving sustainable growth. While quick commerce deliveries can be tricky, navigating the space with the right tools and strategies can chart the path to success.  
SHIPSY MEDIA CONTACT