The Following coverage appeared on the Cover Page, Pg 32-33, 34-35, and 36 of the June, 2022 Issue of Logistics News ME (print) Titled 'Tech For Change.'
Soham Chokshi, CEO and co-Founder of Shipsy, discusses how technology is imperative to enable ESG results and drive sustainable logistics.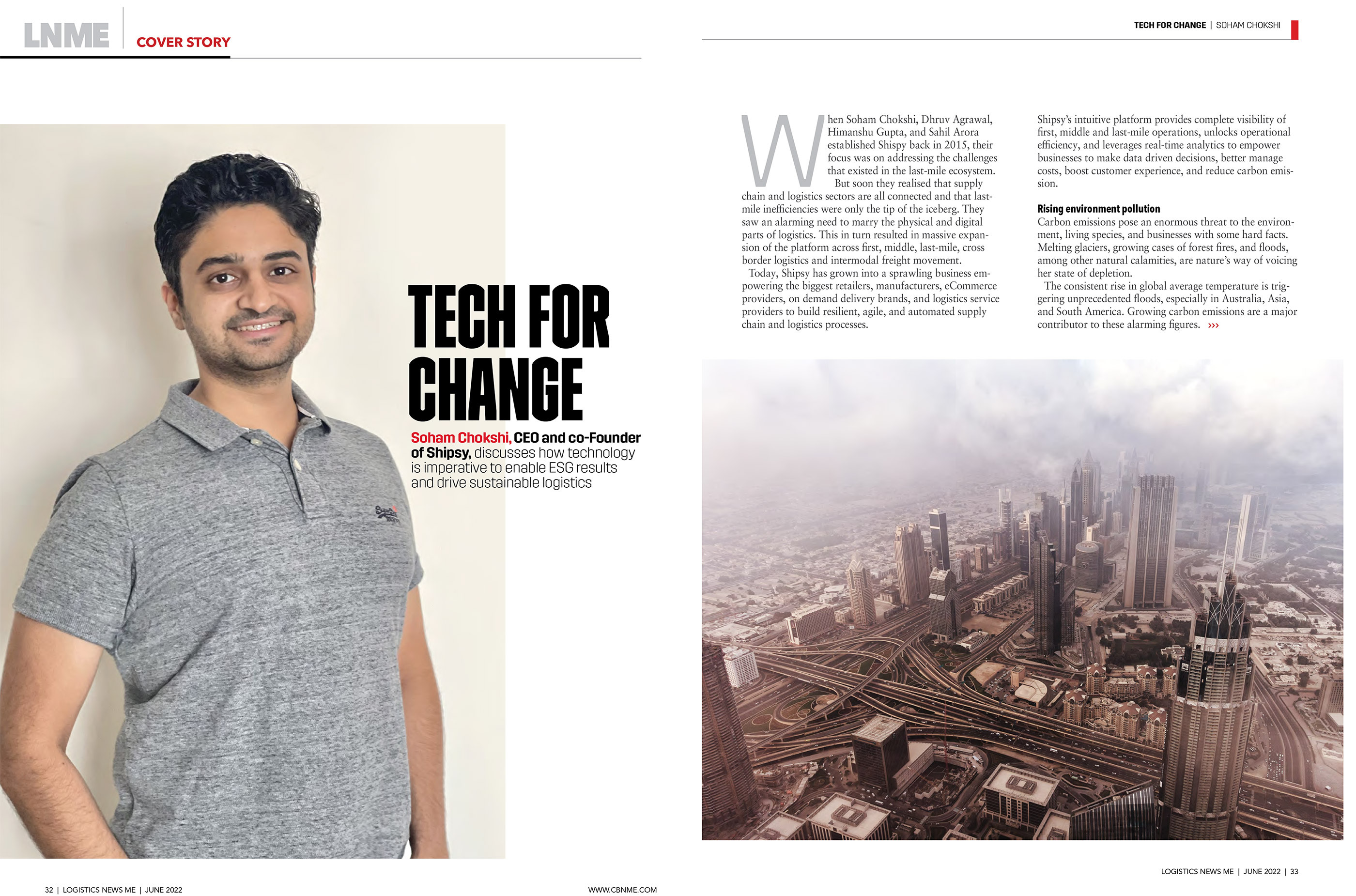 When Soham Chokshi, Dhruv Agrawal, Himanshu Gupta, and Sahil Arora established Shispy back in 2015, their focus was on addressing the challenges that existed in the last-mile ecosystem. But soon they realised that supply chain and logistics sectors are all connected and that last-mile inefficiencies were only the tip of the iceberg. They saw an alarming need to marry the physical and digital parts of logistics. This in turn resulted in massive expansion of the platform across first, middle, last-mile, cross-border logistics and intermodal freight movement.
Today, Shipsy has grown into a sprawling business empowering the biggest retailers, manufacturers, eCommerce providers, on demand delivery brands, and logistics service providers to build resilient, agile, and automated supply chain and logistics processes.
Shipsy's intuitive platform provides complete visibility offirst, middle and last-mile operations, unlocks operational efficiency, and leverages real-time analytics to empower businesses to make data driven decisions, better manage costs, boost customer experience, and reduce carbon emission.
Rising environment pollution
Carbon emissions pose an enormous threat to the environment, living species, and businesses with some hard facts. Melting glaciers, growing cases of forest fires, and floods, among other natural calamities, are nature's way of voicing her state of depletion.
The consistent rise in global average temperature is triggering unprecedented floods, especially in Australia, Asia,
and South America. Growing carbon emissions are a major contributor to these alarming figures.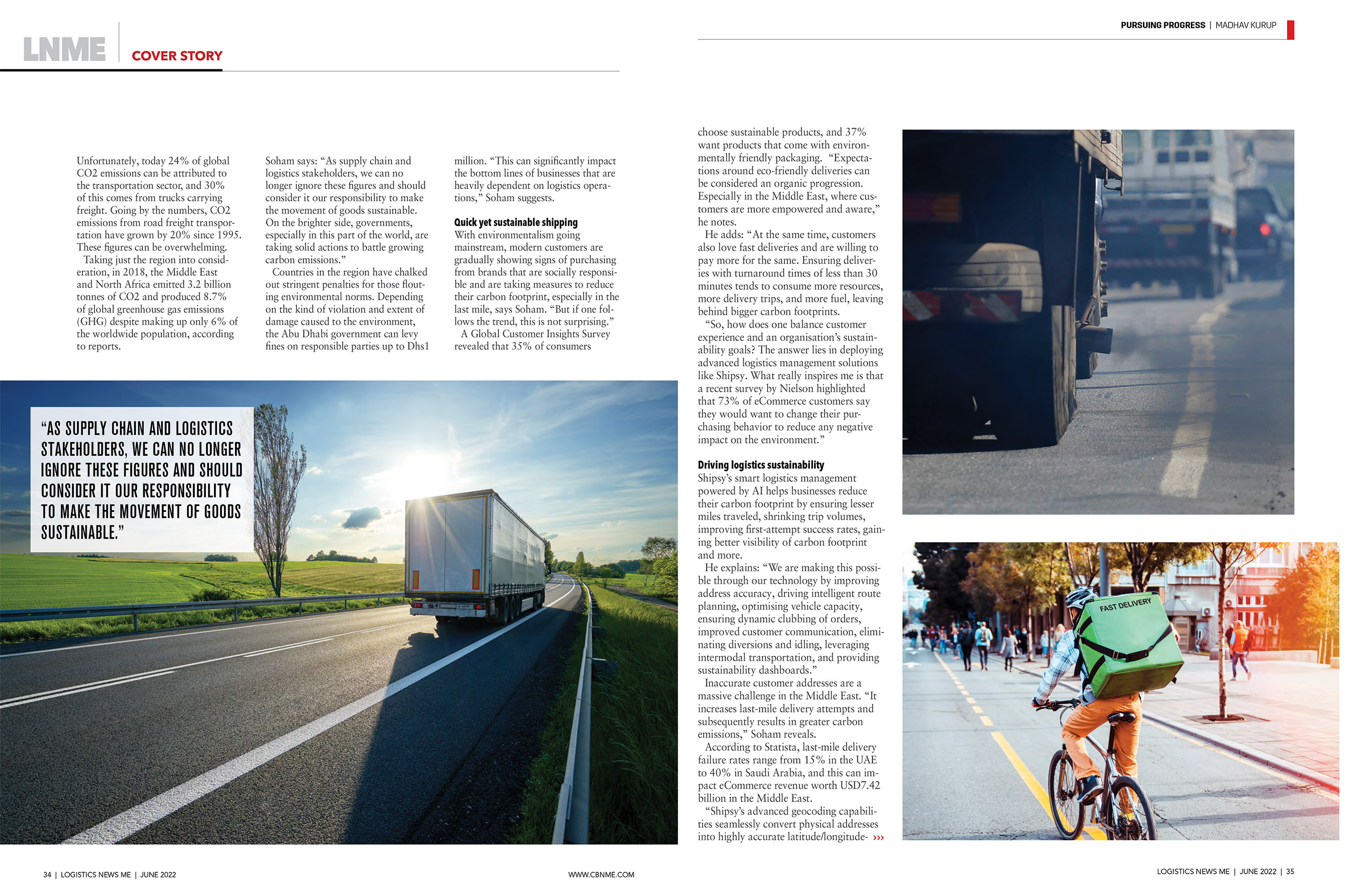 Unfortunately, today 24% of global CO2 emissions can be attributed to the transportation sector, and 30% of this comes from trucks carrying freight. Going by the numbers, CO2 emissions from road freight transportation have grown by 20% since 1995. These figures can be overwhelming.
Taking just the region into consideration, in 2018, the Middle East and North Africa emitted 3.2 billion tonnes of CO2 and produced 8.7% of global greenhouse gas emissions (GHG) despite making up only 6% of the worldwide population, according to reports.
Soham says: "As supply chain and logistics stakeholders, we can no longer ignore these figures and should consider it our responsibility to make the movement of goods sustainable. On the brighter side, governments, especially in this part of the world, are taking solid actions to battle growing carbon emissions."
Countries in the region have chalked out stringent penalties for those flouting environmental norms. Depending on the kind of violation and extent of damage caused to the environment, the Abu Dhabi government can levy fines on responsible parties up to Dhs1 million. "This can significantly impact the bottom lines of businesses that are heavily dependent on logistics operations," Soham suggests.
Quick yet sustainable shipping
With environmentalism going mainstream, modern customers are gradually showing signs of purchasing from brands that are socially responsible and are taking measures to reduce their carbon footprint, especially in the last mile, says Soham. "But if one follows the trend, this is not surprising."
A Global Customer Insights Survey revealed that 35% of consumers choose sustainable products, and 37% want products that come with environmentally friendly packaging. "Expectations around eco-friendly deliveries can be considered an organic progression. Especially in the Middle East, where customers are more empowered and aware," he notes.
He adds: "At the same time, customers also love fast deliveries and are willing to pay more for the same. Ensuring deliveries with turnaround times of less than 30 minutes tends to consume more resources, more delivery trips, and more fuel, leaving behind bigger carbon footprints.
"So, how does one balance customer experience and an organisation's sustainability goals? The answer lies in deploying advanced logistics management solutions like Shipsy. What really inspires me is that a recent survey by Nielson highlighted that 73% of eCommerce customers say they would want to change their purchasing behavior to reduce any negative impact on the environment."
Driving logistics sustainability
Shipsy's smart logistics management powered by AI helps businesses reduce their carbon footprint by ensuring lesser miles traveled, shrinking trip volumes, improving first-attempt success rates, gaining better visibility of carbon footprint and more. He explains: "We are making this possible through our technology by improving address accuracy, driving intelligent route planning, optimising vehicle capacity, ensuring dynamic clubbing of orders, improved customer communication, eliminating diversions and idling, leveraging intermodal transportation, and providing sustainability dashboards."
Inaccurate customer addresses are a massive challenge in the Middle East. "It increases last-mile delivery attempts and subsequently results in greater carbon emissions," Soham reveals.
According to Statista, last-mile delivery failure rates range from 15% in the UAE to 40% in Saudi Arabia, and this can impact eCommerce revenue worth USD7.42 billion in the Middle East.
"Shipsy's advanced geocoding capabilities seamlessly convert physical addresses into highly accurate latitude/longitude based locations and drastically eliminates delivery failures due to incorrect addresses. This boosts profitability and brings down delivery reattempts," he shares.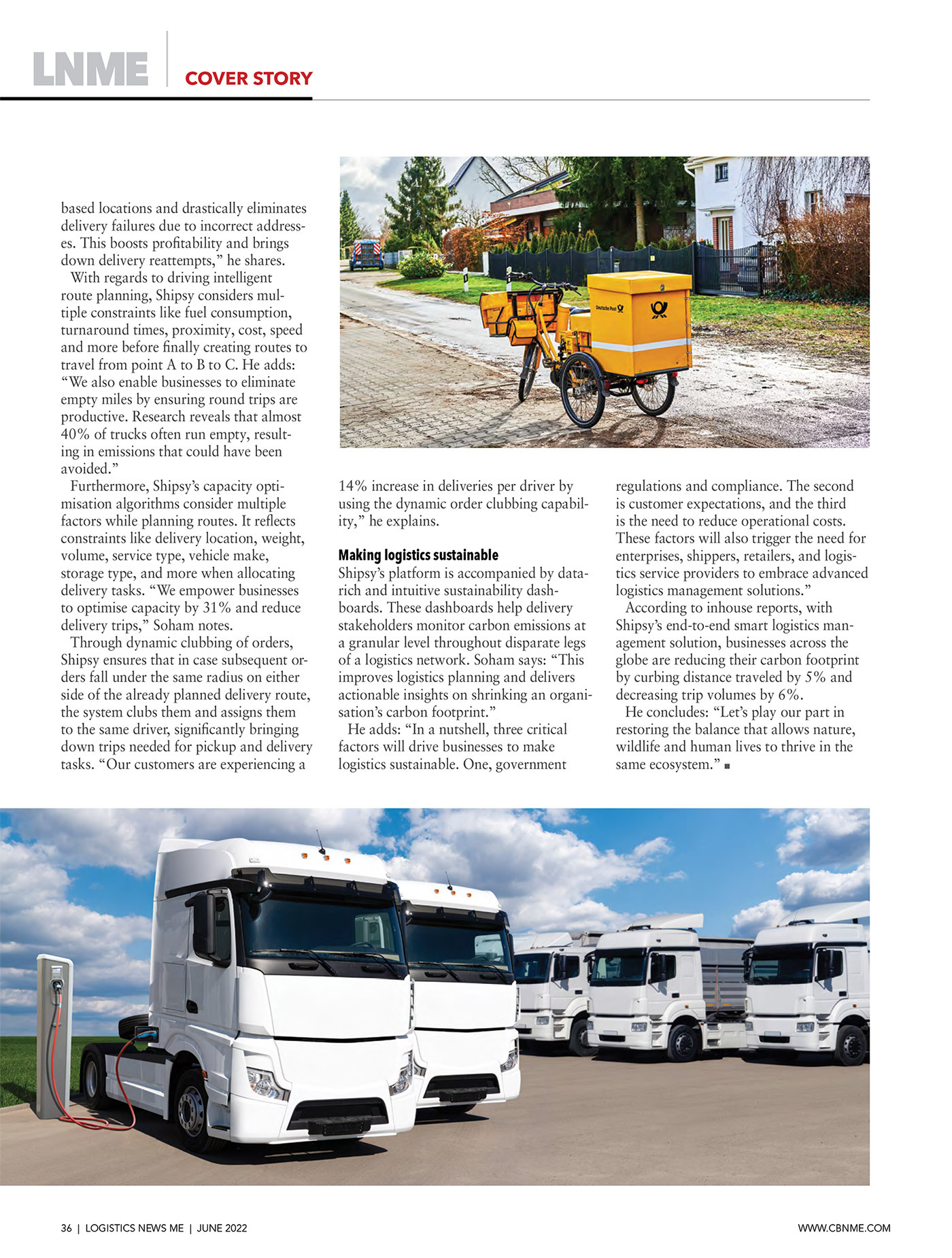 With regards to driving intelligent route planning, Shipsy considers multiple constraints like fuel consumption, turnaround times, proximity, cost, speed and more before finally creating routes to travel from point A to B to C. He adds: "We also enable businesses to eliminate empty miles by ensuring round trips are productive. Research reveals that almost 40% of trucks often run empty, resulting in emissions that could have been avoided."
Furthermore, Shipsy's capacity optimisation algorithms consider multiple factors while planning routes. It reflects constraints like delivery location, weight, volume, service type, vehicle make, storage type, and more when allocating delivery tasks. "We empower businesses to optimise capacity by 31% and reduce delivery trips," Soham notes.
Through dynamic clubbing of orders, Shipsy ensures that in case subsequent orders fall under the same radius on either side of the already planned delivery route, the system clubs them and assigns them to the same driver, significantly bringing down trips needed for pickup and delivery tasks. "Our customers are experiencing a 14% increase in deliveries per driver by using the dynamic order clubbing capability," he explains.
Making logistics sustainable
Shipsy's platform is accompanied by data-rich and intuitive sustainability dashboards. These dashboards help delivery stakeholders monitor carbon emissions at a granular level throughout disparate legs of a logistics network. Soham says: "This improves logistics planning and delivers actionable insights on shrinking an organisation's carbon footprint."
He adds: "In a nutshell, three critical factors will drive businesses to make logistics sustainable. One, government regulations and compliance. The second is customer expectations, and the third is the need to reduce operational costs.
These factors will also trigger the need for enterprises, shippers, retailers, and logistics service providers to embrace advanced logistics management solutions."
According to inhouse reports, with Shipsy's end-to-end smart logistics management solution, businesses across the globe are reducing their carbon footprint by curbing distance traveled by 5% and decreasing trip volumes by 6%.
He concludes: "Let's play our part in restoring the balance that allows nature, wildlife and human lives to thrive in the same ecosystem."
SHIPSY MEDIA CONTACT
Read Article Source: June, 2022 Issue of Logistics News ME (print)