The time to unwrap Christmas presents and fill ourselves with way too much delicious food is almost here. For years we had been in awe of Santa Claus for seamlessly delivering gifts to every household worldwide, overnight.
We bet Mr. Claus has made some serious investment in logistics management. Or else, he cannot get past the first traffic junction during peak hours. And absolutely not with those reindeers and sleigh. Because that will fail even for hyperlocal delivery, let alone his cross-border plans.
Many businesses will relate to it, be it eCommerce, retail, CEP, or logistics providers. The season brings numerous business opportunities to tap into a new customer base and engage with existing customers through personalized offerings. The result is improved customer loyalty, increased purchase frequency, more order volumes, better customer experience, and more moolah. According to a report, this year will see a whopping £21 billion spent on Christmas gifts. However, the inability to scale deliveries to match massive order volumes and ever-evolving customer expectations can dampen their hopes.
The ongoing supply chain issues, last-minute stock-outs, and delayed deliveries worry businesses and end customers. In fact, Amazon received 41 orders per second on their busiest day last Christmas. According to a survey conducted in August this year, 27% of shoppers planned to buy gifts before the end of September. That includes 13% of those who had already purchased or planned to buy in August.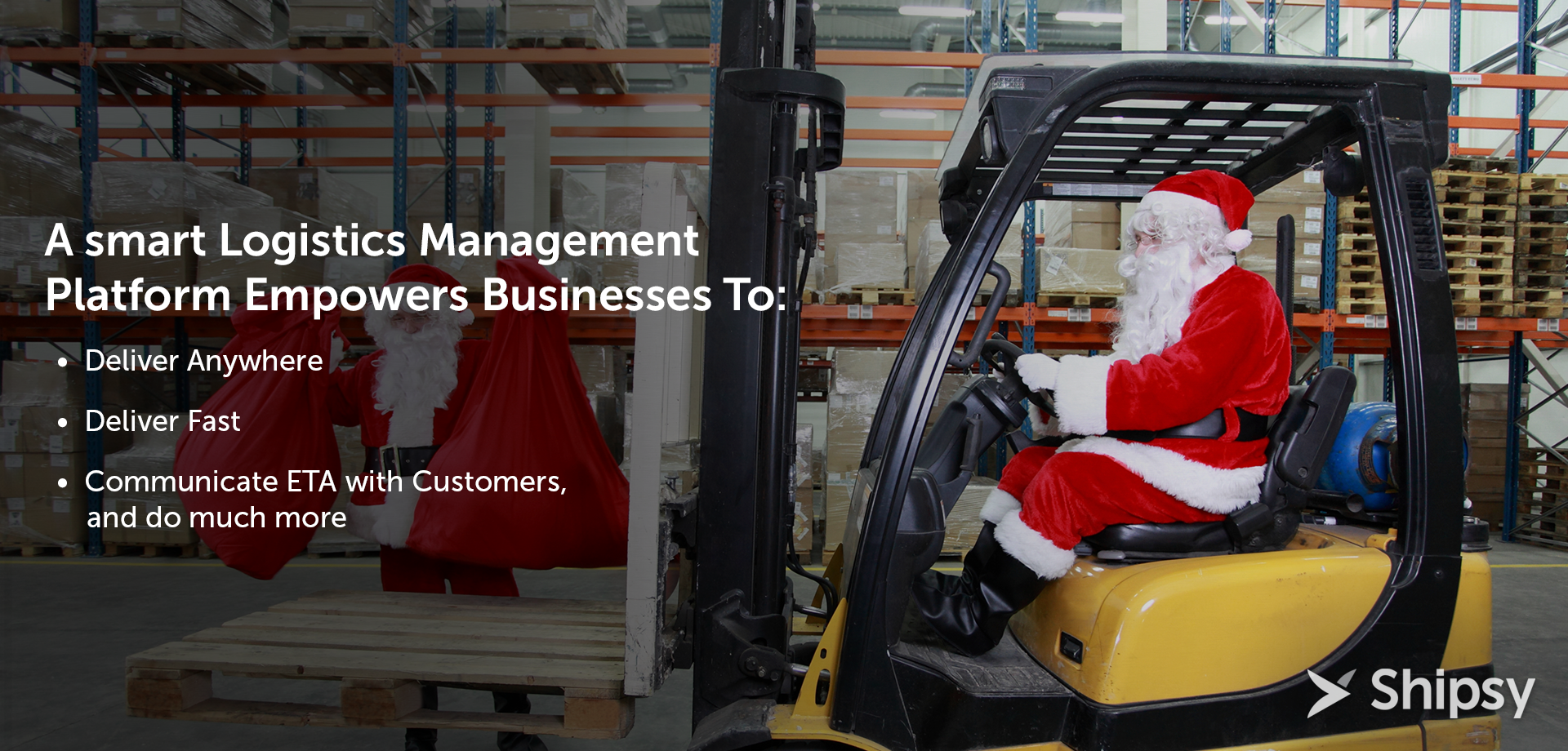 How To Claus In Festive Deliveries?
So while shopping and sending out deliveries in advance is a brilliant idea, there is much more business can do to optimize operations and spread festive cheer when it matters the most. In fact, this is the golden time for logistics partners to win customers at both ends with exceptional service. An AI-powered smart logistics management platform can empower businesses to automate and optimize their logistics processes to ensure delivery scalability, improve delivery TAT, and extend delivery visibility to enhance customer experience. Here's what they will be able to do:
Deliver Anywhere
One of the wiser ways businesses can deal with skyrocketing delivery demands is to partner with a 3PL provider. It not only takes a significant load off their sleighs (err, shoulder) but also allows expanding their operational ambit to newer territories. However, partnering with a wrong delivery provider and poor SLA management can also turn their plans topsy turvy.
Easy 3PL management enables businesses to partner with multiple logistics providers and tracks them using a single dashboard. It also allows capturing KPIs in real-time to ensure SLA adherence. Smart allocation rules automatically consider delivery constraints and historical data to assign the task to the best logistics partner. The solution can easily integrate with existing ERPs and TMS to pick the best vehicle and driver for the job in the same way. Choosing the right resource ups the chances of first attempt deliveries significantly. Moreover, intelligent roster management enables brands to onboard ad hoc drivers to match elastic demand requirements.
Deliver Fast
Imagine receiving your presents post-Christmas. Yes, it isn't a very comforting thought. Festivals are important events, especially from a business standpoint. Shipping time impacts cart abandonment, while delayed deliveries lead to more returns.
A route optimization and planning engine considers the ETA promised to quickly chart out the most efficient route to the customer location. It reroutes to the nth minute to avoid traffic congestion and roadblocks to deliver the consignment on time. En-route order clubbing enables the driver to pick up/deliver more orders on the go with minimum possible deviations. Dynamic route planners allow multi-stop deliveries, eliminate empty miles, reduce miles traveled, shrink logistics costs, and so on.
Communicate ETA To Customers
Consider yourself out shopping when a package arrives back home to a locked door. Delivery visibility can be a considerable deterrent to brand loyalty, as 47% will abandon a brand with poor delivery visibility.
AI-powered dynamic route planner triggers a notification to the consignee through SMS, WhatsApp, or email once the package is out for delivery. The customer can track their consignment in real-time and change the delivery slots at their convenience.
Click here if you are looking for profitable ways of offering free shipping to attract more sales.
Well, if not for a smart logistics management platform, Mr. Claus would either need a nitro-fitted cavalry that travels at the speed of approx 2,340,000 mph to cover every home on Christmas Eve. Or multiple Secret Santas to Santa facilitating logistics operations to accomplish his exhaustive delivery checklist. As far as businesses are concerned, they can request a demo here and check out how to make their celebrations merrier this time.