There has been a lot of buzz about optimizing last-mile delivery, but what often gets overlooked is first mile delivery. First mile delivery management deals with the transportation of goods from the e-commerce company's warehouse to its courier partner's warehouse. The function of last-mile delivery starts when the goods are packed and ready to ship. It plays a significant role as any delay or inefficiency in your first mile operations would impact directly on the middle and last-mile delivery. Let's learn more about the first mile logistics-
What is first mile delivery or first mile delivery meaning?
It is the movement or transportation of goods from the manufacturer's warehouse to either the courier's company's warehouse or the order fulfillment center. The operations included in the first mile serves as the foundation of further logistics processes. When managed efficiently, first mile delivery also contributes to achieving customer satisfaction.
First mile logistics includes loading and unloading goods to the suitable vehicle considering its capacity, size, and various other factors. Apart from this, it also incorporates scheduling drivers for transportation and ample other tasks. A company manages its first mile and last mile delivery operations by setting up its own logistics team or outsourcing it to a first mile courier company. First mile delivery software is what helps both the company and courier partner to ensure hassle-free movement of goods at the right time and in a cost-controlled way.
What is first mile tracking?
First mile tracking, an integral part of first mile delivery management, facilitates real-time tracking of goods. With tracking, you can know the exact status of the goods and also fix unexpected issues such as vehicle breakdown, road accidents, and more.
The significance of the first mile in logistics
As aforementioned, first mile shipping/delivery plays a significant role in the success of overall logistics operations. Well-managed first mile operations ensure that there is no delay or damage to the goods. It also helps to control the cost of transportation of goods and also has a direct impact on the shipping experience.
Challenges with first mile delivery
Like the other two stages of logistics, businesses may find problems with the 1st mile delivery. Here are some of the common ones-
Labeling and packaging goods
Manually labeling the products is one of the biggest obstacles that cause inefficiencies in first mile operations. Some businesses still use handwritten labels that might not include complete address details every time. In the lack of incomplete information, courier companies may find difficulty in delivering goods at the right location and specified time.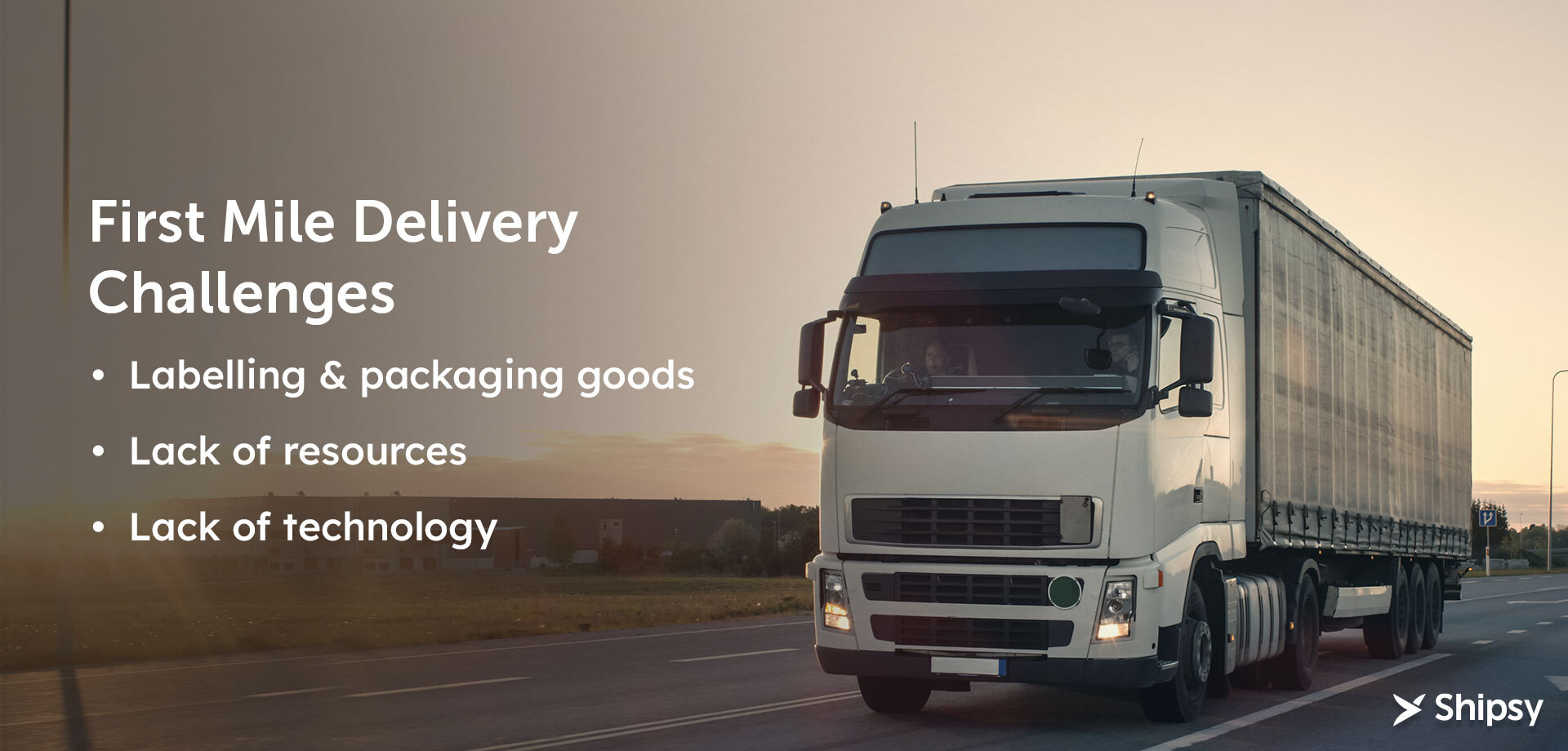 Similarly, packaging is another big challenge when it comes to first mile delivery management. Most businesses find issues in following the right packaging norms and using inappropriate packaging material.
Lack of trained personnel is another big issue associated with the first mile logistics as well as first mile tracking. Both can cause a delay in the movement of goods and also increase the overall transportation costs.
Not using tech-enabled platforms or manually performing all the first mile shipping-related operations can cause inefficiencies. It can also lead to poor operational visibility and tracking, which might increase the cost of moving goods. Business with in-house first mile management as well as first mile delivery services providers, both can face several issues with manual delivery management.
What is the cost of first mile delivery?
It totally depends on the quantity and type of goods you want to transport. Another two major factors that determine the delivery cost is the location and shipping method. By forecasting demands with the help of first mile pickup software, you can reduce the overall delivery cost and keep your inventory up-to-date.
First Mile Delivery Vs. Last Mile Delivery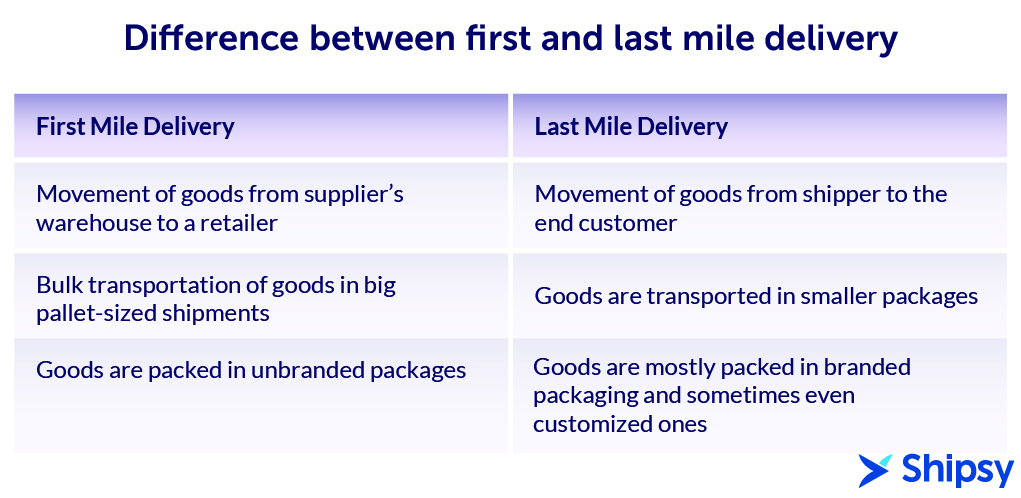 How to improve first mile shipping?
Here are the key points that can help to improve first mile shipping-
Pre-define your first mile logistics needs
Find a first mile courier partner that uses the latest technology to execute first mile operations
Collate the right data to decide the time to ship and time to stock goods
Choose the right packaging
Define a labeling system
If you have an in-house team to handle first mile operations, then get a first mile delivery software to manage all processes efficiently
How does first mile delivery software streamline first mile delivery operations?
First mile delivery or first mile pickup software can help businesses to streamline the first leg of the logistics. The software brings automation and transparency in all the processes involved in moving finished goods to a retailer or courier company's warehouse. Besides, the first mile delivery software can also assist in controlling the transportation cost, minimizing dependency on the workforce, and improving shipping experience.
First mile delivery is the first movement of finished goods from a retailer to the logistics company's warehouse. The final destination could also be an order fulfilment center. Like the last mile and middle mile, first mile delivery also needs proper management. And this article covers it all. Read now to know about first mile delivery optimization, challenges, and more.