The United States is a case study market with a highly integrated supply chain that links consumers and producers via multiple modes of transportation, such as rail, air, maritime, truck transport, and express delivery services. No wonder, The freight and logistics industry in the USA is expected to grow at a decent CAGR of 4% between the 2022-2027 period.
Also, eCommerce penetration in the US is increasing, which is further boosting the retail industry and driving growth for the express parcel and last mile segments of the freight and logistics industry.
However, the freight market in the US is fragmented because of the presence of major domestic and international players, and new players are easily entering the industry because of the widespread technological development leading to a competitive landscape. Also, the customers demand more transparency, convenience, affordability, speed in delivery, and frictionless returns.
This calls for more efficient end-to-end freight management software in USA, that could help businesses operate more efficiently, reduce overall logistics costs, improve customer experience and compete better to achieve the maximum market share.
Below, we talk about the current landscape of the freight market in the USA, some important factors that are driving the need for freight management software in the country, and important challenges in the freight industry that it can solve.
Freight Management Software in the USA: Current Market Landscape and Key Growth Drivers
Rising eCommerce
Consumers in the US spent around $870.75 billion online as compared to 762.68 billion in 2020, showing massive growth. This uptrend in eCommerce is one of the primary reasons behind the growth of the freight and logistics sector in the United States.
However, customer expectations are also increasing along with the growing eCommerce and freight and logistics industry. For instance, customers are demanding faster and free deliveries, hassle-free returns, and complete transparency, which is impossible with legacy freight management solutions that rely heavily on manual elements. This is driving the need for smart freight management software in USA with integrated capabilities.
Long-Haul Trucking
Long-haul truckers are a crucial part of the supply chain delivering goods thousands of miles across the country and across different borders. This industry is known to empower the freight and logistics industry and, thus, the American economy.
However, long-haul trucking is highly inefficient. For instance, the market is fragmented, there's no transparency, long haul trucks significantly impact the carbon footprint, and most importantly, there's limited use of technology. And this brings an opportunity for reliable freight management software that could connect all the stakeholders, introduce transparency and optimize vehicles and routes to limit the carbon footprint.
Growth in Courier, Express, and Parcel Segment
The eCommerce industry in the USA is growing at a pretty high rate contributing significantly to the retail industry. For instance, the share of eCommerce in the retail market in 2021 was 18.3, up from 16.9 in 2020.
This up trend in eCommerce is expected to boost the courier, express, and parcel services and the last mile delivery services, which will be cumbersome to manage without integrated freight management software in USA.
Supply Chain Globalization
Supply chain globalization is helping businesses in the USA provide consumers access to more goods at affordable prices and become more efficient. This globalization is creating a new revenue stream for logistics companies by allowing them to reach a wider audience and stay connected with different stakeholders, thus promoting the freight and logistics industry.
Domestic Tonnage Due to Energy Production
Energy production and consumption in the US is one of the highest in the world, which is substantially boosting the domestic freight tonnage. For instance, in 2019, US production of petroleum liquids and oil using fracking reached 19.5 million barrels per day, which was the highest in the world.
This huge energy output, along with sand and water, boosted the pipelines, truckload carriers, and even inland waterway traffic, driving the growth of the freight industry and promoting the need for efficient and smart freight management software to manage such high loads.
Key Challenges the Freight Management Software in the USA Must Solve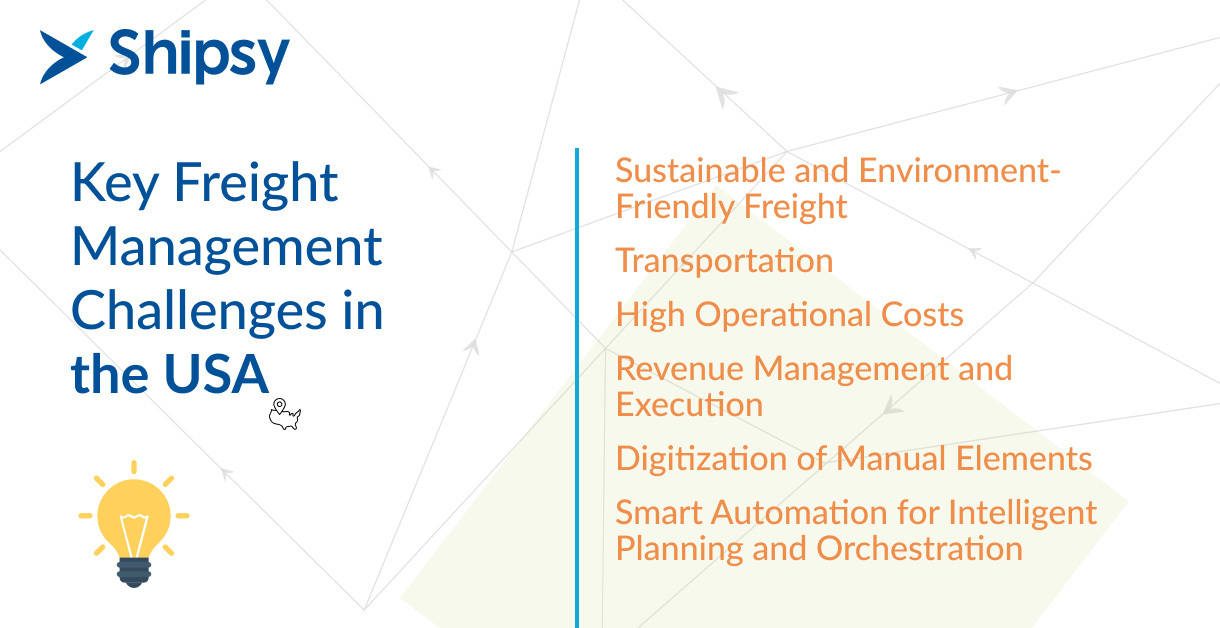 Sustainable and Environment-Friendly Freight Transportation
Owing to the increasing environmental concerns, several green logistics solutions have been adopted. However, considering the popularity of long-haul trucks that consume a substantial amount of fuel and add massive release amounts of CO2 into the environment leading, there's a need for a smart system that could optimize routes to minimize fuel consumption and, thus, carbon emissions resulting in sustainable and environmentally friendly freight transportation.
High Operational Costs
While there are technical solutions across the freight market in the USA, most aren't effective enough because of limited integrations or partial automation. Also, the industry is fragmented, and there isn't effective collaboration and communication among stakeholders leading to operational inefficiencies and, thus, high operational costs.
However, these challenges can be supposedly dealt with a smart and integrated freight management software in USA. A smart solution could ensure effective collaboration and communication and better transparency, reducing operational inefficiencies and, thus, costs.
Revenue Management and Execution
Revenue management in the supply chain is crucial to ensure effective capacity utilization and maximize profit by selling the right goods at the right price to the right set of customers.
However, to ensure that reliable data about competitor prices, historical rates, inventory levels, and market dynamics is required for predicting the demand and offer rate recommendations.
Digitization of Manual Elements
Several elements in the freight and logistics industry in the USA are handled manually, such as data entry, warehouse management, and sending RFQs, which often lead to operational inefficiencies and delayed deliveries as humans are prone to making errors.
However, with a smart solution, businesses can digitize all the manual elements and effectively meet the rising demands of customers who wish for faster deliveries, seamless returns, and no shipping charges.
Smart Automation for Intelligent Planning and Orchestration
As stated earlier, the USA has an integrated supply chain that operates through multiple modes of transport, such as air, rail, sea, and road freight. This supply chain has several moving parts that need to be orchestrated to meet SLAs and improve operational effectiveness.
An integrated end-to-end freight management solution could help businesses automate processes, ensure effective stakeholder collaboration & communication, and offer real-time insights using which businesses can make informed decisions.
Choosing the Best Freight Management Software in USA: Key Considerations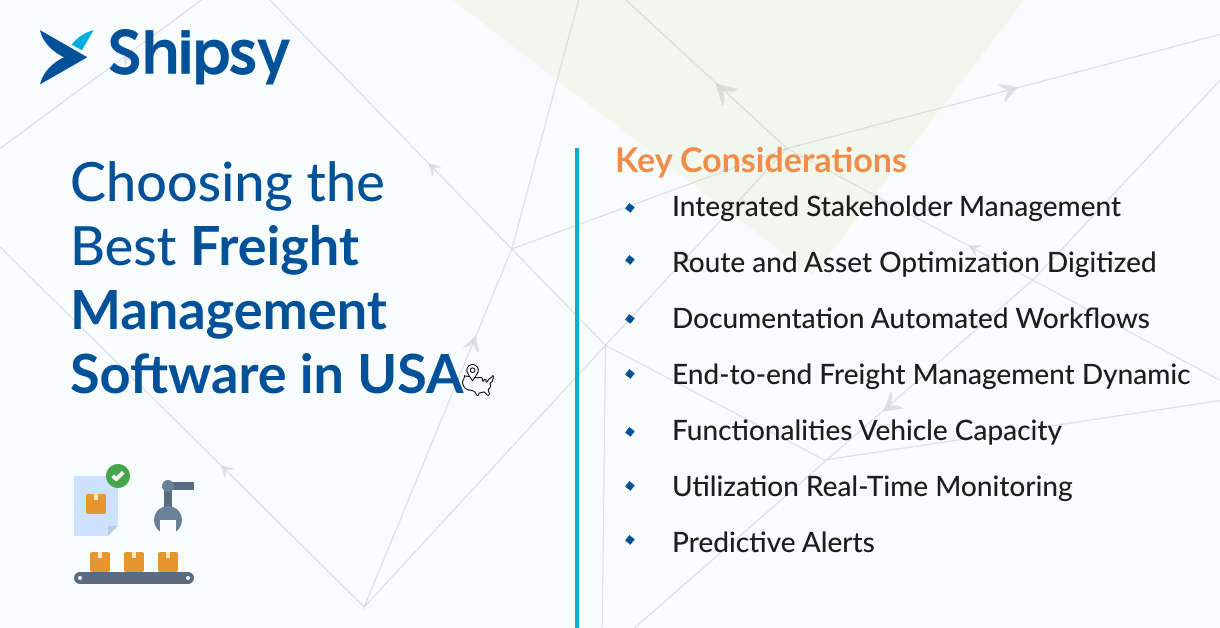 Here are some important things to keep in mind while choosing freight management software in the USA:
Integrated Stakeholder Management
There are numerous stakeholders involved in the freight and logistics world, such as freight forwarders, shippers, planners, brokers, customers, etc. However, unfortunately, all these stakeholders have unique requirements but aren't well connected because of the absence of a centralized system. And this often leads to increased logistics costs and missed SLAs.
So, find freight management software in the USA that offers granular visibility to the stakeholders and sends them real-time alerts regarding delivery progress, exceptions, and potential delays. This way, all the stakeholders will be able to move in sync.
Route and Asset Optimization
Route and asset optimization is a vital feature to look for in any freight management software with last mile capabilities. With effective and automated route optimization, businesses can find the most efficient route from source to destination, which helps save time, fuel, and cost during delivery fulfillment.
And with asset optimization, managers can generate a route that has the least number of U-turns and make sure that the assets are utilized to their full potential, maximizing profits.
Digitized Documentation
Well-maintained and up-to-date documentation are necessary to ensure a hiccup-free customs clearance process. And sometimes, when the package is wrong, or there are some restrictions regarding the package in a particular country, the documentation needs to be updated dynamically. Not being able to do that can lead to unnecessary hassle at border clearing, additional costs, and breached SLAs.
Therefore, it is important to ensure that the freight management software offers digitized documentation to dynamically manage and update all the documents for seamless customs clearance.
Automated Workflows
Another important feature to look for is automation. The freight management software must automate all the processes, such as freight procurement, shipment tracking, route optimization, and other tasks that rely on human effort.
Automated workflows not only make the operation efficient but also reduce the probability of making an error to negligible, saving money and ensuring timely delivery of all the shipments.
End-to-end Freight Management
While searching for different freight management software, it is common to come across several solutions with very limited functionality, which will help with limited aspects such as freight procurement or shipment tracking. And for the rest of the processes, businesses either have to rely on human elements or find a new software solution.
However, this is something they really need to avoid. While looking for freight management software in USA, make sure it offers end-to-end integration. It should help businesses with everything from freight procurement, distribution, shipment tracking, delivery, and returns, along with managing and reconciling.
This way, they can manage everything on a single integrated solution without having to rely on manual elements or multiple software for dedicated features.
Dynamic Functionalities
Although static functionalities get the job done, they aren't flexible and work using static variables. For instance, a manager can plan a route from source to destination, feeding the system with some static data. But what if some new documentation is required at border clearance, or the route needs to be changed? In such conditions, static functionalities will fail.
To tackle such situations effectively, make sure that the freight management software in USA comes with dynamic functionalities. Using dynamic functionalities, businesses can effectively deal with random situations minimizing SLA breaches and ensuring timely deliveries.
Vehicle Capacity Utilization
Without a smart and automated system in place, businesses are bound to make wrong predictions which often lead to operational inefficiencies, due to which several trucks either return completely empty or half empty, adding to the already high logistics costs.
However, if the freight management software helps add custom filters such as vehicle size, make, shipment size, weight, volume, temperature control, etc., businesses can achieve effective route planning and ensure optimum vehicle capacity utilization.
Real-Time Monitoring
Another important feature to look for is real-time monitoring. With real-time monitoring, businesses are able to have 360-degree visibility of all operations, including shipments, across all modes of transport. This way, they can minimize any unpleasant surprises in the supply chain. If something unfortunate happens, like delays, shipment loss during transit, etc., they can act accordingly and minimize the damage.
Predictive Alerts
A smart freight management solution uses predictive analysis to keep an eye on incidental events such as detention, demurrage, and transshipment aging and sends automated alerts about the same using automated predictive alerts. This way, if things go south, stakeholders get immediately notified, enabling them to tackle the situation better and minimize SLA breaches.
Shipsy: Custom Freight Management Software in USA for Sustainable & Cost-Efficient Logistics
Shipsy is a smart, integrated, and end-to-end freight management and orchestration platform that comes with all of the aforementioned features and a lot more.
With Shipsy, businesses can integrate all the stakeholders in one place, offer granular visibility to all of them regarding the shipment status, and send automated alerts. This way, there's always effective communication and complete synchrony among the stakeholders.
Additionally, Shipsy's smart route and asset optimization allow you to enter as many as 250 constraints so that you can find a heavily optimized route for saving cost, time, and fuel and ensure that the assets are being utilized at their maximum potential.
Because of its smart data analytics capabilities, Shipsy sends you predictive alerts to inform you of any incidental damages saving you money. Also, using the dynamic digital document locker, you ensure all your documents are safe and accessible and get updated as and when required dynamically.
Moreover, Shipsy's smart automation allows you to automate almost all the tasks, from sending RFQs and managing invoices and reconciling the same, saving you time and reducing the error margin to zero.
With its smart offerings and advanced technical capabilities, Shipsy has helped businesses unlock:
12% reduction in transportation cost
12% reduction in order to ship time
28% reduction in customer complaints
31% increase in vehicle capacity utilization
64% increase in customer satisfaction
11% reduction in last-mile cost
100% reduction in 3PL invoicing error
To get started with highly smart and efficient freight management software in USA, or to know more about Shipsy's freight management platform, please schedule a customized demo now.