The global courier, express, and parcel (CEP) market will be 501.2 billion euros by 2024. Also, BCG estimates the number of packages delivered globally to be 200 billion by 2025.
However, 30% return rates, changing demand patterns, lack of technology integration, and reliance on "manual" elements for planning, managing, and monitoring are ailing the sector.
Despite the emergence of advanced courier management systems for smart delivery orchestration, the industry is teeming with inefficiency and scalability issues.
Then, how can one get rid of the redundancies and cost leakages happening in every step? How can a reliable platform or ecosystem solve the operational and process challenges of the CEP industry better than a standalone software?
Here, we explore the CEP industry challenges, how courier management systems solve them, what services they offer, and much more!
Let us get started with a brief overview of the courier management systems.
Courier Management System: A Brief Overview
As suggested by the name, a courier management system helps the logistics service providers and retailers to "perform, manage, monitor, track, analyze, and plan" all the CEP or express logistics processes.
In technical terms, an end-to-end courier management service provider must help:
Picking the most cost-efficient and reliable logistics service provider
Manage to invoice and billing digitally
Digitization and optimization of every process right from FLM (field logistics management) to doorstep deliveries
Offer smart orchestration of processes to ensure better revenue and minimal cost leakages
Improve CX via better engagement, minimal to zero SLA ETA breach, and real-time communication to track and confirm deliveries
Avoid all the hassle of finding the best riders, best vehicles, and best 3PLs, and ensure quick deliveries
While the list can definitely stretch more, these points offer a basic overview of all the services a courier management system offers.
Before we move ahead, it is important to understand one thing – the courier management system varies from the courier automation software for standalone functions and processes.
These software solutions can automate and digitize one or more processes involved in a specific leg of the courier journey.
On the other hand, the courier management system offers end-to-end system orchestration, including:
Consignments
FLM (Field Logistics Management)
First, middle, and last mile operations
Hub operations
Third parties
Customer analytics
Now that we have had an overview of the courier management systems, let us move on to explore the various challenges of the CEP industry they can solve.
Courier Management Software System: Challenges It Solves
eCommerce Surge
Global eCommerce sales amounted to USD 4.9 trillion in 2021, and this figure is expected to grow by 50 percent over the next 4 years, making USD 7.4 trillion by 2025.
Complemented by mobile commerce and increasing internet and mobile penetration, eCommerce demands are up for a boom.
Apart from this eCommerce surge, customer demands are ballooning. Same-day deliveries, free deliveries, and returns – these processes happen twice or even thrice for some customers, from multiple service providers.
This means that the race to deliver delightful customer experiences is even more grueling, making it hard for the CEP industry to operate on big margins.
With services like Amazon Prime Air and Facebook investing $5.7 billion in Reliance Jio offerings, eCommerce growth is turning into a Leviathan for the CEP operators!
End-to-end courier management systems can automate, digitize and optimize all the core processes, such as logistics operators' onboarding, invoicing, billing, picking, packing, and routing.
These systems come with AI-powered algorithms and integrated dashboards that can be customized for specific business use cases.
This helps cut down the time, effort, and resources required to complete the deliveries on time. Such smart delivery orchestration can help the CEP industry to match the rapid growth of the eCommerce sector.
Visibility and Tracking
Visibility into the real-time movement of shipments, parcels, and individual orders right from the source to the destination is another major challenge.
Making calls or tracking every order individually for businesses tackling millions of orders per month is neither feasible nor smart. Also, the customers are looking for service-discerning features such as real-time tracking of delivery, accurate ETAs, and transparency.
AI/ML-powered courier management system software allows every stakeholder to check the real-time location and movement of the order.
Such features not only ensure customer engagement and improved CX, but they also help businesses save costs incurred due to:
Inefficient route planning
Fake delivery attempts
Driver deviating from system-generated routes etc
This obliterates the need to manually call and confirm the shipment or order status as well.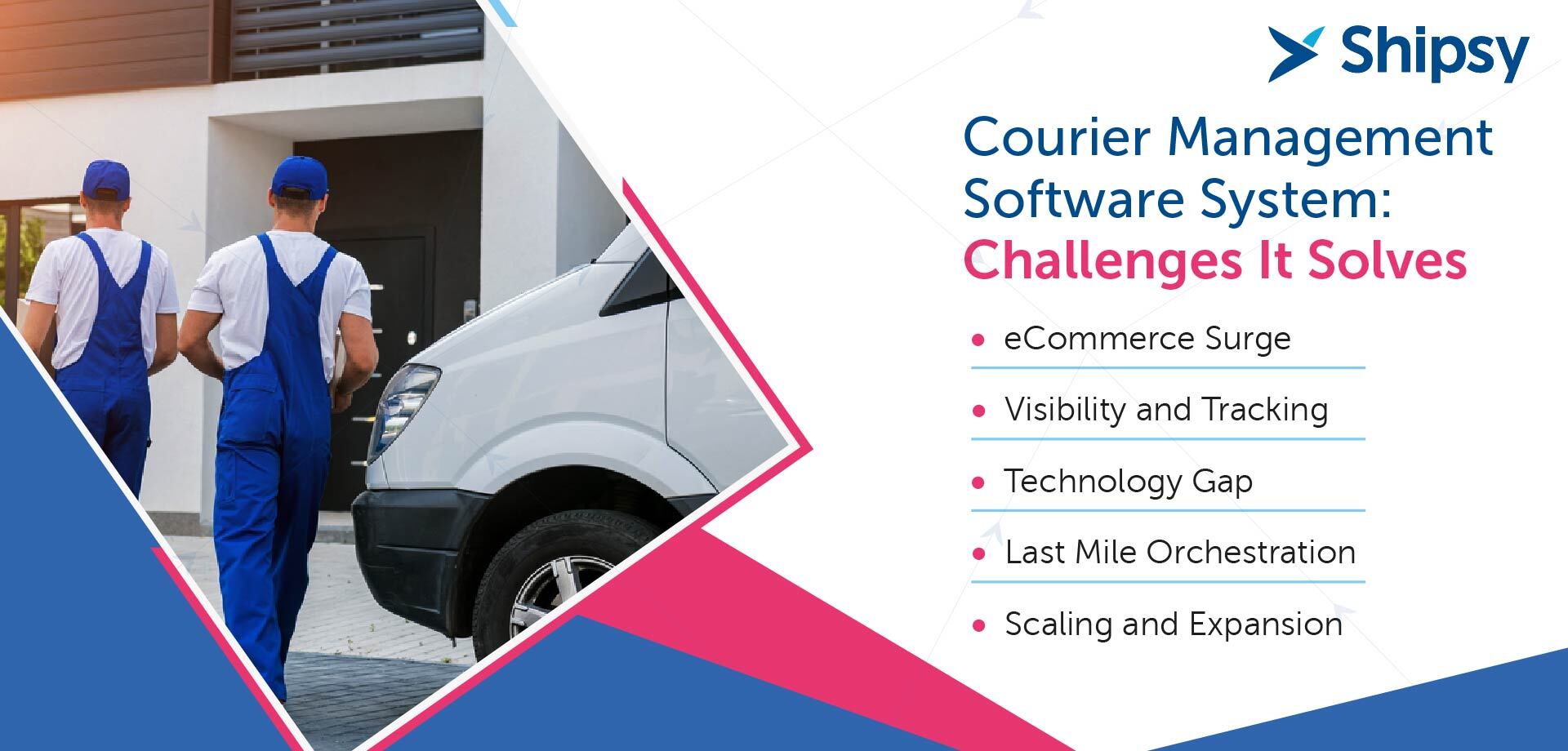 Technology Gap
Customers are becoming smarter and tech-savvy leading to a surge in customer expectations as well.
Customers are looking for:
Real-time communications
Omnichannel CX
Information about the authenticity of ingredients in a specific product
Self-service modules for faster query resolution
Personalized experiences
Sharing feedback and getting the changes done by the brands they follow
However, all such premium service expectations cannot come with manual interventions plaguing the core processes.
CEP industry has numerous moving parts which make it impossible to incorporate the latest tech offerings without hassle.
Having an end-to-end courier management platform powered by cloud computing and flexible integration modules allows for easier technology adoption.
With historic data insights being recorded and processed for every customer, logistics services provider, and order, businesses can make the best possible use of data. Such actionable insights can power smart business decisions and drive engaging and delightful customer experiences.
Last Mile Orchestration
Not every package is sent over to the next city or within a country. Cross-border commerce is picking pace, with more than 2.14 bn people buying goods and services online. Further, 70% of them shop from foreign websites.
This means that poor last mile delivery orchestration and monitoring can play havoc with the revenue and CX. Lost shipments, mislabeled packages, and late deliveries spawn business troubles of exponential consequences.
As the last mile operations are generally handled by the 3PLs, they are the entry points for various process vulnerabilities and errors as well.
Smart courier management platforms help CEP businesses:
Get a real-time view of deliveries and multi-channel communication for tracking and monitoring the assets' movement
Maximize first attempt delivery success
Real-time communication with customers
Apps and gamification for cost-efficient field operations
Validate the non-delivery reasons
Work with multiple 3PL partners for aggregating the last mile operations
Leverage geocoding for accurate deliveries
Utilize route planning and optimization for on-time and cost-efficient deliveries
Further, for the 3PLs the courier management systems can help reduce the operational costs (fuel, vehicles, and assets) via smart routing and vehicle capacity utilization.
Scaling and Expansion
When it comes to scaling the pick-ups or operations across the borders or logistics service providers, the traditional CEP solutions crumble down. They fail to perform tasks such as quotation, invoicing, tracking, data management, and analytics in an efficient manner.
These limitations don't affect the pick-ups or mid-mile operations only. Such small inefficiencies tend to assume a critical stance with every step, just like a snowball.
This is where a comprehensive courier services management solution proves an impeccable choice.
Courier management systems can help businesses scale and expand via:
Automated scan-based pickups
Automated label generation, and hub & rider allocation
Central ERP system for accurate in-transit tracking and communication
Automated order allocation to riders at the destination hub or warehouse
Automated alerts, such as delivery completion, missed deliveries, and electronic PoDs (proof of deliveries)
With such transparent operations and end-to-end management of processes, the CEP stakeholders can unlock process and operational efficiencies. Such a data-driven business model paves way for effortless scaling as well.
Now that we have a wholesome understanding of the various ways a courier management system overcomes the CEP industry challenges, let's move ahead.
How Can a Courier Management System Optimize at Scale
A robust and comprehensive courier management system optimizes every single process in every single stage of order movement. Right after a customer places an order, the hub and rider assignment is automated, as are the next steps, as discussed above.
This facilitates efficiency gains in every single step.
Some other ways a courier management software can help optimize the CEP operations and processes are:
Automated and optimized courier operations
Scheduled dispatching
Tracking order and asset movement
Delivery feedback capture
Digitized proof of deliveries
Efficient routing and in-transit movement
Fair and transparent cash reconciliation and robust communication among all the CEP ecosystem stakeholders further facilitate efficiency and optimization.
All these features help solve another major challenge in the industry – query call volume.
As the customers are able to track the order in real-time, the calls regarding the order movement and deliveries get reduced. The customers no longer have to make calls to ask for the order dispatch or order status.
They can get automated alerts via SMS, chat, emails or Whatsapp messages, etc. The businesses can also schedule these alerts for every milestone in the entire journey to keep the customer informed about the order movement.
Okay, so courier management systems are awesome; but where to find them? Or, how to confirm whether a solution is the best fit or not?
Let us find out!
Courier Management System: Must-Have Features
While the business needs of every CEP stakeholder or operator are different, based on the operations and services they offer, we discuss some of the must-have features in a courier management system.
As the CEP industry is growing, so are the number of solutions and automation platforms.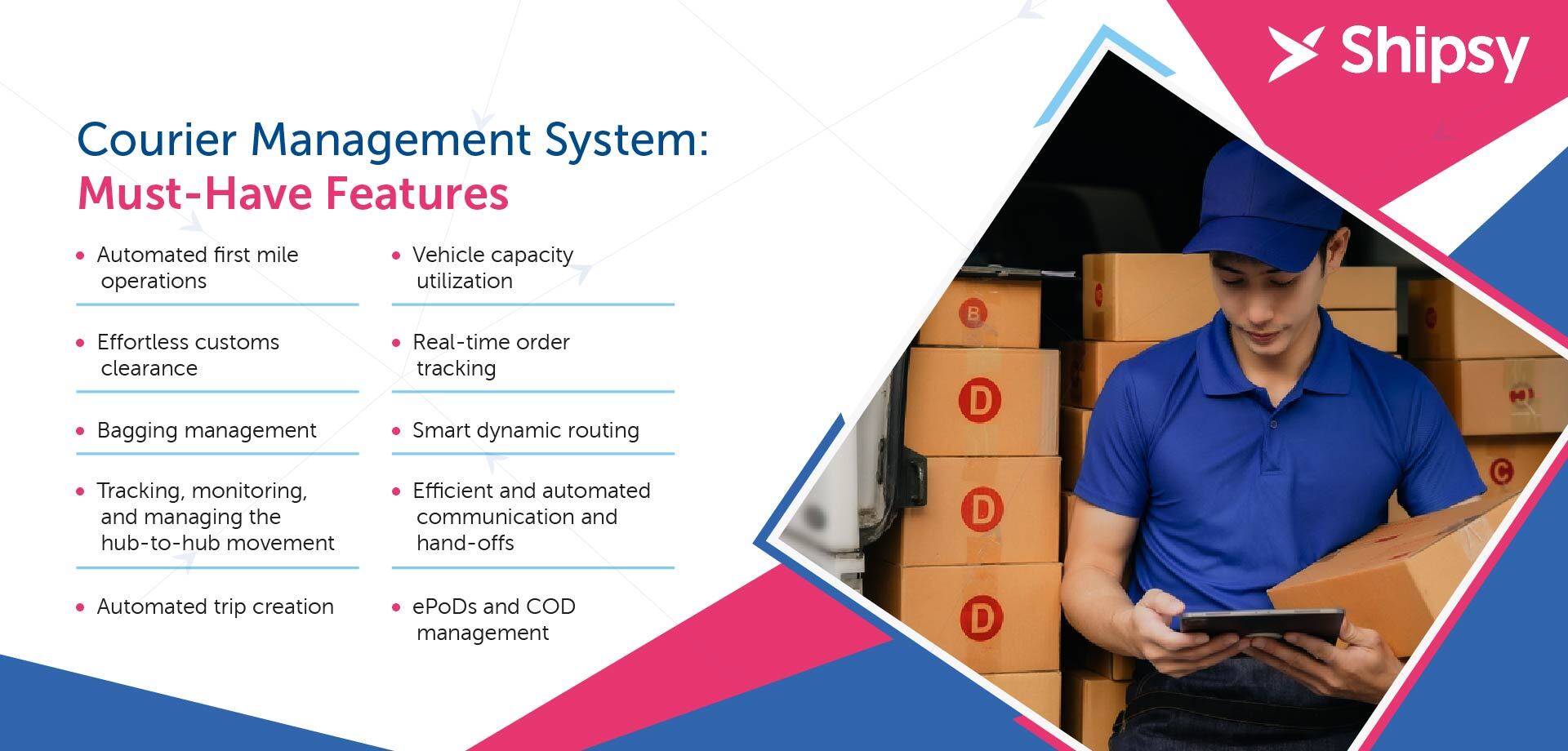 Hence, choosing just the right fit gets tough with every passing day!
Some of the must-have features and functionalities of a courier management system are:
Automated first mile operations (soft data capture, automated pickup requests, automated origin hub allocation, automated driver allocation, consignment scanning, and real-time tracking)
Effortless customs clearance via e-documents, and declarations
Bagging management (mother bagging, sorting, adding seals and waybills, etc.)
Tracking, monitoring, and managing the hub-to-hub movement
Automated trip creation, smart dynamic routing, maximum vehicle capacity utilization, and real-time order tracking
Efficient and automated communication and hand-offs
ePoDs and COD management
These are some of the must-have features in a courier management software or platform.
Read more about the significance of the first mile delivery optimization: Click Here.
Shipsy's Smart Courier Management System: Getting Started With the Best
Every successful platform implementation is a result of the right collaboration and right integration.
Hence, while it is important to have a courier management platform that offers all these features, having the choice to get custom SaaS functionalities, short onboarding times, and a minimal learning curve is also crucial.
Shipsy is a smart logistics and supply chains management platform that offers a wide range of solutions for multiple logistics industries and use cases.
Its CEP orchestration platform is an end-to-end and highly precise system stemming from cutting-edge AI/ML algorithms and advanced data analytics. We help customers make the most of their resources, assets, and time by automating and optimizing every single process thread involved in a CEP order movement.
Shipsy's smart courier management system helps:
Reduce customer onboarding time by 45%
Reduce Last Mile delivery costs by 23% and Mid Mile costs by 12%
Cut down customer complaints by 28%
Rapid digitization and scaling
For more information, please explore Shipsy's CEP solution or get in touch with our experts for a custom demo.