Black Friday is the time of the year when customers wait desperately to grab immense discounts and offers on their favorite products. Both the retail market and online shopping platforms prepare various sales strategies beforehand to ensure smooth sales and timely deliveries of their orders.
But this coronavirus pandemic has changed the entire scenario, impacting majorly the retail market. People who used to visit stores for shopping are inclining towards the e-commerce platforms. Considering this situation, it is evident that the average e-shopper is expected to spend more than usual during the Black Friday sale. Additionally, it is also predicted that e-commerce retailers will see an unprecedented rise in sales during this festive season.
But, the biggest challenge in front of the e-commerce stores is to manage their logistics operations so that every order delivers at the right location in the committed time. Similarly, the retail stores are also struggling to find ways to bring their sales back to pre-COVID times.
Integrating logistics management software either to your retail or e-commerce business can kill two birds with one bow. At one end, it can maximize deliveries per vehicle, and on the other hand, it can reduce the overall transportation cost with efficient route planning and management.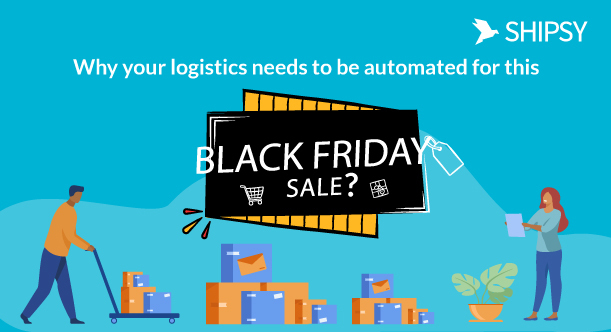 Black Friday 2020 – Understanding it from your e-commerce business' perspective
Here is what you can expect for your e-commerce and retail business during Black Friday sale:
High Sales
COVID-19 has created a ruckus by disrupting the way we used to live and businesses used to run. It has made people avoid visiting retail stores and move to e-commerce stores. This Black Friday, when the discounts and deals will be up for grab, e-commerce platforms are expected to be flooded with a huge number of customers.
Mounting Pressure on the Logistics
With this new trend of shopping, online sales are expected to grow at historic levels, leaving extreme pressure on the retails to deliver the unexpectedly high number of orders timely and efficiently. This increased pressure on the logistics creates a need to automate all the manual operations for meeting your customers' expectations and controlling the overall cost.
The Need to Maintain Transparency
Delivering orders on time is not the only concern both the e-commerce and retail stores have to pay attention to. Maintaining transparency with their end-customers to make them track their consignments is something that needs undivided attention. This will help you retain your customers.
Digitize your Order Management System
Since the online businesses are expecting to see a rise in the volume of orders, it requires you to opt for an automated OMS that can build a gap between procurement and delivery.
Increase Demand for Delivery Vehicles
Even if you already have a fleet of vehicles for the last-mile delivery, you might need more to deliver your orders on-time during this Black Friday sale. Therefore, you need a system that can analyze your current vehicles' capacity and then look for 3PLs to fulfill your order delivery requirements.
How Shipsy's Logistics Management Software can help your business during this Black Friday Sale?
Since all the above-mentioned points indicate you to digitize your logistics operations and order management system, Shipsy offers you customized logistics management software to make this possible. By getting a tailor-made LMS for your e-commerce and retail business, you can have these benefits or utilize the following features:
Feature-rich Customer Panel
With a customer panel on your side, you can raise pickups (right after receiving orders from your end-customers), generate airway bills, print labels, check proof of delivery, and track the real-time status of consignments.
Besides this, it also looks into the ERP to find out the existing vehicles' capacity to maximize deliveries per vehicle. On the other hand, if you have patterned with 3PLs, then the software allocates the consignment to the right vehicle.
An easy to use Operational Dashboard
This dashboard will help you to manage pickup requests, automatically assign consignments to the next hub, assign drivers, and track consignments.
Route Planning and Optimization
Our logistics management software automatically finds out the most efficient route so that more number of orders can be delivered through one vehicle. Moreover, the software also ensures on-time deliveries.
Driver App
With this app, you can help your drivers to check the new pick-up requests and manage the existing ones. They can also do inscans and outscans at the hubs without any hassle. Moreover, the app would also help them to upload the digitized proof of delivery, and keep a record of the cash received by the customers who chose the COD option to pay for their orders. The app is available in Hindi, English, and Arabic language.
End-user Visibility
Using this feature, you would be able to maintain the utmost level of transparency with your end-customers. After they receive a tracking link, they can click it to reschedule delivery, request for online payments (in case if the customer has chosen the COD option but want to pay online at the time of delivery), and contact the delivery agents.
So, what are you waiting for? Get our logistics management software and assure hassle-free deliveries, reduce the chances for return to origin, and 100% customer satisfaction during this Black Friday sale.
Also Read- Logistics Management Software For E-Commerce Companies
Final Words
With the change in buying patterns, the expectations of the customers have also changed. Both the retail stores and online retailers can make the most of this festive season only by understanding the current trends and serving their customers according to the new norms.
Whether your business has an in-house logistics team or is associated with a 3PL partner, you need to scale-up and automate your last-mile delivery options to achieve customer satisfaction and maintain customers' trust in your company.
By integrating logistics management software to your existing ERP or opting for a last-mile delivery software to manage 3PL, you can streamline your logistics operation. Take decision in-time to make the most of the stakes that have never been this higher.