With multiple moving parts, inefficient collaboration, and poor visibility across order and vehicle movements, the last mile delivery segment continues to be a behemoth for global businesses. The Last Mile accounts for more than 53% of total logistics costs, and 61% of delivery businesses believe that it is the most inefficient part of their entire supply chain.
However, in Indonesia, the challenges get amplified because of the geographical constraints and the fragmented nature of the industry. Logistics rely majorly on road transportation, and the empty backhaul increases the overall cost of operations. All these factors are driving the need for smart and efficient logistics management. This is where last mile delivery solution in Indonesia comes into the picture.
Here, we discuss how last mile delivery solutions in Indonesia can revolutionize the entire last mile segment, help businesses reduce costs, unlock efficiency and drive delightful customer experiences.
Last Mile Delivery Solution – Why Is It Important
A reliable and feature-rich last mile delivery solution not only helps automate the logistics tasks but it also identifies the optimization pockets and helps tackle the redundancies. The software provides businesses with real-time tracking, route optimization, and analytics capabilities to help them streamline their operations and provide an efficient and effective delivery service.
Another important benefit of last mile delivery software is that it can improve customer satisfaction. Customers expect fast and reliable delivery, and last mile delivery software can help businesses meet those expectations. The software provides customers with real-time updates on the status of their delivery, including expected delivery times and any delays or issues that may arise.
Businesses can configure the functionalities of a last mile delivery solution in Indonesia to send automated updates, messages, and alerts to relevant stakeholders for multiple purposes, such as automated updates on key milestone events, shipment status, dynamic ETAs, and more. Finally, using a last mile solution that comes with data analytics and visualization capabilities can transform performance assessment, business decision-making, strategizing, and contracting as well.
Next, we discuss the key benefits of using the last mile delivery solution in Indonesia.
Last Mile Delivery Solution in Indonesia: Key Benefits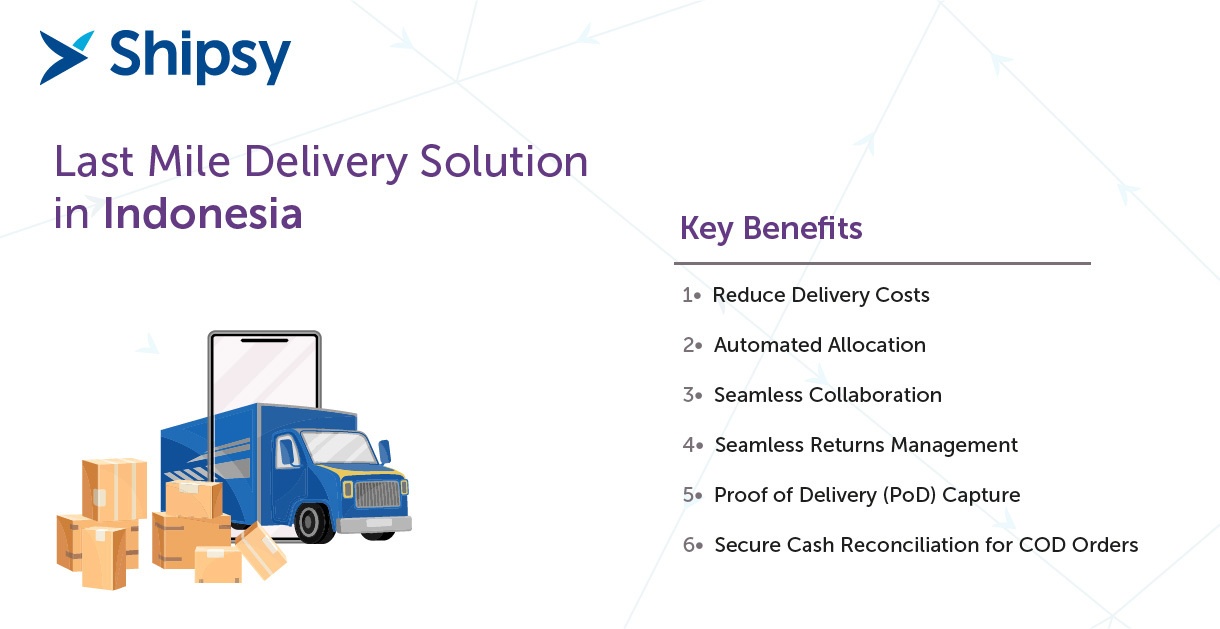 #1 – Reduce Delivery Costs
Intelligent last mile delivery management solutions enable businesses to track deliveries in real time, allocate riders/vehicles in the most optimal manner, orchestrate deliveries via the most optimal path, and improve resource utilization. Businesses can minimize delivery delays, trap and analyze delivery failures, and combat other delivery-related challenges. Increasing vehicle capacity and asset utilization increases deliveries per vehicle, thereby reducing overall delivery costs.
Advanced last mile solutions that come with in-built AI/ML routines can increase vehicle capacity utilization by 31% and minimize fuel consumption and fuel costs by up to 14% via smart route planning.
#2 – Automated Allocation
Manually managing the allocation of orders to third-party logistics providers (3PLs), riders, and mapping of vehicles to riders can be a daunting task. As a result, businesses often resort to booking entire trucks for less-than-truckload (LTL) shipments, leading to higher transportation costs.
Similarly, manually planning delivery orders for riders to minimize empty miles and maximize deliveries is also a challenging task.
Fortunately, last mile delivery software comes equipped with intelligent automated allocation routines that can be customized to meet specific customer requirements. This enables businesses to plan and coordinate highly efficient deliveries and transportation while increasing vehicle utilization.
#3 – Seamless Collaboration
Last mile delivery involves multiple parties and people collaborating on various tasks, such as consignment pickup from the warehouse/hub, delivery orchestration, route planning, driver monitoring, shipment tracking, delivery completion, and more. Ensuring accuracy and reliability during all these stages is a complex task in manually managed ecosystems.
On the other hand, with automated last mile delivery management solutions in Indonesia, businesses can manage all these and many other tasks effortlessly. This is because automated solutions allow them to plan, manage, monitor, and track every task and every asset from a single comprehensive dashboard. They can take bulk actions on multiple consignments, track riders/vehicles/orders from a single place, and validate the delivery success/failure reasons submitted by the riders with the customers.
Businesses can collect customer feedback, place performance assessment benchmarks for the entire workforce, and specify certain parameters to prioritize rider/3PL selection.
#4 – Seamless Returns Management
One of the challenges that can impede the success of last mile delivery is the difficulty of managing returns. However, a smart last mile solution can alleviate this issue by automating the returns process and generating return requests in real-time.
Once a return request is received, the system automatically designates a driver who is already delivering orders nearby to handle the pickup. Effective returns management not only benefits a business's financial performance but also enhances customer satisfaction.
#5 – Proof of Delivery (PoD) Capture
Capturing Proof of Delivery (PoD) is a crucial aspect of last mile delivery management. In Indonesia, businesses can leverage last mile delivery software to capture PoDs through multiple channels and methods.
One such method involves sending notifications via SMS, chat, or email to customers to verify the authenticity of delivery failure, replacement, or return reasons provided by the rider. This helps detect fraudulent delivery attempts and enhances the overall customer experience.
Additionally, businesses can request customers to provide images and One-Time Passwords (OTPs) as proof of damage or delivery. They can also configure the rider app to ensure that delivery is completed before proceeding to the next one. If delivery is canceled, failed, or returned, the rider must select a reason from a pre-defined list before proceeding with their next task.
#6 – Secure Cash Reconciliation for COD Orders
One major problem with the COD orders is cash reconciliation and driver payout management. The lack of automated cash management and digital payment capabilities for COD orders affects overall transaction transparency. Further, this increases the risk of fraud and leads to empty miles when riders have to go back to the warehouse for cash reconciliation and payout settlements.
Automated last mile delivery solution in Indonesia can help businesses automate cash and rider payout management and more. They can automate invoicing, billings, claim settlements, and incentivization to improve work productivity. Further, businesses can offer digital payment options for COD orders and allow the rider payout settlement against the cash collected to reduce cash risks as well as empty miles.
Now that we have had a detailed look at the various benefits of using a last mile delivery solution, it is important to understand that not every last mile automation is right for every business.
Standard, off-the-shelf solutions offer limited capabilities and come with the standard feature set. Hence, they don't scale up or down as per the business requirements. Businesses might also face some trouble regarding the integration across multiple existing technologies and tech infrastructure.
Hence, opting for a smart, scalable, flexible, and customizable platform that comes with diverse capabilities is the best option.
Shipsy – Leading Last Mile Delivery Solution in Indonesia
Shipsy provides a comprehensive suite of features to facilitate highly efficient last mile delivery management for businesses. With capabilities such as optimized asset utilization, order allocation, and vehicle utilization, businesses can significantly reduce transportation costs through reduced miles traveled and AI-powered route optimization.
The software also boasts advanced data analytics capabilities, enabling businesses to process and analyze organizational data in real-time. This allows for the creation of easily digestible data visualizations and the generation of reports that provide actionable insights to inform business decision-making.
With these key offerings, Shipsy has helped businesses unlock:
14% decrease in last mile delivery costs
28% reduction in customer complaints
26% increase in delivery NPS
To learn more about intelligent last mile delivery software in Indonesia, please contact our experts and schedule a customized demo today!