The United States is a highly integrated supply chain network, and North America is a leading logistics market in the world. Statista reports that revenue of USD 905 bn was generated in 2022 alone by the US eCommerce sector. The trucking economy of the US is also extremely robust and generated $875.5 billion in gross freight revenues in 2021, which is almost 80.8% of the nation's freight bill in that year. As the eCommerce, on-demand delivery, and CEP segments gain more momentum, the logistics scene in the USA is headed toward hypergrowth.
However, this doesn't come devoid of any challenges, as Statista reports increasing delivery costs as the biggest challenge for last mile delivery providers in the US. Rising parcel volumes also put pressure on the logistics infrastructure, and businesses struggle with labor shortages, capacity shortages, and increased delivery costs.
All these factors are driving a huge need for robust last mile delivery solution in the USA. What does a last mile delivery solution offer, and how can businesses benefit from the same? Are all last mile delivery solutions the same, or do businesses need to keep some factors in mind while investing in a last mile delivery solution in USA?
Below, we explore the answers to all these and many other questions at length.
Key Market Trends Driving the Need for Last Mile Delivery Software in USA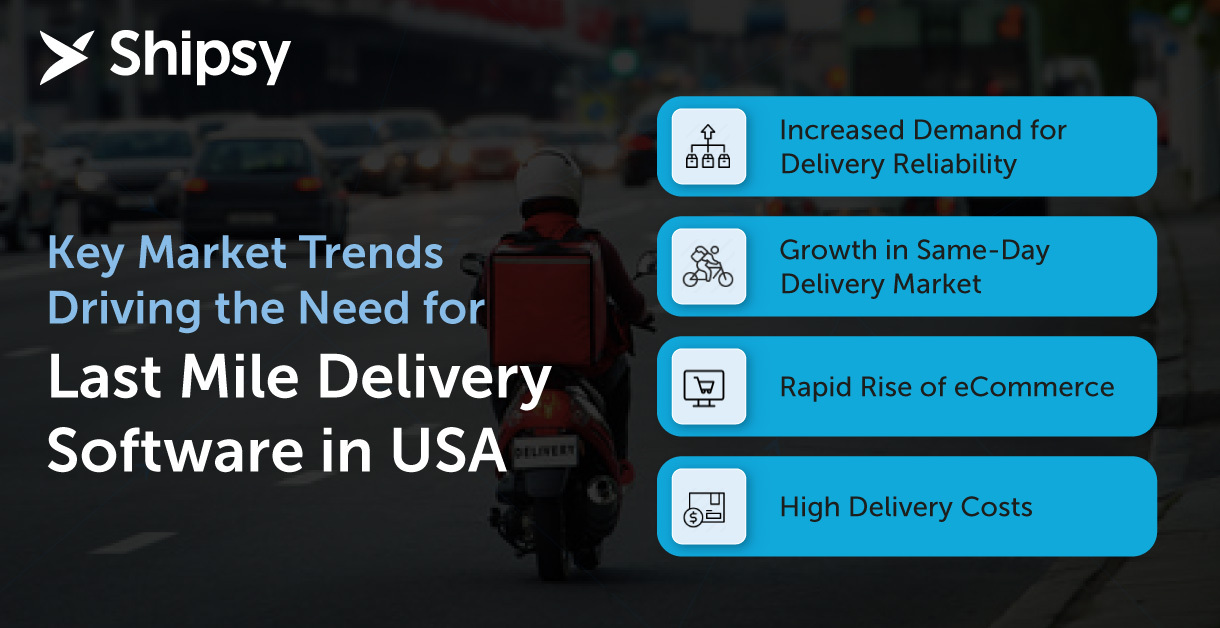 #1 – Increased Demand for Delivery Reliability
Nearly 40% of shoppers in the US point delivery want faster and more reliable deliveries. However, ensuring delivery reliability and proactive communication for the same throughout the shipment lifecycle requires intelligent management capabilities in the logistics system. The legacy systems fail to offer such capabilities, driving the need for intelligent final mile software.
#2 – Growth in Same-Day Delivery Market
The same-day delivery market in the US is expected to grow by USD 9.82 billion from 2020 to 2025. Digitally-empowered customers are increasingly motivated to purchase goods that come with quick or same-day delivery promises. However, achieving this without any technical support is neither possible nor scalable. Hence, the need for intelligent logistics orchestration is immense.
#3 – Rapid Rise of eCommerce
USA is the second largest market for eCommerce in the world, and the stats suggest that the market revenue will hit USD 1562.92. Bn mark in 2027. As eCommerce grows, so does the demand for logistics movements and delivery. Businesses look for smart solutions that can help them complete more deliveries per day or scale logistics movements without violating their bottom lines. This is driving a huge need for last mile delivery solutions in US.
#4 – High Delivery Costs
Last mile delivery is the largest contributor to the overall logistics costs – 53%, as per McKinsey. Also, Statista reports that high delivery cost is the biggest challenge for logistics providers in US last mile segment. Further, it is a combination of multiple cost functions, such as vehicle leasing costs, rider costs, fuel costs, 3PL costs, and more. As the parcel delivery volume and inflation rise, the delivery costs are expected to grow as well. Ensuring cost-effective delivery operations becomes crucial for businesses of all scales and sizes.
Importance of Using Last Mile Delivery Solution in USA
Last mile delivery solutions offer highly advanced capabilities and smart functionalities that help businesses manage and orchestrate extremely efficient deliveries. They can collaborate with multiple stakeholders, communicate with customers, collect and share PoDs, delivery failure reasons, and more.
Intelligent last mile delivery solutions integrated seamlessly with the existing tech infrastructure, such as ERP/OMS/WMS/CRM, and offer all the crucial information on a single dashboard. Businesses can track, manage and monitor all the shipments, orders, and assets in real time. They can get automated alerts/notifications for key milestone events, and share them with multiple relevant stakeholders, including the end customers.
Advanced last mile delivery software solutions also come with in-built algorithms for route planning and optimization to reduce time and fuel expenses and make logistics movements highly efficient.
How Can Your Business Benefit From Last Mile Delivery Solution in USA?
#1 – Improved Logistics Visibility
Last mile delivery solutions offer real-time tracking features which allow businesses to monitor their vehicles in real-time, including any deviations from planned routes and idling. This level of visibility enhances supply chain and logistics executives' control over their fleet and reduces the risk of theft and spoilage. Additionally, the system can offer predictive visibility via reliable shipment status reporting at any given time.
#2 – Route Planning and Optimization
Businesses using solution for last mile delivery in USA can save time and resources consumed by logistical movements via smart routing capabilities. The system generates highly optimized routes as per the delivery locations, consignments, area/civil restrictions, and more. AI-powered solutions also allow businesses to set specific constraints for route optimization such as vehicle make, capacity, consignment type/weight/volume/size, etc. This helps reduce overall miles traveled and boosts on-time delivery rate.
#3 – Improved Transparency
Solutions for last mile delivery come with a centralized dashboard with integrated management capabilities, which means that all the information is available in one place and can be shared/exported with one click. Businesses can see which orders are in transit, which ones are delivered, which 3PL partner is performing timely deliveries and more. This boosts overall transparency for all stakeholders. Further, businesses can set individual KPIs for transparent performance measurement and incentivization.
#4 – Delivery Flexibility
Customers seek increasingly unique and flexible delivery experiences, such as delivery slot booking, rescheduling, and instructions-based deliveries. However, achieving this in a manually managed or legacy system is impossible because of hardwired delivery routines. Last mile delivery automation offer unparalleled delivery flexibility via preferred slot bookings, delivery scheduling, real-time instructions-based delivery, and more.
#5 – Vehicle Capacity Optimization
Smart solutions for last mile delivery in USA can empower businesses to unlock high resource efficiency via intelligent optimization routines for vehicle capacity. The software integrates effortlessly with the existing ERP infrastructure to gather data for leased and self-owned vehicles and precise consignment details such as delivery location, weight, etc. Based on this data, the software creates the most optimal vehicle capacity utilization plans.
#6 – Automated Order Allocation
Manual order allocation is inefficient as it fails to take into account factors such as proximity of the riders/delivery location and results in a higher number of miles traveled. Last mile solution in USA automates order allocation and trip creation. Further, the solutions also offer intelligent en-route order clubbing to ensure highly efficient last mile movements.
Key Considerations to Choose the Best Last Mile Delivery Solution in USA
Every business has different last mile challenges, which is why it is always important to check how well a solution aligns with the business requirements before investing in one. Below, we are sharing some of the key considerations every business should check before choosing a last mile delivery solution.
Effortless integration with the existing tech infrastructure, such as ERP/OMS/WMS/CRM
Real-time shipment tracking and on-the-go route optimization
Data Analytics
Smart non-delivery reason (NDR) and proof of delivery (PoD) management
Seamless returns management
Intelligent routing and route optimization
Unified management dashboard
Centralized communication and collaboration with multiple stakeholders
Choose Shipsy: Highly Customizable SaaS-Based Last Mile Delivery Solution in USA
Shipsy is an AI-powered supply chain management and logistics automation platform that offers an intelligent and highly customizable SaaS-based last mile delivery solution in USA. The solution comes with in-built optimization algorithms to generate optimized routes, and robust workflow automation for delivery orchestration. Businesses can collaborate and communicate with multiple stakeholders via one platform, which reduces the reliance on human resources, ultimately decreasing labor costs.
The software considers delivery location, delivery time window, real-time traffic, weather conditions, and other factors in determining the most efficient delivery route. This results in reduced fuel consumption, ultimately leading to lower fuel costs. The smart last mile automation from Shipsy has helped customers to unlock:
Reduce last mile delivery costs by 12%
Increase deliveries per rider by 12%
Increase adherence to 30-min delivery SLAs
Elevate CX by 64%
Boost on-time deliveries by 24%
For more information, or to get started with Shipsy's smart offerings, please get in touch with our experts and schedule a personalized demo today.