Singapore is one of the major logistics markets in the SEA region, and as per a recent report by Research and Markets, the freight and logistics industry of Singapore is projected to grow at a CAGR of 8% from 2022 to 2027. With the rapid development of advanced digital infrastructure and payment systems and the introduction of 5G networks, the e-commerce sales volume is also expected to reach $13.48 billion by 2027, which is more than double the revenue in 2021.
Despite such promising stats and being a major transshipment hub with critical openings into multiple geographical areas, businesses in Singapore are struggling with high last mile delivery costs and delivery inefficiencies. Even after the pandemic, the disturbances in the global supply chains are clearly reflected here and McKinsey & Company revealed that the last mile delivery costs in Singapore account for nearly 50% of the total shipping costs.
The root of the problem lies in manual management, lack of smart automation for logistics, and disparate last mile logistics software in Singapore that offer partial and siloed benefits. Intelligent last mile delivery software that offers integrated management capabilities and comes with diverse functionalities with room for customizations can help businesses improve their logistics operations and supply chain management.
Here, we explore the key challenges in last mile delivery landscape in Singapore and how businesses can overcome these challenges with smart solutions.
Last Mile Delivery Landscape in Singapore – Challenges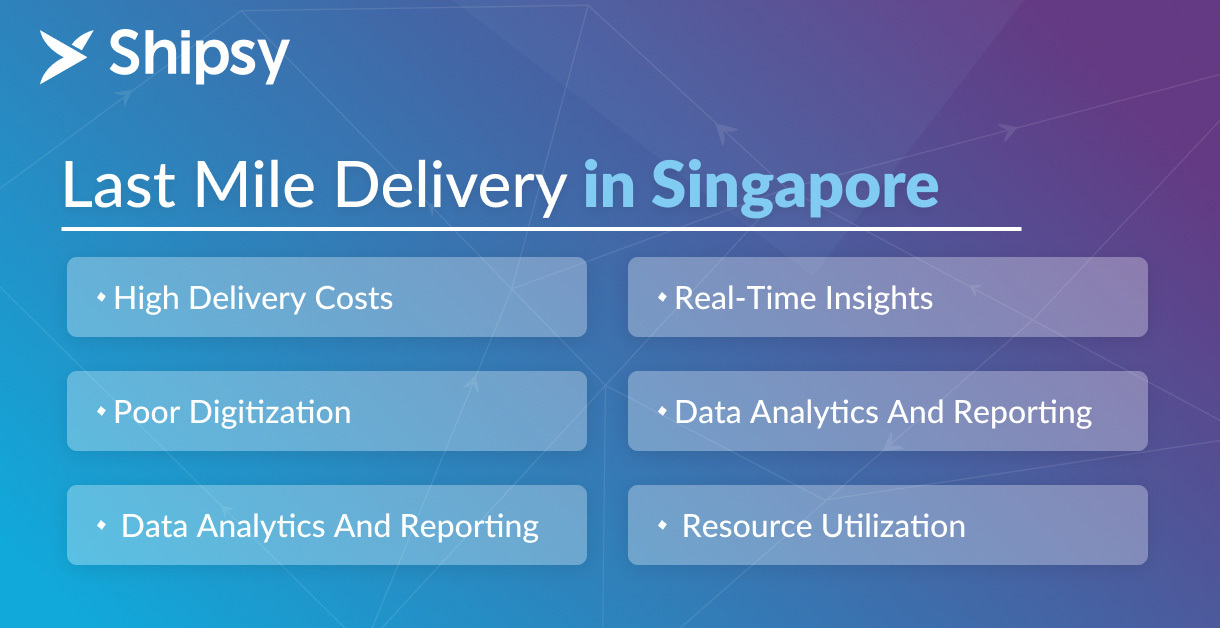 #1 – High Delivery Costs
The lack of operational efficiency, poor visibility over logistics operations, fragmented communication, and manual routing – there are many reasons behind the high logistics costs in Singapore. Recent studies identified Singapore as a high-rise and high-cost economy, where every average delivery costs $2-$3, and the majority of customers seek free deliveries. Further, the average delivery success rate is 90%, which leads to a higher rate of delivery re-attempts.
#2 – Manual/Static Route Planning
The inability to integrate AI-powered route planning and optimization solutions in the existing infrastructure is another major challenge. This means ensuring highly optimal deliveries becomes a major hurdle. Businesses are not able to unlock operational efficiencies because of the lack of advanced capabilities, such as maximizing vehicle capacity, dynamic routing, en route order clubbing, and more.
#3 – Poor Digitization
The rapid rise of eCommerce and delivery demands are calling for companies to be more efficient than ever. However, manual management, poor collaboration, siloed data, and the inability to optimize everything with a centralized view make this challenging. Hence, digitizing last mile operations emerges as the best alternative to make deliveries efficient, faster, and more resilient.
While there are a number of options available, when it comes to finding the right logistics software in Singapore for last mile and end-to-end management, businesses grapple with limited scalability, poor integrations, and disparate management.
#4 – Real-Time Insights
Even if businesses are able to get tracking updates and automated alerts for shipping delays, they are unable to track, monitor, manage, and control the on-field operations in real-time. Driver deviations from system-suggested routes, customer availabilities, package loss, re-attempt reason validation, and authentication with the customer – there is no way businesses can get access to this information in real-time.
#5 – Data Analytics and Reporting
As discussed above, getting access to real-time insights is a challenge for businesses in Singapore. Even if some businesses get access to these insights via third-party software, which is very expensive, by the time they get access to the data reports and consumable visualizations, the relevance of the insights is reduced by a greater degree.
The inability to have access to real-time actionable insights leads to poor business decisions that are based on hunches instead of numbers, which can be easily obtained with last mile logistics software in Singapore.
#6 – Resource Utilization
Many businesses suffer from poorly integrated last mile management systems, gaps in communication networks, inefficient collaboration, and sub-optimal resource utilization. They fail to prioritize order allocation to more profitable assets and maximize the number of orders per trip, which ultimately leads to higher delivery costs.
The inability to curb empty miles, delays in completing the delivery owing to clunky COD management, address inaccuracies, etc., also balloon up the costs and degrade the overall resource utilization.
All these challenges are driving the need for smart last mile logistics software in Singapore that offers diverse functionalities and integrated management of all the last mile operations from a single dashboard.
Below, we share the top benefits of using such last mile management software.
Software for Last Mile Logistics in Singapore – Benefits
#1 – Smart Automation Workflows
Intelligent last mile logistics software comes with in-built automated workflows for multiple stakeholders, such as riders, and 3PL partners, and processes, such as order allocation, rider allocation, 3PL selection, and more. Further, businesses can keep track of all the tasks and processes from an integrated dashboard for centralized management.
This allows for precise mapping and efficient allocation of orders based on constraints such as delivery type, distance, vehicle make, weight, volume, and order SLAs. They can customize the configuration of these workflows and also leverage the flexibility of the solutions to upscale and downscale as and when required.
#2 – Route Planning and Optimization
Another benefit businesses can unlock by using last mile logistics software in Singapore is automated route planning and optimization. AI-based route planning and optimization utilize geocoding to convert addresses into accurate latitude-longitude coordinates. Further, users can set specific routing constraints such as delivery location, vehicle type, consignment nature, and more to ensure highly efficient and optimal delivery routes.
The software offers in-built algorithms for en-route order clubbing, dynamic routing, and delivery scheduling as well. All these features help reduce empty miles, curb idling, and reduce fuel as well as vehicle costs.
#3 – Real-Time Tracking
Real-time tracking is a valuable advantage for businesses as it allows for the monitoring of all shipments, orders, riders, and vehicles from a single, user-friendly dashboard. This feature provides businesses with the ability to precisely track the location of each order and configure the system to send automated triggers and alerts to customers at key milestones and updates.
This level of visibility and control ensures that businesses can efficiently manage their logistics operations while providing customers with timely and accurate information about their orders.
#4 – Improved Resource Utilization
Businesses using last mile logistics software in Singapore can get access to asset optimization routines that enable businesses to enhance multiple logistics components, including vehicle capacity, vehicle and rider costs, and more. As a result, businesses can reduce operational expenses, improve asset utilization, and increase efficiency.
They can set specific parameters for selecting vehicles, riders, and fleets tailored to specific areas, orders, and other variables. Furthermore, smart third-party logistics management routines can be leveraged to improve overall supply chain efficiency. Hence, businesses can streamline their logistics operations and drive significant cost savings while ensuring optimal performance.
#5 – Data Analytics and Reporting
AI/ML-powered last mile logistics software offers a key advantage in the form of data analytics and easily comprehensible data visualizations. By transforming complex data sets into visual representations, businesses can quickly identify trends, patterns, and outliers. These insights can then be leveraged to make data-driven decisions that improve efficiency and drive growth.
Advanced data analytics capabilities enable businesses to process and analyze large volumes of data in real-time, providing valuable insights into their operations. These insights can be utilized to optimize delivery routes, enhance warehouse management, and improve customer service, among other critical areas. By leveraging the power of data analytics, businesses can gain a competitive edge and achieve their growth objectives.
#6 – Intelligent Delivery Orchestration
As customer expectations evolve and multiple delivery options with preferred time slots become the norm, businesses are seeking ways to manage all operations, business components, and deliveries from a single dashboard. This approach can minimize errors and unlock optimal utilization.
Last mile logistics management software comes with intelligent routines and in-built algorithms that help businesses offer all these and many other extended capabilities, such as intelligent trip scheduling, automated driver payout & incentive management, smart rider onboarding, and more. Thus, businesses can unlock efficient management of sudden peaks in deliveries as well.
How Can Shipsy Help?
Shipsy is a leading last mile logistics software in Singapore that provides a broad array of solutions for various types of deliveries, including last mile, mid-mile, on-demand, and q-commerce. Our platform helps automate diverse logistics operations and processes across multiple industries and offers a comprehensive suite of features accessible through a single dashboard.
We help businesses to access advanced functionalities, such as optimized asset and vehicle utilization and efficient order allocation. This results in a significant reduction in transportation costs, enhancing the overall profitability of businesses. Additionally, we offer sophisticated data analytics and visualization capabilities that empower businesses with data-driven insights into their organizational and process data, driving informed decision-making to unlock:
14% decrease in last mile delivery costs
28% reduction in customer complaints
26% increase in delivery NPS
For more information or to get started with our intelligent last mile delivery software in Singapore, please contact our experts and schedule a customized demo today!