Growing awareness about environmental sustainability is pushing businesses across the world to redefine their delivery management practices. Governments are imposing regulations and creating policies to shrink carbon footprint, but the demand for faster deliveries is leading to increased trip volumes and, ultimately, growing CO2 emissions.
According to a report by The World Economic Forum, the demand for urban last mile delivery is projected to increase by 78% by 2030. This will cause a 36% increase in the number of delivery vehicles, in the top 100 cities globally, and around one-third rise in delivery-related emissions. If no immediate action is taken to control CO2 emissions, it will lead to a 21% increase in road congestion and a 32% rise in traffic, contributing multifold to already growing carbon footprints. Considering these compelling numbers, it is important for every business to think about last mile sustainability.
To achieve last mile sustainability, the most viable solution is to embrace advanced last mile delivery management software. Such an advanced last mile solution can do wonders in terms of meeting evolving customer demands, optimizing delivery operations, and ensuring last mile sustainability. Before we delve deeper into how last mile delivery management software helps in last mile sustainability, let's learn about the inefficient last mile operations that contribute to carbon emissions.
How inefficient last mile operations cause CO2 emissions?
Increasing Trip Volumes
The modern customer expects their order to be delivered within hours or at least on the same day. To meet these demands, businesses are increasing trip volumes and sending more vehicles on the road. However, it leads to increased fuel consumption and CO2 emissions.
Soaring Returns
Returns create a product's journey from scratch with the difference that it is in the reverse direction. Besides increasing the last mile costs, returns also contribute heavily to CO2 emissions as the returned goods are re-packed to bring it back safely from the customer's location to the warehouse.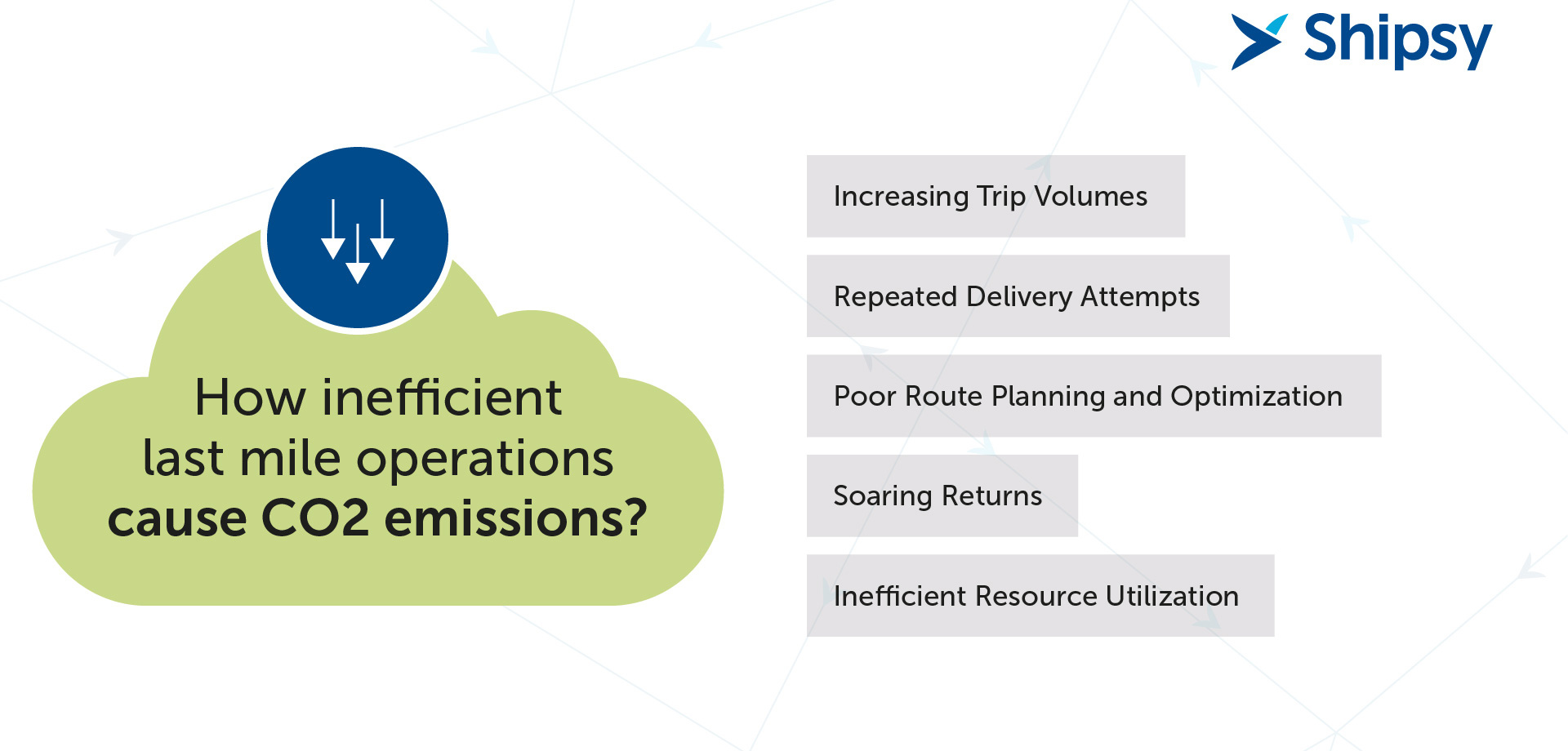 Poor Route Planning and Optimization
Inefficiently planned and optimized delivery routes increase the distance traveled and fuel consumption. It may also cause empty miles, which greatly impacts last mile sustainability and business profitability.
Repeated Delivery Attempts
Two of the main reasons behind repeated delivery attempts are incomplete/incorrect delivery addresses and customer unavailability. Every time a driver makes a delivery attempt, it increases fuel consumption and carbon emissions.
Inefficient Resource Utilization
Improper resource utilization is quite common in LTL (less than truckload) models. Not using a vehicle's capacity completely leads to an increased number of vehicles on the road, which affects last mile sustainability.
How does last mile delivery management software help address sustainability at its core?
Intelligent Order Clubbing
AI-based last mile delivery management software smartly clubs planned and on-demand orders (that need to be delivered on the same route) to minimize trip volumes and improve delivery productivity.
Automates Returns Management
The last mile delivery management software automates return management by automatically clubbing the return shipment pickups with the deliveries to save both the time and costs. As soon as a system receives a return pickup request, it checks if there is any driver who is making delivery within the proximity of that location. The system then assigns the pickup request to that driver to avoid creating a separate trip and reducing CO2 emissions.
Automates Route Planning and Optimization
An advanced last mile delivery management software automates the route planning and optimization process and considers multiple parameters, such as delivery location, delivery time window, traffic and weather conditions, and more, to find out an optimal delivery route. This, in turn, reduces the distance traveled, fuel consumption, and delivery time.
Advanced Geocoding Engine
The last mile delivery management software is powered by an advanced geocoding engine that converts text-based addresses into latitude and longitude to make them easy to locate. The software also establishes clear communication between the drivers and end customers to boost the first-attempt delivery success rate.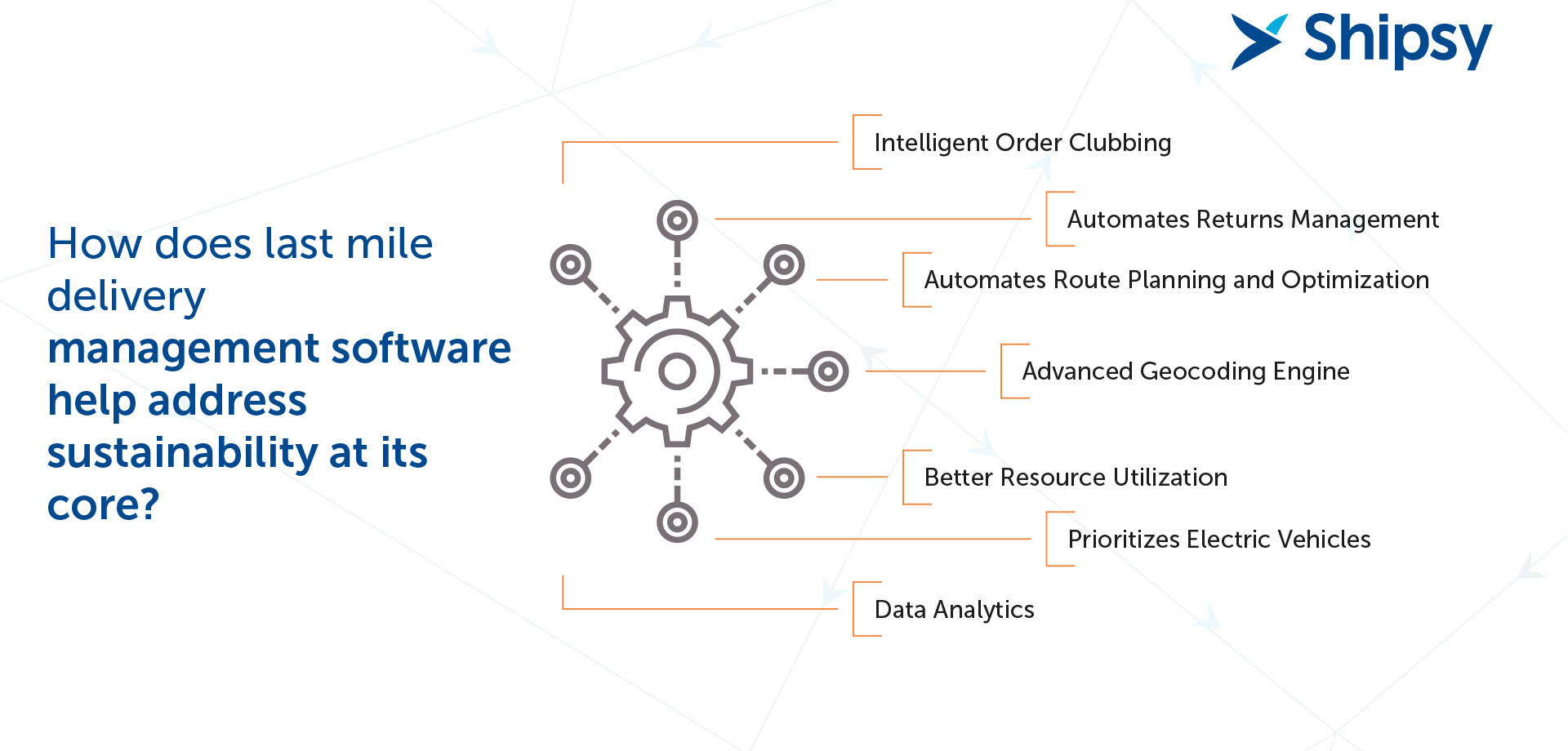 Better Resource Utilization
The last mile delivery management software overcomes capacity crunches by utilizing existing resources completely. It facilitates smart order allocation considering various constraints such as type, size, and weight of goods, type and capacity of the vehicle, delivery location, and more. The software also leverages territory optimization capabilities to plan resource utilization.
Prioritizes Electric Vehicles
Electric vehicles don't cause carbon emissions, and a smart last mile management platform automatically prioritizes them while choosing a vehicle for delivery. It also automatically selects a bicycle in case of a short-distance delivery.
Data Analytics
The last mile delivery management software provides real-time insights into consumer's purchasing behavior and metrics like number of failed/successful deliveries, miles traveled, canceled orders, and more. These analytics help to make data-backed decisions that contribute to lower last mile carbon footprint.
Key Features of Last Mile Delivery Management Software
Now that you have established how last mile delivery management software can make a difference to last mile management and contribute to obtaining sustainability, let's check out five important features of it. These features will help you choose the right last mile delivery management software for your business:
Auto dispatch
Real-time tracking
Data and insights
Automated route planning and optimization
Hub operations management dashboard
Customer feedback collection
Rider management
COD reconciliation
Vehicle capacity utilization
Arresting fake delivery attempts
NDR standardization
Order clubbing
Electronic proof of delivery
To know last mile delivery management software features in detail, read 18 Key Features of Last Mile Delivery Solutions.
Shipsy: Intelligent Last Mile Delivery Management Software To Drive Sustainability
Shipsy's last mile delivery management software leverages artificial intelligence, machine learning, and other top technologies to help brands measure their carbon footprint and redefine last mile management strategies accordingly. It is a customized SaaS-based solution that can be effortlessly integrated into a business's existing technological infrastructure.
The last mile delivery management software optimizes delivery routes to minimize distance traveled per shipment and prioritizes eco-friendly delivery modes such as electric vehicles (for longer distances) and bicycles (for short distances) to reduce carbon footprint. It leverages dynamic order batching to minimize fuel consumption and utilizes advanced territory optimization capabilities to enhance the driver's productivity. It empowers businesses to unlock benefits like:
18% lesser 'return to origin'
37% increase in vehicle capacity utilization
14% increase in deliveries per rider
6% reduction in trip volumes
5% reduction in distance traveled
To learn more about Shipsy's last mile delivery management software, reach out to our experts here.