While the general perception of the quick-commerce sector is that of convenience and over-the-top comfort, there is much more to this recent industry disruptor. From getting essentials delivered directly at home, such as ingredients, or quick meals, to getting an oximeter within 10-15 minutes to track your blood SPO2 – the 10-minute delivery promise has many faces.
India's quick commerce audience comprises 20 million households, and not all of them are looking only for consumables. 13% of households spend 50 bn USD on unplanned and top-up purchases, while a fair share of Gen-Z customers is inclined towards indulgent purchases in quick commerce.
Also, the online consumables market in India is projected to grow sustainably with a CAGR of 6% and hit the 1 Tn USD mark by 2025. The current quick commerce penetration in the online consumables market is around 7%, amounting to 3.8 bn, and this figure will grow exponentially to sit around more than 30 bn USD by 2025.
With such a huge market up for grabs, the on-demand business landscape is becoming highly agile, leading to intense competition in the segment.
Quick Delivery Businesses – Sustainability and Profitability Under Scanner
Lately, the delivery model has received lots of attention and reactions, and some even called it a cash burner.
While the on-demand quick commerce business model can consume resources at an unprecedented rate, handling the operations and processes properly can surely turn the scales in its favor.
We explore how leveraging the right technology and automation can streamline operations and processes for optimal resource utilization and lower operational costs.
How Technology Facilitates Optimization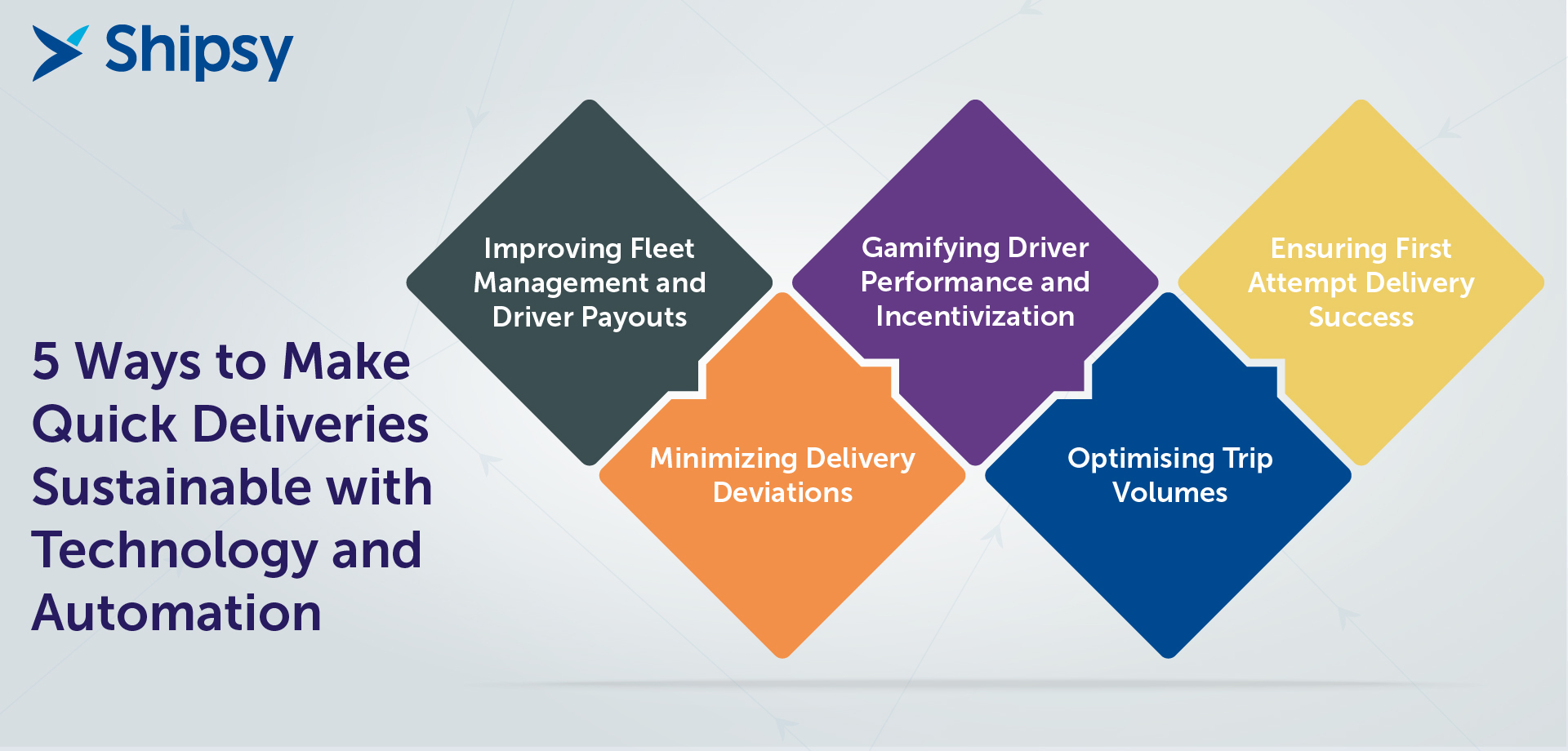 Let us dive deeper and explore how technology and automation can make quick deliveries in the on-demand business model sustainable and efficient.
Fleet Management and Driver Payouts
Brands handle thousands of orders every day and fulfill them with a mixed fleet comprising a dedicated fleet, 3PLs, and a floating fleet. Hence, errors in manual order allocations are highly probable. This can lead to high-cost drivers' faulty allocations or order allocations while the cost-efficient ones remain idle.
On the other hand, smart on-demand business solutions use AI and ML to automate order allocation in a cost and resource-efficient manner. They consider several preset parameters in mind, such as the current workload of the driver, order volume, proximity to the delivery location, etc.
Hence, order allocation becomes smarter, faster, and more optimized.
These smart logistics management platforms can also automate driver performance management and tracking via custom KPIs.
Some examples include time taken by the driver to start the ride after order assignment, time of arrival at the delivery location, time taken for the trip back to the store, etc.
With granular and end-to-end visibility over driver performance, brands can optimize the incentivization and employee rewards. Such measures can boost the overall delivery productivity and prioritize a dedicated fleet for cost-efficient operations.
Real-time tracking of riders and advanced analytics for making sense of order, delivery, and rider data accumulated over time also pave the way for more streamlined operations and relevant KPIs.
Gamification and Incentivization
As the demand for drivers and deliveries escalates, it becomes harder to manually devise effective incentivization strategies for improving driver performance.
Intelligent logistics management systems have several predefined and custom KPIs that automate incentivization, performance measurement, and work tracking.
Gamification is another excellent tool to boost KPI-centric performances and encourage positive competition among the riders for grabbing the daily, weekly, monthly, and yearly awards.
First Attempt Delivery Success
Customer unavailability at the delivery location can lead to delivery requests at another time or location. Delivery reattempts consume a lot of time and resources and add to the operational costs.
Geolocation and geocoding facilitate rapid and accurate conversion of addresses into precise latitude and longitude coordinates. Real-time communication with customers, such as real-time and accurate ETA alerts via SMS, email, WhatsApp, etc., ensures customer availability at the delivery location. This boosts first-attempt delivery success rates.
This granular visibility into the order progress and ETAs increases the on-time deliveries by 24%, reduces the cost of repeated delivery reattempts, and boosts delivery success rates in the first attempt.
Minimizing Delivery Deviations
Fake and wrong delivery attempts are a potential source of cost-leakage, and inaccurate addresses might be one reason for them. Whatever is the reason behind these deviations, businesses must be able to identify, address and prevent these occurrences.
Knowing whether the reason cited by the delivery staff is correct or not can avoid bleeding via small cuts like fake delivery attempts.
Smart logistics management systems allow businesses to verify the deliveries and delivery attempts directly with the customers. This helps in combating fake delivery attempts, especially when the system-suggested location and the location where the driver delivered do not match.
Likewise, AI-powered dispatch management dashboards allow the hub managers to see whether the driver has taken the system suggested route or not to arrest deviations in deliveries.
Optimizing Trip Volumes
Increasing quick delivery demands increases the carbon footprint and influences trip volumes. Using smart tools for intelligent route planning and trip optimization can point out the most efficient routes right from the start.
These insights help automate vehicle selection stemming from the predefined configurable logic that reduces the overall trip volume.
Based on delivery type, volume, distance, etc., the system automatically identifies if the delivery can be done using a cycle or EVs, making the deliveries sustainable.
Such smart insights increase vehicle utilization by 31% and reduce the average distance traveled by bikers by 23%. Thus, the deliveries become fuel-efficient and sustainable.
To know about hyperlocal deliveries, click here.
Automation-powered logistics management tools can empower businesses to ensure agility and cost-efficiency while keeping customer experience intact. Adopting smart and innovative logistics solutions based on AI, ML, and Big Data Analytics can help steer the on-demand business solutions toward sustainable growth.