Despite having the largest reserves of natural gas in Africa, the price of cooking gas in Nigeria surged to almost 60% between April and July last year. Hearsay of paper shortage in China kick-starts panic buying of toilet papers on a spectacular scale. Moreover, an unusual scarcity of components impacted businesses and customers equally. As much as it hampered Ford's ability to install backup cameras in cars, it also crippled the entire FMCG sector, including the overall supply of toys during Christmas. Likewise, natural calamities only added to the woes. The worst drought in Brazil in centuries has impacted the production of coffee. This production deficit, coupled with container shortages and a resulting surge in shipping rates, is now being passed as a financial burden on consumers by cafes across the world.
To summarise, 2021 has been quite intimidating for the supply chain. A series of challenges in the form of rising spot rates, labor shortages, container unavailability, skyrocketing customer expectations, rising order volumes, demand for new fulfillment models, the pandemic, natural calamities, and even rumors cradled a perfect storm for the sector.
These disruptions will continue to push logistics companies to innovate and execute operations strategically. Let's see what all trends are likely to define the roadmap for the sector this year:
#1 Sustainability Will Become Mainstream
An IBM research says that a whopping majority of 57% of customers can change their purchase behavior for environmental concerns. As customers become more mindful of the carbon footprint, sustainability will not stay an option for brands anymore. Optimizing logistics operations while executing deliveries can achieve both the objectives here. Dynamic route planners and en-route order clubbing can reduce miles traveled, eliminate empty miles, decrease trip volumes, boost delivery productivity, increase resource utilization, enhance first attempt success rate, reduce carbon emission, and do much more.
#2 Cross-border eCommerce To Witness Huge Growth
AllTheResearch report says that the global cross-border eCommerce market, valued at USD 578.57 Bn in 2019, is growing at a CAGR of 17.4% to reach USD 2,248.57 Bn by 2026. We can accredit this development to the rapidly improving connectivity across geographies. The result of this easy global accessibility can be seen in our day-to-day lives. The mobile we use today is probably made in a Chinese factory. The culinary-staple chili pepper or paprika that we eat here may find its root in a Romanian farm.
The global market research company, Forrester, validates the rapid proliferation of international eCommerce. According to the company, with sales worth USD 627 Bn, cross-border purchases will comprise 20% of all eCommerce in 2022. In fact, the APAC is all set to become the largest eCommerce hub for exports and imports. Businesses must develop delivery visibility and scalability capabilities to tap into lucrative opportunities.
#3 Quick Commerce Will Continue To Shoot Up And Up
Quick commerce will see a 10-15 x growth within the next five years to become a USD 5 Bn market by 2025, according to RedSeer. Evolving expectations are resorting customers to leverage the hyperlocal deliveries for the instant gratification of their needs. But only faster than the previous day. We have seen some instant delivery newbies like Zepto entering and already raking in good business with a 10-minute delivery promise. It will be interesting to see how brands will keep up with the continually narrowing delivery windows and unique customer requirements as we move forward.
#4 Quick Commerce Will Mean More Than Just Grocery
One recent example is how Grofers revamped itself as Blinkit, expanding its offering past fruits and veggies to become a Q-commerce player. Even popular delivery aggregators and largest online grocery stores have already adopted or are considering taking the under 10-minute route to success and include other products under the umbrella. As the model becomes more popular and stable, we can expect electronic devices, big-box items, food, apparel, all get delivered to the customer's doorstep within 10 minutes of placing the order. That's faster than the time taken to get ready to step out for a purchase.
#5 Greater Need For Dark Stores In Proximity To Customer
As eCommerce orders surge, brands will have to bring the inventory closer to the high order volume areas to make deliveries faster. Dark stores are fulfillment centers placed in heavily clustered areas for faster delivery turnaround. But a strategic placement alone isn't going to work here. Brands must optimize the logistics operations to boost delivery speed, profitability, and customer experience.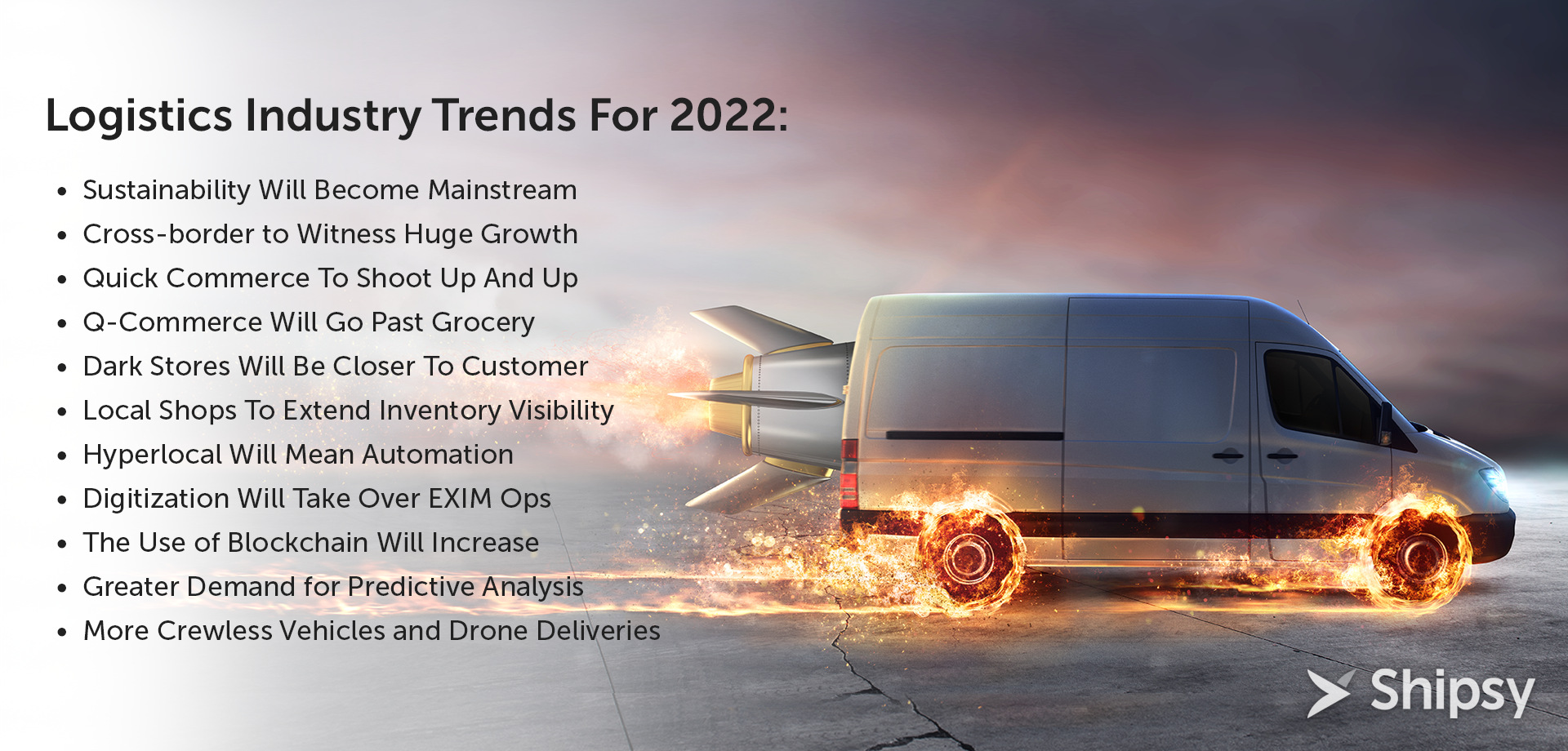 #6 Neighborhood Stores Will Have To Provide Inventory Visibility
The only challenge holding back local Kirana or neighborhood stores is the lack of inventory visibility. Things would be much easier for customers and delivery aggregators if they had real-time visibility over item availability. As on-demand delivery widens and orders swell, Kirana stores must build technological capabilities and innovative strategies for business sustenance.
#7 Automation and Hyperlocal Will Go Hand-in-hand
The ultra-fast delivery promise needs precision in operations for timely order fulfillment. Automation can facilitate this. It not only speeds up the process but can also designate tasks to the right delivery partner/resource without errors. The intelligent auto allocation engine quickly considers various constraints such as cost, driver workload, proximity to customer location, weight, etc., before assigning the task to the nearest delivery executive for faster turnaround. Smart logistics management platforms can drive a net allocation rate of 99%.
To know more on how automation can help your business, click here.
#8 Technology To Be A Frontrunner For Seamless EXIM Operations
Growing demand for goods and rapidly blurring international boundaries will only intensify global trade in the times to come. But this time, the players will be better equipped to dodge the challenges that stunted the goods movement last year. Manufacturers, retailers, eCommerce players, CEP companies, freight forwarders, carriers/shipping lines, logistics partners, etc., will look for ways to make their operations agile and cost-efficient. As a result, AI-powered logistics management platforms that could optimize, track, and automate processes will see more deployment.
#9 The Use of Blockchain Will Increase
The logistics industry is challenged with a lack of trust and transparency amongst stakeholders. Even modern-day consumers demand visibility over supply chain operations, especially for food products, as they want their articles to be ethically sourced. It may appear more like asking a restaurant to keep their kitchen doors wide open as they cook, but won't it help us choose a better eatery. In fact, this transparency is also critical from a financial transaction point of view. What's better than leveraging blockchain to check all the boxes here. Google, Facebook, Deloitte, Visa, and several other big corporations are making investments in this technology. Even though blockchain is still in its infancy, it will see greater adoption and application this year.
#10 Greater Demand for Predictive Analysis
We have already seen what happens when businesses lack data-led insights. It leads to poor decisions and unnecessary cost leakages. For instance, accurate ETAs can help manufacturers plan production better and avoid wasteful expenses on labor or logistics costs if the delivery of raw material is delayed. Businesses will leverage analytics and predictive intelligence to tide over unprecedented events or take better control of logistics operations this year.
#11 Autonomous Vehicles and Drone Deliveries Will See More Deployment
A rapid rush for fast order fulfillment has created the need for state-of-the-art autonomous delivery technologies. The concern is not just to deliver fast but also to address the driver shortage — a challenge that increases manifold during the peak festive season. Autonomous vehicles and drones can transport goods and make deliveries to resolve the issue of rising logistics costs and workforce crunch across many sectors. Although the technology will still take some time to get implemented in the heavily clustered regions, the adoption will surge in the GCC region, which is already reaping the benefits of the technology to some extent. Bigwigs like DHL and UPS have already made significant investments in deploying these sophisticated crewless vehicles.
Global supply chains and logistics companies have realized the importance of digital transformation. As they advance towards technological adoption, they simultaneously make the entire ecosystem more agile and resilient, driving towards a more secure future. With these development anticipated over the year, there is no doubt we are inching towards a new dawn of the sector.