Global trade is increasing, and so is the cargo movement. And it is imperative to keep track of this movement to simplify logistics complexities and eliminate challenges like increasing transportation costs, delayed deliveries, and more. Here is when multimodal visibility or multimodal logistics comes into play.
Multimodal or intermodal visibility helps businesses across the world to keep a tab on the container movements to ensure each shipment arrives at its destination within time. It gives a unified view of all shipments, regardless of the destination and transportation mode. Let's dig deeper into it-
Multimodal Visibility- Definition
Multimodal visibility is the real-time tracking of one or multiple shipments, sent through air, ocean, rail, or road, under one roof. It allows shippers to track the shipment and know its exact status right after it leaves the facility until it reaches its destination.
The Significance of Multimodal Visibility
Multimodal or intermodal visibility offers a single, unified view across different shipments to streamline end-to-end supply chain management. It keeps shippers updated with the current status of the shipment, which further contributes to avoiding issues like delayed deliveries, stolen shipments, and more.
Key Benefits of Multimodal Visibility
Having a high level of visibility over the shipment renders a plethora of benefits, including-
Unified Tracking of Shipments
With intermodal visibility, you can track multiple shipments (both domestic and international) on a single dashboard. It reduces the time and effort required to manage each shipment, irrespective of the mode of transportation it has been sent through.
Reduced Demurrage and Detention Charges
Having visibility on the shipment also minimizes demurrage and detention charges that can occur due to inefficient shipment management. Shippers can keep a tab on the current status of the shipment and ensure there is no delay in any of the processes involved.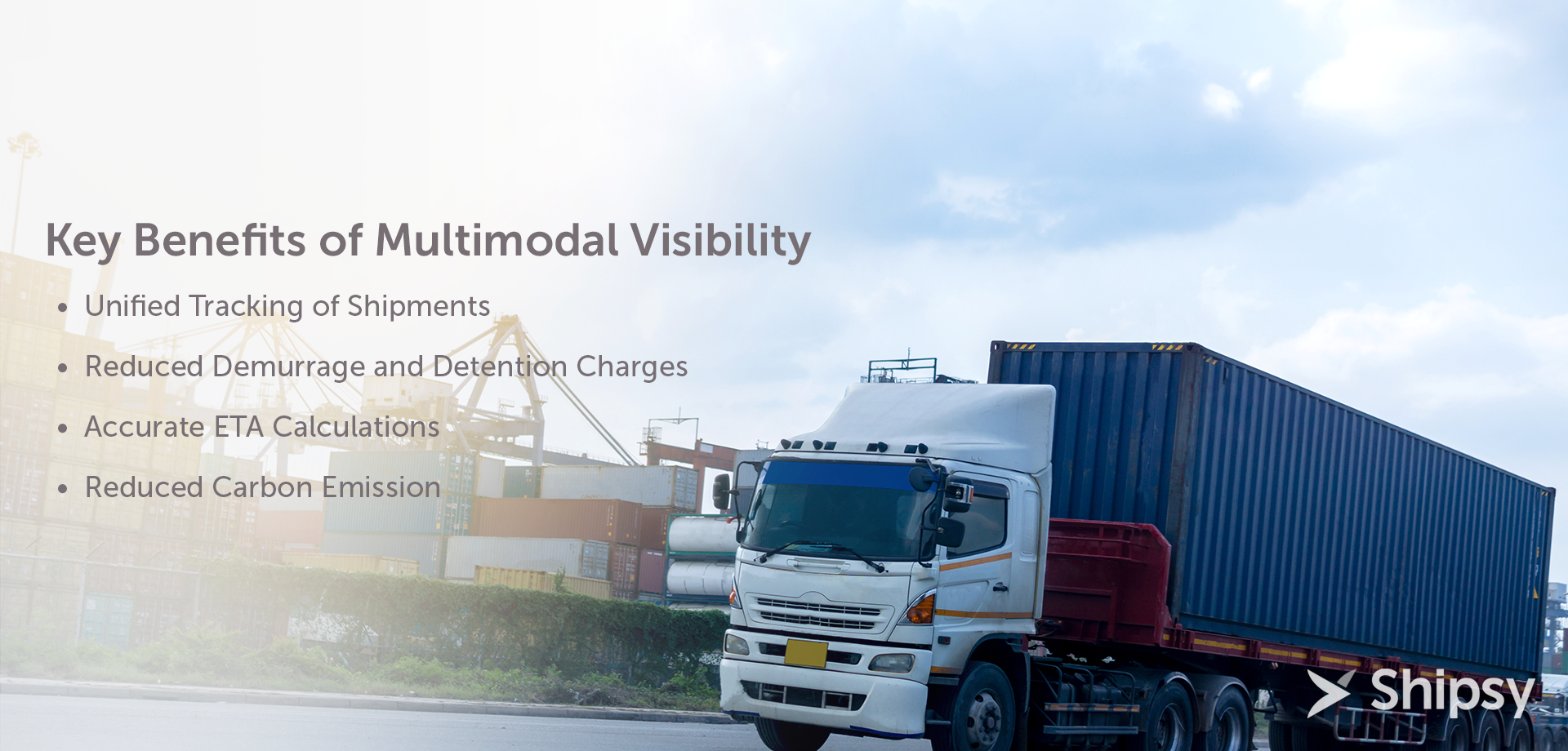 Accurate ETA Calculations
With multimodal visibility, it is easier to calculate delivery ETAs. Each stakeholder can check the ETA as well as the reason for delay if any.
Reduced Carbon Emission
It is undeniable that transportation is one of the biggest causes of increasing carbon footprints. By investing in multimodal logistics, enterprises can minimize CO2 emissions on the planet. It can help in avoiding unnecessary diversions, reducing miles travelled, and minimizing empty miles.
Apart from the aforementioned ones, some other advantages of intermodal visibility include faster movement of freight, digitized freight dispatching, cost and time efficiency, and complete operational transparency.
How to achieve multimodal or intermodal visibility?
Be it retail, manufacturing, or any other business, achieving multimodal visibility or implementing multimodal logistics is possible only by relying on tech-enabled platforms . In short, getting a customized shipment tracking solution or freight tracking solution can perfectly serve this purpose. Such software digitizes the entire shipment management lifecycle and assists businesses in making better decisions using predictive analysis. It also allows businesses to have complete control over the shipments.
Multimodal visibility aids businesses in building a supply chain system that can withstand today's unpredicted events. It also improves communication and collaboration among stakeholders, minimizing shipping costs and driving operational efficiency across all modes of transportation. Once integrated through a shipment tracking system, multimodal visibility offers the ability to make better and data-driven decisions that improves profitability and builds a great brand reputation. So, what are you waiting for? Reach out to a reliable freight tracking software provider and get a customized one for your business today!