The logistics market in Indonesia is set to reach USD 300.3 billion by 2024. With one of the world's highest adoption levels of e-commerce and a CAGR of 7.9%, Indonesia has become a growing hotspot for the CEP industry across the globe. With a growing population, increased internet penetration, and eCommerce, the business need for logistics services has seen a massive rise.
However, there are geographical as well as structural challenges. Indonesia is an archipelago comprising over 17000 islands, and without software support, it's difficult to manage the complexities of multimodal logistics efficiently. Moreover, the trucking industry comprises small fleets, with more than 70% of delivery trucks in Indonesia not having GPS. Warehouse and inland modal players are highly fragmented and have not adopted digital technology.
Hence, businesses are increasingly looking for intelligent logistics software in Indonesia that can help overcome all the above-mentioned challenges, make logistics more efficient, and reduce overall operational costs. In this write-up, we dive deep into the major logistics hurdles in Indonesia and the key benefits smart logistics software offers.
What Is Logistics Software?
The platform that enables planning, implementing, and simplifying the end-to-end supply chain processes is referred to as logistics software. These solutions help businesses make informed decisions regarding core logistics functions, such as 3PL management, distribution, deliveries, and enterprise growth, via real-time analytics and intelligent automation.
Logistics solutions help optimize and automate the management of processes like order management, inventory control and warehouse management, transportation, and seamless delivery management while providing complete visibility to all stakeholders. This helps with benefits like efficient resource availability, reduced operational risks, cost-effective deliveries, and great customer experience.
Before exploring how intelligent logistics management software in Indonesia can help businesses, it will be relevant to have a quick look at the logistics management challenges in Indonesia.
Challenges Driving the Need for Logistics Software in Indonesia
#1 – Manual Intervention
Fear of higher costs and a steep learning curve leads companies to continue with manual logistics management processes. But in today's competitive market, manual management of operations like, inventory check, AWB generation, order dispatching, driver allocation, and delivery routes selection becomes tedious.
Coupled with increased human intervention, the chances of unintentional errors increase. Moreover, manufacturers have to manually check with shipping lines for RFQ, find the best shipping costs, and manually monitor the goods in transit.
#2 – Inefficient Operations
In Indonesia, logistics costs vary between 25% – 30% of the GDP, compared to other nations where it is less than 5% of the GDP. With manual operations and a lack of data, businesses cannot identify improvement areas and fail to make a strategy to tackle such pain points effectively.
Without automation of repetitive and cumbersome tasks, the efficiency of the overall management process is significantly compromised. This results in lesser trips, increased idling, inefficient delivery routes, and consequently, sub-optimum utilization of assets.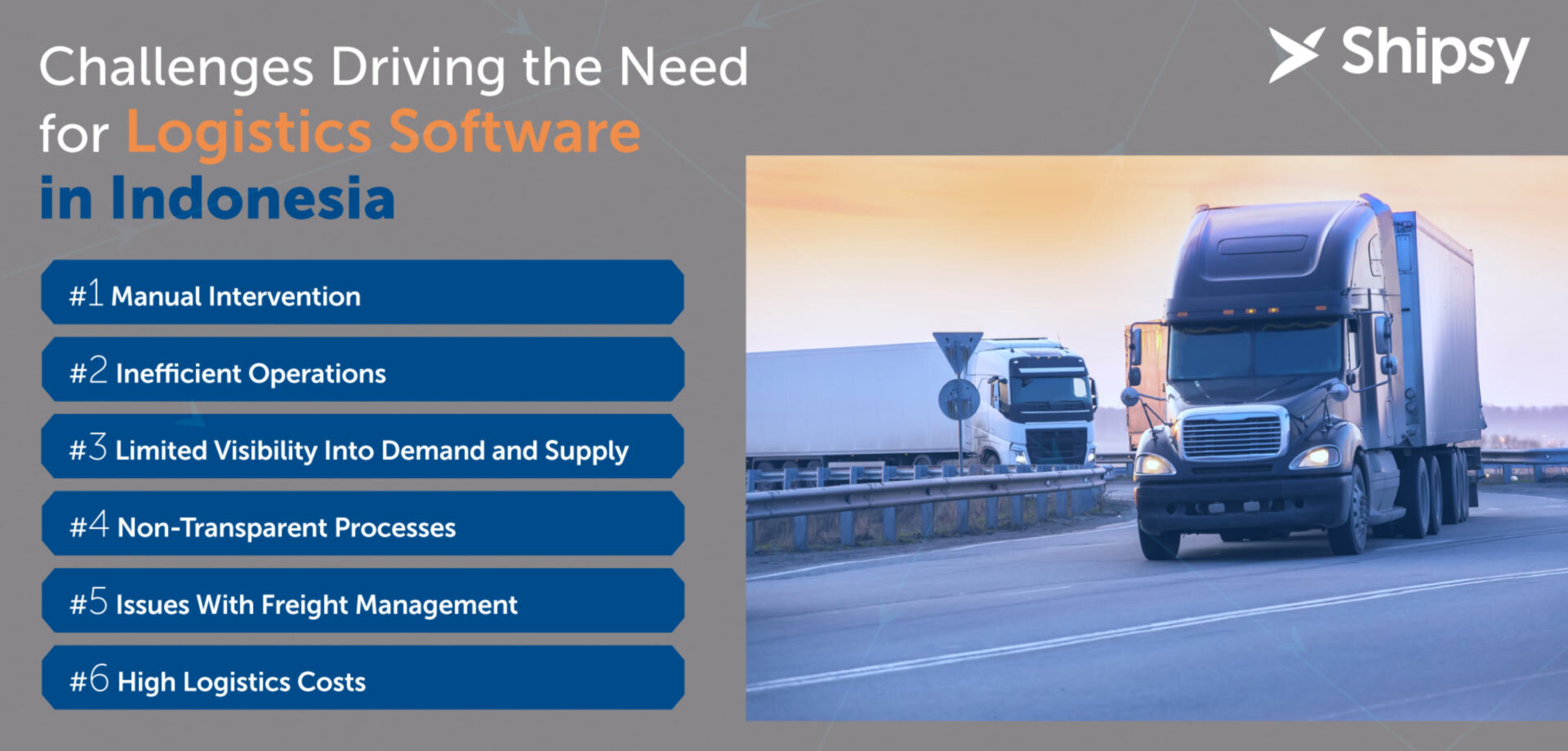 #3 – Limited Visibility Into Demand and Supply
The demand scenario depends on factors like festive seasons, business fluctuations, etc., and such trends cannot be manually gauged effectively. Without quick historical and recent data analysis, it is impossible to get actionable insights for forecasting demand and reducing the risk of overstocking or stock-outs.
Similarly, suppliers are not integrated without logistics management systems, and it is impossible to get instant updates and alerts on inventory levels, making decisions on production, inventory, or order confirmation very difficult.
With limited visibility into demand and supply, there will be low backhaul utilization; most of the time, trucks will return empty or partly utilized. In fact, the empty backhaul in Indonesia stands at a massive 40-50%, while the industry average is much less, between 20-25%.
#4 – Non-Transparent Processes
Customers like to know their orders' status and where they are in transit. They also want to talk directly to the driver to ensure they do not miss out on the delivery. Without transparency and visibility of operations, there will be a low first-attempt delivery rate and higher returns due to the unavailability of customers.
With customers informed about the status of their shipment in near real-time, logistics companies can maintain transparency and provide visibility throughout the shipment while avoiding any potential delivery-related issues. Logistics providers enable this with the help of smart logistics solutions that auto-trigger a tracking link and allow real-time visibility of shipments.
Lack of visibility of transit goods and drivers on a single screen also makes it difficult for the dispatcher to manage and monitor multiple shipments simultaneously, rendering effective operational control difficult.
#5 – Issues With Freight Management
LTL/FTL freights generally transported on pallets, and the carrier generally carries consignments from multiple clients/businesses. These pallets will have different destinations, and some will require unloading and re-loading on the way until the destination arrives.
This often increases the number of touchpoints and leads to disturbing or damaging the goods. It also leads to higher labor costs, increased delivery times, and inefficiencies. Without intelligent loading of FTL/LTL shipments in the delivery order, based on the delivery route, the express logistics providers will have poor productivity.
#6 – High Logistics Costs
Most online shoppers expect same-day delivery and can abandon their shopping plan if unavailable. However, offering this service puts businesses under tremendous pressure to expedite their last-mile processes and add additional resources, which causes an increase in last-mile delivery costs.
In Indonesia, more than 85% of transportation and supply chain businesses still use paper ledgers for their operations, including managing drivers, expenses, fuel consumption, and route efficiency. These manual operations increase logistics costs and make them uncompetitive.
Having seen the challenges of logistics management in Indonesia, let us explore the benefits of adopting logistics software in Indonesia.
Logistics Software in Indonesia: 6 Major Business Benefits
#1 – Improves Operational Efficiency
With smart logistics software in Indonesia, businesses can monitor transporter-wise, driver-wise, and vehicle-wise data on a range of parameters like on-time deliveries, cost, and customer complaints. This makes it possible to make data-driven decisions to streamline operations, cut costs and improve customer satisfaction levels.
With the visibility of all shipments and drivers on a single screen, dispatchers can monitor multiple shipments easily for efficient operations. AI-powered logistics solutions leverage in-built smart workflows for warehousing, distribution, transportation, and last-mile delivery operations. Using in-built algorithms, the automatic allocation for orders and real-time tracking of shipments are accomplished easily.
#2 – Offers Real-time Visibility and Tracking
Logistics software provides real-time visibility of multiple shipments in transit, irrespective of the modes of transportation. All stakeholders, including customers, can track the exact location of goods in transit with accurate ETAs and push notifications via SMS/ Whatsapp/ chatbot. It provides dispatchers with real-time insights into delivery progress using RFID technology for managing SLAs and KPIs.
The system offers visibility into products in warehouses and can confirm orders instantly, along with the delivery time from the nearest fulfillment center due to the end-to-end automated oversight.
#3 – Minimizes the Overall Logistics Costs
Logistics is a very competitive space, with high delivery costs and peak season surcharges eroding already thin profit margins. Additionally, sky-high customer expectations of quick deliveries add to the delivery costs.
In such a scenario, modern logistics providers have the competitive edge using software for automated warehousing, order management, and dispatch while capitalizing on a wide network of integrated own and partner fulfillment centers. This is made possible only with logistics management solutions.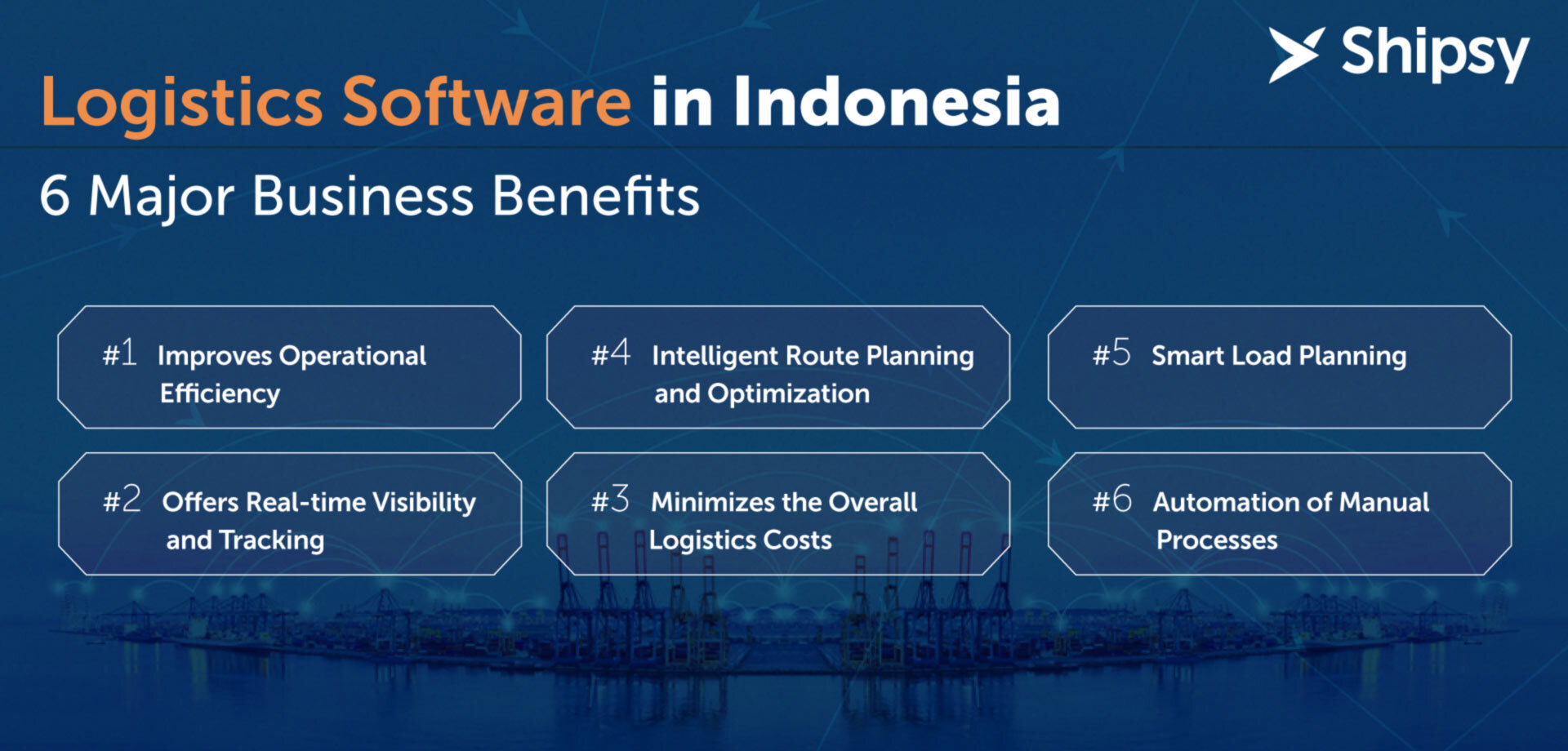 #4 – Intelligent Route Planning and Optimization
Manual route planning fails to consider the dynamic nature of traffic, and finding the best route to deliver shipments becomes a big chore.
Logistics software enables the dispatcher to generate automated optimal travel routes for multiple order deliveries, with customization for the number of stops, vehicle capacity, available drivers, and promised ETAs. This allows allocated drivers to have a clear visual route that factors in real-time conditions like traffic and weather.
These features, which enable intelligent route planning and optimization with reduced fuel costs, increased delivery count, and speed, are difficult to have in a manual or standalone system. However, an integrated and customizable logistics management system can ensure seamless operations with such features.
#5 – Smart Load Planning
While selecting the right load type for the shipment, the nature of goods, delivery ETAs, and delivery type play a crucial role in the final choice. Automated carrier management software uses AI to help businesses choose the most profitable and efficient carrier for every shipment, irrespective of the load type and shipment nature.
Custom parameters can be set to configure the system for prioritizing the carrier partners for those parameters. This helps in drawing an optimal balance between cost, efficiency, and SLAs for highly cost-efficient transportation.
#6 – Automation of Manual Processes
Automation can help reduce manual processes across the supply chain as follows:
Order management can be system-based due to access to inventory levels across the supply chain. Orders are confirmed instantly, with automatic generation of packing orders to the concerned fulfillment. Operations like invoice generation, bill of lading, and label printing are automated.
Decision-making for selecting the right vehicle, driver, and delivery route with delivery stops can be automated while balancing cost considerations and committed delivery time.
Automated dashboards can deliver customized analytics for monitoring performance parameters and SLAs, along with alerts and notifications in real-time.
Automated returns management ensures easy returns with the lowest cost of returns by efficient route planning.
Customer service operations like feedback and inquiry management can be handled with automated IVR calls and real-time communication updates using chat/ email/call/ WhatsApp / portal.
Get Started With Shipsy – Best Logistics Management Software in Indonesia
Shipsy's SaaS-based platform has a module-based architecture that allows the selection of features required to run the business operations:
Automated decision-making modules using AI and ML for multiple negotiations with impaneled vendors, AI-enabled follow-up, and intelligence reference rates.
Integration module that allows seamless interaction with multiple ERP/ OS and power global logistic capabilities, including order upload interface, shipping label generation, eCommerce plug-ins, shipping tracking, billing and invoicing, 3PL management, and more.
Workflow automation module, which automates all shipping and logistics-related processes, optimizes vehicle capacity utilization and minimizes customer TAT breaches through a configurable technology platform.
Courier aggregator works with multiple 3PLs for pickup/delivery through a single window, an AI-based allocation engine to ensure superior performance at minimum cost.
Scalable, configurable app-enabled, in-hub and field logistics operations, with a driver app for information and performance monitoring.
Communications module for real-time communication and updates across multiple channels such as chat/ email/call/ WhatsApp / portal, and more.
Unlike legacy freight and logistics management software, Shipsy caters to diverse industries like manufacturing, courier, freight forwarding, and hyper-local e-commerce fulfillment. Businesses using Shipsy for their logistics software in Indonesia can make the most of automated, scalable, smart logistics management and unlock:
23% reduction in last-Mile delivery costs
28% increase in on-time dispatch
100% decrease in 3PL invoicing errors
64% increase in customer satisfaction
18% reduction in shipment returns
Want to know more about how Shipsy can help achieve the above results? Please schedule a customized demo with our experts today.