Let's go back in time a bit. Remember how impressed you were the first time a pizza reached your doorstep in under 30 minutes, as promised by the popular pizza chain? Getting the order faster is indeed a delightful experience. But, if you receive the same service levels again, would you still be surprised? Surely not. It needs to surpass the service levels to add that element of surprise.
Let's have a quick glance at how we arrived at this juncture.
The Then: Same-Day Deliveries Had A Successful Run
Ecommerce took the world by storm in the early 2000s. Rapid technology adoption and internet penetration can take all the credit here. More people switching to the online mode of purchasing impacts the need to strengthen delivery services. Mobile commerce took this urge a notch higher, with consumers ordering on the move and in record volumes via apps.
Why Same-day Deliveries Are Important For Businesses
Amazon and Flipkart introduced same-day deliveries entailing groceries and other daily use items at serviceable pin codes. Hence, the whole new world of the on-demand ecosystem was born. The following stats show why same-day shipping is important for both businesses and customers.

Going by the numbers:
61% of customers are willing to pay more for same-day delivery.
49% of shoppers say that same-day delivery influences their decision to shop online
25% of shoppers would abandon carts if same-day shipping isn't available
Another event added fuel to the fire. The pandemic-induced stay-at-home restrictions necessitated brands to deliver everything at the customer's doorstep. The demand for essential goods such as groceries, medicines, and other COVID-critical goods made same-day/on-demand deliveries, the new normal. Further down the road, today, the doorstep deliveries are not only driven by need but also by convenience. It is flourishing expectations that warrant deliveries to be done in less than an hour, paving way for the quick commerce (Q-commerce) model.
Why eCommerce Companies Need To Pull Up Their Socks Now
Stemming out of the need for instant gratification, Q-commerce is massively impacting eCommerce. It is influencing customers to expect faster and highly transparent delivery experiences. In fact, the consulting firm, Redseer, predicts a bright future for Q-commerce. Estimated at USD 0.3 Bn in CY2021, the delivery model is likely to grow 10-15x in the next five years, to reach USD 5 billion by 2025. The report further confirms that 20 million households are addressable by quick commerce in India, with estimated addressable market size of USD ~50 Bn in 2020. Currently, at USD 3.8 Bn, the quick commerce online consumable (fresh, packaged foods, beverage, staples, etc.) market is expected to grow exponentially at 12-13% to reach USD 30 Bn by 2025.
Undoubtedly, the scope is huge, and opportunities are unmissable. Hence, the sector is drawing intense competition amongst the existing delivery aggregators like Blinkit (formerly Grofers), Swiggy, Dunzo, etc., while new entrant such as Zepto is emerging as category creator giving established players a run for their money. Customers can expect a small basket order delivered as fast as 10 minutes to their doorstep. After all, evolving customer expectations pave the way for disruption-led innovation.
Let's see how the popularity of Q-commerce will impact eCommerce brands.
Delivery expectations from eCommerce brands will evolve
According to Statista, 75% of people shop online every month. A Deloitte study revealed that 70% of customers purchase online merely due to convenience. Clearly, the opportunities are unmissable here. As quick commerce providers shrink fulfillment windows, eCommerce brands will have to drive faster and more convenient delivery options to tap into these lucrative opportunities. Leveraging automation for order allocation, logistics partner selection can expedite order fulfillment while extending delivery visibility and flexibility with more payment options to customers can help satiate their convenient quotient.
Other ways to meet narrowing delivery windows are by:
Bringing inventory closer to the customer
To match up to the speed of quick commerce, eCommerce players will have to strategically place inventory closer to customer location. They must leverage technology to further expedite logistics operations and reduce delivery TAT.
Partnering with neighborhood stores and providing inventory visibility
As the demand volume surges and customers expect their order to be delivered within minutes than hours, partnering with local stores will emerge as a good option for eCommerce businesses. But neighborhood stores must develop technological capabilities enabling customers and eCommerce players to have complete inventory visibility to fully exploit the potential of this model.
Quick Commerce will sprawl beyond grocery deliveries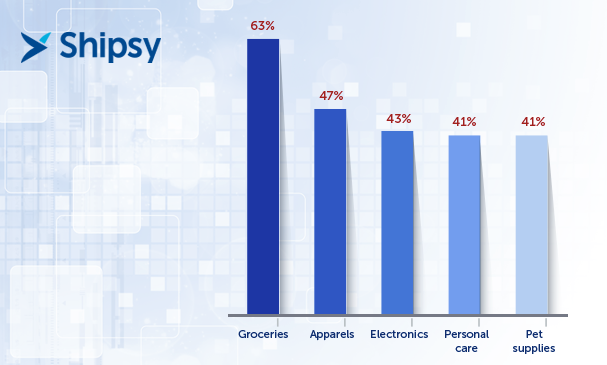 Stats show that apparels (47%), electronics (42%), personal care (41%), pet supplies (41%) are other popular segments after groceries (63%) for customers. Many quick commerce players have either already adopted or are considering including more items under their umbrella. As we move ahead, we are likely to see these items along with big-box articles being delivered to our doorstep within 10 minutes. Ecommerce brands will have to consider these segments too to stay competitive and enjoy a fair share of the pie.
To know how automation can help eCommerce players to speed up last-mile operations, click here.
As we move ahead, it will be interesting to see how Q-commerce brands further fight out to get a competitive advantage. AI-powered logistics management tools can prove instrumental in ensuring faster and more profitable deliveries and superior customer experience.