Rising customers' expectations are making it challenging for the retailers to deliver an unmatched delivery experience. They are realigning their strategies and widening their horizon to provide customers the flexibility and choice to shop at their convenience. For example- in 2020, Target (a renowned retailer in the USA) witnessed 24.3% spike in their sales and 195% increase in digital sales as the outcome of integration of physical and digital, i.e., omnichannel fulfillment.
Another report highlights that the global omnichannel retail commerce market is expected to grow to $11.04 billion by 2023. Today, customers have the flexibility to place their orders from a single retailer via different channels. Besides, they also have various delivery options, such as home delivery, in-store pickup, curbside pickup, and more. One thing that is making all this possible for retailers is omnichannel fulfillment. Let's read about it in detail-
What is omnichannel fulfillment?
Omnichannel fulfillment is the process of packing, picking, and delivering orders that customers purchase via different channels, including brick-and-mortar stores, e-commerce stores, and social media. It ensures that all the channels a retailer uses to accept orders are well-synchronized and run smoothly. The core purpose of omnichannel fulfillment is to make a complete inventory of a retailer accessible to customers despite the channel they use for the purchase. Some key processes involved in omnichannel fulfillment are-
Order management
Order processing
Warehouse management
Shipping
Last-mile delivery
After-sale support
The Significance of Omnichannel Fulfillment
Customers, these days, expect a brand to offer them multiple options for making a purchase and getting their order delivered. Omnichannel fulfillment has become a must for every retailer to fulfill this demand and stay ahead of competitors. It maximizes the opportunity for retailers to reach more customers and for consumers to purchase and receive goods at their convenience. 
Strategies for Omnichannel Fulfillment
The needs of every business are different, and a single strategy cannot be fit for all. Therefore, you have to pay attention while building a strategy or choosing the method of omnichannel fulfillment. Here are some of the common ones you can choose from-
Shipping from the warehouse– Goods are shipped directly from the warehouse or distribution center.
You might want to read- A Complete Guide to Omnichannel Distribution
Shipping from 3PL – A business partners with one or more third-party logistics companies to look after order fulfillment.
Shipping from Store- In this case, a customer places an order online and picks the product from the nearest retail location.
Shipping from the manufacturer- Retailers can ship the product directly from the manufacturers to speed up the delivery process.
In-store pickup- A customer can pick up the order from the nearest retail location.
87% of the retailers believe that an omnichannel marketing strategy is important for their success. 
Types of Omnichannel Fulfillment
Three most common types of omnichannel fulfillment are-
Store fulfillment
This type of fulfillment is preferred mostly by small businesses. It can further be categorized into ship from store and ship to store. In the former, businesses turn their store into a warehouse and ship orders directly from there. Businesses that offer in-store pickups choose the latter. 
Warehouse fulfillment
Retailers with rented or owned warehouses accept the orders and ship them directly from the warehouse. This type of fulfillment requires the retailer to have a team and technology for warehouse as well as inventory management. 
Third-party logistics fulfillment
In this type of fulfillment, a third-party logistics provider takes care of all the fulfillment operations along with inventory management, shipping, and returns. You receive orders from different channels and your 3PL looks after the fulfillment part. 
Top 5 Omnichannel Fulfillment Benefits
Omnichannel fulfillment allows a business to accept orders from multiple channels/sources, increasing its customer base. It helps to get a competitive edge in the market. Apart from this, some of the other benefits of omnichannel fulfillment include-
1. Seamless shipping with great order accuracy
A well-synchronized system for receiving orders from multiple channels and shipping them for delivery improves operational efficiency and ensures a great degree of precision in the delivery process.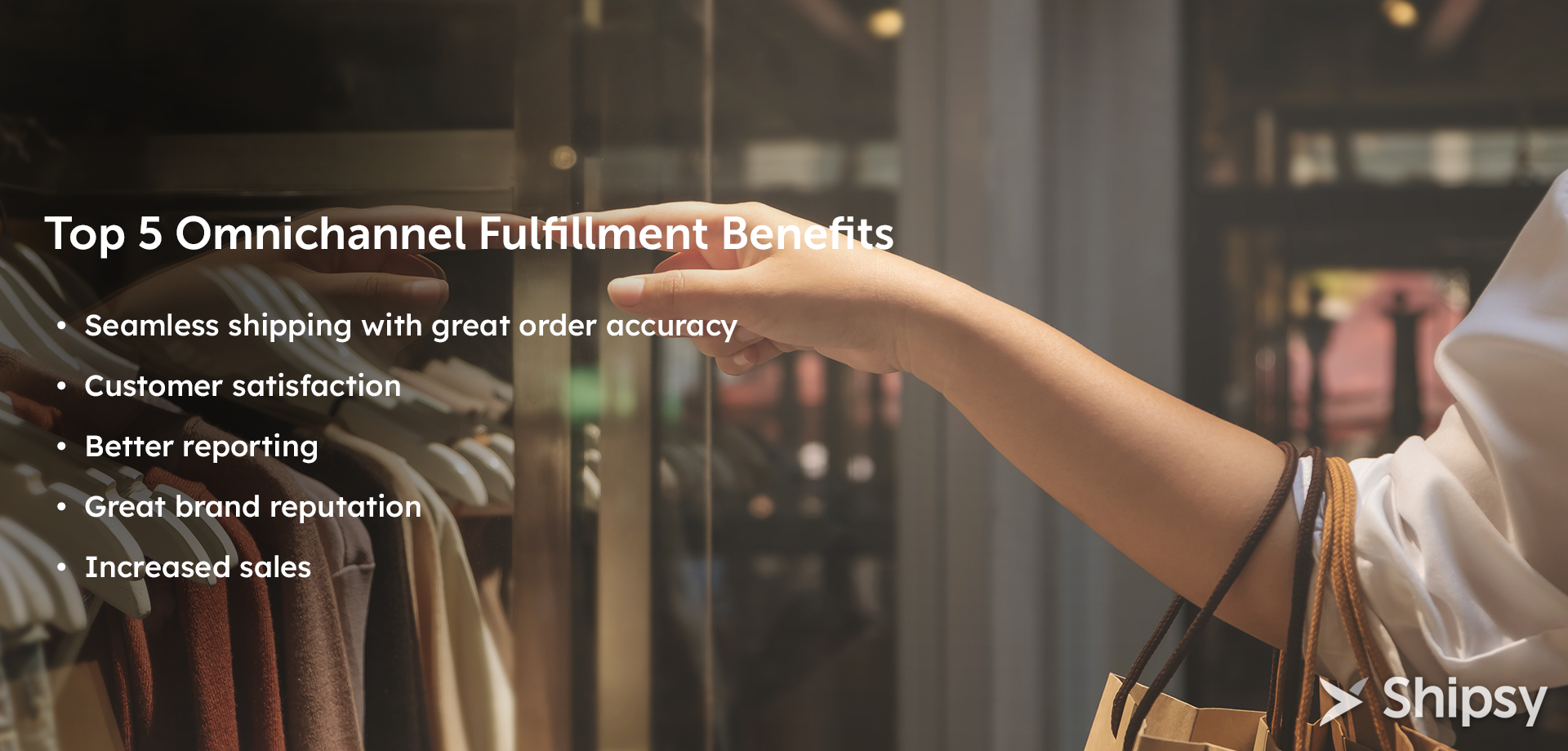 2. Customer satisfaction
Omnichannel fulfillment gives customers the flexibility to shop from their preferred medium and choose from multiple delivery options. They can opt-in for home delivery, click and collect, in-store pick up as per their convenience. Delighting customers with different delivery options brings in customer satisfaction and customer loyalty. According to online reports, customer retention rate is 90% higher for omnichannel than a single channel.
Another report highlights that companies that employed omnichannel strategies have 23 times higher customer satisfaction.
3. Better reporting
When managed using the right technology platform or software, Omnichannel fulfillment helps you get accurate reports to understand which channels are crucial. These reports can also help you in improving your fulfillment strategies.
4. Great brand reputation 
When it comes to shopping and delivery, every customer expects convenience and flexibility. By offering them multiple options for placing an order and choosing from home delivery, in-store pickup, pick up from a retail location, etc., you can contribute to improving your brand reputation. 
5. Increased sales
A customer is more likely to purchase from a brand that offers multiple delivery options than one with a single (mostly, home delivery) delivery option. Also, the brand can meet a customer where they are. It ultimately boosts sales.
According to reports, purchase frequency is 250% higher with omnichannel than with a single channel.
5 Common Omnichannel Fulfillment Challenges
Like any other business, omnichannel retail also involves a lot of risks. However, following the right omnichannel fulfillment strategy can help you figure out and resolve all such challenges, including-
1. Inefficient inventory management
Managing inventory is not a child's play; it requires a lot of attention and effort to ensure the inventory never overflows or runs out of stock. Omnichannel inventory management brings even more difficulties to these existing hurdles. A miscalculation in the SKUs or units placed under various listings or categories could lead to many other issues. Besides, lack of inventory visibility is another big challenge.
2. Poor infrastructure and fulfillment strategy
Maintaining the right infrastructure and fulfillment strategy is one of the biggest challenges ahead of retailers. It can make streamlining multi-channel fulfillment as well as omnichannel delivery even more difficult.
3. Poor system interoperability
The traditional retail system was designed to fulfill orders only to stores. Now that consumers order from multiple channels and expect various delivery options, data synchronization is a must. It is possible only when a retailer integrates logistics management software.
60% of the millennials expect brands to offer consistent experiences across different channels.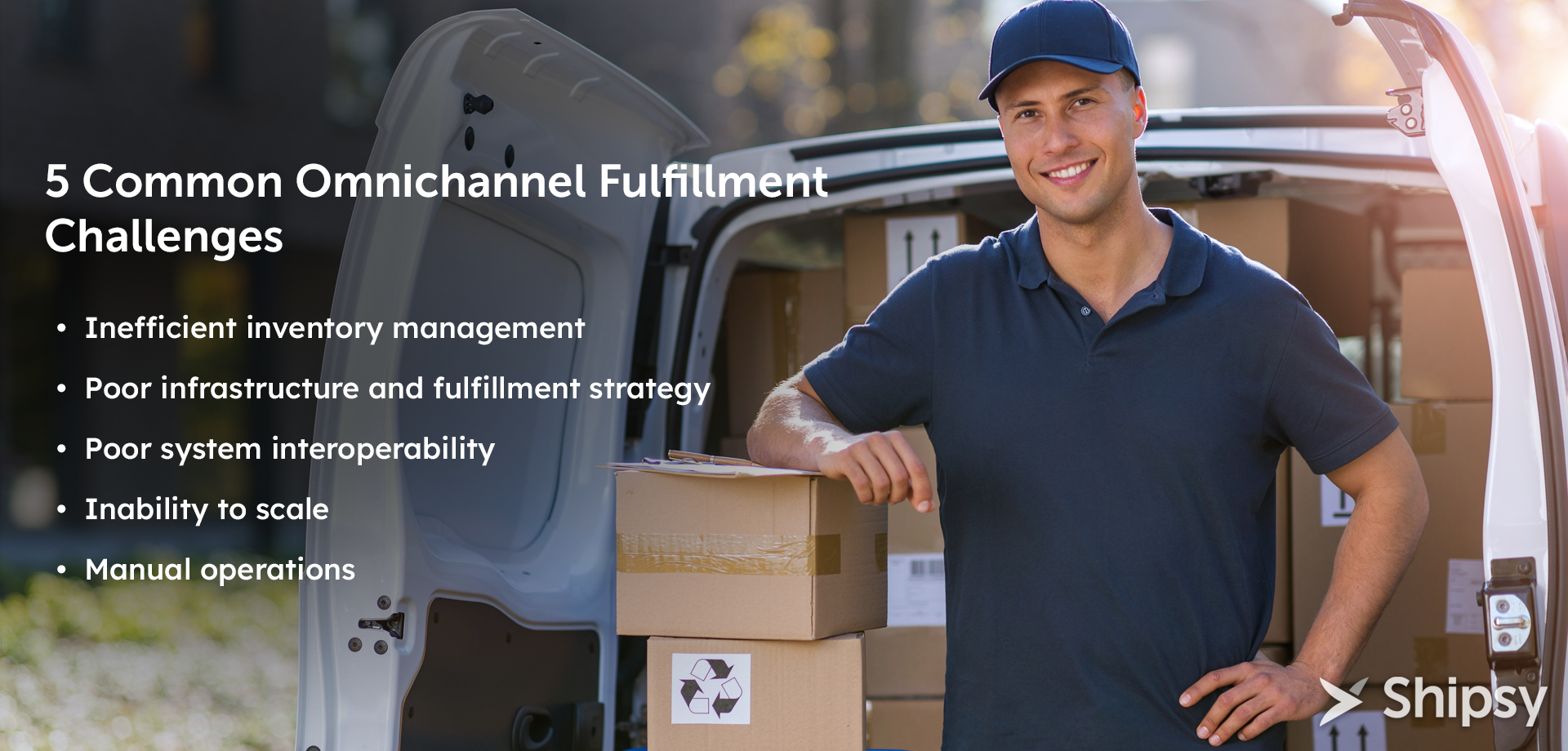 4. Inability to scale
Finding it difficult to scale to offer multiple choices for delivery and shopping is another big hurdle ahead of retailers. It can be resolved by relying on the right technology platform. 
5. Manual operations
Manually performing various operations for omnichannel fulfillment and omnichannel delivery is a common issue for the retailers. It is time consuming and requires huge human resources.  
How can retailers serve multiple channels efficiently?
Some tips for effective and efficient fulfillment include-
Focusing on demand planning
Make the most of distributed order management
Pay attention to inventory management
Use a tech-enabled platform or integrate logistics software to get visibility and transparency
Omnichannel fulfillment is the next big thing in retail; choosing the right strategy is a must for achieving customer satisfaction and delivering them a seamless shopping experience. Retailers can have a full-fledged team at their facility or hire a third-party logistics partner for it. No matter which of these two options you choose, having a clear understanding of the opportunities and risks involved in omnichannel fulfillment is always a good idea.