Changing delivery trends have made lightning-fast deliveries a new norm. But fast delivery is not the only thing customers want; they also wish to have multiple delivery options, 10-minute or same-day deliveries, free shipping, and a way to track their orders in real time. Not offering all these options means the customer will shop somewhere else or will not shop again from that online store. However, delivering a successful last-mile experience can cost a lot to a brand if they fail to properly manage the last-mile delivery process. According to a Capgemini report, the final mile delivery alone accounts for 41% of the entire supply chain costs globally.
Now the biggest challenge for eCommerce companies and retailers is delivering superior customer experience and reducing last miles costs. But before we check out how, let's read a bit more about last-mile delivery and the factors that impact last-mile delivery costs.
What Is Last Mile Delivery
Also known as last mile logistics or final mile delivery, last-mile delivery is the last leg of the logistics management process. It involves transporting goods from the last hub to customers' doorsteps. The last mile is a crucial part of logistics as it is a direct interface between the customer and the brand. Well-managed or optimized last mile delivery processes bring customer loyalty and boost customer experience. Moreover, it also ensures a healthy profit margin.
Steps Involved in Last Mile Delivery
Last-mile delivery is not just about picking up a product from the manufacturing facility or the last distribution point and delivering it to the customer's location. It includes a lot of other processes, including:
Receiving orders
Sending request to the warehouse
Dispatching the product
Assigning driver for pickup
Choosing delivery vehicle
Loading product into the vehicle
Designing delivery route
Delivering it to customer's location
What Is Last Mile Delivery Cost
Amount spent to facilitate the movement of goods from the last hub or distribution center to the customer's location adds to last mile delivery costs.
What Customers Expect From Last Mile Delivery Services
To achieve superior customer experience and loyalty and improve brand reputation, it has become essential for brands to meet evolving customer expectations. And for this, they should have insights into what their customers expect. Check out the below-given facts to understand what customers seek from a brand to provide under the last mile delivery service: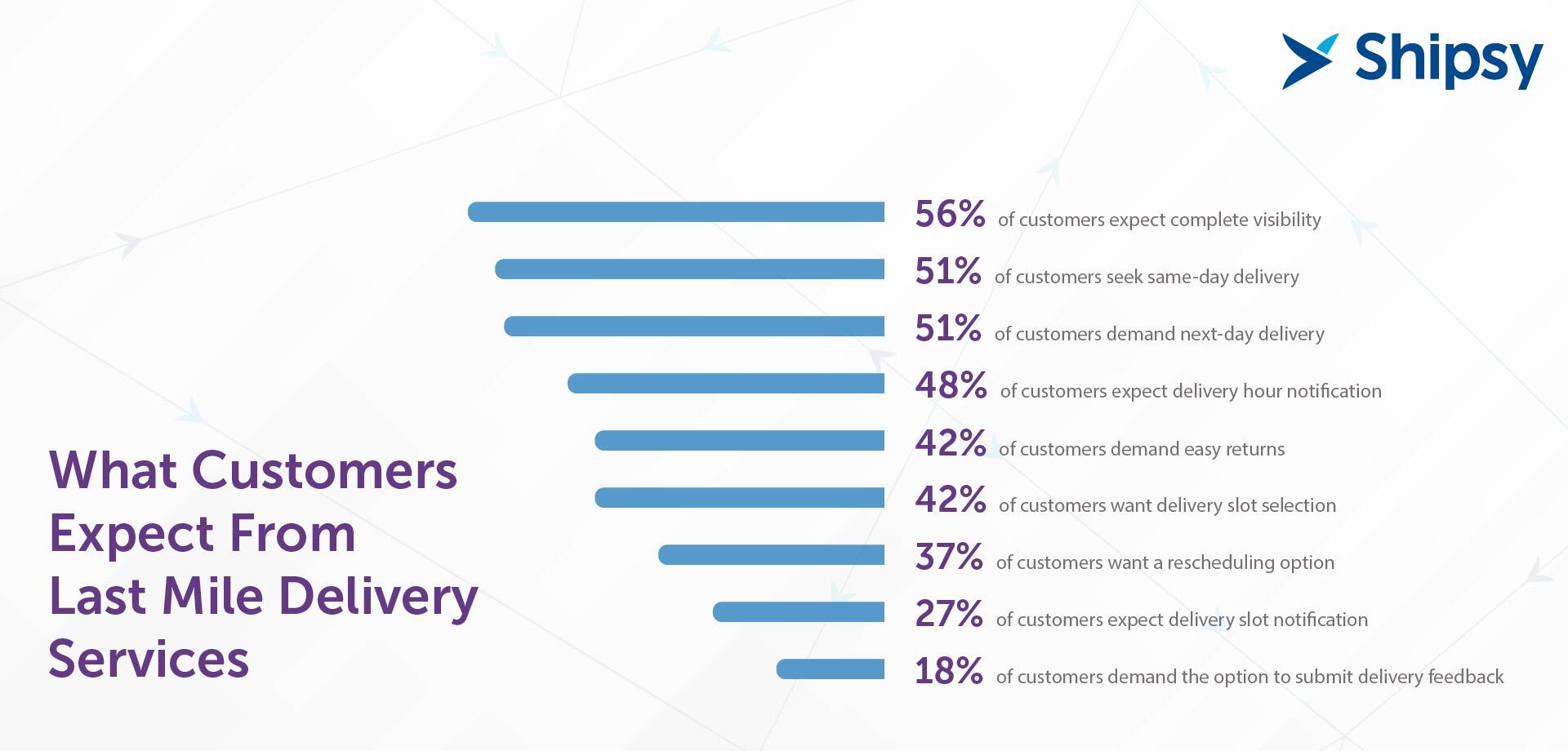 6 Major Cost Components in Last Mile
Last mile delivery is a complex process that includes a lot of operations to be performed systematically. Any inefficiencies can impact the delivery process, resulting in increased delivery costs and poor customer experience. Here are some of the components that contribute to last miles costs.
Cost of Human Resources
Last-mile delivery is unpredictable, and the number of orders cannot be the same throughout the year. It might spike during the festive season or sale. To handle these deliveries during peak times, the company may need to hire additional resources or delivery drivers, which accounts for 50-60% of total last-mile delivery costs.
Same-Day Deliveries
Today's customers expect their order to be delivered on the same day. This makes businesses work extra on route optimization and streamlining operations, which can incur additional costs.
Missed or Late Deliveries
No matter the reason, when a delivery is missed/failed or delayed, a business has to bear additional delivery costs. A delivery person makes two or three attempts to deliver the order at the customer's location. If the customer is unavailable or the address is incorrect, or cannot be reached, the order is sent back to the source. All these additional processes incur costs.
Fuel Cost
Fuel cost contributes up to 25% of the total last-mile delivery costs. Not a considerable number, but it can significantly impact the overall expenditure. This cost increases when you enter new markets and cover more regions. Apart from this, fuel prices are volatile, and businesses cannot predict the exact fuel costs.
Delivery Equipment Cost
This component contributes up to 20% to the overall last-mile costs. Delivery equipment is required to ensure safe and damage-free deliveries. For example, a food delivery service provider or a restaurant that offers deliveries might need drink holders, coolers, insulated bags, and more.
Reverse Logistics Cost
To deliver a superior customer experience and gain a competitive advantage, businesses have to offer free returns (within a specific time) on their products. And when a customer raises a return request, the entire delivery journey is created from scratch but in the backward direction. Moreover, the customer might not return the product in the same carton or box, but it is packed once again for its safe delivery from the customer's place to the warehouse. Re-packing the product also increases the costs.
9 Effective Ways For Reducing Last Miles Costs
Reducing last miles costs is possible only when you streamline the processes involved and have a system to perform different operations. Here are X effective ways to achieve this goal:
1. Invest in Smart Warehousing
Gone are the days when warehouses used to be on the outskirts of the delivery zone. It's the time of instant, same-day, and next-day deliveries. Therefore, a good approach is to identify places from where the business receives high order volume. Businesses can establish smart warehouses at that place to shorten the distance and deliver products in expected delivery time windows. Smart warehousing also speeds up the process of order dispatch and shipping.
2. Automate Dispatch Management
The order dispatch process doesn't seem a big deal when the order volume is low. However, as your business grows, you need huge manpower and significant time to dispatch orders. It will increase labor costs. Auto-dispatch management overcomes this problem by automatically assigning deliveries to the drivers, choosing the right delivery vehicle, and more.
3. Automate Route Planning and Optimization
Route planning and optimization are critical to the last-mile delivery process. The prime goal of this process is to ensure more packages are delivered using less number of vehicles and within the shortest time possible. Factors like delivery time slot, delivery location, driver skills, vehicle type, vehicle capacity, customer preferences, and weather and traffic conditions are considered to achieve this.
Keeping all these parameters in mind and manually designing an optimal delivery route is impossible. Moreover, it also requires a lot of time, resources, and effort, increasing the last-mile delivery costs. Therefore, the best practice is to automate route planning and optimization.
4. Ensure Fleet Visibility
With fleet visibility, businesses can track each vehicle in real-time, which can further help avoid last-minute delays. They can have a clear idea of the vehicle's location and the shipment's status. Fleet visibility also allows logistics managers to take immediate action and dispatch control teams in case of vehicle breakdown or road accidents.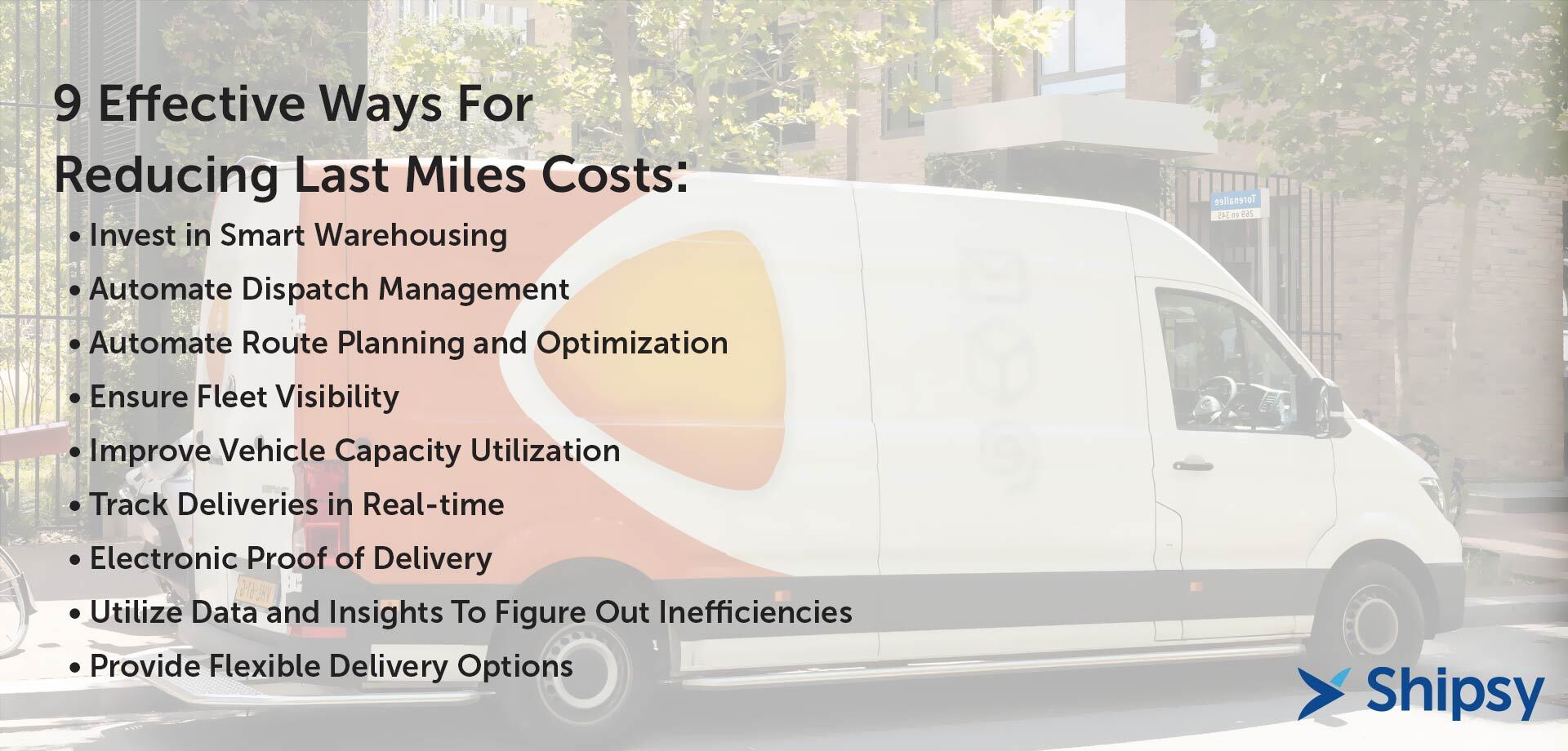 5. Improve Vehicle Capacity Utilization
Utilizing a vehicle's capacity to the fullest is as important as choosing the right delivery vehicle. With vehicle capacity utilization, businesses can increase the number of deliveries per vehicle, which improves delivery productivity and reduces last-mile delivery costs. It also includes planning the loading sequence according to the delivery location.
6. Track Deliveries in Real-time
Real-time tracking can also contribute to minimizing last miles costs. It keeps all the stakeholders informed about the delivery ETA and the real-time status of deliveries, which further improves transparency and reduces the chances of returns. Any delay due to an unpredictable reason, the customer can get an immediate notification (by SMS/Whatsapp/Email) along with the reason for the delay. With real-time tracking, businesses can also monitor the performance of drivers.
7. Electronic Proof of Delivery
ePoD helps deal with dubious customers who sometimes deny deliveries even after accepting them. With electronic proof of delivery, a business can have a record of each delivery, the driver who did the delivery, the person who accepted it (including photo proof or digital signature), and the location where it was delivered.
8. Utilize Data and Insights To Figure Out Inefficiencies
Having insights on last-mile delivery can help identify bottlenecks impacting the total delivery cost. With data and insights, businesses can have accurate information on various operations such as:
Number of tasks completed
Time consumed to complete one task
Distance covered by each vehicle
Engine idling time
Number of successful and failed deliveries
An idea of the inefficiencies can make a brand figure out solutions, ultimately reducing last miles costs.
9. Provide Flexible Delivery Options
Offering more delivery options might seem expensive; however, it can increase the chances of first-attempt delivery. Flexible delivery options allow your customers to select a delivery time window or choose the mode of delivery (home delivery, curbside pickup, store pickup, etc.). Doing this increases the chances of customer availability at the time of delivery. It also boosts customer experience, builds a positive brand image, and minimizes last-mile delivery costs by avoiding returns.
Implementing an automated last mile delivery solution or last mile delivery software can help businesses to make all the ways mentioned above possible. Such software automates delivery tasks and renders complete operational visibility and transparency. Let's check out the features of a last mile delivery solution in detail:
Seamless Integration With Your Existing OMS/ERP
Auto Dispatch Management
Field Operations App
Real-time Tracking
Real-time Customer Communication
COD Reconciliation
Unified Dashboard To Manage Hub Operations
Last mile delivery is complex and unpredictable. Following these ways can help shrink the total delivery costs; however, businesses can still face last-minute contingencies. But if you integrate the last mile delivery system, you can ensure complete transparency and visibility while fully controlling the entire delivery process. All you have to do is to choose the right last mile delivery software for your business. A customized last mile delivery solution, such as the one offered by Shipsy, can be a perfect fit to meet your particular business needs. Get a free demo today to understand its features and functionalities better.