Modern route management software enables businesses to streamline their delivery operations, ensure fuel efficiency, optimize fleet management, drive logistics sustainability, optimize delivery routes in real-time, and drastically boost on-time delivery volumes.
With rising consumer demands for faster deliveries and tighter SLAs, businesses are focusing on streamlining their resources and staying ahead of the curve. Enterprises are increasingly investing in tools and strategies to deliver orders faster, all the while ensuring the operational costs do not gobble up the revenue and customer experiences remain delightful.
Before we dive into the nitty-gritty of the solution and its characteristics, let us understand what exactly route management software is and how does it help businesses?
What is Route Management Software?
Advanced route management software is powered by AI and Machine Learning and it helps businesses plan, manage, monitor, and dynamically improvise delivery routes.
The majority of route management solutions come with the capabilities to both plan and generate efficient routes for faster deliveries, and cater to dynamic changes. Advanced route management software automates route planning by considering multiple constraints like driver schedule, delivery location, vehicle type, route history, real-time traffic conditions, delivery type, and more. These constraints are highly customizable and store managers can simply opt for the optimization parameters that are relevant to their business processes.
They can check and verify whether a driver is deviating from a system-suggested route or not and can also avail of the ability to confirm the delivery status by leveraging smart capabilities such as driver location geo-fencing.
Now that we have had an overview of the route management software, let us move on to discuss some of the core challenges in route management.
Challenges in Route Management
From manually planning routes, inability to scale delivery operations, stringent SLAs to inaccurate delivery addresses, multiple challenges still weigh down route planning operations. Let's quickly go through some of these.

1. Manual Route Planning Strategies
Manual route planning operations have inherent limitations when it comes to chalking to the most efficient routes based on multiple external and internal factors. Then the traditional static routing approach involves manually setting up predetermined routes for delivery runs. This practice negatively impacts delivery operations in case of unforeseen circumstances.
Factors such as heavy traffic, change in customer location, adverse weather conditions, etc., can affect pre-planned travel routes causing delays in delivery fulfillment, rapidly growing delivery costs, inefficient resource utilization, and more.
Also, manual route planning strategies make it impossible to optimize routes in real-time based on say traffic conditions, order clubbing opportunities, weather, and more. In other words, manual route planning is subject to redundancies and makes it extremely difficult to scale deliveries to match growing customer demands.
2. Inefficient Management of 3PL and Own Fleet
To meet growing online delivery demands and scale logistics operations, especially during peak business hours and seasons, it's becoming extremely important for businesses to efficiently leverage both logistics service providers and their own delivery fleet. But managing this is no cakewalk.
In absence of the right delivery management tools managing rider operations can easily snowball into complex challenges, especially in the last mile. This often results in underutilization of riders and vehicles, poor capacity planning, greater trip volumes, delayed deliveries, unfair driver payouts, and more.
Also, without adequate aid from modern delivery management tools, logistics managers often find themselves unable to accurately predict demand and keep resources ready to ensure opportunities are not lost.
3. Tighter Delivery SLAs
With traditional route planning practices, it becomes extremely difficult to adhere to evolving SLAs. Be it shrinking delivery TATs or growing demand from retailers on OTIF adherence, it is difficult if not impossible to unearth the most productive and cost-efficient delivery route that delivers on-time SLAs.
However, timely deliveries are a cumulative result of multiple factors, such as address accuracy, optimized route planning, efficient asset (driver and vehicle) planning, dynamic ETA SLAs, etc.
As the delivery times shrink, businesses need greater visibility and control over order movement to minimize ETA SLA breaches and deliver across unique customer demands, such as less than 30-minute deliveries and real-time order tracking. Ensuring all these functionalities is impossible with manual routing and therefore a lot of businesses fall prey to endless customer queries and follow-up calls with logistics service providers and riders.
4. Significant Dead Miles Margin
Logistics transportation, especially bulk trucking, has seen a 21% increase in dead miles. Primary reasons include irregular planning of delivery stops on the route and improper consignment allocation.
Apart from increasing the delivery time, dead miles result in other types of cost leakages, such as higher fuel costs, higher asset costs (driving hours, kilometers, and vehicle leasing), etc., rendering it impossible to ensure delivery efficiencies. In the case of manual management, it is even more challenging to measure the number of dead miles due to a lack of accurate positioning information, leading to an unaccounted rise in costs.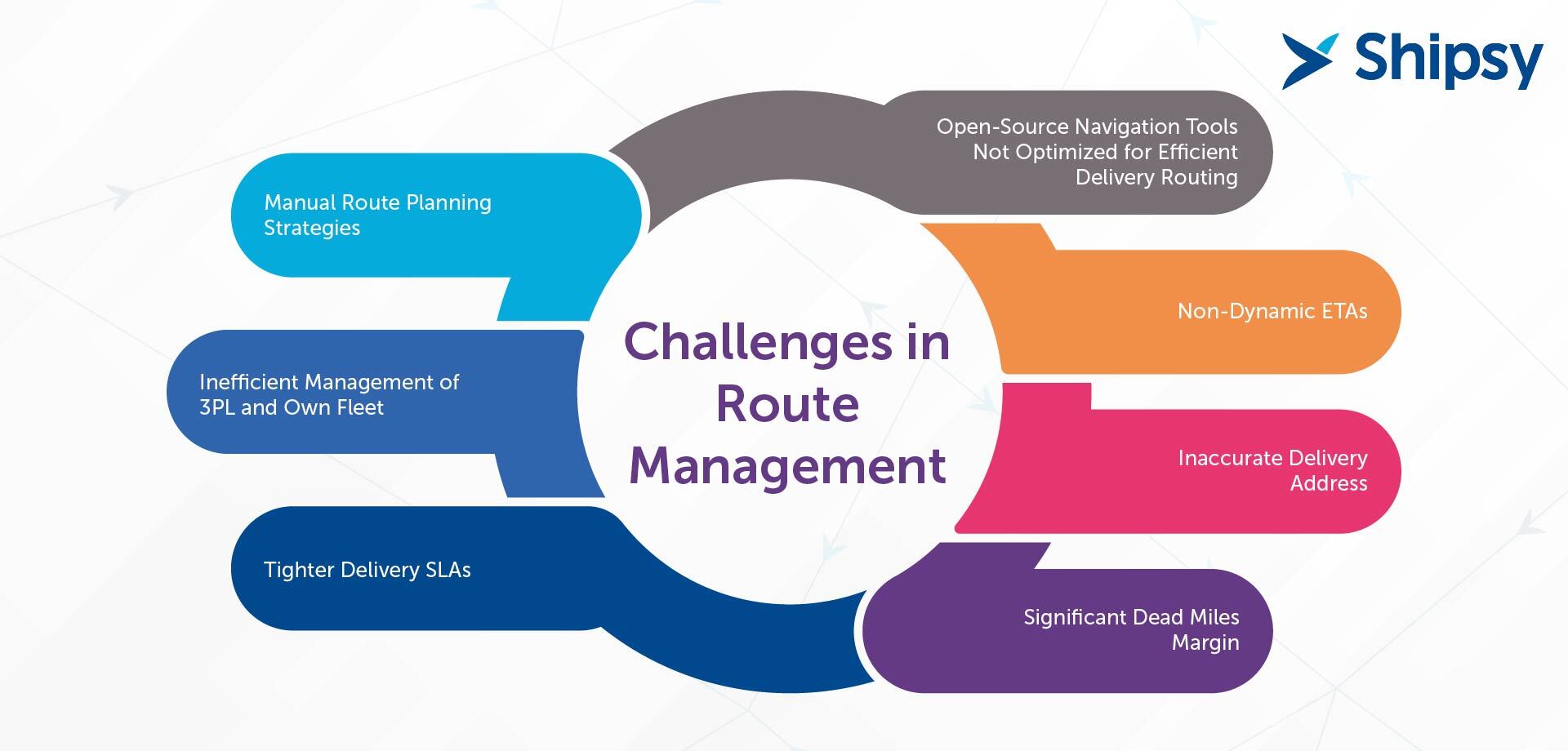 5. Non-Dynamic ETAs
Manual route management and optimization do not allow real-time reporting of the estimated time of arrival. So, it becomes difficult to notify the customer in case the delivery arrives ahead of or after the scheduled time.
Failing to do so comes with a number of challenges:
Poor customer experience
Failure of delivery in the first attempt
Re-attempts at delivery
While the failure of deliveries in the first attempt and re-attempts add to the operational costs, poor customer experience can downright lead to customer attrition.
Be it a retailer or QSR chain, on-time delivery is key to efficient business operation and winning customer delight. But, in the absence of an automated route management system, it is near impossible to keep the customer in the loop while juggling high order volume for super-fast deliveries. Such a lapse might lead to an increase in first attempt delivery failures.
6. Inaccurate Delivery Address
Inaccurate street numbers and delivery locations nested in deep alleys are common pain points while charting delivery routes. Even a single missed turn on the part of the rider would mean an increase in delivery time. This would lead to a breach in ETA SLA.
Apart from negatively affecting the customer experience, such events also result in longer delivery times and inefficient operations. While it is impossible to prevent such delays in the manual routing scenario, using smart route management software can overcome this challenge via automatic conversion of address into accurate geo-location coordinates. Trip Volumes
In the absence of an intelligent route management system, trip volumes tend to increase due to factors such as failure in first attempt delivery, inefficient fleet utilization, and non-dynamic routing. This greatly affects operational efficiency and leads to higher operational costs as well.
An often overlooked aspect of rising trip volumes is the inefficient handling of reverse logistics. Defective or unwanted products need to be picked up from the customer's doorstep and returned to the manufacturer. Unless factored into the delivery route plan, this leads to a significant amount of additional travel for the delivery riders.
According to research, 24% of eCommerce businesses admit that more than one in ten orders aren't delivered on the first attempt. The cost of failed deliveries is a matter of great concern. As much as 8% of domestic first-time deliveries fail. This costs retailers an average of $17.20 per order or $197,730 per year.
Yes, the available web-mapping platforms are accessible and helpful in finding locations. But they are not optimized for efficient delivery routing. Alongside incompatibility issues with the in-house platform, such solutions also lack a dedicated customer communication function.
The delivery executive will be forced to juggle multiple applications when completing deliveries. As a result, the process ends up being tedious, inefficient, and potentially hazardous to the on-road safety of the driver.
7. Open-Source Navigation Tools Not Optimized for Efficient Delivery Routing
Now that we have explored the various challenges of logistical routing, let us have a quick look at the various benefits of using comprehensive and smart route management software.
Benefits of Route Management Software
Apart from streamlining the fleet and delivery operations management, route management brings in several operational advantages for enterprises, such as:
1. Multi-Stop Route Planning
Unlike open-source location applications, route management software allows multiple deliveries to be mapped on the way. Smart planning enables the clubbing of orders based on delivery area and proximity. This improves efficiency across numerous factors, like, delivery operations, resource utilization, fuel consumption, etc.
2. Smart Resource Allocation
AI-powered route management software considers multiple variables while deciding upon the most efficient and cost-effective delivery route. The factors taken into account include fuel costs, 3PL logistics providers, order volume, consignment nature, proximity to stores, etc.
Also, the store managers can intelligently plan routes for multiple pickups and drops and maximize fleet utilization. These features ensure a significant reduction in operational costs and an increase in profit per order.
3. Route Monitoring
Smart route management software offers the store managers an integrated dashboard with multiple features to manage, monitor, track, and control the order movements. They can get instant updates on the location of the delivery executives for enhanced control and transparency. With real-time tracking, the riders can be easily supervised, and any change in the order movement is seamlessly communicated.
This facilitates effective KPI measurement and also ensures that the riders follow the system-generated route for completing the deliveries in the most efficient manner. The software traps any form of idling or deviation in the process that requires corrective actions to ensure on-time delivery. Managers can also prevent fake delivery attempts by the drivers by imposing geofencing checks on the driver's location.
4. Proof-of-Delivery
Porch pirates or otherwise, cases of misplaced deliveries can cause significant troubles all around. But, with the proof-of-delivery feature, drivers can upload an electronic verification after successfully completing the order. This also serves as a record for future reference.
Another significant benefit of this feature is the ease of facilitating contactless delivery. The driver can deliver the order and capture the customer's name, photo, and signature in the proof-of-delivery app. As the information syncs with the order number, the customer is instantly about the completion of delivery.
5. Delivery Route Optimization
Smart route management systems enable managers and drivers to re-route the deliveries dynamically in case of emergencies such as traffic jams, accidents, etc. The routes are effectively planned considering factors such as cause of obstruction, current traffic conditions, type of vehicle, consignment nature, delivery address, and more.
The managers can choose the most affordable vehicle options for every delivery and club multiple orders for minimizing the number of trips. Increased Customer Satisfaction
A smart route management system ensures on-time delivery by allocating the best routes and the most cost-efficient vehicles for multiple orders. The solution also enables end-user visibility allowing the customer to track consignment, contact the delivery agent, check updated ETA, change the delivery location and reschedule delivery time if needed.
Such effortless delivery orchestration and real-time tracking are crucial for customer satisfaction. Moreover, the enhanced transparency in the overall process increases customer satisfaction and loyalty.
6. Geocoding Features
Route management software is intuitive in nature, i.e., they allow automatic conversion of the delivery address into geo-location coordinates, thereby ensuring correct routing. Since the riders have the exact coordinates, delivery routing becomes completely accurate irrespective of the time of the day or prevailing weather conditions.
Additionally, the software can be configured to enable geofencing of the driver's location to the concerned delivery locations and pickup points. As a result, the solution seamlessly mitigates instances of fake delivery attempts and RTOs.
Hence, route management software can trap redundancies and offer the management a higher degree of control over delivery operations.
How to Choose a Route Management Software: Must-Have Features
Every business has a different set of business use cases, and hence, might require different functionalities in route management software. While some businesses might be looking for a software solution that allows them to complete 10-minute on-demand deliveries in the most optimized manner, some other businesses might be looking for planned delivery routing.
Hence, choosing a route management software that is the right business-fit requires a careful analysis of business use cases and delivery requirements.
Below, we are sharing some of the must-have features in route management software: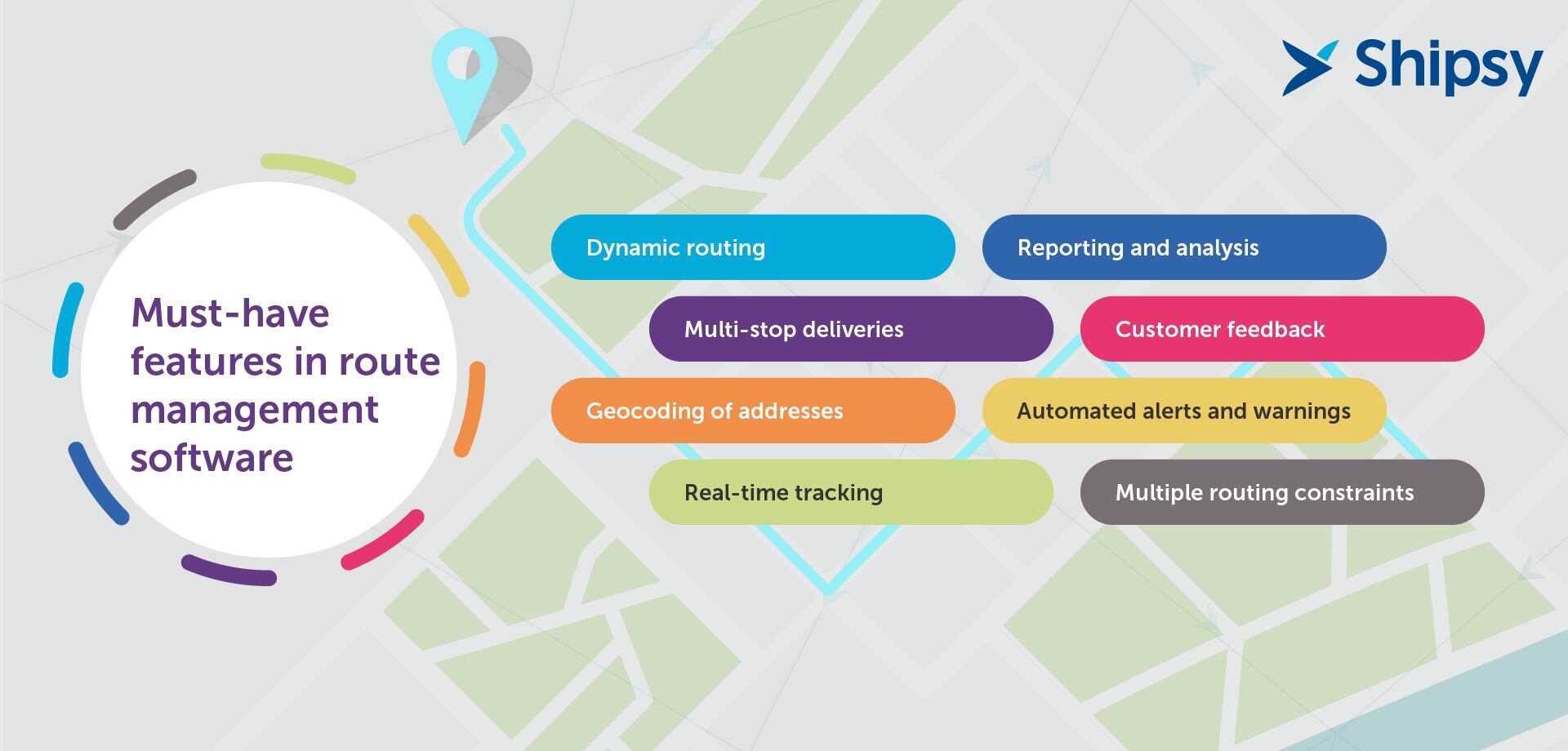 Route Management Software: Serving Delight While Cutting Down Costs Saving Time, Money, Fuel
Route management ensures the timely delivery of orders in a cost-effective manner. Managers, as well as drivers, can quickly assess various constraints and devise the most efficient route. This maximizes productivity while bringing down costs and reducing delivery times. A win-win for both customers and businesses.
Having a trusted logistics partner is important for a stable tech platform and smooth transition.
Click Here, to know more about the benefits of smart route planning for every business.
Shipsy: Intelligent Route Management Software for Maximum Efficiency
Shipsy offers an AI-powered smart route management software that comes with multiple smart functionalities and hundreds of routing constraints to help businesses plan the most efficient and the most optimal routes for every delivery.
The managers can manage, monitor, track and control all the aspects of routing, including the people and processes from a single integrated dashboard.
Shipsy's smart route management software takes into account consignment nature, vehicle capacity, weight considerations, historical route data, and many more to generate the most optimal routes and help businesses unlock:
31% increase in vehicle utilization
4% savings in route planning and optimization time
12% reduction in transportation costs
14% decrease in last-mile delivery costs
For more information, please get in touch with our experts and schedule a demo today!