The route planning software market is estimated to grow at a CAGR of 10.9% by 2025, and this comes as no surprise as the global supply chains move towards sustainable operations and quick commerce gains traction.
With multiple moving parts on the field, and digital order placement capabilities, businesses often find themselves grappling with managing, monitoring, controlling and tracking the order on-the-move.
Some of the consequential questions include:
How to manage order allocation for optimal vehicle and driver use?
Which route is the shortest and the fastest one?
Whether the shortest route is the most optimal one?
Can there be enroute order clubbing for multi-stop deliveries?
Hence, route planning is the key to ensuring on-time and cost-effective deliveries but planning efficient routes for swift deliveries is not easy.
To overcome this challenge, enterprises across verticals are fast-adopting intelligent route planning software. But before we take a deeper dive into the route planning dynamics, let us explore its meaning and importance.
What is Route Planning Software?
Route planning software is a tool that uses Machine Learning powered algorithms to help businesses automate the planning of highly efficient routes across first, middle, and last-mile deliveries. Multiple components are at play when deciding a route plan.
An ideal route planning software automatically considers factors such as order type, volumetric details, address clusters, real-time traffic conditions, road restrictions, driver's hours of service, delivery time window, ETA (expected time of arrival), driver tracking, alerts, and notifications.
Ensuring efficient routes empower businesses to reduce fuel cost, increase driver productivity, shrink delivery TAT and ultimately make each delivery profitable.
Logistics companies are integrating route planning software into their existing technology stack to keep pace with increased customer demands. Businesses are making most of the innovative routing solutions to complete deliveries on time, retain customers and stay ahead of the competition.
As a result, companies also improve their delivery fulfillment rates.
Route Planning Software: Industry Use Cases
A number of business sectors are looking for smart logistics operations management solutions when catering to customers' demands. Large organizations holding a significant market share tend to have higher requirements for route planning software due to increased operations.
Here's a brief look at a few of those industries.
1. Management of Food Delivery
The online food market has grown exceptionally in the last few years. Some of the accelerators for growth are increased technological adoption, platform-to-consumer services providers, and, more recently, COVID-19.
While a smart hyperlocal management tool automates the entire delivery process, route planning software focuses on routing specifically. It ensures timely deliveries through driver allocation, dynamic route selection, and real-time notifications for all the stakeholders, such as customers, drivers, store managers, etc.
2. Household Goods
The global retail market is recovering from the COVID-19 aftereffects and is growing rapidly and is estimated to be valued at $29361.95 billion by 2025. Consumers are sensitive to rising prices but expect better services.
Route optimization software enables businesses to offer smart functionalities, such as preferred time slots for delivery. Also, they can efficiently plan their delivery routes, saving time and fuel, increasing delivery efficiency, and reducing driving times.
3. eCommerce
With the rise of the eCommerce industry, consumers' expectations have also grown exponentially. Gone are the days when 2-3 day delivery timelines kept your customer satisfied. Same-day delivery is the new norm, and customers also expect a real-time view of their order status.
Route planning software automates order allocation, and allows multi-stop delivery, and dynamic order allocation all the while allowing the businesses to define specific routing optimization criteria for specific consignments and deliveries. All these functionalities allow businesses to offer delightful customer experiences that pave the way toward customer satisfaction and sustained growth.
4. Healthcare
With the onset of the pandemic and ensuing restrictions, there was a significant increase in online medicine delivery. In this scenario, intelligent route planning becomes critical to ensure a shorter delivery turnaround time (TAT). Safety is critical when it comes to the healthcare industry. Each delivery dealing with sensitive medical items needs to be accomplished in a secure fashion. Hospitals are dependent on medical instruments for providing timely care.
Similarly, during mass vaccination drives, the required vaccines are to be transported around, even to remote areas, in an efficient and time-sensitive manner.
A smart and comprehensive route planning software enables businesses to deliver vaccines efficiently at remote locations.
Enterprises can ensure the safe and timely delivery of medical essentials, via super-fast deliveries considering factors such as consignment durability, live road conditions, fleet composition, etc.
Challenges in Traditional Route Planning
Staying ahead of your customer expectations requires maintaining a well-planned and ascertained delivery timeliness along with providing real-time tracking of the order status. However, a manual approach to route planning is inefficient and costly when maintaining a multi-fleet distribution channel. Listed below are some of the frequent challenges of route planning and optimization.
1. Inability to Identify Optimum Routes
With rising consumer demands for shorter delivery time frames and increasing cost of operation, traditional route planning strategies are inefficient when keeping up with the rising demand for shorter delivery time frames. Moreover, legacy solutions and manual routing are also time-consuming and costly, taking a toll on your operational expenditure. On the other hand, modern route planning platforms with in-built algorithms present the best-optimized routes based on various factors such as consignment weight, volume, nature, distance, fleet composition, etc.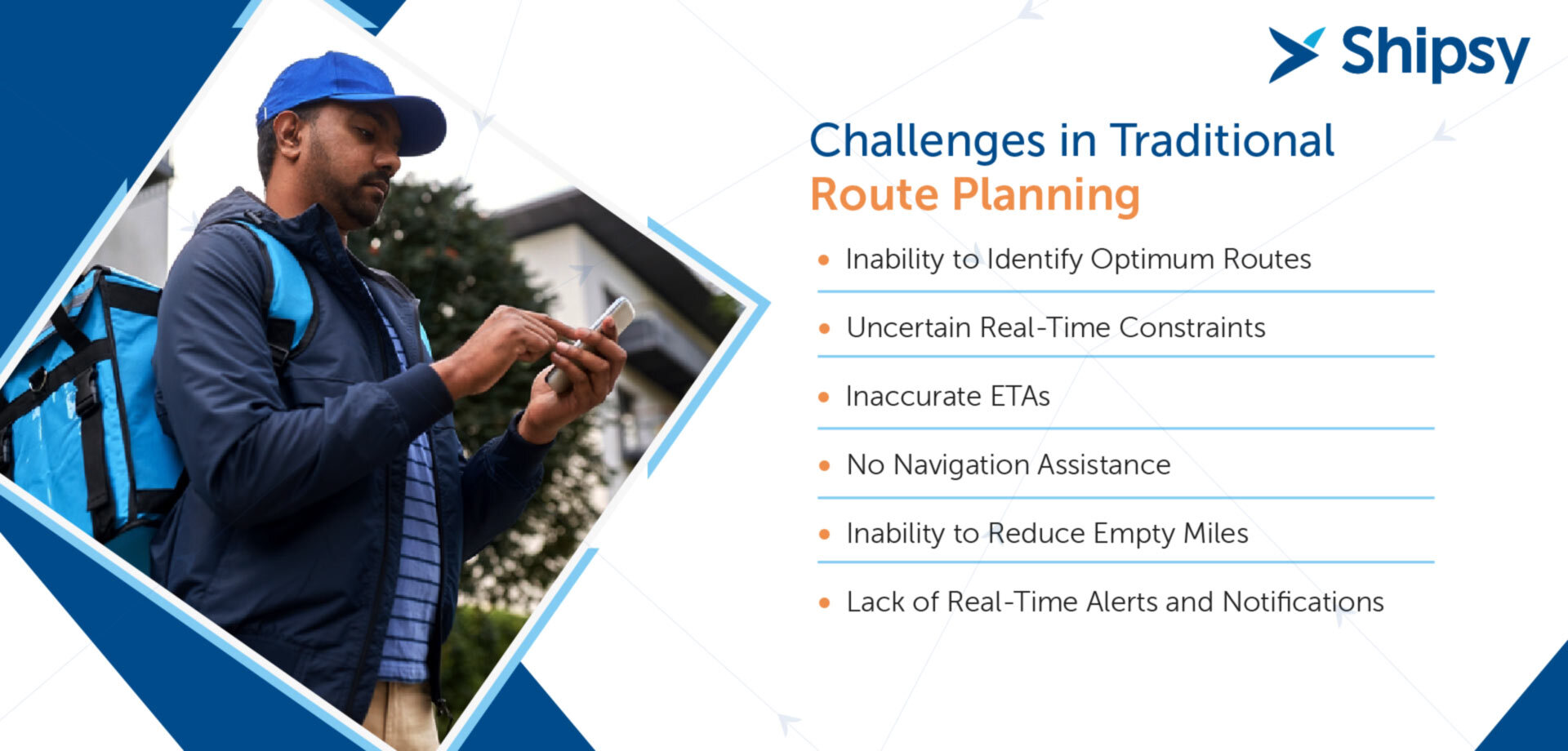 2. Uncertain Real-Time Constraints
Adverse weather conditions can throw a wrench in perfectly laid-out delivery plans. And sudden traffic congestion or unplanned route diversions can also affect the delivery schedule.
It would be a tough challenge for route planning platforms to assimilate real-time information and formulate alternate solutions. And this has to be done quickly to ensure the operation is not put on hold.
3. Inaccurate ETAs
The software-generated ETA is calculated based on ideal conditions. Yet, the real-life situation might be quite different. A single delivery is dependent on multiple factors, both internal as well as external. The estimates of time of arrival vary in some instances.
In the absence of proper communication, the customer might be displeased with frequent changes to the ETA. Similarly, if the delivery exceeds the said ETA, it might be displeasing for the buyer.
4. No Navigation Assistance
Alterations in street pathways do not always get immediately updated on location apps. This leads to differences in the actual road conditions and the software-generated route.
Another point of concern is the integration of third-party location apps into the platform. It carries inherent security and privacy risks. Sometimes, drivers might need assistance due to a lack of skill, experience, or regional familiarity, leading to unplanned delays.
5. Inability to Reduce Empty Miles
Simply put, empty miles refer to a vehicle's fuel consumption when running empty.
A proper assessment and optimization of the delivery network are mandatory to minimize empty miles. Moreover, in the absence of backhaul opportunities, it becomes difficult to reduce the economic effect of empty miles.
6. Lack of Real-Time Alerts and Notifications
Challenges can pop up during business hours without warning. Events ranging from a flat tire to a nationwide lockdown, such unforeseen circumstances can cause a delay in fulfilling orders within the stipulated time.
This becomes a challenge when customers have to be kept in the loop. A single miscommunication might lead to an angry customer. And such a terrible experience negatively affects future purchase decisions.
As customers desire accurate and timely deliveries, businesses will look at methods to complete them within narrower time windows. With machine learning and data analytics advancement, route planning software overcomes their lacunae and facilitates hyper-fast deliveries.
Why Invest in A Route Planning Software?
If you are a company that provides logistical services, it is imperative to use routing software. The move to adopt disruptive solutions might seem daunting at first, both in monetary as well as technical knowledge terms. However, the sustained benefits comfortably outweigh the difficulties in the long run.
1. Optimized Delivery Routes
Factors such as traffic, road restrictions, and many more affect the delivery route. Therefore, it might be possible that the most optimal path between the storage area and drop location is the one with the most disruptions.
This is because the shortest path might not be the best or most optimal path in some cases, especially when the route is being optimized for multi-stop deliveries.
Using machine learning and artificial intelligence, a route planning software analyzes historical data to suggest the most efficient route. As an iterative process, it allows for better results as better data sets are available.
2. Intelligent Allocation and Dispatch
A logistics provider might have various types of vehicles for transportation purposes. Additionally, third-party vehicles might be leased to ensure timely deliveries during high-demand seasons.
A route planning tool can smartly allocate based on tonnage, route, and driver availability. This allocation allows smoother operations without confusion during the last mile delivery phase. Similarly, drivers are assigned logically, ensuring maximum work gets done in minimal time.
3. Improved Customer Experience
Smart route planning software solutions allow service providers to track real-time fleet movement allowing seamless pick-up and route suitability ensuring timely deliveries.
This is a direct benefit because the customer has real-time visibility via alerts and notifications. Not only are the orders completed on time, but there is also an increase in customers' trust due to enhanced transparency in the process.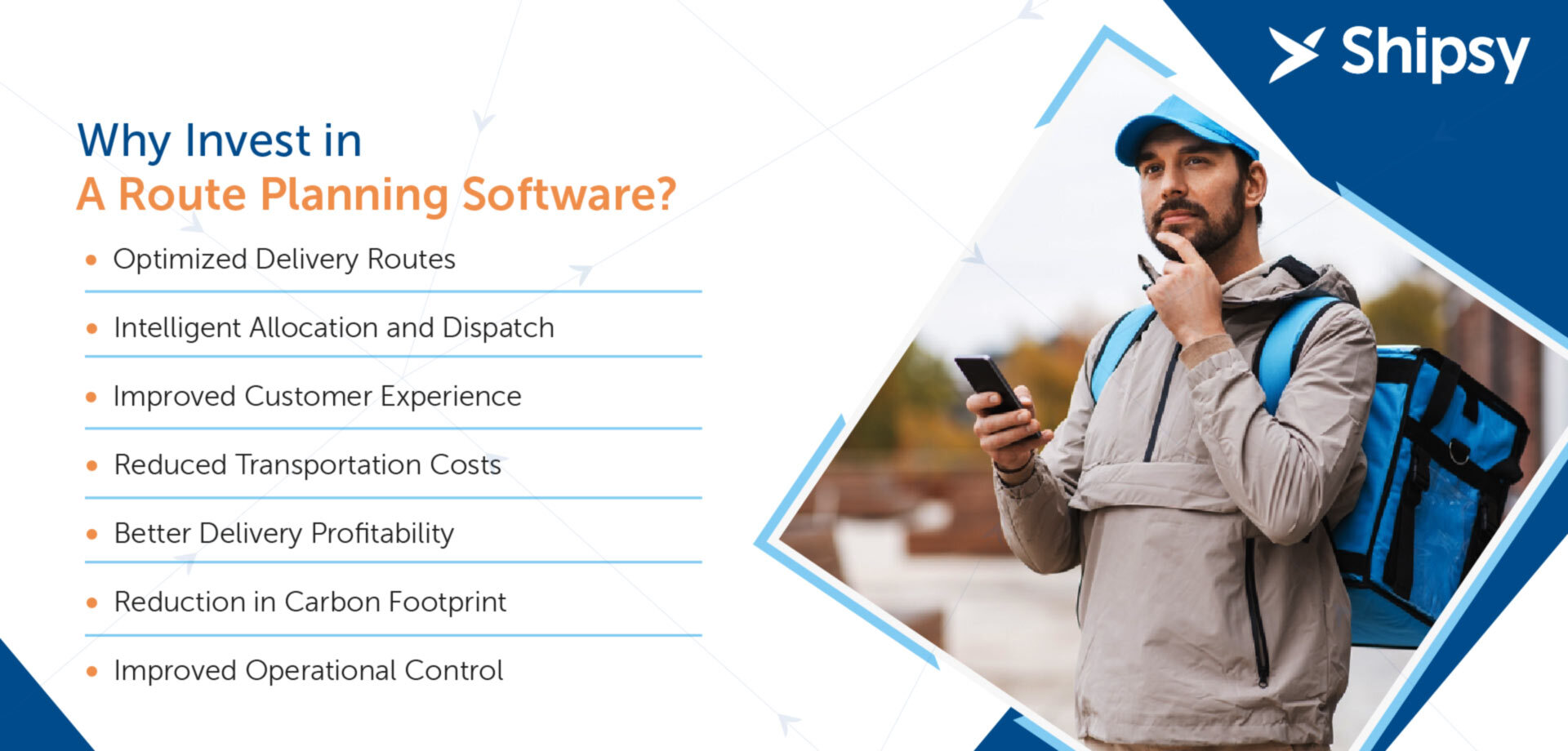 4. Reduced Transportation Costs
A routing software's actions regarding selecting an optimum route lead to reduced transport distance. Also, real-time updates on traffic obstructions allow dynamic re-routing, reducing time lost in transit.
The smart route planning software also comes with in-built algorithms for specific constraints-based route planning, such as vehicle capacity maximizing, number of trips, consignment nature, etc.
Finally, the customer information system allows for a successful delivery run, requiring no further return worries.
5. Better Delivery Profitability
Proper allocation of vehicles and tasks to courier agents results in seamless delivery operations. This facilitates working with an optimum workforce, ensuring a significant profit margin. In addition, the fact that deliveries get done in minimum time allows for increased productivity.
Additionally, machine learning and artificial learning analyze historical data to sniff out instances of theft, pilferage, and delays. This drastically mitigates transportation risks.
6. Reduction in Carbon Footprint
Optimized routes lead to better delivery in terms of time taken and distance covered. Moreover, efficient use of delivery vehicles leads to a significant reduction in fuel use, i.e., lesser carbon emission.
Ensuring lower fuel consumption and fewer empty miles impacts a company's sustainability goals and bottom line.
7. Improved Operational Control
Route optimization software provides a comprehensive overview of the delivery operations to both the seller and the buyer. In-built intelligent features enable proactive monitoring in real-time, enhancing transparency and winning customer trust.
The managers can track the driver's movements and confirm whether the driver is sticking to the system-generated route or not. They can trap the fake delivery attempts by placing the geo-fence checks on the driver's location.
Hence, using smart route planning software allows businesses greater control over the processes and operations.
Shipsy: Intelligent Order Planning for Maximum Efficiency
Shipsy's AI-powered platform is a one-stop solution for all of your logistics woes. Our holistic route planning software leverages inbuilt algorithms to automate last-mile delivery solutions for end-to-end delivery management.
Shipsy's intelligent route planning takes into account consignments, vehicle type, and other factors and offers:
12% reduction in transportation costs
31% increase in vehicle capacity utilization
4% savings in route planning and optimization time
What makes Shipsy's smart route planning software unique and emerge as a business differentiator is a fact that it can be customized for specific business use cases and pain points as well.
For more information or to get in touch with our experts, please schedule a demo today!