Shipment management is an integral part of every business's supply chain. It ensures that every shipment reaches its destination at the right time cost efficiently. Shipment management includes choosing the right shipping, procuring freight rates, and comparing transit times and other factors with different shipping lines/freight forwarders. After finalizing the freight rates, the next step is to perform operations related to shipment execution and shipment tracking. While each stage during the shipment management lifecycle holds equal importance, it is shipment tracking that contributes the most to achieving customer satisfaction and improving business profitability. Let's understand everything about shipment tracking and shipment tracking software in detail-
What is a shipment?
Goods or products that are sent from one place to another is known as shipment. On the other hand, the process of transporting goods from source to destination is called shipping. A shipment can be anything- a small document or a large container. Depending on a few factors like the shipping location, type of shipment, time of delivery, budget, and more, a business may choose to ship via rail, road, air, or sea.
What is shipment tracking?
A lot of processes are involved in the transportation of a shipment. And shipment tracking helps to get a clear and transparent view of all those processes. Businesses can either choose a traditional manual tracking system for shipment tracking or opt for an automated one. Conventional methods may work when you send only a few shipments. However, it is good to have a digitized shipment tracking solution to track bulk shipments sent through different shipping lines.
Shipment tracking is imperative in all the modes of transportation, i.e., rail, road, ocean and air. It gives a clear picture of the status of the shipment and also helps to fix unexpected problems before it impacts the delivery time of the shipment. For example, if you are sending a shipment via road and the vehicle gets involved in an accident then you can dispatch the control team immediately.
Benefits of Shipment Tracking Software
Shipment tracking software makes it easier to track each milestone. It sends instant alerts at every stage, including when the shipment is in the warehouse, when it is dispatched, during transit, and when it reaches the destination and is handed over to the customer. Another part of the shipment management software is that it allows you to manage and monitor all the activities associated with multiple shipments under one roof. Moreover, the software also relieves you from the hassle of hiring a huge workforce to look after different tasks of shipment management and shipment tracking. Here are some other advantages of integrating shipment tracking solutions-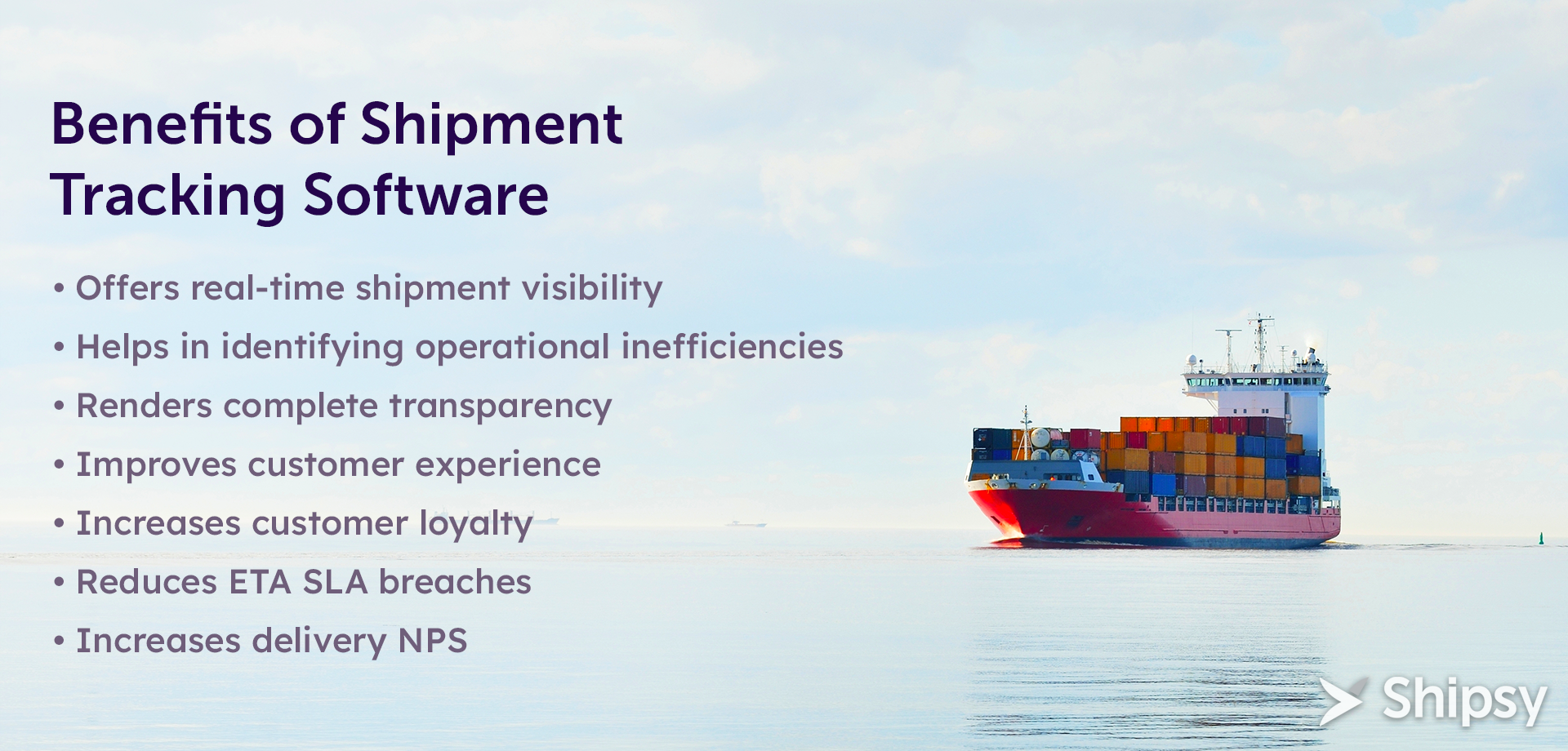 Provides real-time shipment visibility to all stakeholders
Offers complete operational transparency, which helps in avoiding delays and ensuring on-time deliveries
Helps in identifying inefficiencies and thereby, improving performance and reducing the overall shipment delivery costs
Improves customer experience and increases customer loyalty
Helps in getting accurate delivery ETAs (Estimated Time of Arrival)
Reduces ETA SLA breaches
Increases delivery NPS
Role of Shipment Tracking in Shipment Management Lifecycle
A shipment management lifecycle starts from raising inquiry for the freight rate procurement by providing details like-
Origin and destination port
Type of cargo (hazardous or reefer)
Size & number of containers
Sailing range
Closing date and more
Once the shipper finalizes the rates, the next step is to decide about an annual/bi-annual/quarterly or custom period freight contract. Then comes shipment execution; in this phase, the shipper gets booking confirmation. The shipping line/freight forwarder sends an empty container to the shipper's location for stuffing the shipment.
Once the shipment leaves the facility, the freight forwarder or custom housing agent looks after the necessary documentation required for shipment execution. After completing all the formalities, the shipment proceeds towards the delivery location. If a business manages all these operations manually, it might not have complete visibility on each operation conducted after the shipment leaves its facility. However, using shipment tracking software, one can have a clear view of the processes.
How to track shipments using shipment tracking software?
Shipment tracking software allows real-time tracking and tracing of each shipment, whether it is shipped via one or multiple shipping lines. A shipper can track the shipment through-
BL (Bill of Lading) Number
The software has a tracking option where the user needs to enter the BL number to get the real-time status of the container(s). Besides, they can also share the status of the container with anyone merely by providing the email address in the system.
Container Number
The user of the shipment management software can also track individual containers by entering the container number. The software provides another filter to narrow down the search by choosing a particular shipping line.
Booking Number
Entering the booking number would also help with real-time shipment tracking.
You May Also Want to Read- Avoid Hidden Charges on International Shipments
6 Things to Focus on Before Investing in a Shipment Tracking Software
Choosing a digitized shipment tracking system depends entirely on your particular business needs. In other words, a system that fulfills your specific shipment tracking requirements is the best for your business. For that, you can look for a customized shipment tracking solution provider. Apart from this, the cargo tracking software should have these essential features-
Bulk shipment tracking
The software should facilitate means of tracking shipments from top shipping lines and freight forwarders. Moreover, it should include the feature of unified tracking so that you can track all shipments sent via different transportation modes/shipping lines from a single dashboard.
Easy to integrate with existing ERP
In addition to quick deployment, the software should also integrate with your existing ERP system. It should have a simple and friendly user interface that any user can access.
Analytics and insights
It should provide reports and insights to help shippers track predictive detention, demurrage, and other incidental charges. These insights would also help make better decisions for shipment management and choose the right shipping line/freight forwarder.
Data-driven decision making
The cargo tracking system should also include transshipment ageing, carrier, and volume analysis functionality to improve shipment planning.
Communication
The package tracking system should collaborate and communicate with all the shipping lines, freight forwarders, custom housing agents, and internal teams.
Automated alerts
It should send instant alerts to get live updates on the shipment status.
Get a shipment tracking solution from a reliable provider and boost your business profitability while ensuring complete customer satisfaction.