As we approach the year-end, supply chain officers will be engrossed in imbibing learnings from the prevailing year to chart out the strategic plan for the next. We have gathered the top six predictions for the inevitable future of the supply chain and logistics.
1. Adherence To Environmental, Social and Governance (ESG)
Businesses across the globe are embracing ESG not only because it's the right thing to do, but also because it aligns with their own interest and that of their stakeholders–customers, investors, and partners. Today, 67% of surveyed investors plan to buy more shares of ESG-focused companies.
Transport and logistics contribute 24% of global carbon emissions. Modern technologies empower businesses to battle growing carbon footprint by reducing miles traveled per package and ensuring whatever miles are traveled is greener.
To empower businesses to deliver on the Social objective, advanced rider management solutions are enabling businesses to ensure equitable distribution of workload, just payments, flexible working hours and that riders have access to digital tools that boost productivity.
Logistics-powered businesses are also turning to ESG to reinforce strong governance structures and practices. This is reflected in their commitment to leveraging digital supply chain tools that improve transparency across employees, customers, shareholders, and business partners.
2. Implementation of Blockchain
Blockchain in the supply chain market is expected to be USD 3,272 million by 2026. Instilling greater trust, ensuring high levels of financial transparency, and making ledgers immutable will be the key drivers of deploying Blockchain in logistics. Distributed ledger systems, smart consensus, cryptography and abstraction, and smart contracts are some key capabilities we will see businesses leverage as we move ahead.
3. Platformization To Eliminate Fragmentation
Platformization is going to be a game changer for the supply chain industry. The primary reason is that logistics widely remains a fragmented industry where the majority of systems work in silos.
Using a platform approach businesses can ensure seamless collaboration with freight forwarders and internal teams, consolidate all container movements and share live updates and actively track incidental chargers using a single window.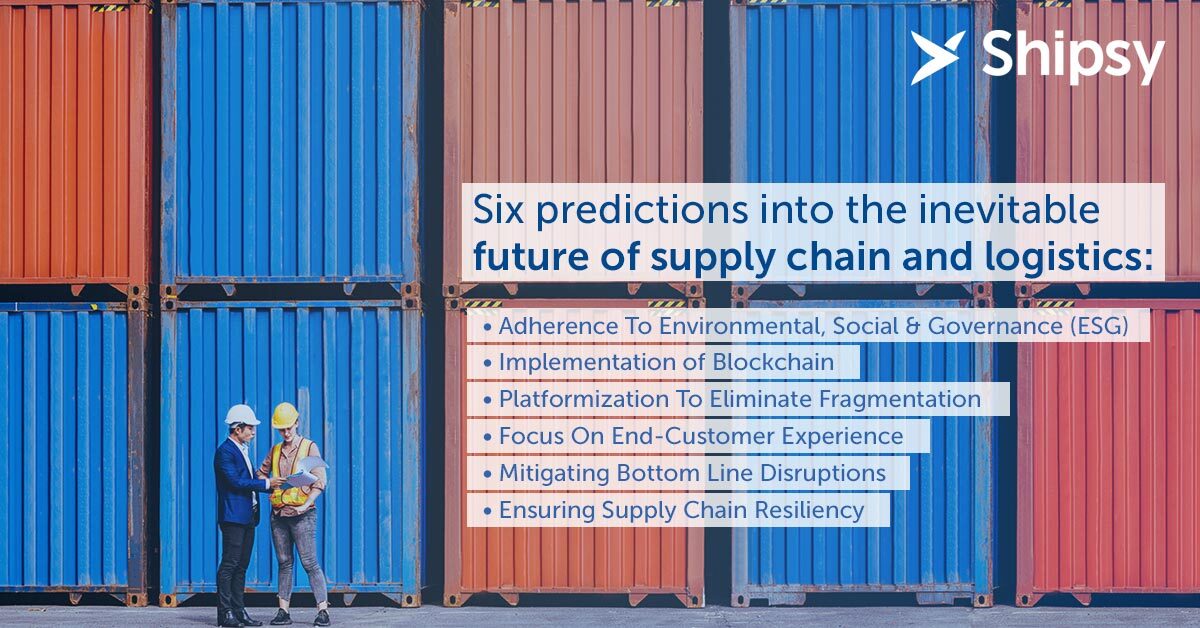 4. Focus On End-Customer Experience
Customer experience will drive competitiveness. Hence, we will see retailers, on-demand delivery providers, eCommerce brands, and D2C businesses invest in technologies that help scale on-time deliveries, boost customer transparency, enhance serviceability, provide accurate ETAs and significantly reduce delivery TAT.
5. Mitigating Bottom Line Disruptions
Soaring freight rates, increasing transportation risks and growing last-mile delivery costs continue to impact the bottom line. Using real-time visibility, automation, and intelligent route planning and optimization, businesses can drastically optimize overall logistics costs.
6. Ensuring Supply Chain Resiliency
To build resilient supply chains businesses will increasingly focus on capabilities that boost adaptability and enable faster response to disruptions. Smart capacity planning, demand forecasting, and predictive analytics will play a critical role in the coming five years.
ESG initiatives, Blockchain, platformization, customer experience, cost optimization, and resiliency are the six pillars of building future-ready supply chains. Leveraging smart logistics technologies can empower businesses to keep up with these and shift from reactive to proactive and survival to growth mode.