Are your current 3PL partners exceeding your expectations in their performance, and are you able to quantitatively verify the same?
Do your customers often cite things such as "delayed deliveries", "poor delivery experience", or "lack of proactive communication about order movement" in their feedback?
Are you unable to monitor, manage, track, and control your logistics and transportation processes with the technological infrastructure provided by your 3PL partners?
These are some key considerations for every business owner outsourcing logistics and transportation operations.
3PL partnerships and 3PL management are two crucial sets of business decisions that require an in-depth understanding of the business model & strategy, expansion goals, and management challenges.
However, businesses fail to recognize misaligned partnerships and continue to incur losses and accumulate inefficiencies while working with them. Once they start missing orders, encounter delivery delays, or inapt serviceability, they onboard more 3PL partners without analyzing how well of a fit they are, and how they can leverage different service offerings from multiple 3PLs for kick-ass results!
Explore how logistics & supply chain stakeholders can identify the warning signs of a decaying or misaligned 3PL partnership and how to manage multiple 3PLs efficiently, smartly, and most profitably.
How to Know You Need to Switch 3PLs: Has the Time Come?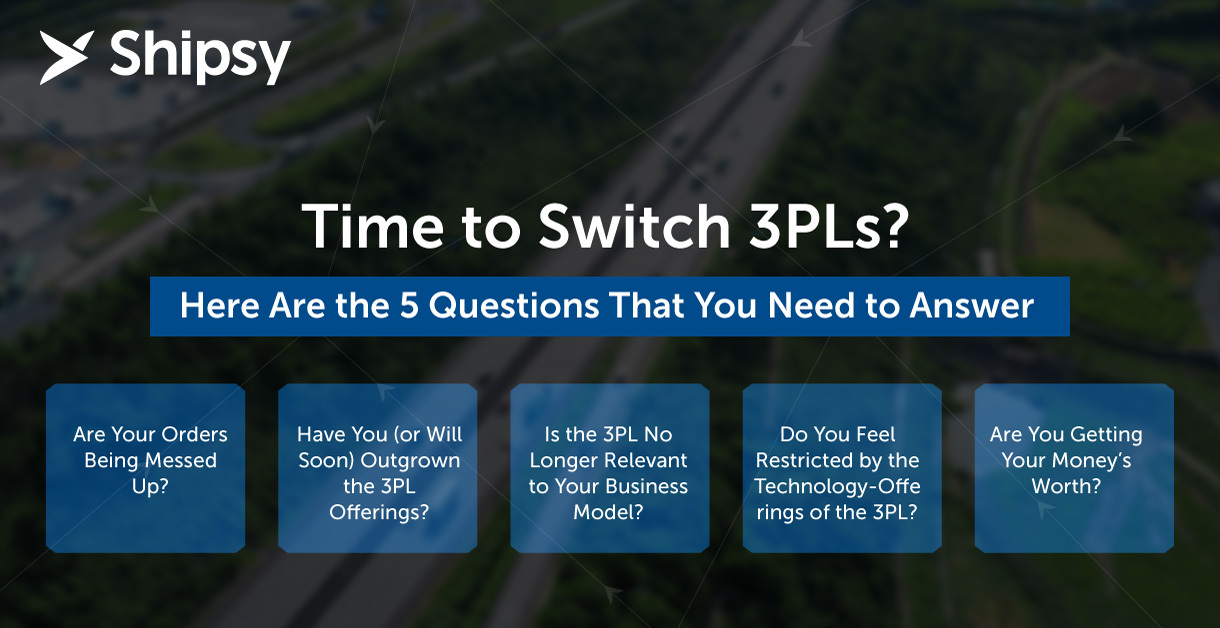 #1 – Are Your Orders Being Messed Up?
Do you know 96% of your customers would never complain, and 91% would simply walk away instead of complaining?
Hence, proactive customer communication & feedback collection is crucial to keeping your business afloat. However, the task doesn't end here. Sift through the customer feedback, and analyze the customer and delivery data accumulated over time. Check how many of your customers mention – "poor delivery," "late, late, always late," "no tracking," and other cousins of such phrases.
Also, find numbers of canceled, returned, or dropped (loss/theft/damaged) orders because of the reasons that can be attributed to your 3PL partner. Once you have a number, you will know whether or not you can continue working with them.
#2 – Have You (or Will Soon) Outgrown the 3PL Offerings?
There can be instances when your business grows so much that your monthly parcel volume skyrockets to hundreds of thousands of orders, whereas your carrier partner works on a per-parcel pricing model. Then there can be instances where you are expanding your geographic reach either deep within the same country (like tier-3 cities and villages) or into foreign countries.
Lastly, there can be times you diversify the product categories, such as perishable or cold products, chemicals, fragile items, jewelry, etc. All the above cases warrant you to relook at your existing carrier partner's capability or find new carriers to fulfill your business's needs
#3 – Is the 3PL No Longer Relevant to Your Business Model?
Many times businesses might want to switch the type of products they sell or the specific industry they belong to. For example, some fabric exporters might enter manufacturing or wholesale retailing, which renders the current 3PL infrastructure irrelevant.
In such cases, volume-based commitments, region-wise services, specific warehousing, and time-critical logistics assume a dire stance, and businesses need to rethink their 3PL partnerships.
#4 – Do You Feel Restricted by the Technology-Offerings of the 3PL?
3PL logistics providers offer some kind of technology offerings, such as vehicle tracking, order/warehouse/inventory management systems, etc.
However, the majority of these software/offerings fail to scale or evolve as the business grows and might also become a bottleneck for business decision-making due to limited functionality. If you never have data-based insights, or you have multiple siloed data sources, the technology is only restricting you from growing.
#5 – Are You Getting Your Money's Worth?
Is your 3PL partner or your 3PL management system offering you comparative analysis in 3PL rates or service offerings? Do you have some performance metrics system to set specific KPIs and track & measure them for carrier performance measurement?
Apart from carrier performance evaluation, ease of offering robust customer support and technological integrations are some of the key considerations to decide whether you are getting the right worth of your investment or not.
Is Switching 3PLs Enough? How to Ensure That You Make the Most of It?
As crucial as it is to have the right 3PL partners, having the capability to manage them efficiently and optimally is also critical. Businesses with multiple 3PL partners often end up grappling with multiple software, multiple reports, and endless data points in the absence of reliable, scalable, and intelligent management solutions.
Shipsy's AI-powered multiple carrier management platform has an in-built optimization engine and allows businesses to set specific rules for optimizing order allocation, such as volume commitments, price-based selection, etc. Businesses can quickly onboard multiple 3PLs and automate order allocation by setting specific 3PL prioritization rules.
They can measure & track individual carrier performance and get comprehensive reports and data analysis via our proprietary data analytics platform – Shipsy BI. A unified dashboard facilitates centralized collaboration with multiple parties, data insights for business decisions, and automated alerts for key milestone events that ensure rapid scaling and growth while unlocking:
64% Increase in customer experience
30% Increase in order pickup within 24hrs
24% Enhancement in on-time deliveries
14% More deliveries per rider
12% Reduction in last-mile delivery costs
Quick commerce enablement with less than 30 mins delivery
For more information on our multiple 3PL management platform and its capabilities, or to get started with us, please get in touch with our experts to schedule a personalized demo today!