The cross-border eCommerce market is gearing up for massive growth and is projected to hit the $4 bn USD mark by 2027, demonstrating a CAGR of 27.4%. More than 2.14 bn people worldwide are buying goods and services online. Also, 70% of them shop from foreign websites.
Such growing demands for cross-border eCommerce are going to put tremendous pressure on global supply chain networks. Manufacturers and retailers will see themselves partnering with multiple logistics service providers to ensure SLA adherence, cost efficiency, and delivery agility. Let's glance through some of the critical challenges businesses need to overcome to ensure seamless international logistics operations and how efficient 3PL management can make a winning difference.
Key Cross-Border Logistics Challenges
Cross-border logistics challenges can be broadly divided into the following four categories:
1. Pre-Shipment Challenges
Common pre-shipment stage challenges comprise:
Choosing a shipping line
Getting quotes
Communicating with freight forwarders
Getting the paperwork sorted over the emails
The proactive RFQs for every single package, comparing the quotes from different shipping lines, signing the SLAs – there is a lot of manual work involved.
With a legacy sourcing tool, managing and tracking these manual tasks becomes even more stressful as there is no visibility across the processes.
This is why many businesses looking for cross-border deliveries outsource their logistics and supply chain processes partly or completely. However, this comes with proactive coordination with all the service providers and might not come with the desired ease-of-operations.
2. During Shipment Challenges
During the in-transit stage, the cross-border eCommerce challenges assume a more critical stance and comprise:
Customs clearance
Documentation handling
Container pick-up, loading, and gate-in management
This means that various documents, such as signed SLAs, and the entire shipping exchange move among the stakeholders via email.
The customs rules and regulations also vary for different types of products, such as dangerous or hazardous goods. Sitting above them are export control regulations and exchange control regulations. Statista reports that 42% of businesses identify customs navigation as the biggest challenge in cross-border eCommerce.
3. Post-Shipment Challenges
This is one of the most critical stages of cross-border eCommerce as real-time tracking and vendor intimating become crucial.
Some other challenges during the post-shipment stage include:
Lack of proactive communication with consignees
BL release monitoring
Individual container tracking via excel sheets
Due to the lack of a centralized view of the progress of all the packages, businesses have poor visibility into the package transit process and are unable to convey the exact location to their customers.
How Efficient 3PL Management Can Overcome These Challenges
Efficient 3PL management via smart solutions offers a "single source of truth" to the businesses as well as the other stakeholders involved in the supply chain.
Apart from offering single dashboard views of the shipment and shipping lines throughout the journey, these solutions also automate manual tasks such as RFQs and invoicing.
Below, we discuss how a smart logistics management platform makes cross-border eCommerce deliveries efficient, scalable, and more transparent.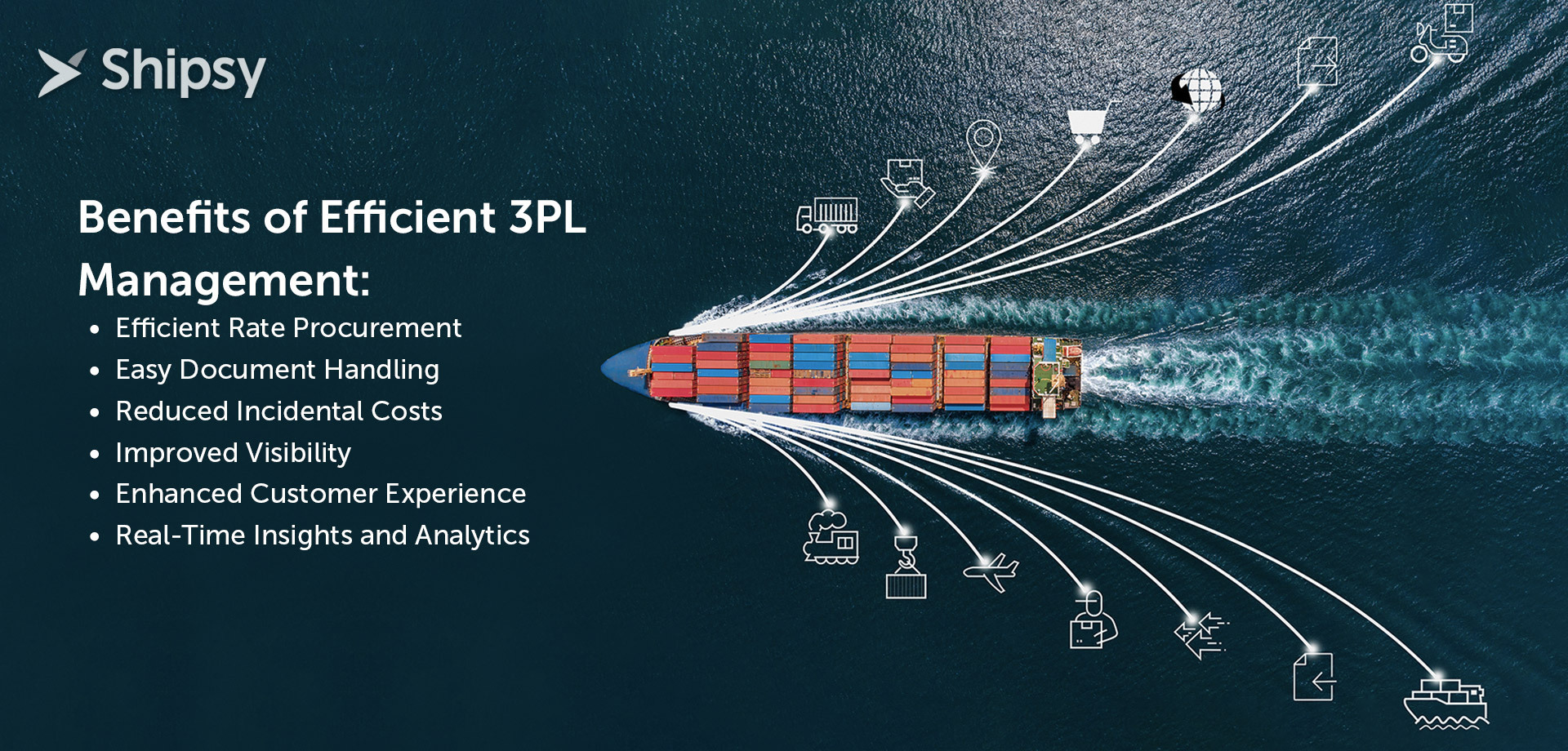 1. Efficient Rate Procurement
RFQ management becomes easier with easy-to-float RFQ forms, and instant quotes or responses from multiple shipping lines on a single dashboard. The businesses and brands looking for cross-border deliveries can compare the quotes from multiple shipping lines in real-time and get smart rankings for all of them with intelligent quote analysis.
Hence, the decision-making becomes optimal.
2. Easy Document Handling
Smart 3PL management solutions facilitate effortless document handling and SLA management using modern digital tools. Such solutions significantly reduce investments in manual processesas all the documents are uploaded online by the carrier. So, the manual ERP data entries are reduced by 65%, and shipment handling man-hours get reduced by 56%.
The documents for specific goods, such as hazardous materials are readily available as per the latest international transit policies. The real-time updates of the container's location are available on the dashboard, which can be shared with the customers as well. BL uploads are done against a particular shipment.
All in all, customs clearance and documentation become hassle-free and more transparent.
3. Reduced Incidental Costs
With real-time and automated alerts for internal monitoring of all the shipments tracking the incidental costs, such as detention and demurrage, becomes much easier.
Key milestone alerts can be automated as well, which leads to a 34% reduction in incidental costs. Finally, the smart 3PL management solutions can also offer a granular vision into the delays and exceptions, to avoid unnecessary costs.
4. Improved Visibility
The legacy solutions don't offer a unified communication channel for all the stakeholders involved in cross-border eCommerce, such as freight forwarders, last-mile providers, carriers, etc.
However, SaaS-based solutions can overcome this hurdle by integrating communications across all the platforms, such as phone calls, emails, text, and social media.
All the information regarding every package on every shipping line catering to every single customer location is readily available at all times. This can lead to a 37% reduction in the ETA SLA breach.
So, all the incoming customer queries regarding the delivery can be resolved with confident responses.
5. Enhanced Customer Experience
Using smart logistics management solutions can lead to a 64% increase in customer satisfaction.
As the businesses and brands can find fast delivery options and track the packages throughout the transit, they can improve the level of customer experiences as well.
With proper management of port handling operations and last-mile delivery management, the customers can expect the least delays. They can track their orders and find out the current location of their order.
6. Real-Time Insights and Analytics
Another crucial benefit offered by the 3PL management solutions is an analytics and reporting with proper visualization. With easy-to-understand reports that readily offer actionable insights into all the processes, business decision-making becomes more confident and more strategic.
While the excel sheet numbers are confusing and require manual processing, data visualization becomes easier and better with intuitive charts and reports.
While a 3PL management solution is the right answer to all the cross-border eCommerce delivery challenges, not all the options available in the market are the right ones.
Hence, it is important to invest in a solution that can scale as your business grows and evolve as per your business needs. Further, it is crucial to choose a solution that comes with a negligible learning curve and a robust feature set.
To know more about how the right 3PL can eliminate cross-border shipment woes, click here.
When you invest in a reliable, robust, and versatile 3PL management solution that is the right fit for your business, you can overcome the cross-border eCommerce delivery challenges and boost your revenue as well as customer experiences at the same time.