Be it retail, eCommerce, manufacturing, or on-demand delivery industry – 3PL partners are at the fulcrum of every logistics ecosystem. They facilitate efficient transportation, warehousing, distribution, delivery, and other logistics services. Hence, they are one of the most sought-after logistics entities in the entire ecosystem.
However, the global delivery landscape has had a stunning makeover, with customers seeking quick, free, and on-demand deliveries with delightful experiences. Consequently, retailers are increasingly accommodating customer demands, which the 3PL providers ultimately orchestrate.
Hence, choosing the right logistics partner is extremely crucial, especially if you aim at lower operating costs, optimal resource utilization, and increased delivery efficiency.
Here are four key considerations for choosing the best logistics partners and tips for efficient and profitable carrier management.
Let us begin with a quick walkthrough of some eye-opening stats.
Global Trends in 3PL Market – Stats That Speak a Thousand Words
The global 3PL industry revenue generated >USD 1 Trillion in 2022, and the sector is expected to grow at a CAGR of 5% till 2032. Still, the deal volume (264) and deal value ($195 billion) in the transportation and logistics segment declined in 2022 as compared to 2021 – PwC states. A Statista survey revealed that 24.7% of B2C e-commerce businesses cite high delivery costs as the biggest logistics challenge.
McKinsey expects the logistics costs to consume 15 to 25% of e-commerce revenues very soon as faster and cheaper deliveries, labor crunches, and intense market competition pressurize 3PLs.
While the eCommerce boom drove a high demand for 3PL logistics, the shipping and logistics costs are rising, especially for retail, in both online and offline segments. Most retailers call returns the major culprit, and yet, bear with them because 56% of the shoppers make their purchase decisions based on the return policy, and 30% of them have become extremely comfortable with returns.
Hence, staying profitable will take more than efficient outsourcing of logistics and transportation.
It would require mutually-fulfilling partnerships, data-based performance evaluation of carriers, optimized carrier allocation, and automated carrier management.
But then again, how to do that? How can a business find a logistics partner that perfectly fits the logistics requirements, and how can they leverage different service offerings from multiple partners to their benefit?
Below, we explore the answers to these questions. Let us begin with a quick glance at some of the key considerations every business should have for smart 3PL selection!
Key Considerations for Choosing a 3PL Partner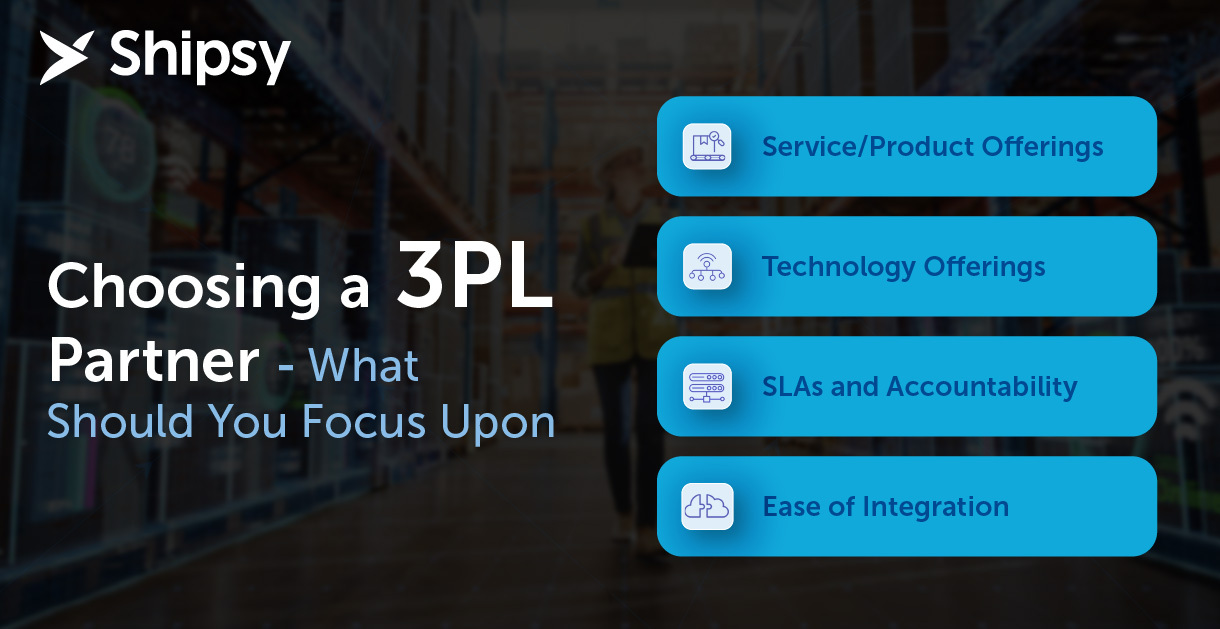 #1 – Service/Product Offerings
Check whether the services and product offerings align well with your business use cases. Find how well they can solve the logistics and transportation challenges for a specific area, delivery type, product, etc., and then compare them with some other key players in the market. Also, discuss how well they can accommodate your scalability goals (immediate as well as futuristic).
#2 – Technology Offerings
Check the tech suite they have. It is important to have key functionalities, such as real-time order tracking, rider monitoring, route planning and optimization, carrier management, KPI-based performance assessment and evaluation, and more.
Also, find how well the 3PL partners update or improve their offerings and what kind of secure transaction management systems they offer.
#3 – SLAs and Accountability
Find how a particular 3PL provider ensures SLA adherence and what kind of authentication and validation checks they offer. You must get notified for specific order lifespan events, and you can find whether a particular person is adhering to the agreed-upon conditions.
#4 – Ease of Integration
Another crucial must-have is easy, effortless, and hassle-free integration with multiple third-party vendors, shopping platforms, payment processors, etc., for seamless operations. Opt for a 3PL partner that leaves you with the least amount of challenging engineering requirements.
Stay Ahead of Competition – Multi-Carrier Partnerships and How to Get the Best out of Them
Legacy systems with poor or negligible quantification of workflows restrict how businesses can leverage 3PL offerings optimally. They lack integrated management capabilities and hinder working with multiple carriers effortlessly. Businesses rely on manual elements to compare multiple 3PLs with each other for specific shipments, areas, deliveries, and delivery constraints, and there is no reliable or scalable way to optimize logistics.
On the other hand, AI-powered multi-carrier management platforms, like Shipsy, can help businesses onboard and manage multiple carriers seamlessly. Users can compare 3PL pricing, automate carrier selections based on custom prioritization criteria, and unlock operational efficiencies via smart data analytics and reporting.
Shipsy enables businesses to work across new service types, and offers intelligent features like NDR and PoD management, 3PL portfolio management dashboard, cost calculators, and seamless collaboration across multiple systems, stakeholders, and technologies to unlock:
64% Increase in customer experience
30% Increase in order pickup within 24hrs
24% Enhancement in on-time deliveries
14% More deliveries per rider
12% Reduction in last-mile delivery costs
Quick commerce enablement with less than 30 mins delivery
For more information on our multiple 3PL management platform and its capabilities, or to get started with us, please get in touch with our experts to schedule a personalized demo today!