Accenture research validates a strong correlation between supply chain visibility and resilience. The research conducted on over 30 leading supply chain executives implied that companies with greater visibility had been able to tide over past disruptions with no impact on their revenues and were more profitable.
By the numbers, only 22% of the world's companies have this capability. At the same time, the rest are exposed to a plethora of vulnerabilities. A vital point of consideration while planning operations is how an ongoing event can impact your operations.
So what exactly is supply chain visibility, and what goes wrong in its absence?
Visibility in this context means having real-time knowledge of the shipment journey from beginning to end. While it may appear seemingly simple to achieve, the term is multifaceted, literally, and a tad more complex operationally than just knowing the address where the shipment is headed.
It entails visibility over goods movement from source to the destination via all relevant stakeholders and touchpoints, predictive or advanced visibility and real-time information on delivery progress, inventory availability, proof of delivery, visibility over financial transactions, and so on. It is not only about knowing the flow of goods, data, and finances but also encompasses visibility over resources (such as drivers and vehicles) and field operations.
In fact, the advent of new technologies such as IoT empowers businesses to track the slightest fluctuations in the temperature of goods to assess the edibility of perishable food items and the potency of specific drugs.
Supply chain visibility brings numerous qualitative and quantitative benefits. It could be in terms of saving investments in costs, person-hours, curbing cost leakages, or improving logistics operations.
Let's say an on-demand retailer operating through multiple stores in a region is looking for more delivery partners to meet growing order volumes, despite having a dedicated but unproductive fleet. While delivery scalability shouldn't be an issue with third-party logistics providers, what if the retailer cannot gauge the delivery partner's productivity and faces similar issues again? What if the drivers get paid without being allocated any tasks?
A better scenario would be if the retailer can actually optimize the capacity of its existing fleet, thereby eliminating/ reducing dependencies over 3PLs. Equipping the retailer with tools to gauge the productivity of its drivers or that of the 3PL would also help. Moreover, driver payouts can be made through KPI validation. That'd tighten the noose over multiple inefficiencies and cost leakages, right? Well, this has been the case with one of the leading online pharmacy chains. This is how technologies that extend complete visibility into the core logistics operations empower businesses.
To keep up with the visibility game, supply chain leaders can either invest in expensive and siloed point solutions. Secondly, they can manage workflows via unproductive DIY tools such as spreadsheets, calls, and emails. Or, they can partner with a digital transformation platform that provides end-to-end visibility to different stakeholders across the value chain.
The Alarming Need For Real-time Visibility Tools
Lack of visibility can cripple your supply chain and logistics operations and sabotage your bottom line. Supply chain visibility is imperative to improving logistics planning, riding over cost leakages, complexities, inefficiencies, and much more. It is becoming a cornerstone for risk mitigation, cost optimization, and customer experience.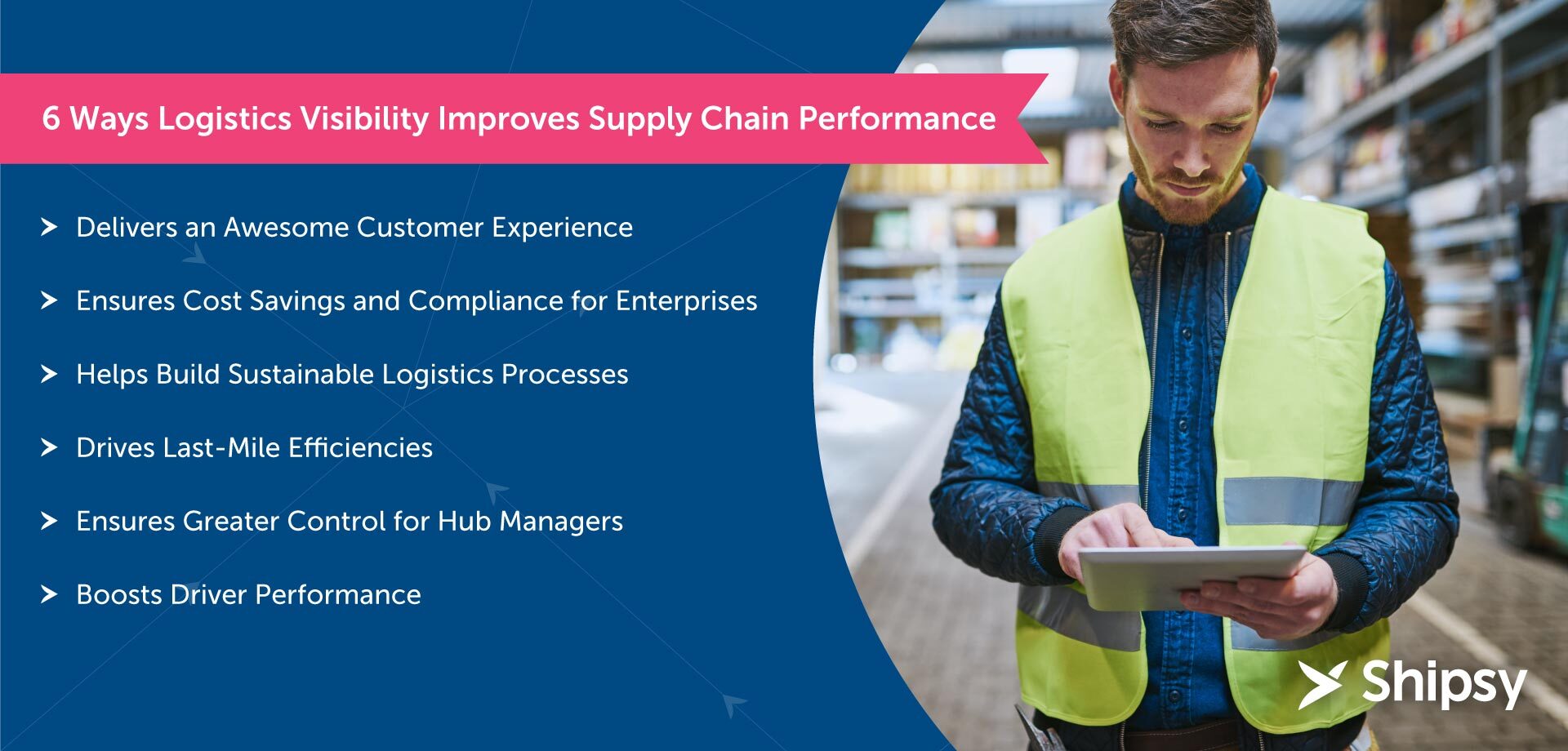 Here's how logistics visibility benefits supply chain performance:
Delivers an Awesome Customer Experience
With skyrocketing delivery volumes, customers' expectations for control over delivery visibility have also intensified. A study says that a whopping 93% of customers want to stay updated throughout the delivery process. This includes both in-transit statuses to the final date of delivery. The same study highlighted that almost half (47%) would not order again from a brand with poor visibility. If a brand wants to enhance customer loyalty, it must keep them engaged in delivery progress via customer-preferred communication tools.
Logistics management tools keep the customer informed on delivery ETAs. It increases engagement and chances of customer availability at the time of delivery. It leads to an increased first attempt delivery success rate and reduced reattempts. The system triggers a notification to the end customer via Whatsapp, SMS, or email once the order is out for delivery. The notification contains a tracking link for customers to track their orders and helps mark 95% of deliveries in real-time.
For a B2B scenario, this visibility entails keeping the stakeholders informed on key shipment milestones. Predictive analytics and automated alerts notify supply chain participants in case of delays, emergencies, and exigencies for proactive logistics planning. It saves businesses 34% in incidental costs and boosts customer experience by 64%. Digital documentation enables keeping track of SLAs to avoid conflicts at a later stage and reduces ETA SLA breaches by 37%.

Ensures Cost Savings and Compliance for Enterprises
Let's assume a top retailer partners with a particular freight forwarder for all its cross-border shipping needs, as they have been doing business together for decades. What if the retailer finds out that its trusted shipping partner has been charging more than the market price for each shipment for years. We can imagine how big the leakage is.
The question is, why go with guesswork when you can make a data-driven decision?
Shippers can leverage intelligent freight procurement solutions to raise a request for quotes with multiple freight forwarders and shippers simultaneously with a single click. Intuitive bidding allows them to receive competitive pricing every time and shows deviation from market prices and historical data on port-pair-wise rates. The entire shipment lifecycle is digitized for any time reference.
That's not all. There's more for enterprises on driving sustainable operations.
Helps Build Sustainable Logistics Processes
According to a survey, 44% of customers' interest in shopping sustainably increased after the pandemic. The same survey reports also say that 40% of customers are fine following minimum criteria that qualify them for expedited shipping. The findings highlight how consumer behavior is positively changing towards adopting eco-friendly practices, and they will engage with brands sharing the same sentiment.
Customers' demand for greener supply chain methodologies necessitates brands to curb their carbon footprint. AI-powered sustainability dashboards and Global Shipping insights empower brands to monitor their carbon emissions for shipment lifecycle across air or ocean freight. Based on this data, they can choose their vendor and make more informed choices that align with their sustainability goals.
Drives Last-Mile Efficiencies
The proof of delivery is captured digitally or offline by customer signature, and so goes with the financial transactions. Calculating payments against CoD orders is automated for accurate cash reconciliation and can be seamlessly mapped with PoD. Hub managers can also configure the order allocation of drivers having unsettled cash above a certain limit.
Performing visual integrity checks on goods at the hub level also significantly reduces returns due to damaged packing. Mandatory proof-based quality checks on products through the rider app before executing the last mile can considerably save delivery costs and conflicts over SLAs.
Ensures Greater Control for Hub Managers
A non-performing fleet is one of the biggest factors behind rising delivery costs and trip frequencies and deteriorates customer experience. This is because brands have to splurge on onboarding more ad hoc drivers to meet the growing online volumes and customer expectations. Equally hurtful from a cost standpoint is a fake delivery attempt. Again, with greater visibility of these ground-level operations, hub managers can do an excellent job.
Well, logistics management technologies are of a big help here too. Non-delivery reasons are investigated by triggering a message to the end customers asking for delivery feedback. Based on customer response, brands can gauge if the delivery attempt was fake or not. This information is captured to evaluate if KPIs are met.
Geofencing and geolocation help delivery managers efficiently configure and assess driver KPIs, like time taken to start the bike after order allocation, time taken to reach the customer and then back to the store, etc. Such tools also enable KPI validation-based fair driver payouts and ensure equal work distribution amongst floating and dedicated fleets with complete insights into operations.
The system also clearly shows if the driver's location at the time of delivery and actual customer location do not sync to identify fake attempts. Smart tools also empower hub managers to view if a driver has followed a system-suggested planned route or not to investigate late deliveries.
Boosts Driver Performance
Last-mile logistics management solutions enable proactive delivery scheduling. With advanced schedulers, drivers can access stop-wise tasks assigned for a said date for all planned deliveries. Driver performance for a particular time frame, be it a day, week, or month, can be viewed on the driver app leaderboard to claim incentives.
Time wasted in finding the right customer location can be detrimental to delivery SLAs and cascade subsequent delivery timings. This can happen due to the driver's unfamiliarity with a particular locality or poor address quality. Geocoding converts customer addresses into exact coordinates and appears on the driver app as a polyline leading them to the precise location.
Supply chain visibility is priceless and helps prepare you for the future with a preemptive outlook. Businesses that embrace tools and technologies that enhance visibility at all stages will bolster themselves from unpredictability and carve a surefire way to success.