Over the past few years, D2C (Direct-to-Consumer) e-commerce has grown tremendously; it is estimated that its sales in the USA alone will reach $175 billion by 2023. Direct interaction and selling help D2C brands cut logistical costs, have complete control over brand messaging, access first-hand customer feedback, gain a higher profit, and ensure brand loyalty. However, most D2C brands have limited resources, and thus, choose a 3PL for streamlined and smooth logistics management. A 3PL ensures:
Fast and free shipping
Efficient management of deliveries during peak and low order volumes
Real-time tracking
Complete shipment visibility
It is not necessary that one 3PL can fulfill all the logistics requirements of a business. For example, a 3PL that operates only within the metro cities won't be able to deliver consignments to remote locations. Therefore, it is a good practice to partner with more than one 3PL partner to manage deliveries or order fulfillment.
Four Reasons Why D2C Brands Must Work With Multiple Express Logistics Providers
Here are the four reasons to ensure whether your D2C brand needs more than one express logistics partner:
1. Leverage The Strength of Different Carriers
Not all courier partners are the same; some might specialize in quick deliveries in metro cities, whereas others may hold expertise in delivering parcels/shipments in regional areas. Also, some may specialize in handling and delivering fragile items or white goods. Having a pool of multiple courier partners will allow you to get the most out of each company's strength.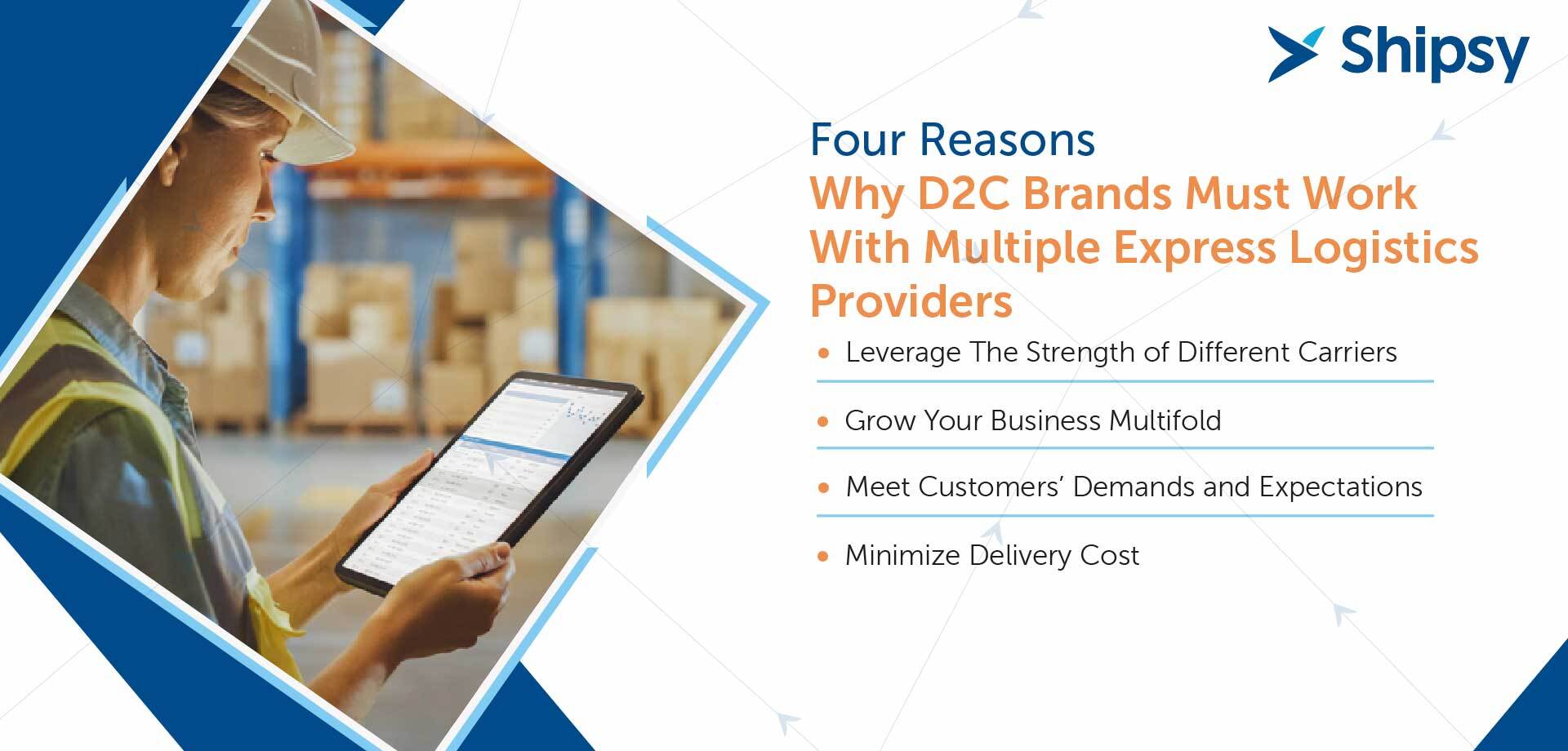 2. Grow Your Business Multifold
You can serve more customers in remote areas by partnering with multiple courier companies. Most 3PL partners have warehouses, distribution centers, or hubs at different locations where they can ensure fast deliveries. Moreover, your business also gets exposure.
3. Meet Customers' Demands and Expectations
Customers' demands and expectations have now changed; they want lightning-fast deliveries without paying additional charges. Moreover, they also expect multiple shipping options. To achieve this goal and delight your customers, the best way is to choose different courier companies for your business. With multiple 3PLs, you would be able to provide various shipping choices as well as quick deliveries even in remote locations.
4. Minimize Delivery Cost
With limited resources, such as fleet and workforce, you might increase the cost of each delivery. Moreover, a lack of logistics expertise can also be a significant factor behind the increased delivery cost. Outsourcing your delivery operations to multiple third-party logistics partners can overcome this challenge as you can choose which 3PL would be the best for a particular shipment to a specific region.
Like other approaches, adopting the D2C model also has risks and challenges. However, outsourcing your delivery operations to multiple 3PL or courier partners can definitely help overcome those challenges. While the 3PLs look after your delivery operations, you can focus on other core business operations to achieve business growth and success.