D2C or direct-to-consumer is not a new concept in the retail world, but it has gained huge momentum in the last few years. Retailers going online, especially after the outbreak of COVID-19, is one of the biggest reasons behind the popularity of the D2C model. The rapid adoption of this model by brands from food, beauty, fashion apparel and accessories, and other categories has disrupted the traditional retail model. Let's learn more about the D2C business model, D2C deliveries, its benefits, and more-
What is D2C?
D2C, or direct-to-consumer, is an e-commerce/retail model that involves the delivery of goods directly to the consumers without the involvement of any wholesaler, distributor, or any other middleman. Here are some of the statistics highlighting the importance of D2C deliveries or D2C fulfillment-
55% of consumers choose to purchase directly from a brand than visiting multi-brand retailers
More than 50% prefer to shop from a brand's website as it offers detailed information on the products
D2C online sales is projected to surpass USD 129 billion in 2021; it was USD 111.5 billion in 2020
How do brands facilitate deliveries using D2C business model?
Most brands or businesses opting for the D2C delivery model either go for in-house fulfillment or choose a third-party logistics partner. Start-ups or businesses that sell their products through an e-commerce portal select the former way. On the contrary, large businesses opt-in for the second method and hire a 3PL partner to facilitate D2C deliveries. With the first, i.e., in-house D2C fulfillment, brands may face challenges like-
Inability to scale
Delivery inefficiencies
High shipping costs
Poor customer experience
High return volumes
Traditional Retail Business Model Vs. Direct-to-Consumer/D2C Business Model
Here are the key differences between the traditional retail and DTC/D2C business model-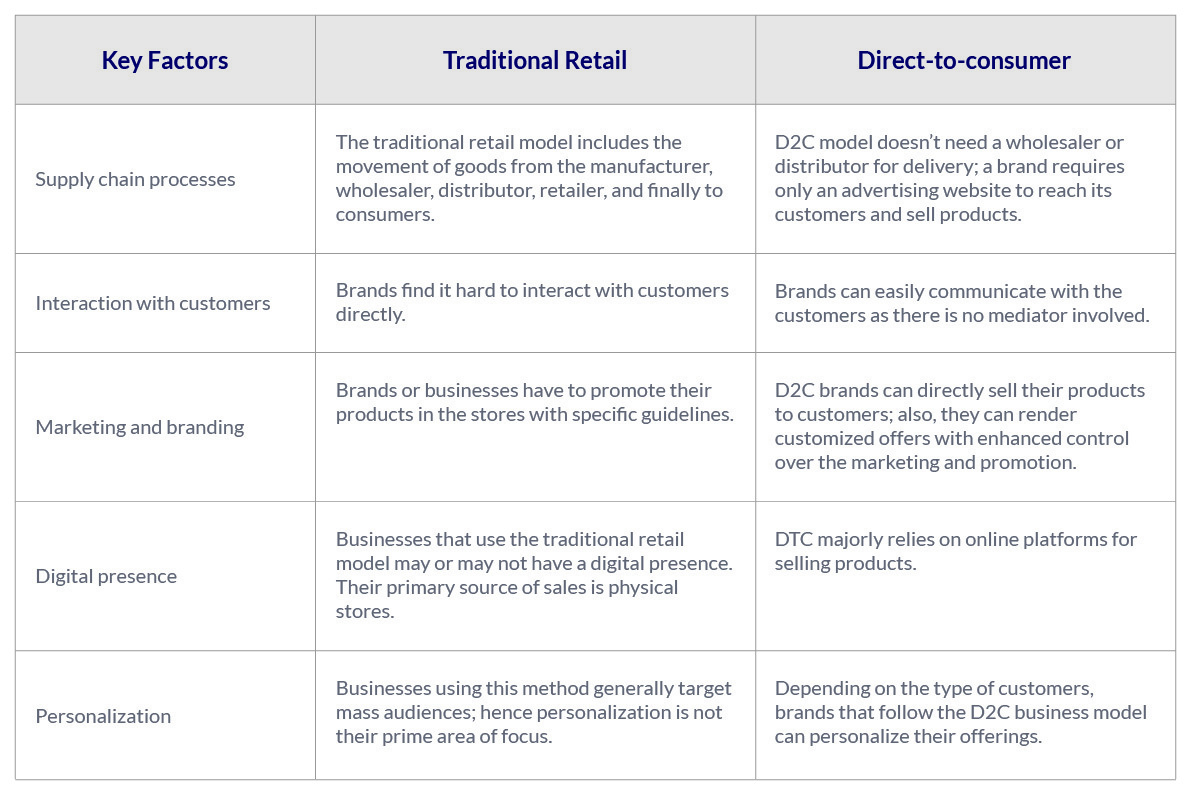 5 Key Advantages of Direct-to-Consumer or D2C Business Model
D2C model comes up with a set of advantages that include-
1. Better control
In the traditional retail model, manufacturers have limited control over the brand messaging, marketing & sales tactics, and the product. It is the retailer that presents a product to the end customer and can control the sale. However, D2C allows brands to connect with their audience directly and have better interaction and control.
2. High profit margins
When selling products through the D2C model, manufacturers/businesses only need an advertising platform to reach their audience. They can accept orders and initiate deliveries directly without paying any involvement of a distributor. It increases profit margin as no middleman is taking a slice of the pie.
You may like to read- The Curious Case of Free Shipping and Profitability: Making This Tricky Partnership Work
3. Customer data collection
For improving sales and delighting customers, it is imperative to have a deep understanding of customers' buying behavior. The D2C model allows the collection of customer data to help the brand/business personalize their offerings, identify patterns, keep a tab on the market trends, and know customers' preferences. With this data, they can plan better marketing strategies and increase the chances of sales.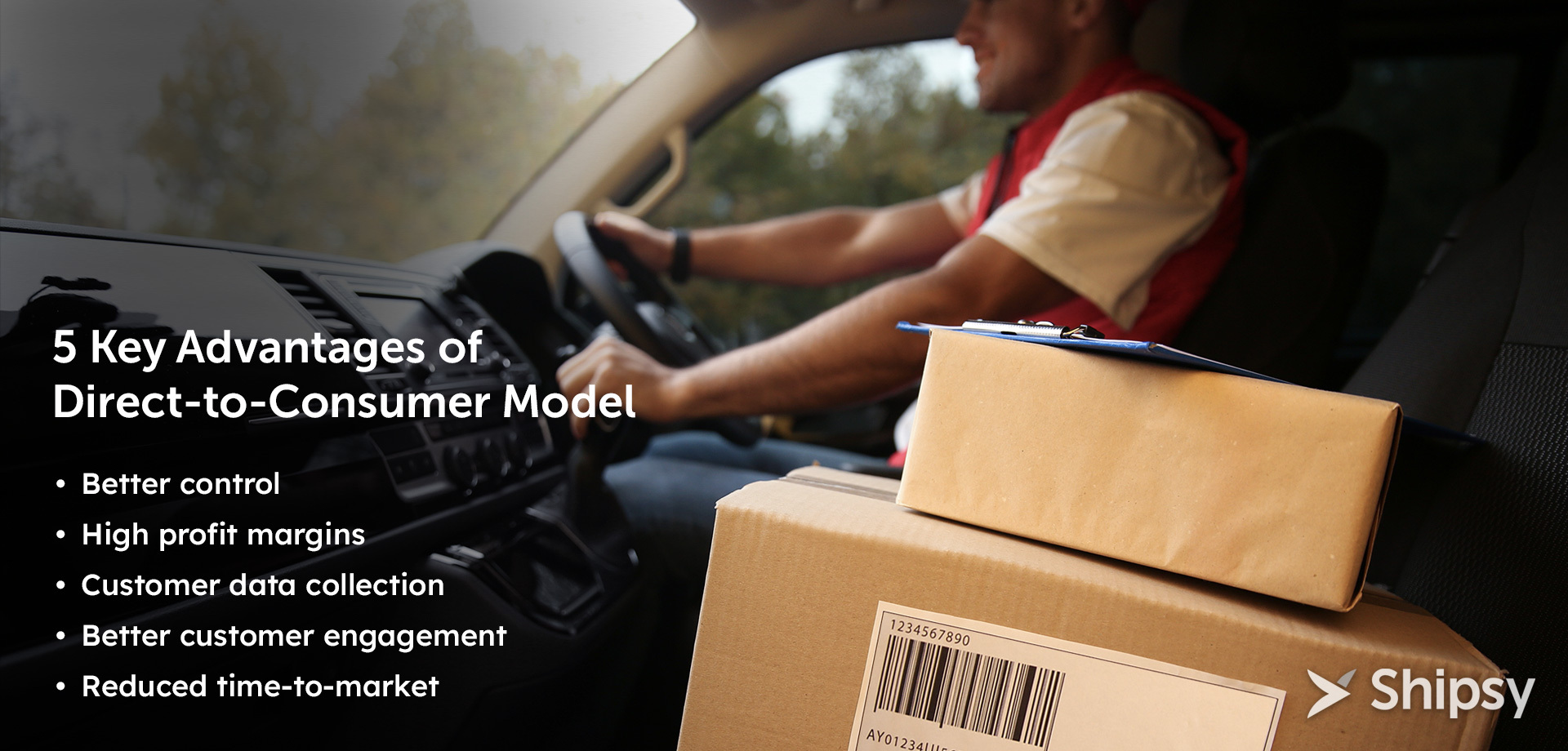 4. Better customer engagement
Establishing a good relationship and engagement with your customers enhances the retention rate and contributes to achieving customer satisfaction. D2C allows a brand to keep a direct connection with the customer throughout the entire buyer journey. You can also keep them engaged with your brands by launching various feedback surveys, virtual events, and other activities.
5. Reduced time-to-market
D2C gives brands the flexibility to run agile; they can easily launch new products, do the testing among the targeted audience, and set up a marketing plan accordingly. Having a clear understanding of consumer needs also contributes to launching new products in no time.
The modern customer is pretty much specific about where they purchase and when they wish to receive the product. With this scenario, it is evident that speed and convenience have become two major driving factors for achieving customer satisfaction. These expectations, along with changing market trends, have made E-comm brands and retailers cut out the middleman and opt-in for the D2C or direct-to-consumer model.
The adoption of smart logistics management tools or advanced last-mile delivery solutions can make D2C deliveries or D2C fulfillment seamless and efficient. Such solutions can digitize the entire delivery management process to ensure quick order fulfillment with complete operational visibility and transparency. They can also reduce the overall delivery costs, leading to improved business profitability and gaining a competitive advantage.