If not more, we all share one common observation in our lives, passing through industrial areas or hubs. The sight of long trailers waiting to enter a yard/warehouse/hub. The queue usually spills over to neighboring streets, blocking passages, causing inconvenience to commuters, and obviously leading to fuel wastage and pollution.
What we just shared was an example of bad yard management. What you will read in this article is what causes it, what are the challenges to effective management, and how to overcome them.
What is yard management?
Yard management involves managing various activities and resources inside a yard/warehouse/distribution center or a facility. These activities could be entry and exit of trucks, loading and unloading of goods at the dock, information sharing amongst stakeholders, etc. It also deals with managing resources, such as the fleet, drivers, spotters, yard managers, and other factors impacting supply chain and logistics operations.
To understand it fully, let us shed some light on what happens when a carrier arrives to pick up/deliver goods at the facility.
Upon reaching the gate, a guard verifies the truck's details and that of the driver before letting them in the facility to pick up/deliver the goods. The same steps are followed when the vehicle exits the warehouse. In some cases, the driver drives the truck inside the warehouse to execute loading/unloading. But mostly, the driver is directed towards the parking lot where they leave the trailer. The guard then notifies the yard managers/dockworkers of the truck's arrival. When the dock is available, the spotter takes the trailer to the allotted spot, where dock workers execute the loading/unloading. Upon completion, the process is reversed, with the spotter again taking the trailer to the parking area, followed by the driver taking over and proceeding to check out.
What is the importance of yard management?
Let's say inefficient yard management causes chaos, not just inside the yard but also outside, as discussed in the beginning.
Ineffective yard management affects the timely movement of inbound and outbound logistics, which ultimately has a domino effect on subsequent processes. This results in late deliveries, missed opportunities, financial losses, and unhappy customers. According to the 2020 State of Yard Management Report, more than 50% of the managers and executives agree that deploying YMS can shrink transportation costs by 5%.
Key Yard Management Challenges
Comparatively, yard management is less of a problem for smaller businesses that can easily monitor their assets within the small territory. The bigger companies or manufacturing/retail giants are more vulnerable to these challenges.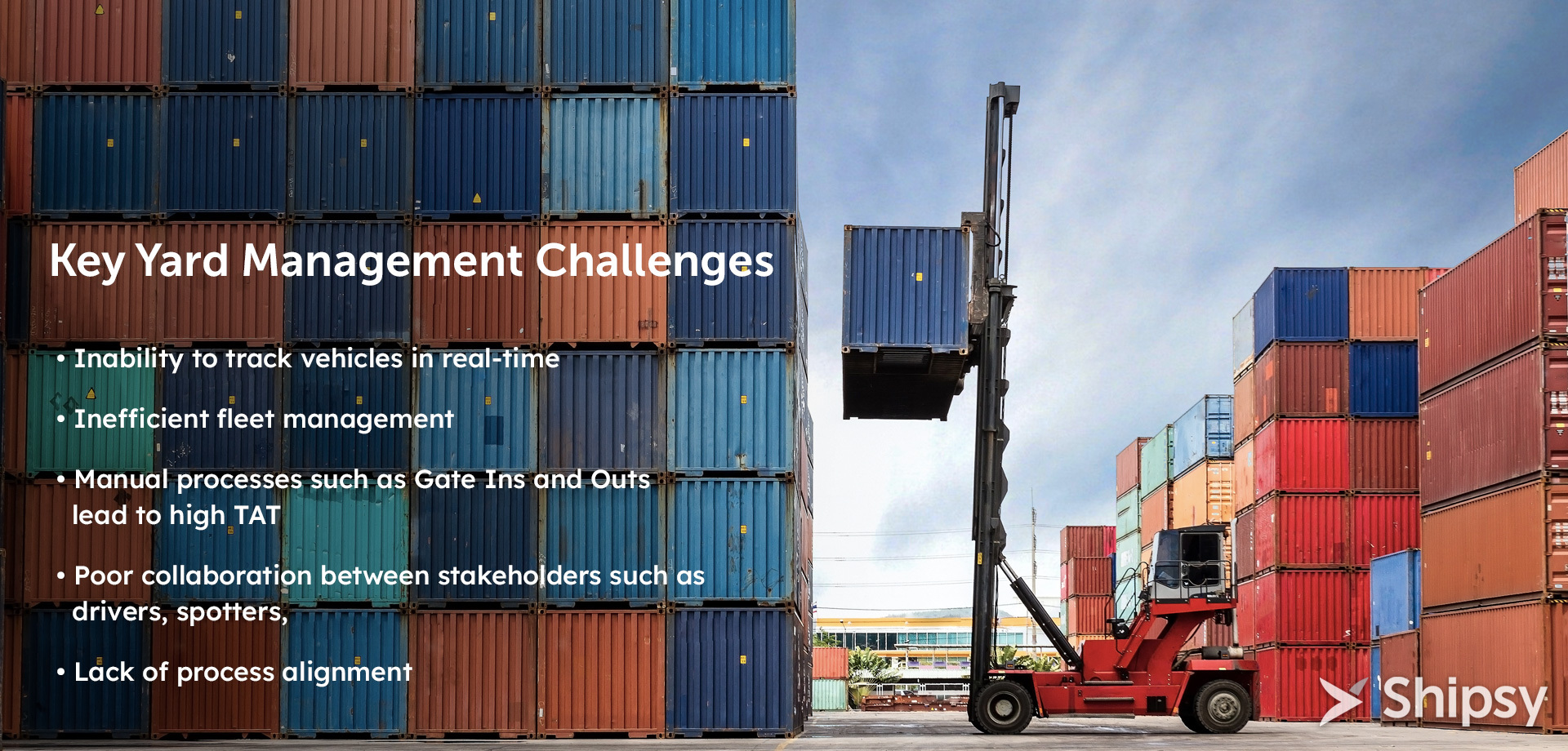 Inability to track vehicles in real-time
Inefficient fleet management
Manual processes such as Gate Ins and Outs lead to high TAT
Poor collaboration between stakeholders such as drivers, spotters
Lack of process alignment
However, enterprises can resolve these challenges by leveraging yard management tools.
What is yard management software (YMS)?
Yard management software facilitates seamless orchestration of various yard activities. It keeps a tab on the availability and movement of trucks, trailers, other vehicles in a manufacturing facility or a warehouse. It provides information on the vehicle's location to improve collaboration amongst drivers, spotters, yard managers, etc., for faster and efficient order fulfillment. It helps yard managers optimize yard operations and plan loading and unloading based on shipment and yard availability.
Enterprises often use yard management solutions as an add-on component integrated with other supply chain management software like TMS, WMS, ERP, and so on.
How can yard management software help?
As discussed above, if done manually, managing entire yard operations can be quite cumbersome. A container YMS can automate and streamline operations for better management.
Moreover, manufacturers/shippers can also club various other solutions with container yard management software, depending on their need and the base software's capacity to further increase productivity. For instance, a TMS powered with route optimization and planning solution, when integrated with a YMS, can automate route selection to facilitate fuel and cost-efficient deliveries/distribution. It also enables end-to-end visibility into container movement, maximizes vehicle capacity utilization for optimized deliveries, and ensures ETA adherence.
To know more about how route optimization and planning works, click here
Here are some of the benefits of a Yard Management System:
Complete operational visibility
Appointment scheduling
Process improvement
Seamless 3PL management
Gate management
Dock management
Asset management
Analytics and Insights
Faster transportation with reduced fuel costs
How to select the best yard management solution?
The journey to choosing the right container yard management system begins with identifying your needs. Considering that any new technology deployment requires a good level of investment, it is better to choose which type of tool would be sufficient to solve your purpose. Here are some solutions to resolve your yard management issues:
Standalone solution
This potent tool gives you more control over your yard operations and is definitely a preferable option for bigger yards/ manufacturing giants who see high logistics activity.
YMS as a functionality
Many ERPs/WMSs have yard management as an additional feature. These can be useful to carry out basic yard management functions but may lack higher capabilities and degrees of customization.
Module-based integration
This is the most obvious choice if you want to power up your existing YMS with a specific feature. For instance, you can integrate your yard management system with routing software to exercise more visibility and control into vehicle movement. Or a 3PL management software in order to scale operations by partnering with multiple logistics providers.
When riddled with operational challenges, digitization is the key. Streamlining operations using YMS can solve time-consuming processes such as manual scheduling, gate-in/out procedures, excel-based data entries, etc. A YMS can eliminate human errors and transform workflow and inventory management for good.