The global parcel volume is increasing; it is expected to reach 256 billion by 2027. To manage these skyrocketing volumes and deliver on evolving customer expectations, retailers are increasingly partnering with multiple logistics providers. In fact, about 80% of Fortune 500 companies and 95% of Fortune 100 companies use 3PL to manage different delivery operations.
However, managing multiple 3PLs is not easy. Lack of operational control, poor visibility of carrier movement, inefficient tracking and KPI benchmarking, growing non delivery reasons, labeling issues among others significantly weigh down multi carrier management. Hence emerges the need to leverage technology and ensure seamless delivery orchestration of both own riders and 3PL fleet.
A smart logistics management solution facilitates effortless management and monitoring of multiple 3PLs on a single dashboard. To get the best delivery management solution for your business, simply look for the following 10 capabilities.
1. Optimizing Own Rider Management
Make sure the delivery management solution can map consignments considering both driver and vehicle. Having familiarity with the assigned geography would help drivers to avoid unexpected issues such as accidents and road accidents.
2. Auto-Allocating Orders and Prioritizing Preferred 3PLs
A smart delivery management solution should include an auto-allocation engine that considers your business needs, including SKU type, weight, order volume, payment type, 3PL preferences, vehicle type, and more, to automatically assign tasks to the best 3PL.
3. 3PL Performance Benchmarking
An advanced delivery management solution should also allow retailers to have complete visibility of different KPIs like:
The percentage of on-time deliveries
Number of delivery re-attempts per order
The percentage of load assigned to different 3PLs
Key Non-delivery Reasons (NDRs)
These metrics help retailers to make data-driven decisions and prioritize particular 3PLs for order allocation. They can even reallocate orders as per the changes in the market conditions, 3PL performance, and any new information.
4. Simplifying Non-Delivery Reasons (NDRs)
An intelligent delivery management system consolidates 60+ NDRs into six categories. It allows retailers to look into non-delivery data, pinpoint the main cause for "undelivered" orders and make decisions accordingly. With the help of the NDR dashboard, retailers can figure out NDRs that are often cited in a specific geography or city, most recorded by a 3PL, and most recorded at an origin hub.
5. Smart Label Generation
A smart delivery management solution should facilitate automatic label generation by extracting the required order information from logistics service providers and putting it into a standardized label format. The generated format should be convenient for the client and also meets the requirements of the third-party logistics partner.
6. Arresting Fake Delivery Attempts
A delivery management platform should also allow retailers to verify delivery attempts directly with the end customers. This helps in arresting fake delivery attempts, mainly if the system-suggestion location and the location of order delivery are different.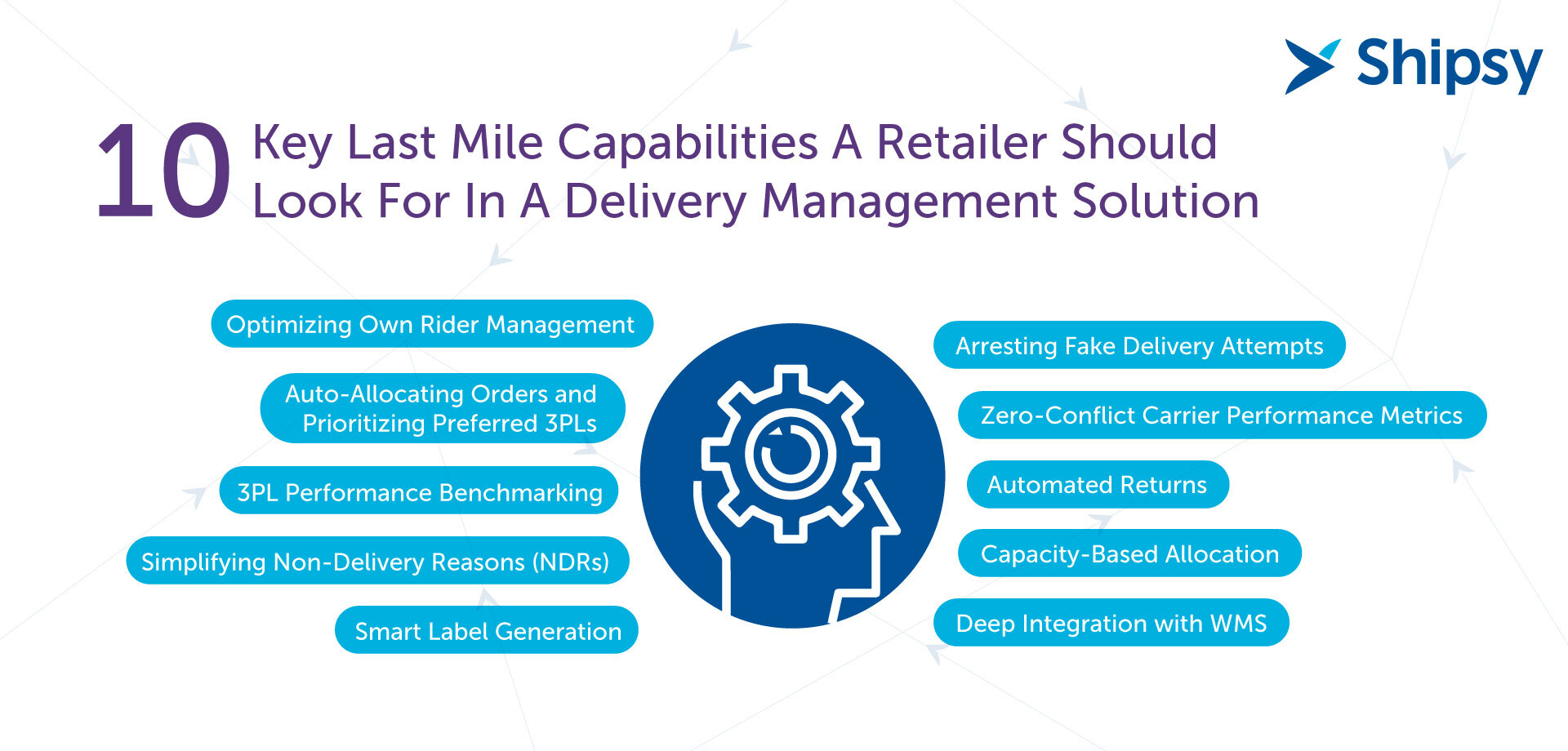 7. Zero-Conflict Carrier Performance Metrics
Make sure the delivery management solution should have a dashboard to check and track predefined KPIs agreed upon by both the retailer and its 3PLs. This mitigates any future occurrences of conflicts between both parties.
8. Automated Returns
Make sure the delivery management solution you pick should automate the returns by capturing the return request in real-time, auto-assigning a pickup driver, and designing the most efficient route to bring the product back to the source. Faster and seamless returns lead to the enhanced consumer experience.
9. Capacity-Based Allocation
A delivery management solution should be capable of capacity-based allocation to improve logistics planning. The feature can give retailers visibility of their own fleet's future capacity according to the "promised date" in the future.
10. Deep Integration with WMS
Make sure the delivery management solution seamlessly integrates with your warehouse management system to facilitate carrier-based picking and packing. It will save a significant amount of time by eliminating the need for warehouse executives to put effort into picking up packages. It can also help optimize space utilization at warehouses.
How can Shipsy help?
Implementing Shipsy's AI-enabled delivery management system can help retailers manage delivery struggles and take customer experiences to the next level. The delivery management solution ensures:
8% increase in the first-attempt delivery
96% increase in the net order allocation
24% increase in the delivery completion
30% more pickups within 24hrs
Request for a custom demo today!