Delivering a superior customer experience without impacting business profitability is the prime goal of every business. But conventional last mile delivery management methods cannot help to please customers who want free and fast shipping, visibility on their order, real-time order tracking and delivery updates, easy returns, and whatnot. Here is when last mile optimization comes into the picture. Read on to learn how:
What is last mile optimization?
Last mile optimization is the process of optimizing delivery operations performed during the final journey of a product. These operations include picking consignments from the last distribution hub, planning delivery routes, tracking consignments in real-time, sending delivery alerts to customers, delivering, collecting customer feedback, and managing returns.
The Significance of Last Mile Optimization
To understand the importance of last mile optimization, let's have a look at these interesting statistics:
The global last mile delivery market is estimated to reach $288.9 billion by 2031
56% of online consumers expect to have same-day delivery service
69% of consumers are less likely to shop from a retailer again if their last order was not delivered within two days of the promised delivery date
15% of consumers said they would stop shopping from a retailer after just one late delivery
90% of consumers expect a brand to offer real-time tracking service
80% of consumers wish to receive delivery updates
56% of all abandoned carts are due to shipping-related concerns
66% of consumers wish to have free shipping on their order
66% of consumers want businesses to understand their specific requirements
From these figures, it is evident that last mile delivery plays a pivotal role in business success. And last mile optimization is important to ensure the smooth running of all last mile operations and ensure customer satisfaction.
Last Mile Optimization: 5 Best Practices
1. Have a Proper Plan in Place
Well-planned delivery processes lead to reducing overall last mile costs, increasing business efficiency, and improving overall performance. For last mile optimization, last mile delivery service providers should make a plan that aligns with their customers' (eCommerce companies and retailers) specific requirements. Having a proper plan ensures optimal utilization of resources.
2. Implement Modern Technology
Get a customized tech solution or last mile delivery management solution that matches your business needs. Leveraging technology can help optimize end-to-end last mile delivery operations. It can automate delivery processes while bringing complete operational transparency and visibility.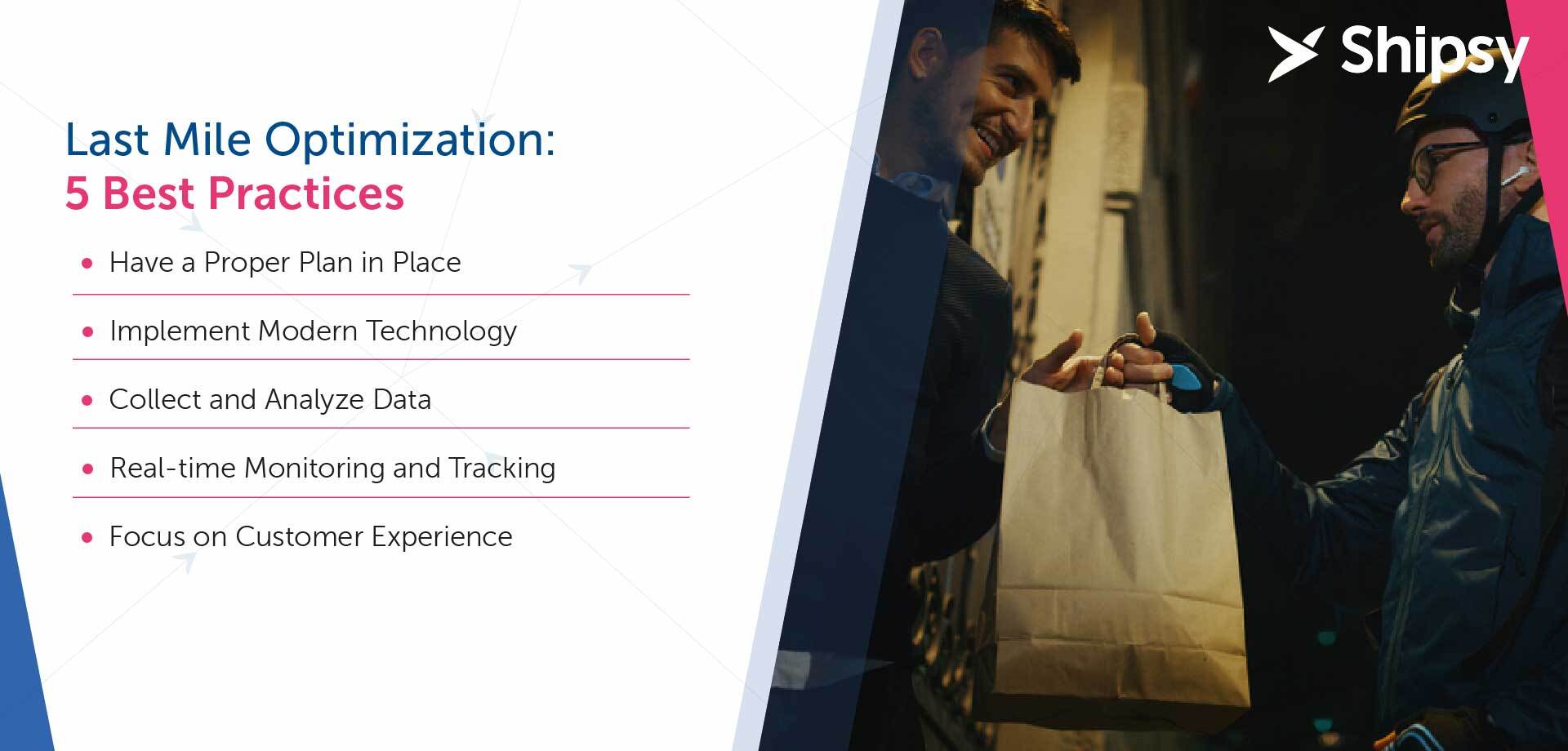 3. Collect and Analyze Data
Collecting valuable data can help understand existing consumer behavior and targeted customers. Moreover, it assists in studying competitors and keeping an eye on the latest delivery trends. By analyzing this data, businesses can also make better last mile decisions to improve customer experience, meet customer expectations, and achieve their business goals.
4. Real-time Monitoring and Tracking
Monitoring both the fleet and drivers in real-time can improve delivery productivity and driver performance. Moreover, it allows businesses to take immediate action in case of vehicle breakdown, an accident, or any other unforeseen situation. Besides, real-time tracking of parcels is also crucial to avoid delivery delays as well as other delivery-related concerns and get accurate ETAs.
5. Focus on Customer Experience
It includes understanding customer behavior and the factors that impact customer experience. Focusing on customer experience helps a business to serve its customers better and increase customer retention rate. Offer them real-time delivery updates, ensure on-time deliveries, provide multiple shipping options, and collect their feedback to improve customer experience.
How can last mile software facilitate last mile optimization?
For last mile optimization, businesses need to implement top tech solutions such as last mile delivery management platforms into their processes. Such a platform facilitates automation, brings operational visibility and transparency, and renders a plethora of other benefits.
Here is how last mile delivery software can help with last mile optimization:
Dispatch and Hub Operations Management
Dispatch management includes segregating orders, assigning a suitable driver and vehicle, AWB generation, label printing, and more. Performing all these tasks can consume a significant amount of time and costs. A smart last mile delivery solution automates the process to save both service time and labor costs. Moreover, it also eliminates the chances of errors that can occur with manual management of operations.
Route Planning and Optimization
The second crucial step in last mile optimization is to plan and optimize delivery routes. Well-planned delivery routes ensure increased driver productivity, reduced fuel consumption, on-time deliveries, reduced vehicle idling time, and improved customer satisfaction. An advanced last mile delivery system considers multiple parameters, including weight and size of parcels, real-time traffic and weather conditions, route history, delivery location and time window, type and capacity of the vehicle, etc., to design an optimal delivery route.
Resource Utilization
Last mile delivery solutions ensure optimal resource utilization with intelligent order clubbing and vehicle capacity utilization that, in turn, maximizes the number of deliveries per vehicle. As soon as a new order is recorded in the system, it assigns delivery to the most suitable vehicle and driver, considering various constraints. The software also designs loading and unloading sequences depending on the delivery order.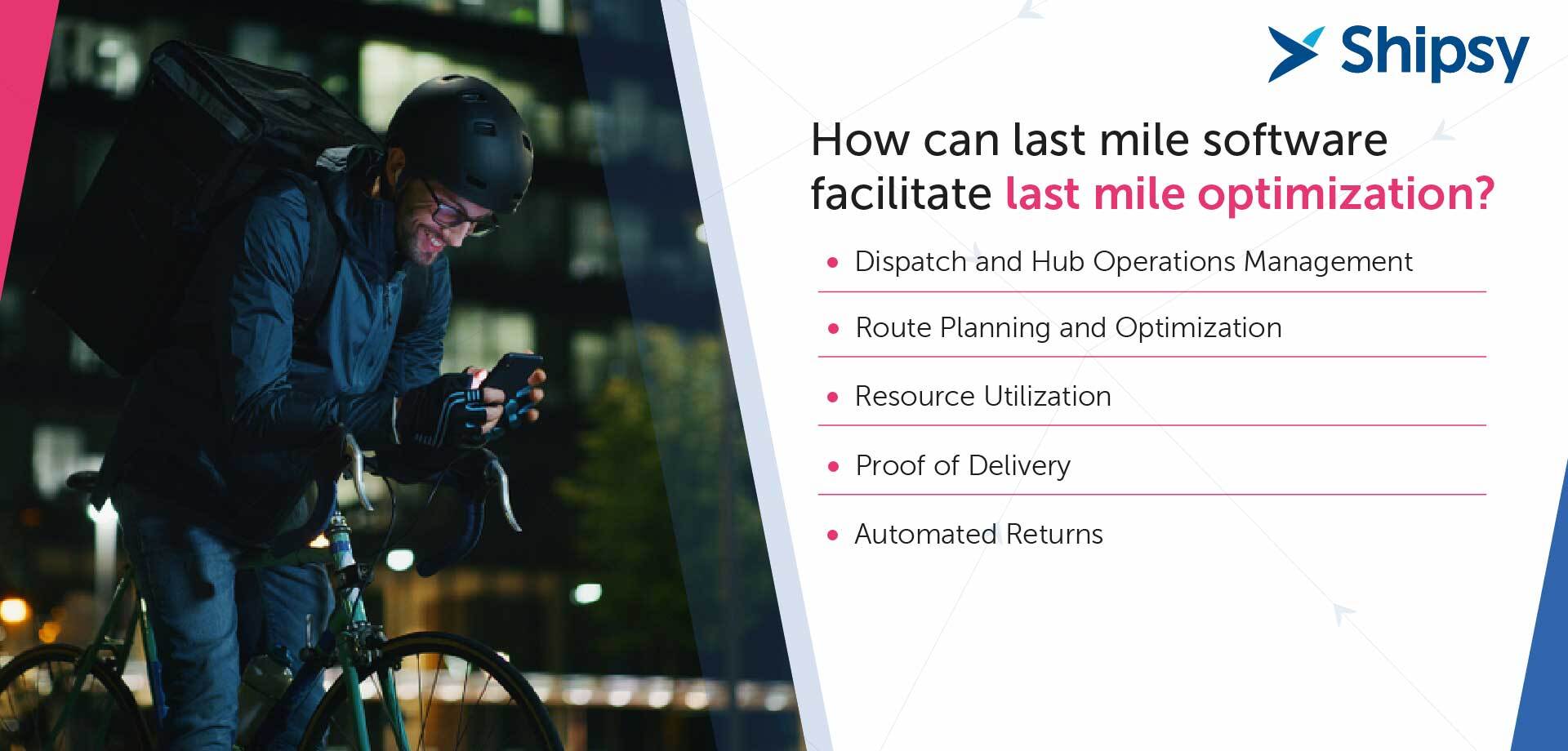 Proof of Delivery
An advanced last mile delivery system facilitates drivers to collect electronic proof of delivery by getting e-signatures or capturing photos of the recipient. Proof of delivery allows a business to deal with fake delivery-related concerns.
Automated Returns
Managing returns are also a significant part of last mile optimization. And the software for last mile management automates this process by assigning the reverse pickup and processing returns via the most efficient route.
Benefits of Last Mile Optimization
Improves Operational Efficiency
Last mile optimization improves operational efficiency by automating delivery operations such as order sorting and allocation, vehicle selection, assigning drivers, and more. It also empowers businesses to leverage data and insights to pinpoint factors that negatively impact operations.
Reduces Overall Last Mile Costs
Efficient route planning and optimization of delivery routes, automation of delivery processes, and on-time deliveries reduces fuel costs, number of returns, and human resource costs.
Facilitates Real-Time Tracking
The software offers real-time visibility on all operations to increase transparency among all stakeholders. It offers a real-time tracking facility to all stakeholders so that they can check the up-to-date status of the package along with estimated ETA.
Improves Delivery Productivity
Last mile optimization facilitates dynamic clubbing of multiple orders to increase delivery productivity, minimize trip volumes, and reduces distance travelled.
Enhances Customer Experience
Last mile optimization offers operational transparency and visibility and helps meeting customer's expectations, which ultimately improves customer experience.
Get Started With Shipsy
Shipsy's AI-enabled last mile delivery management solution empowers businesses to optimize last mile deliveries to meet customer expectations, gain high profit margins, earn customers' trust, and build a positive brand image. The customized SaaS-based solution facilitates effortless last mile optimization and ensures:
14% reduction in last-mile delivery costs
28% decrease in customer complaints
26% increase in delivery net promoter score (NPS)
31% increase in vehicle capacity utilization
28% increase in customer experience
Request for a custom demo today!