Did you experience "failed deliveries", "high return to origin rate", "high shipping cost", "lack of transparency", "inefficient order management", "increased customer complaints", and other delivery-related problems last Black Friday? Despite hiring multiple 3PLs, why were you not able to deliver orders on time or control shipping cost? Well, the main reason behind this could be the inefficient management of your 3PL or use of traditional logistics and transportation management systems.
It's that time of the year again! The time when your business would be receiving more orders than usual (since no one loves to miss those huge discounts every retailer offers during the Black Friday sale). So, why not prepare beforehand to avoid facing troubles like the ones you have faced last Black Friday.
Generally, most of the businesses rely partially or completely on the third-party logistics partner for their shipments. Even if those 3PLs work efficiently, you need measures to monitor their performance and track your consignments in real-time for smooth and hassle-free deliveries. And if you don't pay attention to the same, you might end-up facing delivery-related issues.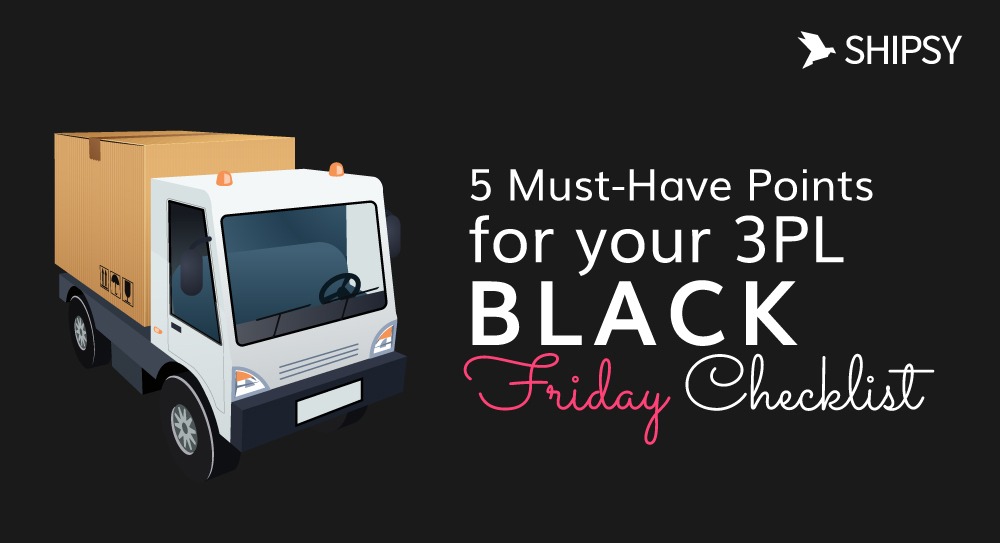 Well, preparing for this Black Friday sale is not only necessary for the retailers that are already there in the market, but also the ones who have just stepped in. To help them both, we have provided five key points that you should add in your Black Friday checklist to ensure no-trouble deliveries, high sales, and 100% customer satisfaction.
Check out these points below:
1. Know your customers
To know your customers' expectations and demands, you can create market surveys. Ask about the products they wish to buy during the sale. Knowing the same in advance would help you to make better marketing strategies and set up the right path for the success of your business. If you don't have a marketing team or professionals to conduct these surveys, then you can also check previous statistics and reports conducted by various agencies to have an idea of the same. You can also use AI-based marketing tools for market predictions.
2. Manage your warehouse
Organizing your warehouse is required to set up pick up and assembly points. Label the shelves clearly to make it easy for every professional, including the seasonal staff you might hire during the Black Friday sale, to know where the products are. Make a report of current inventory and stock up the shelves with the items that are expected to be in demand during the sale.
3. Don't ignore the safety part
This pandemic has made it necessary for every business to pay attention to safety and hygiene. And, when we talk about safety, we include both the safety of your employees and your prestigious customers. To maintain safety and hygiene in the warehouse, make sure you have all the products sanitised and placed rightly.
Also, mark every product clearly and use directional arrows for different departments. Make Covid-19 temperature checks a mandatory process for every person that enters your warehouse. Apart from this, maintain the social distancing rule.
4. Opt for a 3PL aggregator
Having a 3PL aggregator can provide you with a platform to manage multiple third-party logistics partners under one roof. It is imperative to have such a system to automate the order allocation process, track your consignments in real-time, monitor carrier performance, ensure transparency with your customers and 3PLs, and reduce the overall shipping cost.
5. Contactless deliveries
Contactless delivery has become the new way of delivering shipments; it is something no business can ignore. Make sure the 3PL you choose to provide contactless delivery service to ensure the safety of your customers and the delivery agents. It can be done by capturing the photo after placing the order at customers' doorsteps, through an OTP or a delivery confirmation call.
How to implement 3PL software?
3PL software or a 3PL aggregator platform makes a business have complete control over the shipping process. Moreover, it also provides them with a unified booking tracking with end-to-end visibility and clear communication between the merchants, 3PLs, and customers.
Such software come up with various filters to segregate consignments based on volume, delivery location, weight, and other factors, and map them with the right 3PL. It also includes specialized filters to look into shipping issues such as failed deliveries, RTO, and more.
At the 3PL aggregator platform, merchants can also check the delivery feedback provided by customers to monitor the performance of a particular 3PL associated with their business. Moreover, it also allows merchants to track consignments in real-time to know their updated status. Not just the merchants, even your customers will have updated status of their orders. This will help you to reduce RTO.
So, why take the pain of managing 3PLs manually or calling them a hundred times in a day to know the updated status of the consignment, when you can do the same through one software. Get it today from a reliable company such as Shipsy to ensure hassle-free deliveries during the Black Friday sale.
Also Read- Is Your E-Commerce Logistics Ready For The Black Friday 2020?