The eCommerce growth story is universal and it is also an open secret about how eCommerce Logistics or eLogistics is the prime contributor to its success. Be it pre or post-pandemic phase, eLogistics have been consistently playing a vital role in shaping up the global eCommerce business. In fact, it has always been the backbone of the entire eCommerce ecosystem. With an unprecedented spike in eCommerce companies, eLogistics is going through a challenging phase. Every online business now requires more effective and efficient logistics solutions to handle increasing volumes, with more and more customers now preferring to shop online at their convenience.
eCommerce logistics work by providing shipping, packaging, and picking services to online businesses. They also offer a host of other shipping solutions that can help to scale-up businesses and reach out to newer audiences. The only way to optimize logistics operations is to understand how any end-to-end logistics work. With a thorough understanding of various stages of delivery, eCommerce companies can partner with specific logistics firms that will contribute to their growth, or can develop something on their own. On any given day, with zillions of packages shipped across the country, it is important to have a proper technology in place to track them and make sure about their timely delivery.
It all starts with moving inventory from the manufacturer's hub until it reaches to the end customer's destination. In this entire process, eCommerce logistics should sync in functions like inventory management, warehousing & storage, and order fulfillment, in order to operate seamlessly.
How Does eCommerce Logistics Work?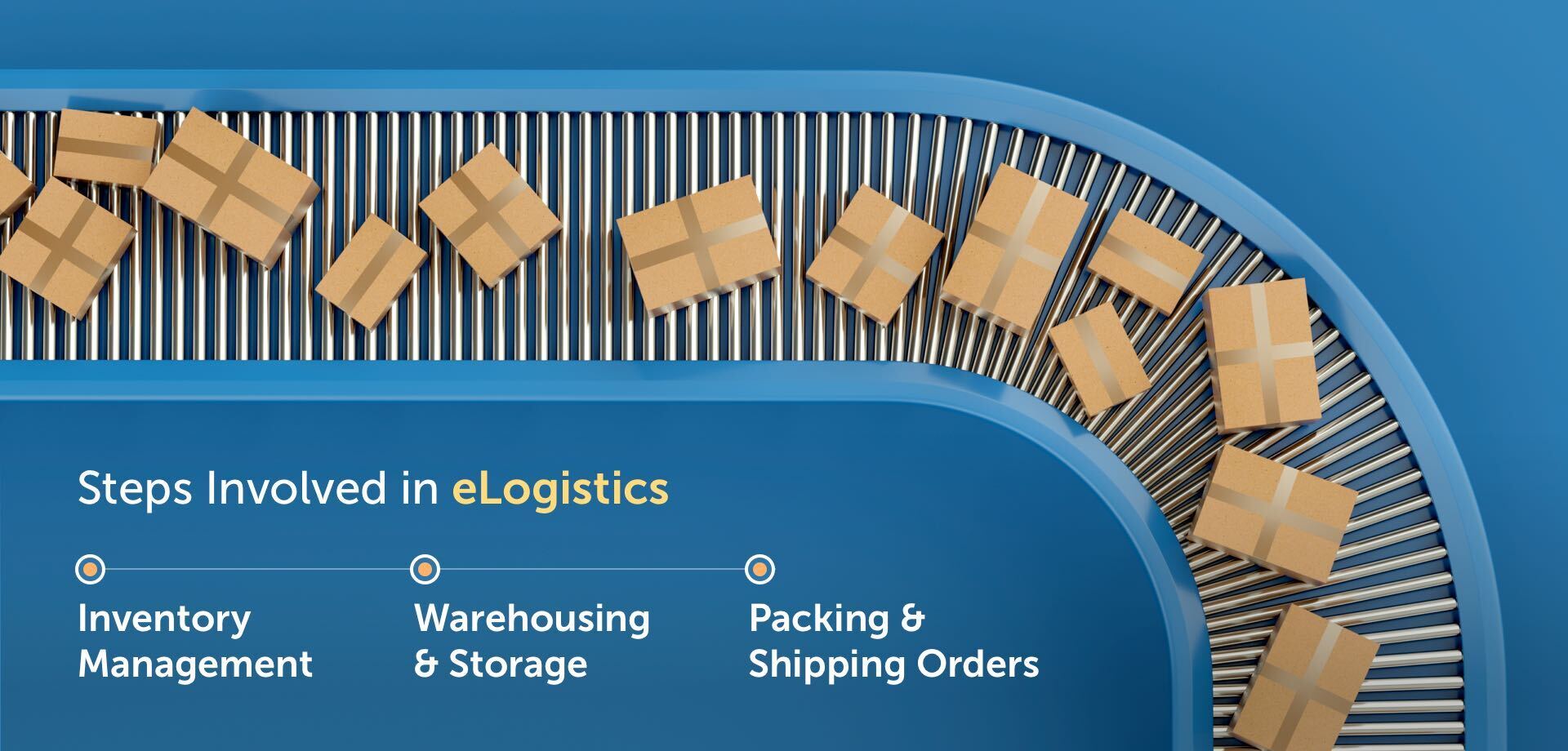 Online customers are impatient and highly demanding. They would love to get their ordered items delivered the same day, if not within a few hours. And to meet these demands, eCommerce logistics infrastructure should be in place, so that you can delight your customers. How you offer expedited shipping solutions without stressing time, resources and investment will carve the path to success.
eLogistics is basically a maze of multi-step, inter-dependent processes which should operate in sync in order to get the online orders delivered to the end customers, well within the promised timeline. Modern eCommerce, thus stresses on digital fulfillment which acts as the most critical part of eLogistics, and consists of the following :
Inventory Management – eCommerce inventory management is essential for the success of the business, it is immaterial if you have one or many warehouses. Things can get out of hand in absence of proper eCommerce inventory management. Proper tracking of merchandise lying in designated warehouses can only help the employees keep up the supply levels according to the current and future demands. Only efficient inventory management can get online orders shipped faster to their destination, thereby cutting the wait time for the customers.
For items such as shoes, apparel, etc which are available in multiple sizes and colors, inventory management becomes crucial in keeping a tab on the stocks of each of those. Only the right inventory management software can track the ordered merchandise from the entire supply chain network and throw the right numbers. Today, the inventory management process can also be outsourced to a reliable 3PL partner, thereby cutting down on the hassle of the eCommerce brands, yet function seamlessly churning out happy customers.
Warehousing & Storage – eCommerce warehousing and managing the same becomes a vital part of any online business. Proper warehouse and store management following some of the best warehousing practices can actually improve the bottom line and thereby provide a great customer experience. Even though the concept of warehousing has a great history, eCommerce warehousing is relatively new and is a highly competitive space. As an online business grows, this eCommerce warehousing and storage becomes very crucial.
It should also be accompanied by a robust eCommerce warehouse management system in order to handle single item orders, and withstand various demand fluctuations. It should also efficiently handle returns, as that's something that is common with any online business. The location of these warehouses matters a lot, as that decides the delivery timeline.
Packing & Shipping Orders – Not to mention, packing the right product in the right box is rudimentary, and once the order is processed, a shipping carrier gets selected simultaneously. At times, options are provided to the customer to select a specific shipping option, but most often, it is the warehouse management system that decides. The order further is collected and packed by an employee who then applies a shipping label to the package.
A lot depends on the packer, as he should be aware of which packaging material to use for which particular product, and what free samples should be included in packets. The slightest of here and there can cause harm to the reputation of the brand. When any eCommerce business utilizes a 3PL warehouse, they would have to ensure that their logistics partner is able to accommodate any personalized packaging request that might come in.
eCommerce Logistics Should Function Efficiently In Both The Directions
Mainly eLogistics flow in forward as well as reverse directions. Forward is when the product moves from the warehouse to the end customer, while the reverse is when the customer returns the product for a replacement or exchange, it has to flow back to the warehouse from the customer.
Hence, when engaging any eCommerce logistics vendor, businesses should give equal attention to both the directions of product movement. It shouldn't be the case that, while a courier company is efficient enough to deliver a product within promised schedule, but when it comes to return pick-up, they are lethargic and take their own sweet time – this might lead to a huge amount of dissatisfaction, as refunds are directly linked with the return. And delayed refund can be an apt reason for driving any customer mad over a business/brand. In fact, for a few categories of online business, the reverse direction is busier than its forward counterpart. As a result, businesses have to be very careful and maintain a well-balanced efficiency while handling both directions.
Forward Direction: eLogistics' forward direction starts with the receipt of the online order. Immediately the items are arranged for, packed and invoiced, dispatched, and finally delivered. From receiving the order to its distribution, delivery time largely would depend on the product availability as well as the consignee location. The delivery charge can be applied basis certain locations. Meantime, it's the seller's responsibility to send out notifications to the customer via SMS / email, so that the movement of the shipment can be tracked. For the COD (cash on delivery) option, the delivery agent should make it a point to collect the payment from the customer.
Reverse Direction: Businesses make every effort to get it right with the shipment of the ordered item. But the incorrect product, damaged piece, unrelated sizes, etc leaves customers with no choice but to return or replace. And the onus is on the logistics partner to pick it up and aid in further processing as per customers' choice. A customer is only delighted when the entire cycle of replacement or refund happens within a reasonable time frame. Hassle-free exchange processes go a long way in developing equity between the customer and the online business-house.
Challenges In eCommerce Logistics
In any eCommerce business, logistics plays a pivotal role when the impetus is on timely delivery. Without a well-managed shipping process, the entire online business is bound to fail. But again, several challenges faced by eLogistics can affect eCommerce business. One has to maintain a balance in retaining customers while remaining competitive in the marketplace. And the pace at which eCommerce growth is happening, constraints are ought to come in its way. Some of them are as follows:
Most customers aren't willing to shell out that extra bucks as delivery charges. Hence, the price at which the product is offered on eCommerce platforms might pose challenges to the logistics partner. At times the product gets abandoned in the shopping cart and doesn't get converted. One has to do a tight rope walk and maintain a balance so that customers don't feel that they are overcharged.
Getting a product ready to ship and deliver from the moment an order is received should happen as fast as possible. Consumers are impatient and want it at their doorstep right away. These are the customers who are even ready to pay extra for faster delivery. Here, it is important to offer several offers in accordance with the various needs of the customer.
There's a cost involved in returns and exchanges claimed by customers. This should be handled and controlled by the logistics provider. Of late, this has gained considerable weight and has forced businesses to optimize this reverse flow. Merchants are looking for a low-cost solution to cope with this. Customers would want to return or exchange for free which means the business is burdened with the additional operational cost.
Current consumers are environmentally conscious, which means logistics partners should use biodegradable or eco-friendly packaging material. Using oversized packaging is also not accepted by the customers. Hence, packaging types and materials are something that cannot be discounted. To some extent, this also adds to the cost.
How Is Technology Transforming eCommerce Logistics?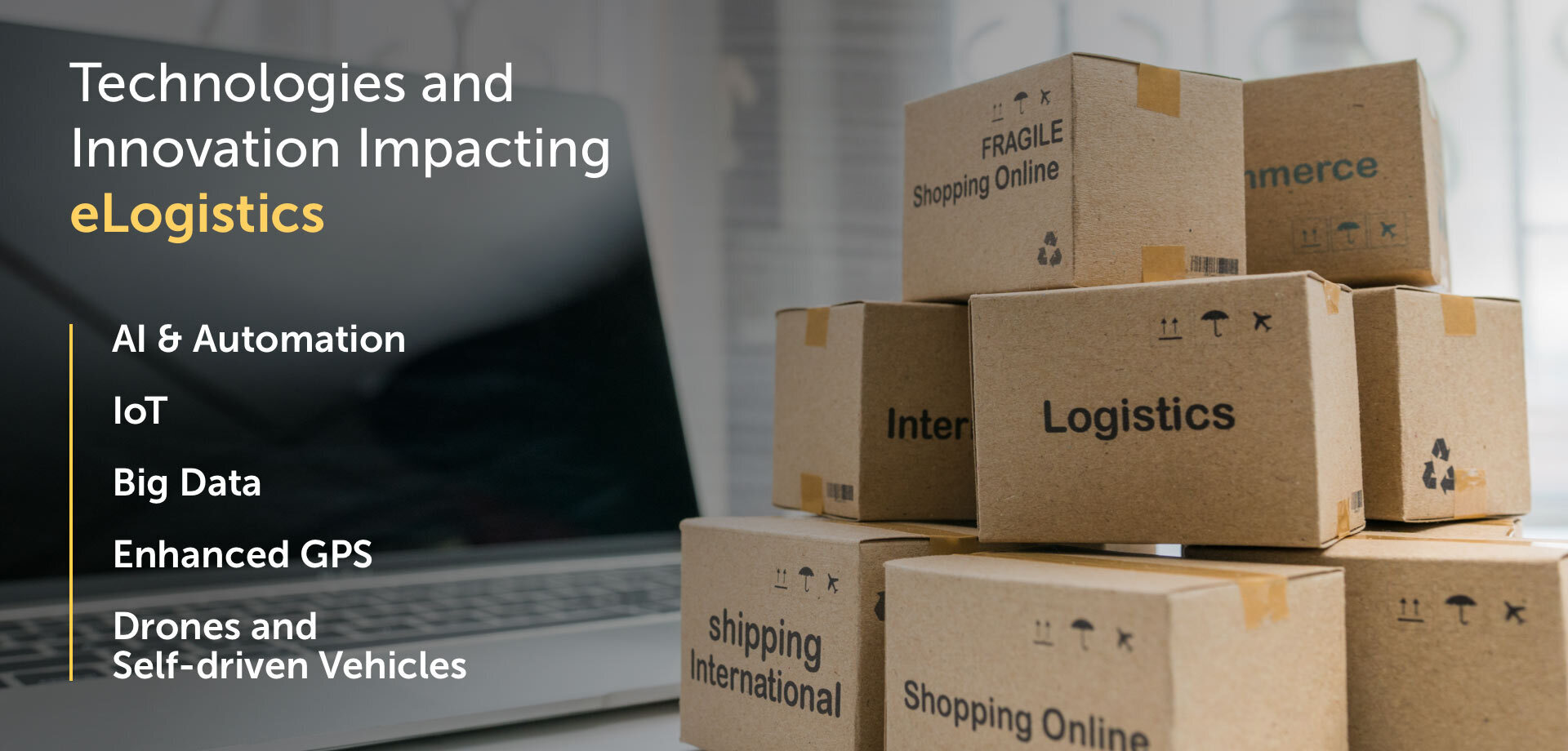 eLogistics and eCommerce are inexplicably entwined. The introduction of new advanced technologies, increased customer expectations, a highly competitive market, and other macro-economic factors are shaping up the future of eCommerce Logistics. With increased penetration of smartphones and cheaper data plans, online shopping has surged over the years, as a result, eCommerce firms are also leaving no stones unturned to ride this wave and meet sales volume and in this joy ride technology is definitely helping them to achieve some wonderful numbers. The technological innovations in this sector will continue to push the boundaries of supply-chain processes. Following are the areas where technology innovations are impacting eLogistics in a significant way.
AI and Automation – Today AI (Artificial Intelligence) is helping many sectors to enhance efficiency and eLogistics is just one of them. It is aiding in warehouse management, supply chain, and return management. AI algorithms are helping eLogistics agents in planning and predicting shipping activities, thereby improving last-mile deliveries in a big way. In turn, it is generating happy customers.
IoT – The Internet of Things or IoT is helping logistics in a big way. IoT-enabled automation is commonly used in tracking shipments by utilizing geolocation data. By analyzing historical data, many logistics operations can be streamlined through IoT. It is also used in RFID tags, networks with low voltages, satellite trackers, and many more, thereby helping eLogistics firms to have real-time data, analyzing which generates insights that can enhance overall functioning.
Big Data – With a surge in online shopping there's an increase in unprecedented supply chain data, and the only way to manage this voluminous data on a real-time basis is Big Data. The ability of this technology to efficiently manage large amounts of data with every detail will help mitigate risk. Using Big Data, eCommerce Logistics firms can learn the pattern and trends which will further help them to predict and forecast the overall situation and plan logistics accordingly for efficient output.
Enhanced GPS – GPS devices have been revolutionary in the logistics sector. Every vehicle and smartphone of eCommerce logistics is loaded with GPS, which has drastically improved last-mile delivery. It helps drivers to optimize their routes and get real-time traffic updates. Through GPS the vehicles can also be monitored on a real-time basis.
Drones and Self-driven vehicles – Drones and driverless vehicles are changing the modus operandi of the supply chain industry. Aerial delivery of lightweight packages via drones is not only saving time but is likely the future of eLogistics. Its ability to pick up and drop off at adhoc locations is being utilized by a handful of service providers but will soon be seen across. Self-driven vehicles on the other hand are making the right noise in the logistics industry. Moving from manned to unmanned vehicles gives the opportunity to operate 24/7 thereby enhancing the efficiency and possibility to execute timely delivery of shipments.
To know how smart logistics management tools can help you scale cross-border e-commerce deliveries, click here.
In A Nutshell
It is not rocket science to crack the code of delighting your customers. A successful delivery experience definitely leaves a positive impact on the customers which might lead to customer retention and generate positive word-of-mouth. This is exactly where eLogistics play its role as a hero in disguise. Be it in-house or third-party, eCommerce companies have to do a tight rope walk and balance a lot many factors to get it right and develop strong brand equity. Speed, punctuality, flexibility, professionalism, and competitiveness should be embedded in the DNA, alongside being transparent and traceable, and providing prompt empathetic customer service will take it a long way.