According to research, the freight management system market is projected to reach USD 17.45 billion by 2023. This number was USD 10.76 billion in 2018. Some driving forces behind this growth are the demand for minimizing transit time, increasing supply chain visibility, and improving customer experience. Another big reason behind these spiking numbers is the inclination of businesses towards digitalization or adoption of technology in freight management processes. Let's read about the freight management and freight management software in detail-
What is freight management?
Freight management looks after transporting goods from source to destination at the right time and price. The complete freight management lifecycle includes planning, tracking, and moving shipments or freights from one point to another. It could be between cities or countries. Freight managers choose to transport freight via rail, road, ocean, or air. Using more than one mode of transportation for shipping freight is known as intermodal transportation.
Why is freight management important?
Be it manufacturing, retail, e-commerce, or logistics, almost all businesses require moving shipments or freights from one place to another. And freight management ensures that each freight delivers at the right time and the minimum cost possible. It also guarantees damage-free transportation of cargo at the right location and in the right quantity.
Key Challenges Associated with Freight Management
Like the other stages of the shipment management lifecycle, freight management might also be challenging for businesses. Some of the common challenges include-
Poor operational visibility
Inability to track freight in real-time
Demurrage, detention, and incidental charges
Inability to maintain freight safety and security
Lack of communication between stakeholders and internal teams
Lack of resources and technology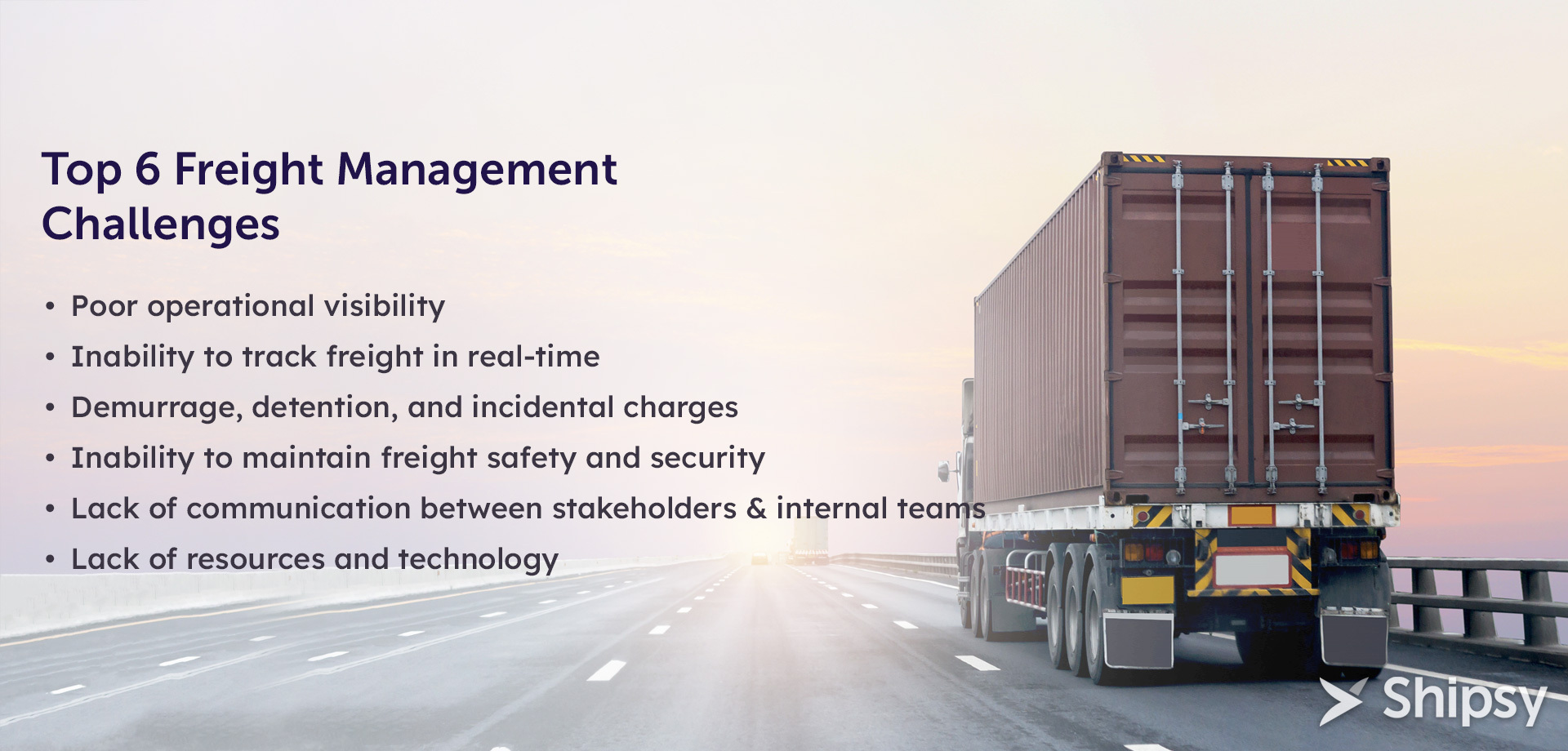 What is freight management software?
As aforementioned, freight management includes freight planning, freight tracking, and freight transportation. To execute all these processes systematically, a business must have adequate resources such as a well-trained workforce, a fleet of vehicles, and a platform to establish communication between the stakeholders.
A freight management software automates all these processes to minimize the requirement of resources for freight management. From freight procurement, freight tracking to freight transportation, it digitizes everything. Merely by hiring a dedicated manager, a business can efficiently manage all freight-related operations and ensure on-time delivery of goods.
Benefits of a Freight Management System
Manually managing freight-related operations can eat up a significant amount of time and costs. Besides, it can also lead to various other challenges mentioned earlier in this blog. Therefore, businesses are integrating freight software or automated freight management systems in their ERP systems to-
Minimize the overall transportation time and freight costs
Improve supply chain visibility and operational transparency
Deliver an unmatched customer experience
Reduce order-to-ship time
Make sure safety and security of the cargo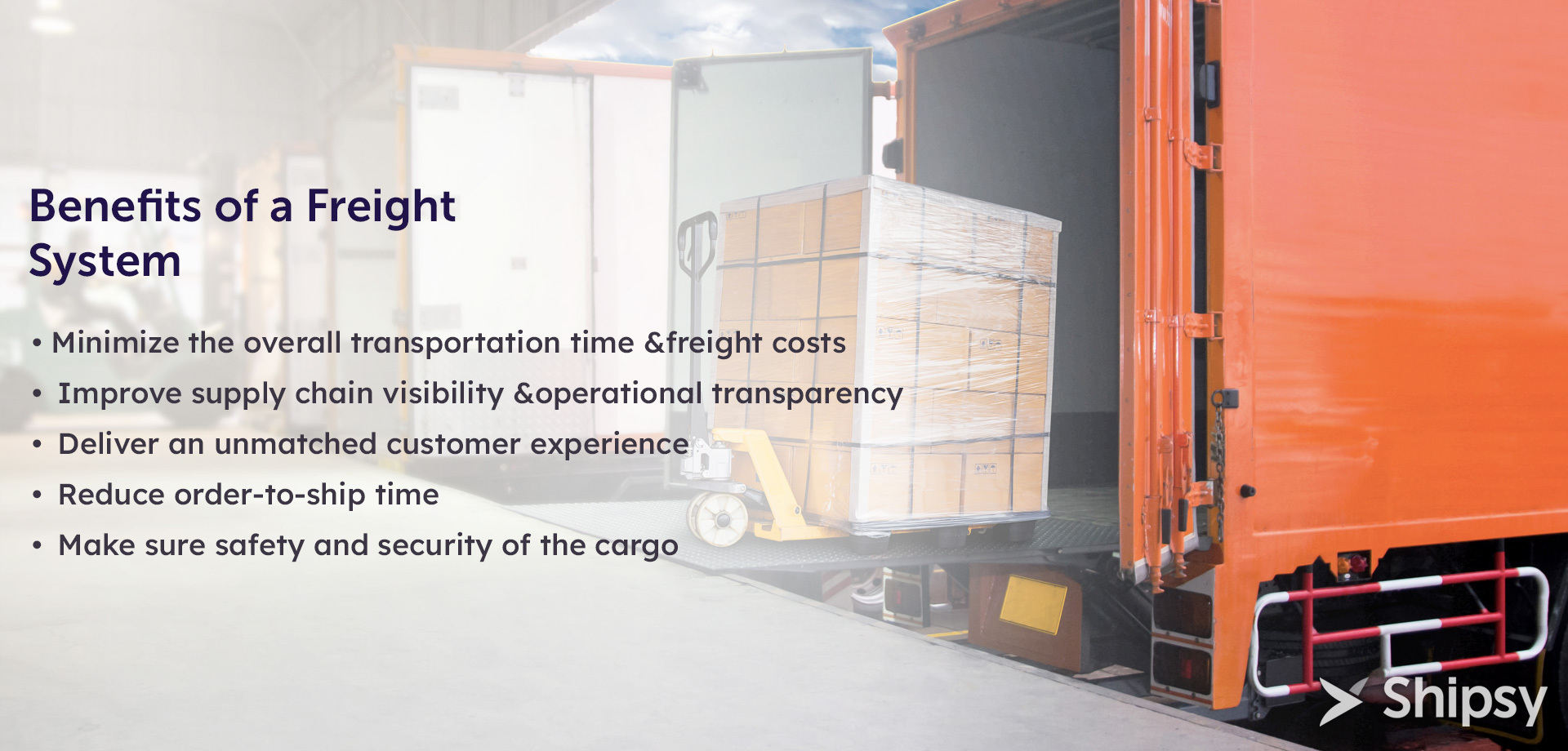 How to choose the best freight software?
To get the best freight forwarding software for your business, keep the following points in mind-
Easy integration and quick deployment
For quick deployment, choose a cloud-based freight forwarding system. Such software takes no time for deployment. All you have to do is provide your specific business requirements to the software provider, and the provider will customize the software and deploy it in no time. Another thing that requires attention is the integration of the software into your existing ERP. It should streamline the freight operations rather than disturbing the current workflows.
Digitized RFQ system
The software should offer an automated RFQ (request for quote) management system to make you create precise RFQ (Request for Quotation) for sourcing freight rates. Moreover, it should also make it easy to send that RFQ to different vendors for bidding.
Scalability
Every business has goals for expansion and growth; therefore, get a freight management system easy to scale up. Scalability is also needed to handle a large volume of orders during peak seasons. Choosing SaaS-based or cloud-based software would serve this purpose perfectly.
Dedicated freight forwarder portal
The freight forwarding software should have a dedicated portal for freight forwarders. The portal would help them to get RFQs, freight-related inquiries and check their ranking in the entire bidding process.
Insights and analytics
Make sure the automated freight system you choose comes with the insights and analytics feature. It would help you to identify anomalies and redesign your freight management strategies. Moreover, it would also make it easy to analyze the performance of your shipping carrier, predicting future demands, and more.
Round the clock customer support
While choosing a cloud-based freight management system, it is good to ask your provider about the customer support service. Make sure they have a dedicated support team ready to answer your queries at any hour of the day.
Real-time tracking
The software should provide the facility to track freight in real-time. The feature should be accessible to all stakeholders. It would help you bring transparency to your processes and delight your customers by offering them the control over their order.
Also read- Embracing Next Gen Shipment Tracking Software: All You Need To Know
Besides the aforementioned features, the software should include raise inquiry, RFQ module, spot inquiry module, rate discovery module, and check vessel schedule.
Freight software minimizes the paperwork and automates the majority of freight-related operations. It contributes to increasing operational efficiency and transparency in the operations. Moreover, it helps businesses and freight forwarders streamline freight management while accelerating the workflows and offering complete visibility and control.