The logistics industry in Malaysia has experienced rapid growth and is expected to demonstrate a CAGR of 4.5% by 2027. This growth can be attributed to several key drivers, including the expansion of e-commerce, the increasing importance of cold chain logistics and last mile delivery services, and intensifying global trade operations. All these factors are driving the need for efficient and intelligent last mile delivery solution in Malaysia.
While the rising competition, growing demand for diverse delivery types, and increasing global trade are emerging as attractive opportunities, colossal gaps between process and multiple stakeholder management and poor efficiency are putting businesses in the rethink mode. Hence, businesses are keen on investing in logistics infrastructure and adopting new technologies to unlock efficiency, cost savings, and higher CX.
Below, we discuss ten powerful reasons businesses must adopt smart last mile delivery solution in Malaysia as well as the benefits they can unlock by doing so. We also discuss the key challenges and the current last mile delivery landscape in Malaysia.
Last Mile Delivery in Malaysia – Current Landscape
#1 – Increasing Delivery Costs
With the rise of eCommerce shopping and on-demand deliveries, businesses are struggling with poor profit margins. While the legacy logistics providers are still having the same old delivery and business models, newer delivery models are giving free delivery. Hence, the legacy service providers are either resorting to cutting costs or reducing the quality of service.
However, neither of these steps is beneficial in the long run as they degrade the employee and customer experience respectively. Further, a majority of businesses are working without adequate resources and technical know-how, which makes it hard to invest in new technologies and last mile delivery solutions in Indonesia.
#2 – Rising Customer Expectations
With the rise of eCommerce models and the on-demand delivery segment, customers are increasingly expecting the brands to deliver the same level of service as in a physical store – effortless and seamless delivery. They expect their goods to be delivered punctually, and preferably on the same day as the order is placed.
However, orchestrating such fast deliveries comes at the expense of logistics service providers as they have to shell out resources for facilitating these services. Further, being unable to manage the planned, scheduled, and on-demand deliveries, routing, rider allocation, etc., in an optimal manner leaves the logistics ecosystems crippled with inefficiencies and cost bleeds.
#3 – Poor Management of Failed Deliveries and Re-Attempts
Deliveries can fail due to multiple reasons – the customer is not available, the customer refuses the delivery, the order got canceled during mid-mile, parcel theft, and more. Further, in many cases, the riders have to re-attempt the deliveries. Many cases of delivery frauds, where riders intentionally opt for delivery re-attempts, have also been reported.
All these events lead to high operational costs. Again, in a manually managed system, businesses have no way to manage, track, control, or monitor the riders/orders and customers in real-time or measure the entity's behavior in real-time. Thus, right from consolidation to routing and delivery management to returns management – businesses struggle with inefficiencies.
#4 – The Great Technology Gap
While the logistics automation scene is improving in Malaysia, businesses are unable to find highly flexible, scalable, and intelligent solutions for last mile delivery in Malaysia. The market is teeming with multiple standard delivery management or logistics management solutions that solve challenges with a – one-size-fits-all approach.
Hence, even if businesses opt for technology, they end up with siloed operations, disparate business components, poor visibility across the entire ecosystem, and absolutely no data analytics capabilities.
Apart from all these challenges, the Malaysian logistics and freight management sector suffers from poor trade management policies, a fragmented industry, and inefficient resource management that also has a bad impact on the environment.
Now that we have had a look at the various challenges let us move on to discuss the how investing in a smart and reliable last mile delivery solution that comes with AI/ML capabilities can be of help to Malaysian businesses.
Ten Ways Intelligent Last Mile Delivery Solution in Malaysia Can Transform Your Business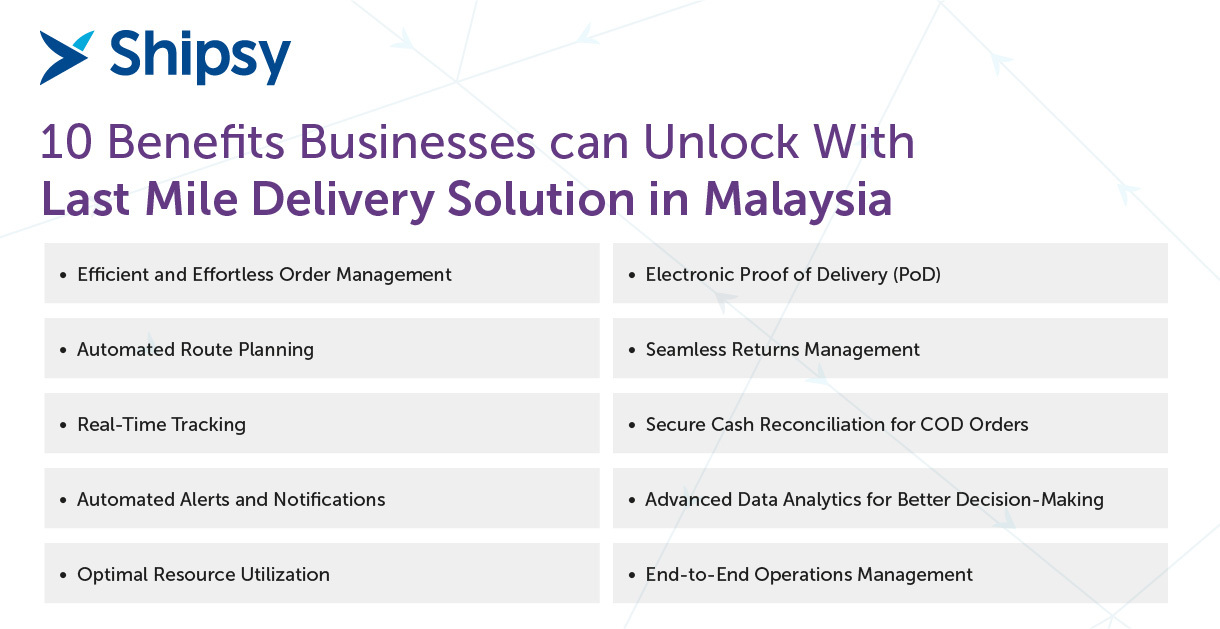 #1 – Efficient and Effortless Order Management
Last mile delivery solutions can come with smart in-built algorithms for order capture, allocation, real-time tracking, and many other granular management functionalities. Businesses can leverage smart functions such as auto-dispatch management, rider/vehicle prioritization, and working with multiple 3PLs and fleet partners or freelance riders to unlock more cost savings.
They can club multiple orders, schedule bulk order processing for planned deliveries, and also club returns with pickups/deliveries to unlock higher efficiency.
#2 – Automated Route Planning
Intelligent last mile delivery solution in Malaysia, such as Shipsy, come with powerful route planning and optimization engines, which help generate highly optimal routes for multiple types of deliveries. The engines plan a circuit keeping multiple factors in mind and can be configured by the user as well in a no-code format.
All the addresses are automatically converted into geo-coordinates for improved accuracy and all the assets (riders and vehicles) can be geo-fenced to multiple locations for improved control and real-time monitoring. As a result, businesses are no longer affected by empty miles, idling, fake delivery attempts, etc.
#3 – Real-Time Tracking
Another impressive advantage is real-time tracking, which enables businesses to track all the shipments/orders/rider/vehicles in real-time from a single dashboard in a highly intuitive manner. They can check which order is located exactly where and can also configure the solutions to send automated triggers and alerts to the customers with key milestone events and updates.
#4 – Automated Alerts and Notifications
Delivery alerts are notifications sent via email, text messages, or WhatsApp to customers to keep them informed about the status of their order, from the point of purchase to delivery. Examples of delivery alerts include "Your order has been picked", "Your order will be delivered tomorrow", and "Your order has been delivered".
These alerts improve customer engagement, drive better delivery experiences, reduce the number of customer support calls, reduce the rate of RTO and re-attempts, and more. Further, these alerts can be configured for automated sending to multiple stakeholders in a relevant and timely manner.
#5 – Optimal Resource Utilization
Intelligent last mile delivery solutions come with asset optimization routines that help businesses improve multiple logistics components, such as vehicle capacity, vehicle costs, riders, rider costs, and more. This reduces operational costs, improves asset utilization, and ensures high efficiency.
Businesses can set specific parameters for the selection of vehicles, riders, and fleets for specific areas, orders, etc. They can also leverage smart 3PL management routines for improving the overall supply chain efficiency.
#6 – Electronic Proof of Delivery (PoD)
Capturing Proof of Delivery (PoD) is crucial for effective last mile delivery management. Utilizing last mile delivery software, businesses can capture PoDs through various channels and methods, including sending notifications to customers via SMS, chat, or email to verify delivery failure, replacement, or return reasons.
This helps to prevent fraudulent delivery attempts and improve customer experience. Additionally, businesses can request customers to provide images and OTPs as proof of damage or delivery, configure rider apps to ensure delivery completion before moving to the next task, and require riders to select a pre-defined reason for canceled, failed, or returned deliveries.
#7 – Seamless Returns Management
Effective management of returns is a challenge that can hinder the success of last mile delivery. However, this issue can be addressed through a smart last mile solution that automates the returns process and generates real-time return requests.
When a return request is received, the system promptly assigns a driver who is nearby to handle the pickup. This can be done even more efficiently by clubbing the returns with deliveries/pickups to improve asset utilization and reduce overall costs. By efficiently managing returns, businesses can improve their financial performance and enhance customer satisfaction.
#8 – Secure Cash Reconciliation for COD Orders
Cash reconciliation and driver payout management are major challenges associated with COD orders. The lack of automated cash management and digital payment capabilities for COD orders results in reduced transaction transparency, increases the risk of fraud and leads to empty miles when riders return to the warehouse for cash reconciliation and payout settlements.
Businesses can address these challenges by leveraging smart last mile delivery solution in Malaysia. These solutions automate cash and rider payout management, as well as invoicing, billings, claim settlements, and incentivization, to enhance work productivity. Digital payment options for COD orders can also be offered, allowing for rider payout settlements against the cash collected, thus reducing cash risks and empty miles.
#9 – Advanced Data Analytics for Better Decision-Making
Another key advantage of last mile delivery solution is data analytics and the ability to create easily digestible data visualizations. By transforming complex data sets into visual representations, businesses can quickly identify trends, patterns, and outliers. These insights can then be used to make data-driven decisions that improve efficiency and drive growth.
With advanced data analytics capabilities, businesses can process and analyze large volumes of data in real-time to gain valuable insights into their operations. These insights can be used to optimize delivery routes, improve warehouse management, and enhance customer service, among other things.
#10 – End-to-End Operations Management
As the face of last mile delivery changes and customers expect multiple delivery types with preferred delivery slots, businesses are looking for ways to manage all kinds of operations, business components, and deliveries from a single dashboard. This would not only help in minimizing errors, but it would also help in unlocking the most optimal utilization.
Using an AI-powered last mile delivery solution in Malaysia can facilitate all this as well as end-to-end delivery orchestration for a highly streamlined last mile segment.
Choose Shipsy – The Best Last Mile Delivery Solution in Malaysia
Shipsy is a leading logistics automation and management platform that offers a wide range of solutions for last mile, mid-mile, on-demand, q-commerce, and many other types of deliveries. We also help manage diverse logistics operations and processes across multiple industries and offer a comprehensive suite of features via a single dashboard.
We help businesses with advanced functionalities, such as optimized asset utilization, vehicle utilization, and order allocation, to help them reduce transportation costs. We also offer advanced data analytics and visualization capabilities to empower businesses with data-driven insights into organizational and process data to unlock:
14% decrease in last mile delivery costs
28% reduction in customer complaints
26% increase in delivery NPS
To learn more about intelligent last mile delivery software in Malaysia, please contact our experts and schedule a customized demo today!