Skyrocketing customer demands, lack of actionable insights, growing carbon emissions, intensifying cross-border logistics activities, and disruptions triggered by the quick commerce industry remain critical concerns for supply chain stakeholders. Let's get a detailed view of these logistics challenges that need immediate attention.
Rapidly Evolving Customer Demands in B2B & B2C Segment
In the B2B segment, the global manufacturing industry must rapidly ramp up its efficiency and performance levels to meet customer expectations. Faster time-to-market, reduced defect rates, and highly customized products will play a pivotal role in fulfilling customer expectations. This introduces a whole new dimension of having a 'lot size of one.' In other words, manufacturing and delivering products based on the specifications of individual end-customers. It will also alter how manufacturers and logistics service providers (LSP) manage and execute the first, middle, and last-mile operations. Integrating data analytics with social supply chains to boost logistics visibility, traceability, predictability, and profitability are critical components businesses must work on.
The B2C space is no less challenging. To scale deliveries and boost serviceability, it's imperative that retailers and eCommerce brands will partner with multiple LSPs. But more often than not, shippers are not a part of the branded purchasing experience. On the other hand, consumers are shipper-agnostic—they do not care who will deliver their parcel. Their focus remains on getting their orders delivered on time, in the shortest duration possible, and in the most economical manner. To truly leverage customer experience as a competitive differentiator, businesses need to deploy modern strategies that drive unified customer experiences.
Lack of Digital Culture
According to PWC, although 90% of transportation and logistics businesses say data and analytics are vital, 50% of such companies agree that 'lack of digital culture' remains the 'biggest' challenge. The need to digitize logistics operations has never been this acute. The inability to leverage data analytics is stalling logistics-powered businesses from accurately forecasting demand, improving on-ground performance, servicing customers better, enhancing route planning, identifying opportunities to optimize costs, and measuring incremental improvements in everyday logistics operations.
Making Logistics Sustainability Economically Viable
Sustainability is a mainstream issue now. End consumers gradually prefer brands that manufacture, source, and sustainably deliver products. Investors are getting more inclined towards working with businesses that adhere to ESG policies. According to the MIT Centre of Transportation & Logistics, 23% of companies say there has been increased pressure from investors to improve supply chain sustainability. Having said that, it's difficult to deliver on long-term sustainability goals without mapping them with direct economic benefits. Businesses will need to chalk out digital supply chain strategies that significantly reduce miles traveled per package and ensure that whatever miles are being traveled are greener than before. Doing this will ultimately result in cost savings in the guise of lesser fuel consumption, lower trip volumes, increased usage of electric vehicles and bicycles, less packaging, and greater capacity utilization. According to research, by replacing 180 motor scooters with e-bikes, businesses can achieve approximately 85% cost savings and reduce up to 100 tonnes of CO₂ emissions annually.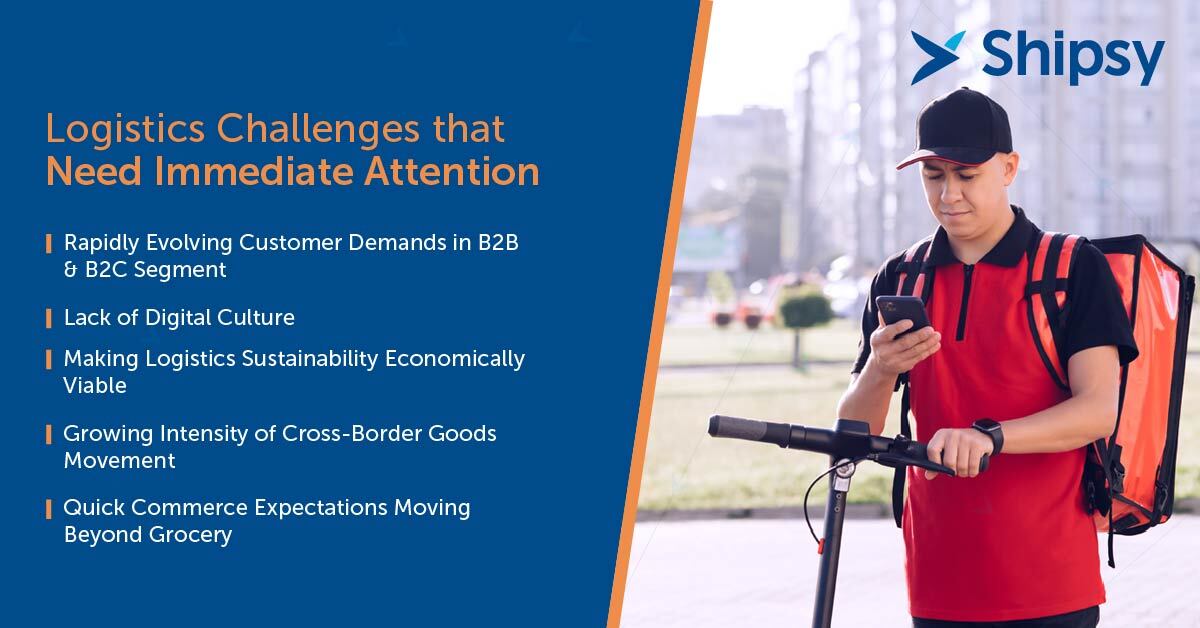 Growing Intensity of Cross-Border Goods Movement
The rapid adoption of mobile-based purchasing platforms, enhanced connectivity, improved logistics operations, multiple payment options, and growing customer ambitions are vital factors blurring international boundaries. According to Forrester, cross-border purchases will soon comprise 20% of all worldwide eCommerce, with sales of $627 billion. The Asia Pacific region will become the largest cross-border eCommerce region for imports and exports. A Statista report highlighted that maritime shipping is the backbone of world trade, as nearly 80% of all goods are carried by sea. Such massive demands will further add to growing spot rates, insufficient availability of containers, driver shortages (especially in Europe and America), port congestion, and shipping delays. To mitigate the impact of these challenges on supply chain networks and customers, businesses will need to rethink logistics planning. They must work towards gaining 100% real-time visibility of shipments, eliminate manual redundancies, better predict demand and lower cost leakages triggered by inefficient carrier selection, shipment delays and incidental charges.
Quick Commerce Expectations Moving Beyond Grocery
The quick commerce industry is redefining how brands perceive "instant gratification." From same-day to one-hour and now less than 30 minutes, on-demand delivery windows are shrinking fast, and businesses must embrace intelligent technologies to navigate this lucrative space successfully.
According to RedSeer, the quick commerce industry will clock a growth of 10-15 times in the coming five years and become a $5 billion market by 2025. As of now, these numbers are fueled mainly by online grocery purchases, but soon quick commerce will percolate into food, apparel, electronics, and medicines. In other words, it's only a matter of time before the on-demand delivery industry will witness customers expecting their pizza, smart devices, shirts, and probiotic capsules to be delivered in record time. These expectations will make traditional logistics, especially route planning, redundant. Using Machine Learning and AI, brands will need to unearth routes and task sequences that reduce the distance traveled and optimize the number of pickup and delivery tasks completed in a single trip. Another key challenge that retailers and hyperlocal businesses need to address is ensuring strategic placement of dark stores so that deliveries within a certain radius are executed faster while keeping inventory costs low. 
To know about the top supply chain trends for 2023, click here.
Pivoting these challenges necessitate technological intervention. Smart logistics management platforms can enable businesses to maneuver their operations from reactive to proactive, gain a competitive edge, and be future-ready.