We have all had that feeling of excitement whenever we get notified that our order is out for delivery. However, in the age of digital connectivity, this notification still does not provide us with a clear picture of the precise location of the order, in many cases. The need for real-time logistics visibility becomes apparent in this situation. Businesses today understand the importance of keeping their customers informed at every step of the journey for an enhanced buyer experience.
Gartner states that 38% of organizations in the logistics sector are continuously looking to improve their supply chain and end-to-end processes. Organizations are prioritizing logistics visibility to keep the customers informed with up-to-date information.
With greater logistics visibility, you can subsequently increase the value of the entire supply chain, speed up operations, reduce expenses, increase profit margins and pave the way for a positive customer experience.
In this blog, we will explore the significance, benefits, and transformation that real-time logistics visibility brings.
What Is Real-Time Logistics Visibility?
Real-time logistics visibility is the process of using technology to get detailed information about the movement of goods through the various phases of the supply chain, right from sourcing to delivery. Real-time data is transferred to a cloud-based software application, which centralizes and arranges the data for easy access by all stakeholders.
Right from order movement to asset tracking and vehicle monitoring to ensuring automated control over the movements via a single dashboard – real-time logistics visibility facilitates robust management and instills efficiency in the logistical ecosystem. As businesses track and trace orders in real-time, they can gain a competitive edge, improve transparency, reduce overall expenditure, etc.
Why Is Real-Time Visibility in Logistics Important?
The logistics supply chain is a complex process. Attaining real-time visibility into the operations is imperative for complete awareness of the shipments at every step of the supply chain for multiple reasons and benefits, some of which are shared below.
Automation
Businesses can leverage AI and ML to process enormous chunks of data, identify potential loopholes and risks and take predictive action accordingly. Having access to real-time data is also crucial to making changes on the go as per business needs.
Preparation
Real-time visibility enables enterprises to identify patterns across their data set. Any potential roadblocks, as well as industry trends, are mapped out easily. With AI-enabled algorithms, businesses can now predict a surge or dip in incoming orders and develop strategies accordingly.
Collaboration
Every stakeholder in the logistics process is updated with real-time updates via a unified platform. This provides greater transparency and accountability to each party involved, resulting in enhanced productivity.
Efficiency
Logistics management solutions allow businesses to overcome organizational silos and communicate more efficiently for instant resolution of challenges.
Reliability
Real-time data presents stakeholders with a single source of truth. Businesses can make smarter decisions based on the analysis and according to their enterprise needs. The decision-making becomes quicker and more dependable since they are backed by facts.
Customer Experience
Real-time logistics visibility allows customers to keep track of their orders at every step. They are notified of important milestones via live updates on the delivery progress. Smart logistics platforms also provide the option to make last-minute changes to delivery preferences, and riders are notified on the go.
Tracking Fake Deliveries
Having real-time logistics visibility means accurate ETAs, real-time drivers' performance analysis, and constant monitoring of the fleet throughout the journey. Rider activities are kept in check with real-time tracking by identifying vehicle stops and idling. This is very critical to ensure that deliveries do not get delayed and reach on time.
Since the customer is informed at every step, they are provided with an e-receipt once the delivery is completed to tackle fake delivery attempts.
Benefits of Real-Time Visibility in Logistics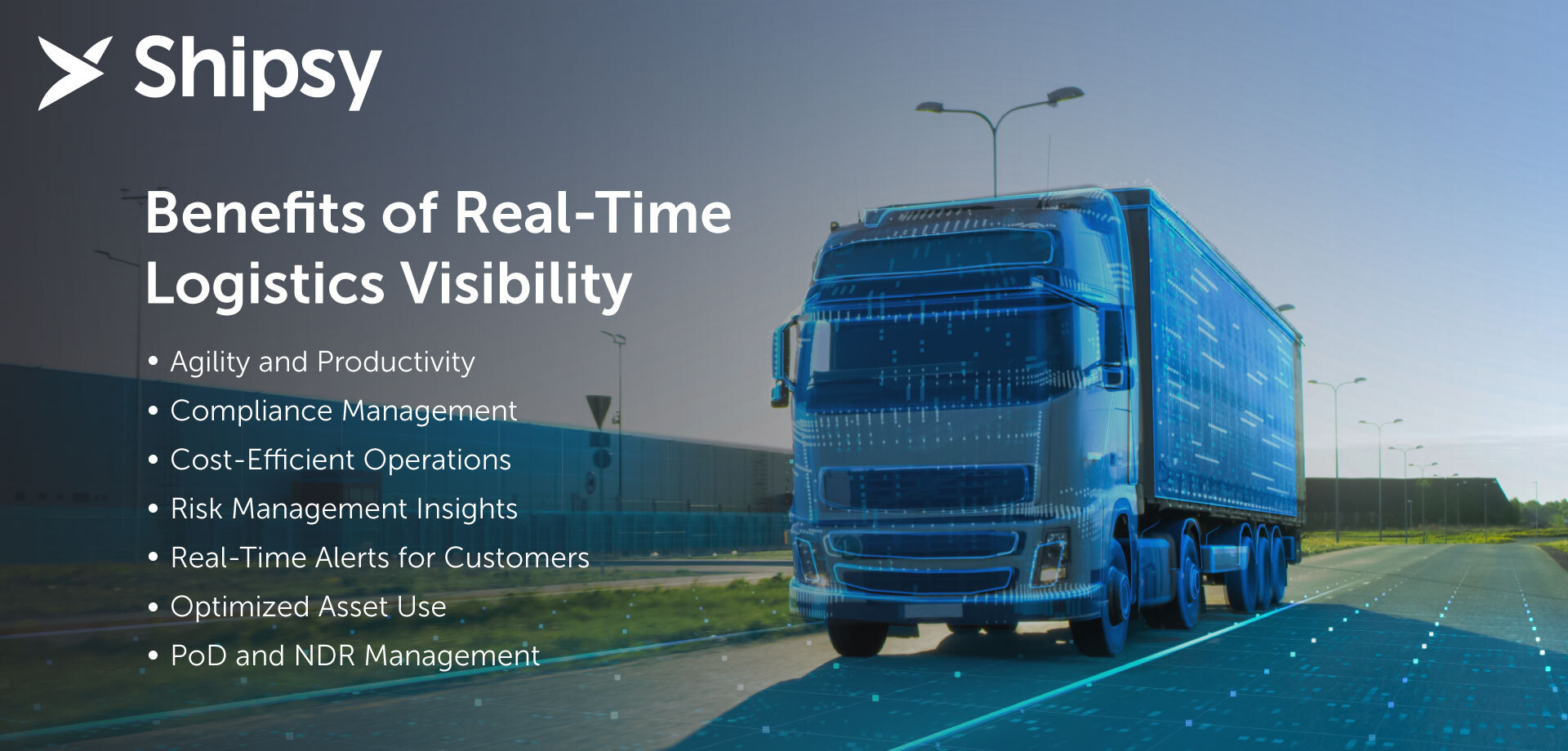 IBM reports that 70% of CSCOs agree that customers expect full transparency over the order movement, right from the first mile to the doorstep delivery.
Therefore, most firms choose visibility as their top funded investment objective. This is no surprise considering the tremendous competitive benefits of real-time logistics visibility. Besides greater transparency, organizations can unlock multiple advantages by implementing a real-time visibility solution.
Here are a few significant benefits of real-time logistics visibility that helps businesses streamline supply chain processes.
Enhances Agility and Productivity
Logistics visibility tools provide greater transparency into the entire supply-chain operations. As businesses gain a 360-degree view of the processes, they are able to seamlessly identify potential gaps and address them efficiently.
Real-time visibility tools reduce manual intervention and immediately alert transport managers regarding shipment delays, allowing them to resolve issues quickly. Users get access to a single portal that allows them to provide regular updates to all the stakeholders involved so that everybody is on the same page.
Fulfilling Regulatory Compliances
All businesses have to comply with the regulations of the government. For effective management of operations, regulations linked with environmental protection, transportation, and road safety must be fulfilled.
This is specifically relevant for businesses engaged in export and import with tariffs and trade rules. With a real-time visibility platform, businesses can ensure that all operations are as per the compliances. It also assists in anticipation of fresh regulations and avoiding fines.
Improves Delivery Performance
Data entry can take 3 to 5 hours per week in a medium-sized company. Since the data is typically gathered many hours after delivery has taken place, it also lacks accuracy for the shipper.
To accurately track carrier performance, real-time visibility solutions gather transport operations data, such as loading, unloading site arrival and departure times, dwell times, and travel times. The updated information offers fundamental knowledge required to enhance procedures and helps lower litigation costs.
Ensures Cost-Effectiveness
Reducing expenditure to increase bottom-line performance is the primary objective for most businesses. Through real-time visibility, information about the order throughout the whole delivery process is available which is a significant factor contributing to cost-effectiveness.
Businesses can check whether a system-generated route is being followed or not, whether the NDR reasons cited by the driver check out with the customer or not and much more.
Provides Insights for Management of Risk
You are in a much better position to reduce risks when you have access to real-time information about your logistics and supply chain system procedures. Features like predictive alerts for shipment delays, demurrage, detention, delivery delays, etc can help in addressing problems well ahead of time and plan accordingly.
Increases Operational Visibility for End Users
Real-time logistics visibility empowers businesses to share real-time dynamic information such as SLAs, order movement alerts, alerts for any upcoming delivery, etc to ensure that the customer stays in the loop. Such messages also help in reducing the non-delivery instances happening because of the absence of customers.
As the customers have real-time insights on order movement, the calls and queries regarding delivery get reduced and customer experience also gets improved.
How Real-Time Logistics Visibility Is Transforming the Logistics Sector
Reduced Costs
The primary objective for the majority of organizations is to reduce their costs. Real-time information regarding the location of orders in transit is a key element in attaining cost-effectiveness. Businesses are able to address disparities quickly by having accurate insights and data about inventory, routes, and logistical issues at various stages.
In the larger picture, this helps businesses reduce costs by a significant margin. With increased visibility, enterprises can monitor instances of vehicle idling or unnecessary route diversions. As a result, no extra transportation costs pile up, and delivery fulfillment success rates are improved.
Real-Time Tracking & Monitoring
From warehousing to delivering the order to the customer's doorstep, real-time tracking of items enables an uninterrupted flow of operations. Multiple stakeholders are involved throughout the entire delivery operations.
Businesses can leverage GPS software to effectively plan and monitor the logistics operations at different stages of the journey, such as tracking a driver 'out for delivery' to confirm that they are taking the system-generated route. In case of discrepancies, the solution instantly notifies the concerned stakeholders.
Dynamic ETAs to Avoid SLA Breaches
The number of carriers and businesses involved in an end-to-end movement makes it particularly difficult to track and trace products from the point of origin to the point of delivery. Lack of knowledge about a product's location can cause inefficiency and expensive delays.
However, having access to real-time ETAs reveals hidden issues, offers accurate guidance on how to avoid delays, and enables the coordination of assets for efficient supply chain operations. These ETAs can also be shared with the customers to offer a delightful and engaging CX.
Reducing Empty Miles
Real-time logistics visibility ensures that all the assets are 'doing what was meant to be done'. Visibility into the asset movements empowers businesses to exercise control over the entire on-field movement and keep a check on the fuel consumption as well.
As the customers are being notified about the upcoming deliveries, riders are being allocated orders dynamically, and the system is generating multi-stop routes in an optimized manner, empty miles get reduced significantly.
Identifying Fake Deliveries
Through real-time visibility across the logistics network, businesses make use of GPS tracking, which allows for planning, scheduling, and monitoring logistics at multiple points. Intelligent logistics visibility platforms provide trackable information, including order receipts, shipping details, and accurate details about the order status.
Riders' location can be geo-fenced for the store, warehouse, or delivery location to confirm the reason for non-delivery and trap the fake delivery attempts. This increases transparency and immediately warns and assists in identifying fake deliveries.
Optimized Use of Assets and Uniform Task Allocation
Logistics can be reorganized to ensure maximum efficiency in the automation of input processes. Automated order allocation ensures that every vehicle leaving for deliveries has been chosen in an optimized manner as per multiple optimization rules, such as vehicle capacity, rider type, delivery area, vehicle type, make, etc.
Such granular optimization ensures that the system and processes stay cost and resource-efficient at all times.
Streamlined Operations
Shippers can streamline the supply chain by utilizing real-time visibility in the following ways:
Scheduling: Shippers can immediately communicate delays and revised delivery dates to guarantee that dwell time is kept to a minimum and that goods reach the schedule.
Robust Communication and Collaboration: Establishing an open channel of communication with all stakeholders makes it easier to address any issues that may crop up, strengthening stakeholder relations.
Dynamic Routing
Customers desire quick delivery and multiple delivery options, even (or perhaps especially) during times of interruption. However, unforeseen circumstances of traffic surges or bad weather conditions can take a toll on your delivery success rates.
Real-time logistics visibility ensures that businesses can deliver across such expectations without letting the real-time traffic or road conditions meddle. Smart logistics management solutions can re-route the delivery routes in real-time as per the evolving road conditions and avoid delivery delays.
Multiple Order Clubbing
Clubbing orders instill efficiency by reducing the number of trips and maximizing the asset capacity. Having real-time visibility over the available vehicles, their type, make, available riders, their incentives, etc, ensures excellent control over the operations and makes it possible to club orders in a better and more efficient manner.
Enhanced Customer Experience
Consumers today are smarter as they understand and handle technology better. This is why there are higher expectations both in terms of improved and quicker deliveries from all sectors.
Real-time logistics visibility helps provide live updates to the customers and delivers products efficiently with no delays to meet their demands. In case there are changes in customer preference, it gets incorporated instantly by changing delivery workflows without a hassle. Similarly, the customer has all the order movement information at his disposal which instills trust and transparency as well.
Gain 360-Degree Logistics Visibility for Operational Excellence with Shipsy
Shipsy's AI-powered logistics platform seamlessly connects all your cross-border and local logistics via intelligent 3PL management, asset management, digitized billing and invoicing, automated order allocation, custom optimization engine, and much more.
The user-friendly platform from Shipsy offers real-time logistics visibility across the first, middle, and Last Mile, thereby helping you unlock operational efficiency and cost savings. Further, Shipsy offers a highly efficient and scalable custom data analytics platform Shipsy BI to process all organizational data and drive efficiency via data-driven actionable insights into assets, order movement, distribution, and delivery processes.
Shipsy's real-time logistics visibility and smart functionalities have helped businesses across the globe to:
Reduce last mile delivery costs by 14%
Reduce 3PL invoicing errors by 100%
Increase delivery NPS by 26%
Decrease shipment returns by 18%
For more information and to get started with Shipsy, please request a custom demo today!