Let's begin with some interesting news doing the rounds.
NASA captures a mind-boggling photo of a UFO-like object on Mars.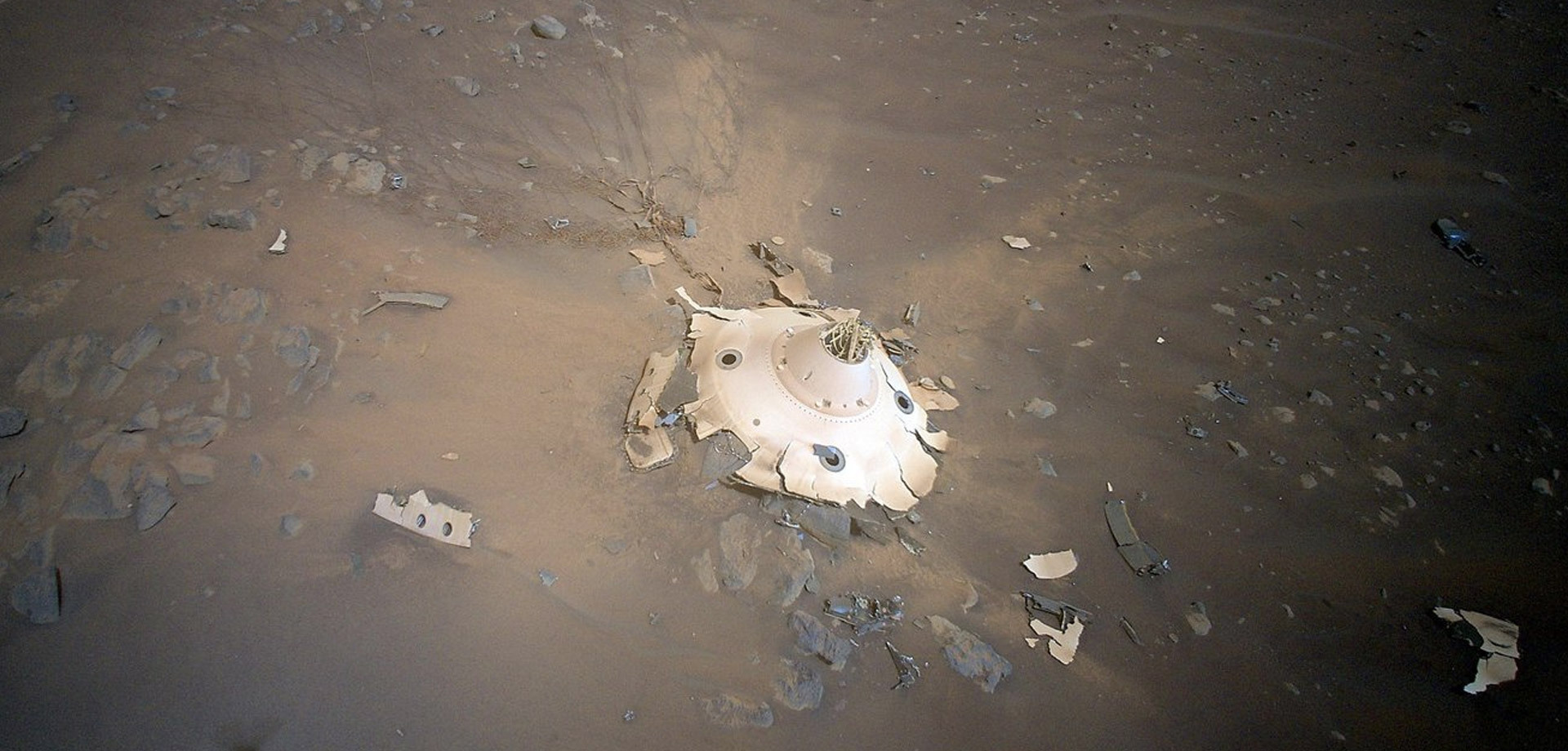 The headline hints that the world's most prominent space research organization has found a potential unidentified flying object on a neighboring planet.
Correct?
Now, let's see what this news is actually about.
There is no ambiguity in statement two unlike statement one, which can be misleading and may result in developing preconceived notions about an otherwise perfectly normal situation.
Depending upon a number of factors such as cookies, browser preference, and others, you still stand a 50% chance of getting exposure to headline one. Not supported by relevant information, it may potentially trigger rumors of us closing in on extraterrestrials, or vice versa. This is why speculations need to be quashed by facts.
Even the biggest global organizations have fallen prey and recognize the drawbacks of misinformation or myths aka Infodemic, that travel faster than the truth. If not busted, myth transforms into belief and may change your perspective towards things and abstain from adopting/embracing certain ways/solutions that are meant to benefit you or your business.
So, it becomes of utmost importance for us to clear the air around logistics management technologies that may keep your business from realizing its true potential. Let's shatter six such myths about logistics management technologies with the truth.
Myth1: Logistics Management Tools Cannot Drive Sustainability
Truth: This is one big misconception. Logistics management platforms leverage AI, ML, and analytics to answer guesswork with data-driven intelligence, manual tasks with automation, delays, and cost leakages with optimization. In fact, such tools come in handy in planning and executing cost, time-and fuel-efficient operations as we focus on addressing instant delivery demands or modern-day customers. Let's take it this way.
Customer expectations with regards to faster delivery models are soaring. Once they get a taste of hyperlocal or 10-minute deliveries, there will be no going back, which is the new reality. The customers are driving brands to deliver on either the same standards or outperform. This in turn is influencing trip volumes. Larger order volumes and narrowing delivery windows will necessitate brands to add more resources, both driver and vehicle included, to rapidly execute deliveries in time. It will only add more vehicles and trip frequency.
Dynamic route planner and en route order clubbing intelligently combines forward and reverse logistics, eliminates empty miles, and reduces the distance traveled to optimize every single trip. For instance, curbing distance traveled by 5%, further decreases trip volumes by 6%, thereby lowering the overall carbon footprint. The technology also enables delivery managers to automatically assign environment-friendly delivery modes such as bicycles and EVs for shorter distances. Digitization eliminates the need for paperwork, resulting in more sustainable operations.
Myth 2: Logistics Management Tools Can't Control Customer Experience or Retention
Truth: This is not true. We would all agree that what we deliver, how we deliver, and when we deliver are critical to customer experience. Hence, can influence sales.
Supply chain management involves multiple stakeholders and processes. A glitch in one part can cascade subsequent operations like a house of cards. It shoots up otherwise avoidable expenses, adding to the financial woes other than the repercussions of breaching the SLAs. So every cog must connect with the other at the perfect time and place to avoid any challenges. The question arises, How?
This is where logistics management technologies come in. They provide advanced visibility to participants in terms of predictive ETAs, so they are abreast with everything that's happening on the ground.
Imagine this. Your business supplies railway tracks to a corporation responsible for expanding the railway network in remote areas. It will take you precisely three days to reach the said location where the railway construction is underway, in full force, and the labor has also been assigned for the supposed task. However, due to unforeseen circumstances, the truck gets delayed and only reaches after day four. Now it may look like a simple case of a one-day delay, the cost your customer will bear for this delay is much more. This will ultimately trickle down on you and will affect your engagement with the customer. How long do you think the association will last if this continues a few more times. Well, it's not that hard to visualize.
Logistics management technologies empower delivery stakeholders with greater visibility to take control over the situation. It triggers a notification to the customer with a real-time tracking link that can help manage and plan things better and can increase customer satisfaction. But its sheer absence can take the challenge notches higher.
Myth 3: Logistics Management Technologies Can Not Optimize Logistics Costs
Truth: No one person can directly control geopolitical factors such as fuel prices, policies and regulations, taxes, etc., that influence logistics costs. But logistics management tools can bring down the other cost and labor-intensive parts of the logistics process. AI-powered tools can chart out the shortest route to the customer location, reroute to avoid traffic congestions or roadblocks, enable multi-stop pick-ups and deliveries, and optimize driver and vehicle capacity. This eliminates empty miles and reduces the distance traveled, thereby decreasing fuel consumption, curbing carbon emissions, and boosting overall logistics efficiency. They can reduce mid-mile and last-mile delivery costs by 12% and 23%, respectively.
Myth 4: The Logistics Industry Will Likely Remain Fragmented
Truth: The logistics industry is fragmented in developing countries. For years, the exchange and mode of information between multiple touchpoints, given the diverse socio-economic backgrounds of the participants, have been a challenge. Moreover, the many business units still operate in silos and are dependent on legacy systems that hinder data-sharing. But the situation is changing. Logistics management platforms are enablers in this regard. Such platforms create a single source of information for businesses, 3PLs, customers, and other stakeholders to stay updated with delivery progress. As a business, it reduces your workload in answering customer inquiries on emails or calls every month to update them on when they can expect their orders. It can reduce customer complaints by 28%.
Myth 5: There Is No Single Go-To-Solution That Can Cater To The Evolving Logistical Needs
Truth: Once again, it is not true. Gone are the days when transport management solutions were too rigid to accommodate changes. Today, SaaS-based smart logistics management platforms are built to deliver on the lines of Industry 4.0. They are agile and flexible enough to adjust to the evolving market demands and skyrocketing customer expectations. These are simple plug-and-play solutions that are highly customizable and have negligible downtime. Such solutions fix the gap between market needs and operational realities to unlock superior gains for businesses in terms of cost reduction, person-hour savings, data-led decision making, and other factors critical to business success. It can increase on-time deliveries by 24% and ensure 14% more deliveries per driver.
Myth 6: It Is Difficult To Trace Goods In Poorly Connected Areas
Truth: Those who have not tasted the benefits of advanced real-time, end-to-end visibility are likely to maintain this stance. The truth is, the above statement holds no weight with intelligent logistics management systems in place.
Advanced logistics tools can empower you to track your fleet in real-time. The technology suffices for lost/low-network areas with simulations so the businesses can enjoy complete visibility over goods movement. The system leverages historical data to analyze and plan better delivery routes and avoids locations that may risk delays, thefts, or pilferage. It alerts delivery stakeholders in cases of delays, unnecessary idling or stoppages, or deviations from planned, system-generated routes. It can decrease ETA SLA breaches by 37%.
To understand how a transport management system can add value to your business, click here.
Now, as the most popular misconceptions have been shattered, it's time for you to explore the limitless potential of logistics management technologies and change your business outcomes.