From choosing the right shipping to acquiring the freight prices, comparing transit times to meeting criteria with multiple shipping lines, each of them is crucial for shipment tracking. Shipment tracking is a crucial part of every company's efficiency. It plays a vital role in ensuring that each shipment arrives at the location on time and in a cost-effective manner. In a fast-paced world with evolving customer demands, providing real-time updates to both users and customers is an indicator of a reliable shipment company.
Shipment tracking software is designed for trucking and e-Commerce businesses with the objective of keeping their customers updated on the status of their orders. The software collects data from multiple shipping lines and fright forwarders and provides instant real-time updates. Information including estimated arrival date, tracking number, delivery schedule, and shipment destination are all displayed by this software. With shipment tracking systems, companies can locate every single order with a bird's eye view and inform their customer of the same.
Before we dive into the details, let us begin with a brief overview of shipment tracking software.
Shipment Tracking Software- A Brief Overview
From the factory to storage units to customers' doorstep, tons of packages are shipped daily. Therefore, integrating a reliable system for tracking every delivery is crucial for e-commerce success. By leveraging avant-garde bar code technologies and cloud services, shipment tracking software enables all businesses to be more profitable, accountable, and productive. Here's how they work:
Selecting The Best Freight Rates
Sending a shipment from the source to the destination requires a number of tasks to be performed in a systematic manner. The first task is to get freight rates from freight forwarders or shipping companies. The shipment tracking software comes up with an intelligent system to procure and compare the freight rates so that you can choose the best in your budget. It also provides end-to-end visibility to ensure timely completion of each task.
Seamless Collaboration Across Stakeholders
Transportation of shipment requires a number of parties to be involved and it is imperative to have a clear communication among all. The software provides all the stakeholders a one-stop platform to collaborate and communicate. It minimizes the chances of shipment delays and other errors that can impact the total cost of transportation.
Generation of Barcodes
A barcode refers to a unique ID containing the essential facts and figures, including details of the seller or buyer, contact information, and product destination. As a first step, a barcode is generated for each package to reduce the chances of misplacement.
Scanning of Packages
In the second step, the package is scanned for tracking by the logistics operators. Upon inspecting the product barcode, the delivery service receives all information for monitoring the package. After the scanning process, the package is now ready to be shipped to the destination.
Tracking of Packages
Both customers and logistics companies can track and trace the packages in real-time. They are also able to view the current whereabouts and the estimated delivery date of the order. A good tracking tool enables instant access through any device for both parties.
Delivery of Packages
In the final step, when the package is delivered to the customer, the shipment tracking software updates and notifies all the parties involved regarding the order status. A digital receipt is also generated after the completion of the order, acting as proof of delivery.
Shipment tracking software enables the use of real-time information to maintain timelines and ensure on-time delivery for customer satisfaction. The solution also provides accurate and reliable data on the surrounding conditions, such as temperature and the present state of the boxes. We will now discuss the features and benefits of using shipment tracking software.
Features of Shipment Tracking Software
Transportation Expenditures
Shipment Tracking software limits the number of incorrect deliverables, significantly reducing the overall transportation expenditure. This, in turn, saves a lot of money and can be used for re-warehousing, storage, and transportation. In addition, companies can now track all activities related to shipping, allowing better communication and response to client complaints as well as preventing them.
Tracking on a Real-Time Basis
Companies, as well as consumers, can easily keep a tab on their packages on a real-time basis throughout the distribution chain. Moreover, in case of a delay in deliveries due to unforeseen circumstances, customers are notified instantly for the same. Shipment tracking software acts as a one-stop solution to check information regarding clearance, departure, arrival, and shipment status.
Streamlining Supply Chain Processes
Shipment tracking software streamlines the entire supply chain processes- from providing the most optimized routes to sending customer alerts related to shipment processes. With enhanced transparency, businesses can easily collaborate with other stakeholders like warehouse managers and distributors to accelerate enterprise growth.
Benefits of Using Shipment Tracking Software
In the era of hyper-fast deliveries, keeping your customer posted regarding the order status and ETA in real-time is a key differentiator in the logistics sector. Having reliable and robust shipment tracking software enables companies to track and trace shipments in real-time and ensure the operations function with maximum efficiency.
Listed below are some of the benefits of shipment tracking software for companies as well as customers.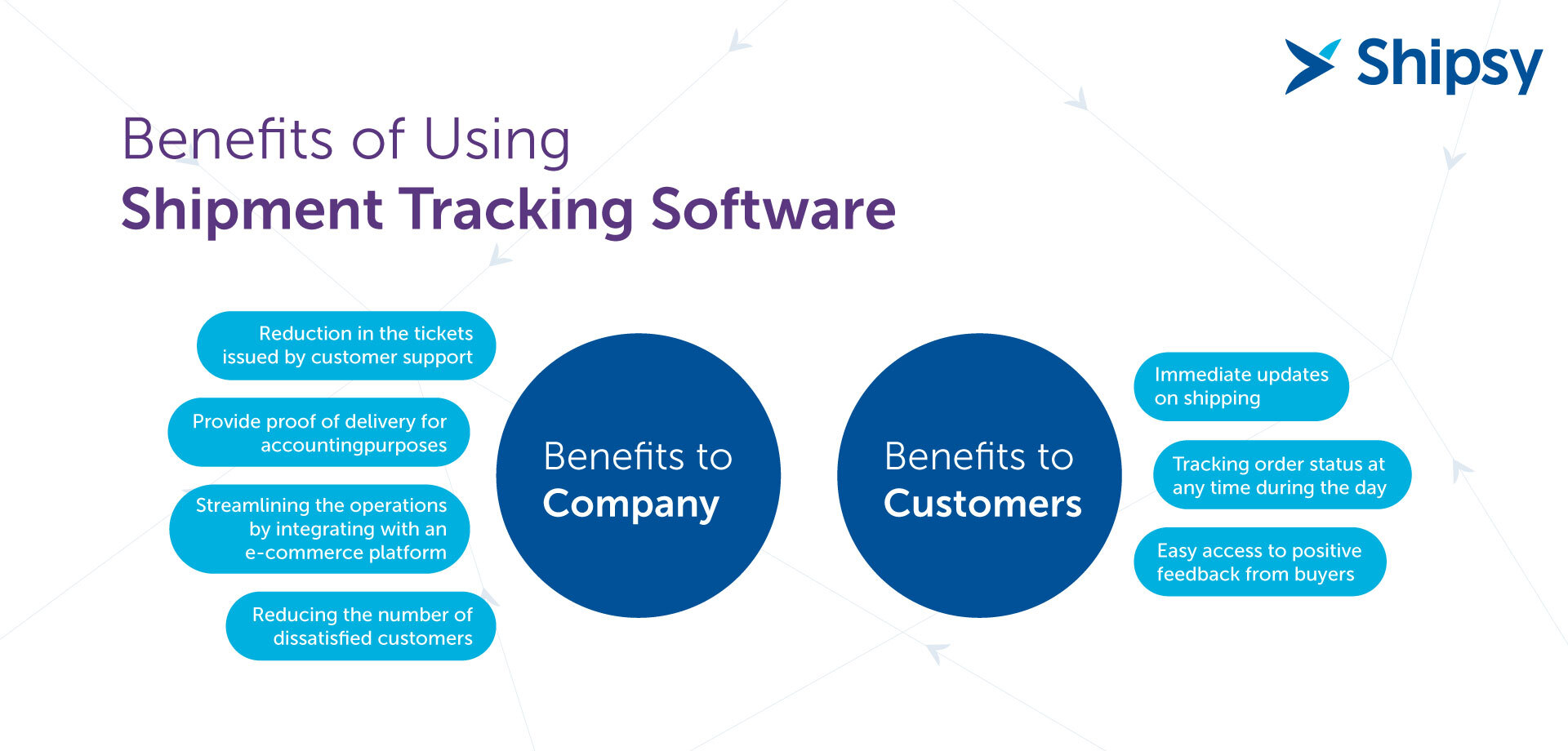 Benefits to Company
Shipment tracking can benefit the company's supply chain in terms of visibility and monitoring, along with a host of other features.
Reduction in the tickets issued by customer support
Provide proof of delivery for accounting purposes
Streamlining the operations by integrating with an e-commerce platform
Reducing the number of dissatisfied customers
Benefits to Customers
Customers on the end side of the supply chain can avail the following benefits by using a shipment tracking software.
Immediate updates on shipping
Tracking order status at any time during the day
Easy access to positive feedback from buyers
Factors to Consider Before Choosing the Best Shipment Tracking Software for your Business
An intuitive shipment tracking software tracks every step of the product's journey- from the moment it is dispatched to reaching the customer's doorstep. In this way, the smart solution enables companies to become more efficient, productive, and profitable.
However, investing in a tracking system begs the question- 'Is this the right shipment tracking software for my company?'
We have listed below key factors to consider before choosing a shipment tracking solution for your brand.
Conditional Awareness
Weather conditions play an essential role in the delivery of shipment. Shipment companies need to have access to the status of the surrounding conditions, such as humidity and temperature. Before investing, brands must consider an effective shipment tracking software that makes allowances for extreme weather conditions as per their business needs.
Data Security
With the benefits of rapid digitization also come various cons. Some of the common downsides include breaching of data and cyber-attacks. If the business is a victim of such an attack, it can seriously hamper the logistics data process. Therefore, it is vital to select a shipment tracking software that utilizes state-of-the-art security measures.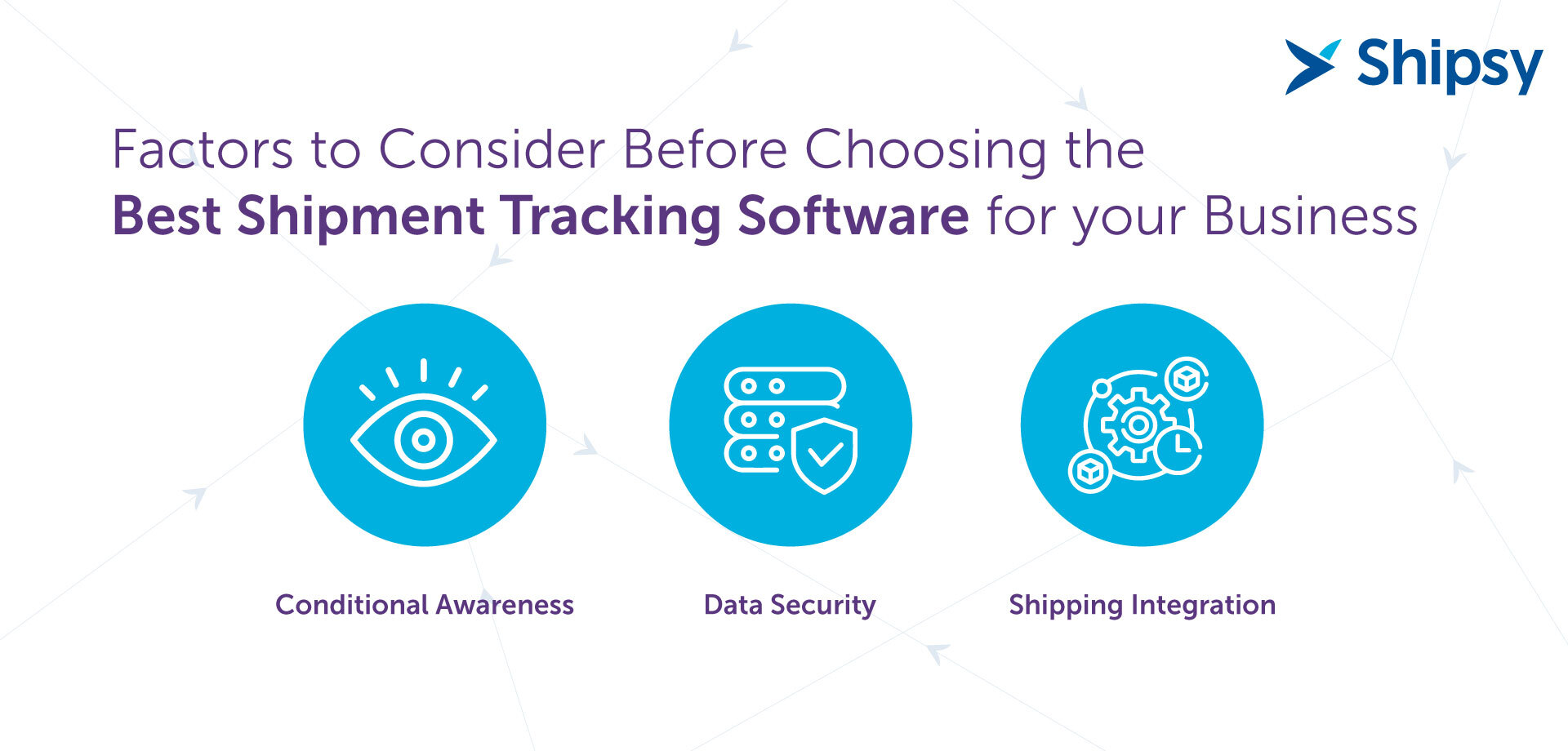 Shipping Integration
Choosing an integrated shipping tracking solution is a key factor that ensures that all systems and operations of the business are connected under one purview. For business success, operators need to have a bird's eye view of all logistics operations. While purchasing, companies need to ensure that the software seamlessly integrates with the existing systems and do not neglect the current operating environment.
Get a Unified View of all your Shipments with Shipsy
Shipsy's shipment tracking modules enable businesses to get a unified platform to streamline the export/import process and get a real-time view of all shipments on a single dashboard. Businesses can now experience an easy sharing of shipment reports, detention tracking, highly accurate decision making, and improved logistics planning using analytics around carrier and volume. Our innovative shipment tracking software empowers businesses to optimize costs, maintain high levels of transparency and gain end-to-end visibility of the operations.
How Shipsy Can Help
Shipsy is enabling 100's of businesses to gain a unified and real-time view of shipments across international and domestic borders through a single dashboard. It enables businesses to simplify carrier connections, make bulk shipment movement transparent and leverage actionable insights to mitigate logistics risks and build sustainable supply processes.
Using Shipsy's advanced shipment tracking software business are:
Increasing customer satisfaction by 64%
Decreasing ETA SLA breach by 37%
Increasing delivery net promoter score by 26%
To know how we can help you achieve these efficiencies and more, sign up for our self-serve shipment tracking module here.